By Trevor Lowenthal, Arrow Loop Research
We have written several articles on Exelixis (NASDAQ:EXEL) since 2015 (see here and here) and have suggested that EXEL's strong pipeline (Cabozantinib for different indications) and substantial revenue growth should result in higher share prices, and might lead to the company being acquired for a large premium. While EXEL has not been acquired yet, longs have had nothing to complain about. EXEL's share price has increased nearly five-fold since we highlighted the company. Take a look at the stock chart below (from Yahoo):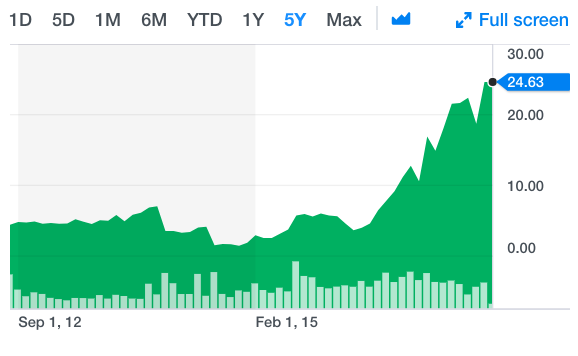 This article will summarize our current take on EXEL's latest successes and reiterate our longstanding position that the company's continued success will lead to gains in share prices and might culminate in a Big Pharma buyout. Given its rapid rise recently, we would wait for a pullback to buy more shares or sell puts on the company. Long term, we like the company's prospects.
Cabozantinib is the Gift That Keeps Giving
EXEL's significant share price appreciation followed the FDA's approval and early commercial success of its second-line advanced Renal Cell Carcinoma (RCC) drug Cabometyx (cabozantinib). EXEL also sells cabozantinib as Cometriq, a treatment for metastatic medullary thyroid cancer (MTC).
Cabozantinib is a non-selective tyrosine kinase inhibitor which inhibits the kinase activity of numerous tyrosine kinase receptors (cell enzymes, proteins), including MET, VEGFR-1, -2 and -3, AXL, RET, ROS1 and TYRO3. These tyrosine kinase receptors are involved in both normal and pathologic cellular processes, including oncogenesis, metastasis, and tumor angiogenesis. Cabozantinib works by binding to and inhibiting the activity of the tyrosine kinase receptors (Growth factors work by binding specific growth factor receptors and affecting their activity - e.g., VEGF (vascular endothelial growth factor) binds to VEGFR-1, -2, and -3 and stimulates its activity. An inhibitor works by blocking this process).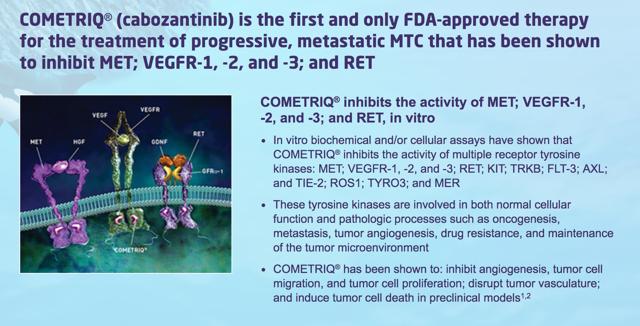 Source: Mechanism of Action | COMETRIQ®
VEGF appears to be an important factor RCC. Data from clinical trials suggests that "continued VEGF inhibition in the second-line setting results in the most substantial improvement in survival" (Brian I. Rini, MD).
Cabozantinib is in Exelixis' chemotherapeutic products Cabometyx (for RCC) and Cometriq (for MTC). It is also being studied for use as a first-line RCC therapy and in other types of cancers.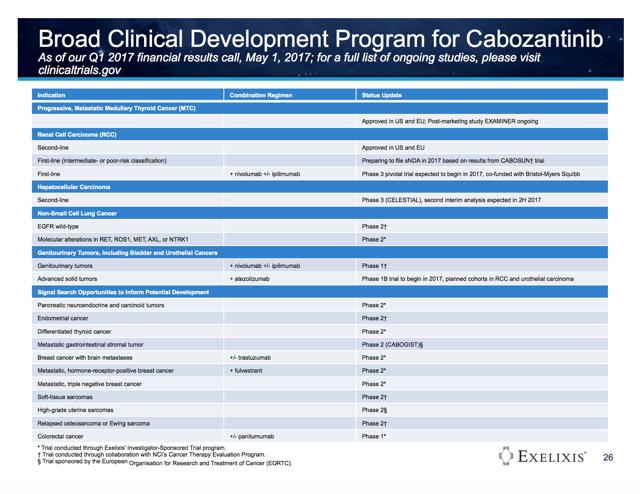 During the first quarter of 2017, most of EXEL's revenue was from cabozantinib. Cabometyx generated $62.4 million in net product revenue, and Cometriq generated $6.5 million in net product revenue - a total of $68.9. EXEL's total revenues were $80.9 million ($68.9 million from cabozantinib and $12 million of collaboration revenues). Collaboration revenues include $4.5 million, $2.7 million and $2.3 million earned under agreements with Ipsen (OTCPK:IPSEY), Takeda (OTCPK:TKPYY) and Genentech, respectively, and $2.5 million of a milestone payment from Bristol-Myers Squibb (NYSE:BMY).
EXEL has made significant progress with a label expansion of Cabometyx in advanced RCC. On June 19, the company reported positive results from the Phase 2 CABOSUN trial of Cabometyx versus sunitinib in previously untreated advanced RCC. In the trial, Cabometyx proved superior to Pfizer's (NYSE:PFE) Sutent (sunitinib), a first-line treatment for advanced RCC, in the primary endpoint of median progression-free survival (PFS). PFS for Cabometyx was 8.2 months versus 5.6 months for Sutent. Cabometyx also had a superior median overall survival (OS) benefit of 30.3 months versus Sutent's 21.8 months.
We believe that Cabometyx has a strong potential to become a first-line treatment in advanced RCC. Ipsen, which holds a license to Cabometyx, has already indicated that it plans to submit the Phase 2 CABOSUN data to European regulatory authorities in Q3 2017. An expanded label for Cabometyx should be a significant benefit to shareholders.
Financials
In the latest quarter, EXEL exceeded earnings estimates by $0.13/share and exceeded revenue estimates by $11.1 million. The company has improved its cash position and is actively paying off debt. In March, EXEL eliminated over $80 million in debt by repaying the Silicon Valley Bank.
Last month, EXEL repaid an additional $123.8 million in debt owed to Deerfield. The company saved an additional $12 million by repaying Deerfield one year early. To date, it has eliminated more than $490 million in debt. This accomplishment should make the company more attractive to potential buyers.
On the R&D front, EXEL says it is making "meaningful progress...by advancing developments and regulatory activities for both cabozantinib and cobimetinib, reinitiating our internal discovery efforts, and exploring potential business development opportunities."
Cabometyx for Renal Cell Carcinoma
In the U.S., EXEL estimates that 64,000 patients will be diagnosed with advanced RCC and 17,000 patients will die of advanced RCC. EXEL estimates there are over 17,000 eligible second-line RCC patients in the U.S. and 37,000 patients globally, indicating a significant commercial opportunity.
For an idea of the size of the RCC market, Carly Helfand, news editor with FierceMarkets' Life Sciences, estimated that Sutent will generate $1.5 billion for PFE in 2018. Analysts' average estimate for EXEL's revenue in 2017 is around $360 million; in 2018, the average estimate is around $520 million (Yahoo). According to Keith Speights (writing at Motley Fool):
"Some analysts project peak annual sales for Cabometyx of at least $1 billion. If approved for all indications and some of the combination studies are successful, the actual revenue from the drug could be much higher than that."

Source: Yahoo
Here's a table from S&P Global Market Intelligence of its revenue and earnings estimates for EXEL: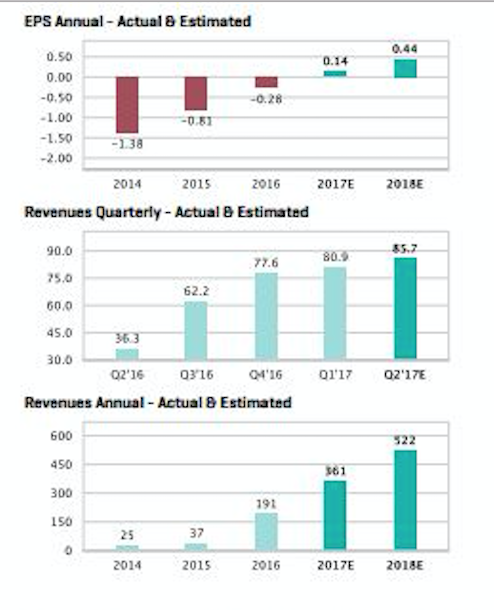 EXEL's market cap of $7.24 billion and relatively rich valuation for a company which has just recently become profitable reflects the market's optimistic view regarding the possibilities for its most important compound, cabozantinib, for the treatment of RCC, MTC, and other cancers.
Ipsen Deal
EXEL licensed Cabometyx to Ipsen, giving Ipsen exclusive commercial rights to Cabometyx outside of the U.S. and Japan. Exelixis maintains 26% tiered royalties in markets where Ipsen maintains exclusive commercial rights to Cabometyx. EXEL has the potential to unlock up to $545 million in commercial milestone payments. The partnership with Ipsen was opportune because Ipsen has strong commercial infrastructure to support the launch of Cabometyx in Europe. As suggested by the success of the CABOSUN trial and the market for PFE's Sutent, the European market for Cabometyx would be significantly beneficial for EXEL's bottom line.
Buyout Potential
We think that the Ipsen partnership does not eliminate the possibility of an EXEL buyout. The partnership leaves EXEL with exclusive commercial rights in three important markets - U.S., Canada, and Japan. This should make EXEL attractive to potential suitors, including Ipsen, PFE, Novartis (NYSE:NVS), and Bristol-Myers Squibb.
In the U.S., EXEL estimates that 64,000 patients will be diagnosed with advanced RCC and 17,000 patients will die of advanced RCC. EXEL estimates there are over 17,000 eligible second-line RCC patients in the U.S. and 37,000 patients globally, indicating a significant commercial opportunity.
PFE could see EXEL as a strategic asset. Buying EXEL would give PFE rights to Cabometyx which would bolster its kidney cancer drug franchise. It is suggested that due to the launch of Cabometyx, PFE's competing RCC drugs lost substantial market share:
"While Cabometyx witnessed 26% sequential rise in NRx (new patient prescriptions) in advanced RCC indications in 4Q16, [PFE's] Inlyta saw a 10% drop in NRx during the same period. In 4Q16, Inlyta also saw a YoY (year-over-year) drop in revenues of around 38%. As the drug is only approved as an RCC indication, this figure highlights the impact of the launch of Cabometyx." (Market Realist)
Novartis's drug Afinitor, an older second-line drug for RCC, generated approximately $400 million in 2014. In a phase 3 trial (METEOR), Cabometyx performed better than Afinitor in patients with advanced RCC who had received a prior VEGFR-TKI agent. The patients had progressed on Sutent or other prior VEGFR-TKI agents such as Inlyta or Votrient. NVS would thus benefit by acquiring EXEL to maintain its market presence.
BMY's Opdivo, approved in November 2015, also outperformed Afinitor as a second-line treatment for advanced RCC. Presumably, both drugs, Opdivo and Cabometyx, will take market share away from Novartis' less effective drug.
Cabometyx has proven superior to several blockbuster drugs in the advanced RCC space. As Big Pharma companies struggle with patent cliffs and declining earnings per share, companies like EXEL become increasingly attractive as new sources of revenue. As a result, there is a reasonable possibility that EXEL will get bought out, especially if Cabometyx sales continue to rise and/or the drug receives additional FDA approvals.
Additional Study: Cabozantinib, Opdivo +/- Yervoy
The National Cancer Institute's Cancer Therapy Evaluation Program (NCI-CTEP) is sponsoring a study of the combined use cabozantinib-s-malate and nivolumab (Opdivo) with or without ipilimumab (Yervoy) in treating patients with metastatic genitourinary tumors (here). Opdivo, an immunotherapy, works by a different mechanism than Cabometyx. Opdivo is a human immunoglobulin G4 (IgG4) monoclonal antibody. It binds to the PD-1 receptor and blocks its interaction with PD-L1 and PD-L2, which releases PD-1 pathway-mediated inhibition of an antitumor immune response.
Risk Factors
As we have noted in past articles, an investment in EXEL is high-risk, high-reward. The prevailing risks include: (1) Disappointing commercial launch of Cabometyx in markets where either EXEL retains exclusivity or where Ipsen has exclusivity, (2) setbacks in EXEL's clinical studies, (3) future dilution and (4) market's unwillingness to continue relatively optimistic pricing. Our basically bullish thesis could prove incorrect given the risk factors above and that would put negative pressure on the share price.
EXEL has experienced a large amount of insider selling as the stock has run up. While we do not usually put too much weight on insider selling, because there can be many reasons for selling, we'd definitely rather see insider buying. This information - that insiders are selling vs. loading up - supports our belief that we may see a pullback in prices.
Conclusion
On this basis, we still think EXEL has room for price appreciation, even though it is not a cheap stock. We would consider selling long-term EXEL put options on weakness. If the stock pulls back very drastically, we would consider buying shares.
Disclosure: I/we have no positions in any stocks mentioned, and no plans to initiate any positions within the next 72 hours.
I wrote this article myself, and it expresses my own opinions. I am not receiving compensation for it (other than from Seeking Alpha). I have no business relationship with any company whose stock is mentioned in this article.