Aurinia Pharmaceuticals: Phase III Design Gleaned From Phase II Study
Summary
Aurinia Pharmaceuticals' Phase III (AURORA) design is nearly identical to the promising Phase II (AURA) study.
Advantageous change to Phase III includes: Primary endpoint of complete remission (or renal response) at 52 weeks (as opposed to 24 weeks in Phase II).
Management team will likely enroll healthier patients and limit countries (e.g., Bangladesh and Philippines) with compromised access to medical care.
Problem: Patients are suffering
Aurinia Pharmaceuticals (NASDAQ:AUPH) is a late-stage biopharmaceutical company that specializes in the development of voclosporin, a novel in-class calcineurin inhibitor, for the treatment of lupus nephritis (LN). According to the Lupus Research Alliance, lupus nephritis is a debilitating, autoimmune disease that causes inflammation of a patient's kidney. Mok et al's research (2013, DOI: 10.1002/art.38006) titled "Effect of Renal Disease on the Standardized Mortality Ratio and Life Expectancy of Patients With Systemic Lupus Erythematosus" showed that up to 60% of lupus patients will develop LN. Lupus patient with end-stage renal disease (ESRD) have a 60-fold increase of death, which highlights acutely on the importance to prevent LN patients from getting into the damaged kidney phase. Moreover, 10-30% of proliferate LN (stage III and IV) patients will develop ESRD. In severe cases, patients may need dialysis when both of their kidneys fail, prompting them to use a machine to remove toxic waste from the body.
The current standard of care is insufficient in treating LN, and a better treatment is urgently needed. At the moment, most physicians will prescribe mycophenolate mofetil (MMF) or better known as CellCept®, an immunosuppressive drug. CellCept's original purpose is to help suppress the body from rejecting a new organ transplant. Thus, this drug is being used as an off-label to treat LN. You can read more about CellCept here. Corticosteroids may be used in addition to help decrease inflammation in an LN patient.
Solution: Voclosporin ready to prove effectiveness in upcoming favorable Phase III trial
Phase II (AURA) randomized 265 patients into a 1:1:1 ratio for the three arms (control, low-dose voclosporin, and high-dose voclosporin). Study's key inclusion criteria took patients with Urine Protein to Creatinine Ratio (UPCR)>1.5mg/mg (class III, IV) or > 2mg/mg (class V). You can learn more about Phase II trial design and successful outcome here.
Similarly, Phase III (AURORA) study will benefit substantially from a nearly identical Phase II. On May 15, 2017, Aurinia announced initiation of Phase III clinical trial and expects enrollment of 320 patients to be completed within 18 months. The estimated primary completion date is December 2019. To learn more about Phase III design, enrollment sites, and key inclusion criteria, you may view ClinicalTrials.gov here.
The study will enroll 320 patients into a 1:1 ratio for only two arms (placebo and low-dose voclosporin). The main change to Phase III is having the endpoint of complete remission (or renal response) at 52 weeks (as opposed to 24 weeks in Phase II). The change is because Phase II data was more significant at week 48 (P-value<0.001) than week 24 (P-value=0.045) when comparing complete remission obtainment between the low-dose voclosporin group and the control [See Table 1].
Table 1 - Source: Aurinia Pharmaceuticals Inc.'s Corporate Presentation (June 2017)

On March 2, 2017, CEO Richard Glickman presented AURA 48 week top-line data and discussed that the management team wants to be comfortable from a statistical analysis point of view. He described Phase III of having 'high probability' of success and did not want to change too many unnecessary variables. You may listen to the webcast here. The benefit of switching the primary endpoint to 52 weeks is that it doesn't change duration of study at all.
Phase II Deaths Addressed and Lesson Learned for Phase III
In Phase II, 11 out of the 13 deaths occurred in sites with compromised access to medical care such as Philippines (2 deaths), Sri Lanka (2 deaths), and Bangladesh (7 deaths). Fortunately, an independent investigator and the Data Safety Monitoring Board (DSMB) assessed the deaths unrelated to the drug. The DSMB, which can see the study on an unblinded level, continues to meet with AUPH on a regular basis and provides recommendations on study protocol.
Compromised access to care is defined as patients having issue seeking medical care at a hospital. On September 30, 2016, Executive Vice President of Corporate Development Rob Huizinga presented at the Lupus Nephritis Expert Breakfast event in New York, in which he described patients traveling as much as nine hours before getting to a hospital for LN care. You may view the webcast here. Essentially, the patient is competing with hundreds of other patients in the emergency room, and even when once seen by a physician, they may not get the same standard treatment as patients located in North America or Europe. Important to note that the low-dose voclosporin group had a significantly higher number of patients (42) in compromised medical care countries, when compared to control group (28 patients only) [See Figure 1].

Figure 1 - Source: Aurinia Pharmaceuticals Inc.'s LN Investor Meeting (September 30, 2016)
As a result, the company has learned how to intervene in those sites and plan to get involved earlier in patient care to make a positive difference. Albeit, some of the patients were put into the Phase II study even though they should have not been in. When physicians questioned why they were even put into the Phase II study, Dr. Richard Glickman replied, 'They were dying; we thought there was no choice, and we wanted to save them.' Moreover, this was the sickest LN population ever studied [See Figure 2]. Most likely, Phase III will not repeat this similar issue.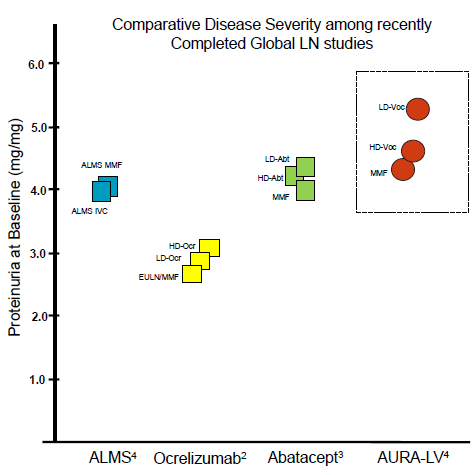 Figure 2 - Source: Aurinia Pharmaceuticals Inc.'s LN Investor Meeting (September 30, 2016)
Aurinia will also screen to prevent patients with comorbidities and infections from joining the patient cohorts. There will be more North American and European sites set up in Phase III to avoid any potential repeat of Phase II deaths. In Phase II, AURA Post Hoc Sub-Analysis showed that removing areas with compromised access to standard of care increased complete remission at 24 weeks for low-dose voclosporin group from 33% to 38% (P-value=0.02) [See Figure 3].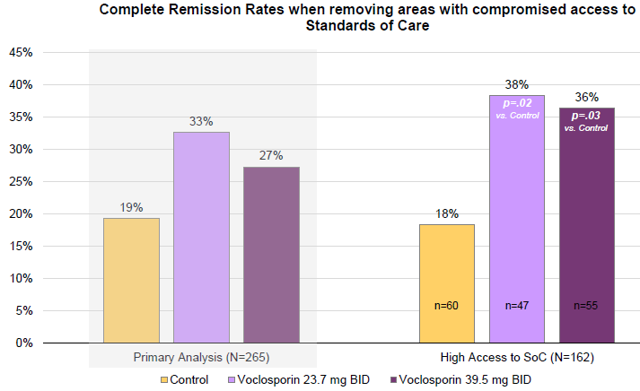 Figure 3 - Source: Aurinia Pharmaceuticals Inc.'s LN Investor Meeting (September 30, 2016)
Risks
Renal response (or Complete Remission) at 24 weeks may fail to achieve the secondary endpoint requirement in Phase III.
As shown in the aforementioned Table 1, 33% patients (low-dose voclosporin) achieved complete remission compared to 19% patients (control) at 24 weeks in Phase II. The P-value generated for this endpoint is 0.045. Generally, the U.S. Food and Drug Administration (FDA) will reject biological studies if the P-value>0.05. Therefore, investors should be wary of a potential failure to meet the secondary endpoint in Phase III if P-value>0.045.
Company may still recruit patients in sites with compromised medical care to save money and expedite enrollment.
You may view CenterWatch.com for a list of LN recruitment trials happening now in the U.S. As listed, Aurinia may encounter stiff competition in LN patient recruitment in the U.S. As a result, management can consider shifting recruitment site set-up cost from the U.S. to Asian countries. Countries such as Philippines and Malaysia are necessary in Phase III study because Aurinia still needs to garner sufficient evidence proving that voclosporin is safe for the Asian LN patient population, which is needed for approval in the Japanese market. Unfortunately, if Aurinia proceeds to aggressively recruit in sites with compromised access to medical care solely for cost saving, the risk is substantial. Similar to Phase II, potential outcome may be an abnormal spike in patient deaths, which may outright compromise the entire study.
Plethora of recently completed clinical trials in LN have failed.
According to Samir V. Parikh and Brad H. Rovin's study titled Current and Emerging Therapies for Lupus Nephritis (2016) published in the Journal of the American Society of Nephrology, LN treatment failures are still common, and progress has been unacceptably slow [See Table 2].
Table 2 - Source: Aurinia Pharmaceuticals Inc.'s Corporate Presentation (June 2017)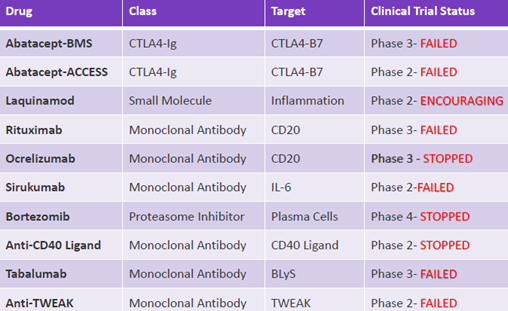 Market competition from rival companies
Fierce competition from other pharmaceutical companies may hinder Aurinia Pharmaceuticals from acquiring the lion's share market of LN. Investors must account for potential risk of the company failing to effectively market their drug to patients. According to Chris Fellner (2017)'s article Immunotherapies in Late-Stage Development for Patients With Severe SLE and/or Lupus Nephritis, there are currently five main drug developers that are anticipated to reach FDA review in 2019-2021. [See table 3 for these companies' drug, estimated pricing, and anticipated U.S. launch date].
Table 3 - Source: Chris Fellner's Immunotherapies in Late-Stage Development for Patients With Severe SLE and/or Lupus Nephritis (2017)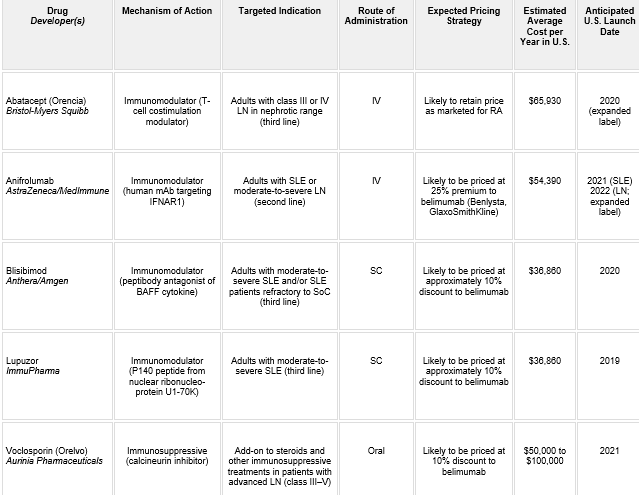 Conclusion
In the Phase III initiation news article dated May 15, 2017, Dr. Glickman confidently reaffirms:
... the Phase III trial design is consistent with that of the recently completed Phase II clinical trial. We believe that the totality of data from both the AURORA and AURA trials will ultimately serve as the basis for a New Drug Application (NDA) submission as well as regulatory submissions in other major global markets.
Overall, Aurinia Pharmaceuticals remains a highly de-risked late-stage biopharmaceutical company. Phase III appears to have a high probability of success should management avoid enrolling patients in countries with compromised medical care. Furthermore, the primary endpoint change of complete remission at 52 weeks is viewed positively, as the company may likely yield a superb statistical P-value similar to Phase II. Lastly, if Phase III is to succeed in late 2019, then voclosporin has the exciting potential to be the first drug approved for LN use by the European Medicines Agency (EMA) and Food and Drug Administration (FDA).
This article was written by
This message is for informational purposes only. This message does not constitute a recommendation to buy, sell, or hold any security or financial product. No content in my articles presentation constitutes investment advice.
Analyst's Disclosure: I am/we are long AUPH. I wrote this article myself, and it expresses my own opinions. I am not receiving compensation for it (other than from Seeking Alpha). I have no business relationship with any company whose stock is mentioned in this article.

This article represents my own opinion and is not a substitute for professional investment advice. It does not represent solicitation to buy or sell any security. Investors should do their own research and consult their financial adviser before making any investment.
Seeking Alpha's Disclosure: Past performance is no guarantee of future results. No recommendation or advice is being given as to whether any investment is suitable for a particular investor. Any views or opinions expressed above may not reflect those of Seeking Alpha as a whole. Seeking Alpha is not a licensed securities dealer, broker or US investment adviser or investment bank. Our analysts are third party authors that include both professional investors and individual investors who may not be licensed or certified by any institute or regulatory body.