Greenblatt, Big And Hedged - A Winning Combo
Summary
It is hard to outperform the market with mega-cap stocks.
The Greenblatt 'Magic Formula' works well with large stocks.
I highlight one hedged portfolio that has performed rather well over the past 15+ years.
I am not one who generally advocates buying mega-cap stocks. My theory is that the more accessible a market is, the more competition you have. Competition equals a more efficient market where mis-pricing is harder to come by. To beat this sort of market, you have to either be incredibly savvy and find some edge that others haven't…or else you need to load on a little extra risk and hope for those additional returns.
Every once in awhile I stumble across a blend of factors or certain techniques that work well with mega-caps. One of those simple factor blends is inspired by Joel Greenblatt and his Magic Formula.
The basic formula is this:
High Earnings Yield (a value ratio)
High Return On Capital (a profitability ratio)
I won't get into the nuts and bolts of each component. We are looking for a company which is efficient and has decent value. What I have found is that these 2 components work exceedingly well when dealing with mega-cap stocks.
Ranking Mega-Caps
The software I use is Portfolio123. I will be using their standard "All-Stars: Greenblatt" ranking system although you could use any platform or data source. Whatever works best for you.
Next, I have created a custom universe which is made up of the 100 largest stocks in the S&P 500. The universe is dynamic and will change over time.
From here, Portfolio123 sorts the 100 mega-cap stocks into 10 portfolios based on the 'Greenblatt ranking', which consists of those 2 factors mentioned earlier. The portfolios are rebalanced and re-sorted every week from 2003 until today. The annualized returns of each portfolio are shown below along with the S&P 500 benchmark.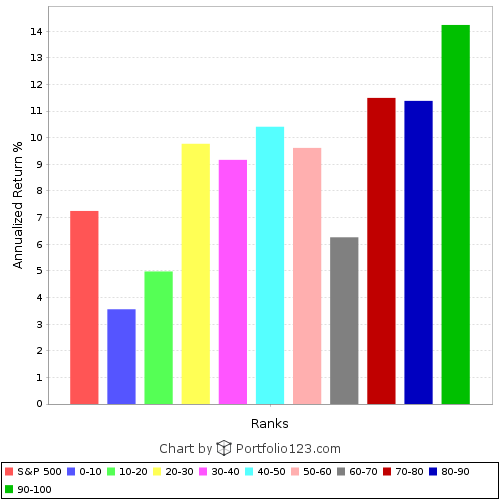 As you can see, the annualized return generally increases with an improved comprehensive ranking (return on capital and earnings yield). The spread between the highest ranked and lowest ranked bucket is over 10% annually.
If you were a long-only investor you might simply choose to buy the 10 highest ranked Greenblatt stocks in the S&P 100. This wouldn't be too bad an idea – at least historically.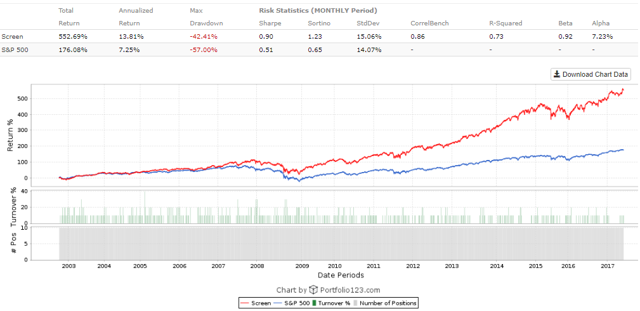 Hedged Greenblatt
Many investors are nervous about these markets as they see high valuations and much uncertainty going forward. One way to take a little market risk off the table is to hedge. For instance, you could invest $100,000 long in the top 10 or 20 Greenblatt stocks and short the bottom ranked 10 or 20 stocks. If you wanted more long exposure, only short 50 – 70% of the value of your long portfolio.
This portfolio simulation below has 30% net long exposure (you short up to 70% of the long value). It has 20 stocks on either side. It is updated weekly but you can even stretch this out to quarterly updates with only a minor change in risk-adjusted returns.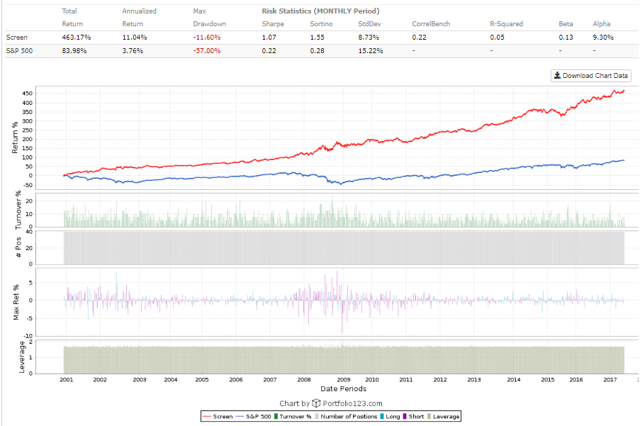 Top and Bottom Greenblatt Mega-Cap Stocks
Now I cannot guarantee that the way Portfolio123 calculates the Greenblatt formula will be an absolute 100% match with other sources. I will just report the Portfolio123 Greenblatt ranking 'as is'.
The top 10 stocks which are ranked 90 to 99 are the ones you should buy. The ones ranked 0 to 9 are the ones to short. Of interest is that Apple is long while Amazon and Netflix are short.
So if you are a fan of Greenblatt and you show a preference for the combined factors of profitability and value, Apple might be a good stock to consider buying. If you are only going to pick one or two stocks from this list, I would recommend doing so on the long-side only. Because if you decide to build a hedged portfolio, you would likely want a full 20 positions per side to smooth out the volatility.
If you have some modification you'd like to suggest for me to test – fire away in the comments section below. I'd be happy to see if we can come up with something better.
This article was written by
I design sophisticated investment solutions for family offices, RIAs, UHNW individuals, ETF providers and more. I am associated with the company Portfolio123 and am working with them to increase their brand awareness.
Analyst's Disclosure: I/we have no positions in any stocks mentioned, and no plans to initiate any positions within the next 72 hours. I wrote this article myself, and it expresses my own opinions. I am not receiving compensation for it (other than from Seeking Alpha). I have no business relationship with any company whose stock is mentioned in this article.

Portfolio123 is a partner link. It will double the length of your free trial at no cost to you. If you decide to keep your membership, I may receive a small fee.
Seeking Alpha's Disclosure: Past performance is no guarantee of future results. No recommendation or advice is being given as to whether any investment is suitable for a particular investor. Any views or opinions expressed above may not reflect those of Seeking Alpha as a whole. Seeking Alpha is not a licensed securities dealer, broker or US investment adviser or investment bank. Our analysts are third party authors that include both professional investors and individual investors who may not be licensed or certified by any institute or regulatory body.