I don't know if you've noticed it or not, but crude is suffering from a crisis of confidence.
Oil tumbled basically out of the clear blue sky early Wednesday morning when, sometime around 4:30 a.m. EST, one-minute volume on Brent jumped to ~2.8k lots and WTI dropped on one minute volume of 4.6k lots.

The excuse for that move lower was Brent's failure to breach $50, but, things got materially worse around five hours later when the bottom fell out again as traders began to fret in earnest over Russia's refusal to entertain the notion that production cuts need to be deeper to balance the market.
You can see the two dips we got on Wednesday clearly in the following WTI chart:

Well mercifully, the API data we got on Wednesday afternoon (delayed this week due to the holiday) was bullish and it was confirmed on Thursday morning by the EIA prints. But just a few minutes ago, things went to pieces again for no apparent reason as crude erased all its morning's gains and then some.
"The [EIA] report was fairly bullish obviously, but a couple of things in the report also cut the other way, in particular the big rebound in domestic production," John Kilduff, a partner at Again Capital LLC, a New York-based hedge fund, told Bloomberg by phone.
Here's the full two-day visual recap:

At a certain level, this is funny:

But then again, it you're long risk this kind of thing is unnerving.
Consider this that just crossed on the terminal:
U.S. Oil Fund (USO) August $8.5 put options trade ~146.9k lots as of 1:45 p.m. ET, according to data compiled by Bloomberg.
134.1k bought for 10c in single block ~12:10 p.m.
Open interest 218.8k Wednesday.
Thursday's total put volume outpacing call volume by 2.6 to 1.
USO total put volume 234.8k, vs. 103k 5-day avg.
Here's the visual on that: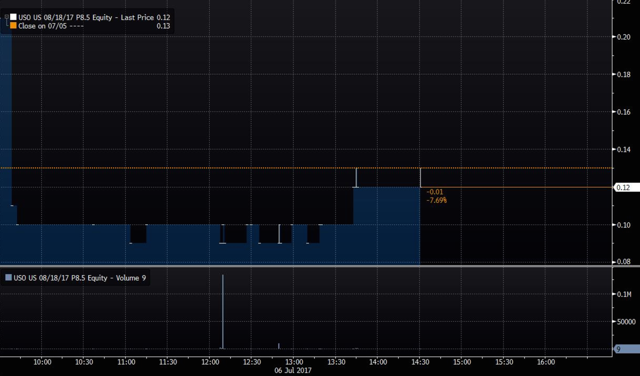 (Bloomberg)
See it down there?
People are getting really - really - nervous about this situation.
"There's some real concern about oil from people who are speculating," Eric Balchunas, ETF analyst for Bloomberg Intelligence said this afternoon.
So far, so good for high-yield credit (NYSEARCA:HYG) in terms of being able to dodge this bullet, but I think it's worth noting that what we've seen over the past 48 or so hours comes after a pretty impressive run of gains that helped crude recover from the bear market into which it careened last month.
It's not a good sign that this has proved so utterly unsustainable. Consider this commentary out on Wednesday from BofAML:
The crude reality is that we find ourselves in an eerily similar situation as 2014. Just like today, GDP then was growing with a 2-handle, the 5yr was at similar levels, and oil inventories were piling up due to supply side issues leading to Energy spreads blowing out. In that instance, however, the situation took a decidedly bad turn when in 2015 crude oil's supply problems quickly gave way to demand issues on the back of weak global growth, leading to a recession scare. There is a bit of respite for us on that account today, as ex-US growth remains encouraging. US HY Energy balance sheets are also better today after bad capital structures were flushed out in the 2015-2016 default wave. Further, there is some solace in the fact that BoJ is still highly accommodative and Asian money is flowing into the US. High grade spreads are already benefiting from this, and if the trend continues, the flow of money is bound to find its way to HY.

In other areas, however, things are worse today – central banks are more hawkish with the Fed and ECB in the process of normalization, and there is more political risk at home. Both of these individually have the capability of perpetuating a HY sell-off. With the recent string of weak economic data and the Fed committed to raising rates, the risk of a policy mistake later this year has increased, in our opinion. Meanwhile, the jury is still out on the "Trump trade" and whether or not the ground reality will match what's priced into the markets. The biggest factor though – risk of recession – is still in our favor. This doesn't mean we don't expect credit losses in HY. On the contrary, we think Energy still has some ways to go and retail could very well be the next sector to capitulate in our rolling blackout scenario. But just the fallout from both these sectors should remain contained for the time being. Given the low risk of contagion, we are comfortable remaining neutral HY and loans in the near term.
So clearly I could have cherry-picked that for the most ominous quotes, but I gave you the whole thing because I think it paints a pretty balanced picture.
Still, if you're long crude, you should consider everything said above, because there's a problem here.
Disclosure: I/we have no positions in any stocks mentioned, and no plans to initiate any positions within the next 72 hours.
I wrote this article myself, and it expresses my own opinions. I am not receiving compensation for it (other than from Seeking Alpha). I have no business relationship with any company whose stock is mentioned in this article.