Record Cat Bond Issuance Drives Significant Uplift In Use Of PCS Trigger
After a record-breaking first and second-quarter for catastrophe bond and insurance-linked securities (ILS) issuance, use of Property Claim Services (PCS) data in H1 transactions increased significantly to $4.5 billion when compared with the previous year, according to the PCS H1 2017 Catastrophe Bond Report.
As shown by the Artemis Deal Directory and Artemis Q2 2017 Catastrophe Bond & ILS Market Report, a record $7 billion of issuance in the second-quarter combined with the record-breaking Q1 to result in H1 2017 issuance reaching $9.761 billion, which is the most ever seen in a single year.
PCS' H1 2017 Catastrophe Bond report also highlights the record-breaking levels of issuance seen in Q1 and Q2 2017, although its numbers are slightly below Artemis' owing to the exclusion of private deals, or deals focused on lines outside of property.
Speaking with Artemis, Tom Johansmeyer, Assistant Vice President (AVP), PCS Strategy and Development, said; "The second quarter - and even the entire year so far - has given the ILS market much to celebrate. A wide variety of transactions came to market, indicating the depth and breadth available to cedants and markets in this space."
Of the $8.8 billion of H1 2017 issuance recorded by PCS, of which $6.5 billion came to market in the second-quarter from 21 transactions, $4.5 billion, or 51% utilised a PCS trigger. The $4.5 billion of issuance that used a PCS trigger during H1 2017 came from 12 transactions, with PCS recording 29 total transactions for the first six months of the year.
The $4.5 billion of issuance in H1 2017 is compared to $1.7 billion of H1 2016 issuance that utilised a PCS trigger, which represents an increase of over 170%. In terms of the number of transactions, the 12 that utilised a PCS trigger in H1 2017 is up from the eight recorded in H1 2016, according to PCS.
Of the total, $2.6 billion in limits, or five transactions used the PCS Catastrophe Loss Index. The use of PCS for independent catastrophe designation also saw a substantial increase in the second-quarter of 2017, especially when compared with the slow start that lasted the first-quarter.
Seven transactions issued in Q2 2017 used PCS for independent catastrophe designation, which, as shown by the chart below, is almost double that seen in H1 2016, in terms of the number of transactions.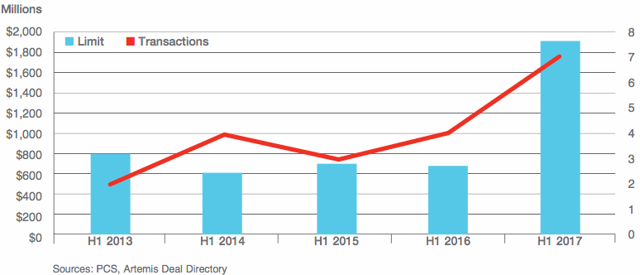 Historical Use of PCS for Catastrophe Designation in cat bonds
The above chart also shows that in terms of limit, $1.9 billion of H1 2017 issuance was structured utilising PCS for independent catastrophe designation, which is an increase of 181% when compared with the first-half of last year.
PCS explains in its report that for it to designate an event a catastrophe in the U.S., it must generate an industry loss of at least $25 million, and impact a substantial number of insurers and insureds. For Canada, the threshold is C$25 million, and for Turkey, TRY30 million.
H1 catastrophe bond issuance that uses PCS for independent catastrophe designation in the U.S. and Canada, has, in recent times, averaged 3.25 transactions and a limit of $700 million. This means that H1 2017's $1.9 billion in transaction limits is $1.2 billion above the average, with the number of transactions, 12, being 8.75, or 27% above the average.
On the back of a record-breaking first six months it will be interesting to see how strong catastrophe bond and ILS issuance is through the remainder of 2017, and whether the use of PCS triggers and data continues to increase.
Editor's Note: This article discusses one or more securities that do not trade on a major U.S. exchange. Please be aware of the risks associated with these stocks.
This article was written by
Owner of www.Artemis.bm the leading website on catastrophe bonds, insurance linked securities, reinsurance linked investments, reinsurance capital trends & risk transfer.Tracking the catastrophe bond market and the development of insurance-linked securities and collateralized reinsurance since 1996, as well as global insurance and reinsurance market trends.Built insurance technology (insurtech) solutions since the mid-90's, including trading platforms, derivatives platforms, claims prediction engines, intelligent agents.As well as Artemis, I am also the owner of www.reinsurancene.ws, a free to access reinsurance market publication with the largest readership of its kind.