By Jerry Wagner
A recent poll said that about half of all Americans would attend a fireworks display sometime over the last four days. Some have said that, like a Fourth of July rocket that reaches its apogee and then begins its descent to earth, stock markets last week were beginning a correction phase. There was plenty of evidence to back them up.
One of my favorite very short-term stock market indicators signaled a downturn in the tech-heavy NASDAQ market index last week after being in positive territory since November 10. Most other short-term NASDAQ indicators were giving similar negative signals.
Of course, it's not like the NASDAQ hasn't been outperforming for a long time now. This year (and also since the U.S. presidential election), the Index had outgained all of the other indexes. At the halfway mark for the year to date, the NASDAQ 100 Index had gained 16.73%, almost double the S&P 500 and Dow Jones Industrial Average, which barely surpassed 9%. And small-cap and mid-cap indexes badly trailed both of these large-cap indexes.
The NASDAQ had been above its 50-day moving average for more than 130 days, but last week it tumbled through. In the past when the Index has spent more than 100 days above its moving average and then plunged through, NASDAQ stocks have fallen during the next week and month. And even though gains were registered over the next three-month time span, they were below average.
Last week seemed like a bad week for most asset classes. Bonds fell as interest rates rose, and the U.S. dollar, gold, and emerging markets all tumbled. Developing markets did manage to break even, while oil and commodities generally rose after being down substantially for the year's first half.
Despite last week's broad negativity, the usual Fourth of July rally kicked off with a better Monday.
Similarly, for the last 10 years, July has tended to be a good month for the S&P 500. Since 2007, the Index has gained six out of 10 years and posted a 3.6% return last year.
In addition, the Bespoke Investment Group reports that, since 1961, in years when the stock index rose in the first half of the year (it was up 9.17% this year), it has, on average, gained an additional 5.41% during the second half of the year. In fact, as the following chart demonstrates, for the last 50 years, all of the gains made by stocks in the second half of the year have occurred in years that began with a gain in the first half.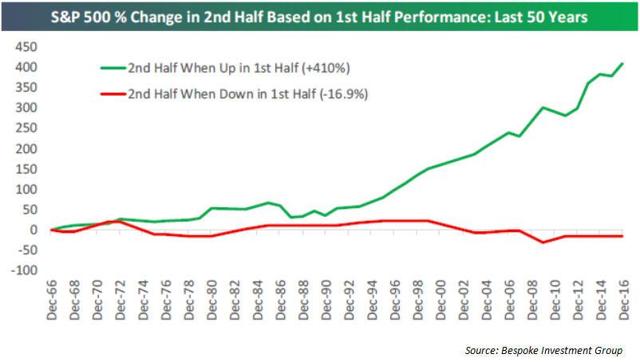 The Citi Economic Surprise Index moved to multi-year lows a few weeks ago. This measure of how often economic reports outperform economist guesses turned a bit higher last week with positive reports on jobless claims, GDP, and consumer confidence.
The previous lack of performance could be one of the reasons behind the weakness last week in so many asset classes. But as is the case with so many things in the financial world, today's weakness provides the basis for tomorrow's rebound. With economic surprises in such short supply, a reversal in the measure seemed likely.
While holiday rockets always fall back to earth, stock indexes, fortunately, do not. However, they don't spend all of their time at high altitudes either.
Disclosure: No communication by Dynamic Performance Publishing or our employees to you should be deemed as personalized investment advice. Any investment recommended in this newsletter should be made only after consulting with your investment advisor and only after reviewing the prospectus or financial statements of the company. Dynamic Performance Publishing, its affiliates, and clients may hold positions in the recommended securities. Results are not indicative of holdings for clients of Flexible Plan Investments. Forwarding, copying, or otherwise duplicating this information for the use by anyone other than the intended recipient is expressly forbidden. These results are not representative of those achieved by clients of Flexible Plan Investments, Ltd. (FPI) due to differences in security selection, timing of trades, transaction fees, and FPI's management fees.