Note: This article first appeared on my Trend Investing Marketplace service on June 8. All data is therefore as of that date.
I wrote previously about the relatively new trend of Artificial Intelligence (AI) in my article. This time I plan to take a look at the main companies to consider for investing in AI, and select my top 5.
AI - "machines with brains"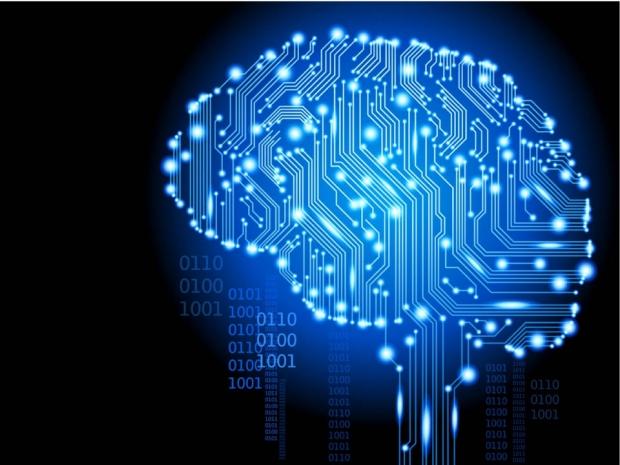 Many AI companies are unlisted and acquired before IPO
According to CB Insights, "over 200 private companies using AI algorithms across different verticals have been acquired since 2012, with over 30 acquisitions taking place in Q1'17 alone." Perhaps CB Insights will be next. The graph below gives further details. The left side list also gives an idea of the current AI leaders and acquirers.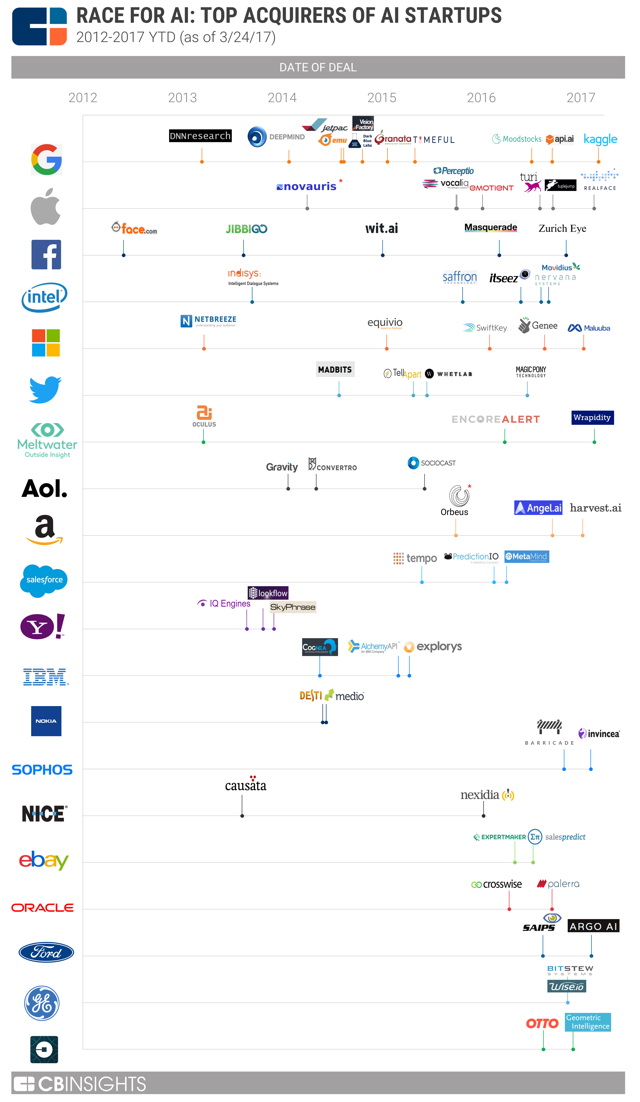 Source: CB Insights
Alphabet Inc (NASDAQ: GOOG, GOOGL)
Wikipedia quotes: "According to Bloomberg's Jack Clark, 2015 was a landmark year for artificial intelligence, with the number of software projects that use AI within Google increased from a "sporadic usage" in 2012 to more than 2,700 projects."
Google's research projects often have the idea of automating everything, and connecting everything and everyone online (such as "Project Loon").
Google search is already using complex algorithms (e.g. RankBrain) and deep learning techniques.
Google's Home is a recent example of Google's move into AI with their inbuilt "Google Assistant" (similar to Siri, Alexa, Bixby, M, Cortana and Watson). The assistant responds to any sentence beginning "Hey Google". A key is the voice recognition technology and microphones, so that the assistant can correctly understand you and make appropriate responses.
Google announced its first chip, called the Tensor Processing Unit (TPU), in 2016. That chip worked in Google's data centers to power search results and image-recognition. A new version will be available to clients of its cloud business.
Google is a leader in autonomous car systems, which uses plenty of AI. It helps they already have Google maps. Google also have android auto car entertainment and internet capability.
Some AI acquisitions include: DNNresearch (voice and image recognition), DeepMind Technologies (deep learning, memory), Moodstock (visual search), Api.ai. (bot platform), Kaggle (predictive analytics platform).
Amazon Echo Dot has Alexa, Google Home has Hey Google, and Apple smartphone has Siri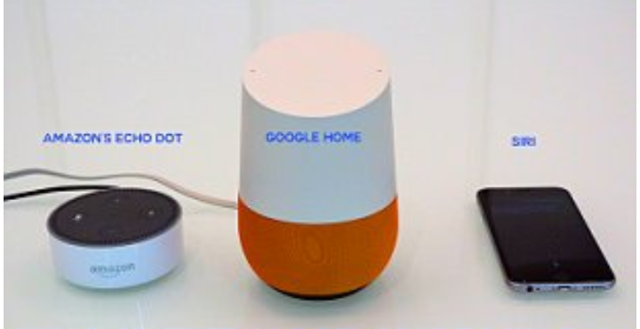 Amazon (NASDAQ: AMZN)
Amazon's home speaker Echo (and Echo Dot) and personal assistant "Alexa" is an example of Amazon's move into AI. Alexa is perhaps the most successful AI powered personal assistant thus far, especially as it is able to do over 10,000 online and offline functions.
Amazon Web Services ("cloud") offers deep-learning capabilities, allowing users to use up to 16 of Nvidia's Tesla K80 GPUs.
Amazon's AI acquisitions include Orbeus (automated facial, object and scene recognition), Angel ai (Chatbots), and Harvest.ai (cyber security).
Advanced Micro Devices (NASDAQ:AMD)
AMD are a semiconductor manufacturer. The company's new AI chips are the Radeon Instinct series. AMD are also racing to put its chips into AI applications. AMD will release its ROCm deep-learning framework, as well as an open-source GPU-accelerated library called MIOpen. The company plans to launch three products under the new brand in 2017.
Apple (NASDAQ: AAPL)
Apple has been an AI leader with their voice (and face) recognition software used by their personal assistant Siri (on your smartphone), introduced in 2011. In October 2016, Apple hired Russ Salakhutdinov from Carnegie Mellon University as its director of AI research.
Apple is working on a processor devoted specifically to AI-related tasks. The chip is known internally as the "Apple Neural Engine". Apple have an autonomous vehicle development team that uses AI, and they are also said to be working on augmented reality using AI chips. Apple is reportedly developing a specific AI chip for mobile devices.
Apple is also a leader in the areas of Virtual Reality ((VR)) and Augmented Reality ((AR)) headsets. Apple's ARKit will available soon and may one day may replace the smartphone. Apple iPhone users could get their first taste of AR technology later this year. The 10-year anniversary Apple iPhone will be enhanced with AR features.
Apple has made several AI acquisitions including Perceptio (deep learning technology for smartphones, that allows phones to independently identify images without relying on external data libraries), Emotient (can assess emotions by reading facial expressions), and RealFace (facial recognition).
VR and AR headsets are the next potential big thing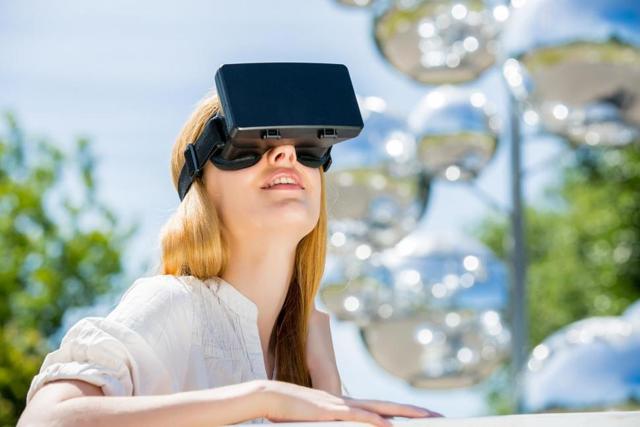 Baidu (NASDAQ: BIDU)
Baidu are the Google of China, so not surprisingly they have followed in Google's footsteps developing deep learning search functionality, as well as autonomous driving.
Facebook (NASDAQ: FB)
Mark Zuckerberg has become very interested in AI, since initially using it for simple tasks. Facebook has chatbots and Zuckerberg has developed his own personal assistant "M". The Facebook site uses AI to then direct targeted advertising to match your likes.
Facebook holds more than $32 billion in cash on its balance sheet and produced more than $13 billion in free cash flow over the last year. The company does not pay any dividends and has no debt. This means Facebook can pretty much buy up any rivals or promising new AI or tech companies. Some acquisitions include Face.com (facial recognition), Masquerade (a selfie app that lets you do face-swaps), Occulus (virtual reality), Eye Tribe (eye tracking software) and Zurich Eye (enables machines to see).
Facebook's Mark Zuckerberg has recently said that "the next big thing is augmented reality." He sees a world where we use AR glasses to project an image like a computer screen. The tricky part is the mouse, and so Facebook's team are looking at using direct brain to glasses technology, or something like eye movements to control your screen.
International Business Machine's (NYSE: IBM)
IBM should not be underestimated in AI, as they have previously led the AI industry. They became famous in this area when their supercomputer/personal assistant Watson was able to beat two quiz champions live on television. Apparently Watson can read 40 million documents in 15 seconds.
IBM have acquired Cognea (virtual assistants with a depth of personality), Alchemy deep learning, natural language processing (specifically, semantic text analysis, including sentiment analysis) and computer vision (specifically, face detection and recognition), and Explorys (a healthcare intelligence cloud company that has built one of the largest clinical data sets in the world, representing more than 50 million lives).
Intel (NASDAQ: INTC)
Intel are the global leading semiconductor manufacturer, with a dominant position in the desktop/PC market.
Intel also acquired Indisys (intelligent dialogue systems), Saffron (cognitive computing), Itseez (vision systems), and recently paid $15.3b for Mobileye (used in autonomous driving). Intel also recently spent $400 million to buy deep-learning startup Nervana. The company intends to integrate Nervana technology into Xeon and Xeon Phi processor lineups. Intel claims Nervana will deliver up to a 100-fold reduction in the time it takes to train a deep learning model within the next three years.
Microsoft (NASDAQ: MSFT)
Microsoft's background is in PC/desktop software (Office etc), and in gaming (XBox).
AI was first adopted by hyperscale data centers such as Microsoft, Facebook, and Google, which used AI for image recognition and voice processing. Microsoft's Azure offers deep-learning capabilities support for up to four of Nvidia's slightly older GPUs.
Microsoft also have a personal assistant name "Cortana".
Microsoft AI acquisitions include : Netbreeze (social media monitoring and analytics), Equivio (machine learning), SwiftKey (analyzes data to predict what a user is typing and what they'll type next), Genee (an AI app that acts as a digital personal assistant to schedule meetings), and Maluuba (deep learning, natural language processing).
Nvidia (NASDAQ: NVDA)
Nvidia design and sell industry leading AI chips, which puts them at the top of the AI pyramid. They collaborate, design and sell their various types of chips to almost all the top tech companies.
Nvidia's background is as a designer and seller of graphic processing units ((GPUs)) to dominate the gaming industry.
The company has expanded their products to include AI chips such as the Tesla P100 GPU, making them a leader in AI. Those chips are popular with data centers, and autonomous and semi-autonomous vehicles. Tesla recently decided to drop Mobileye and go for Nvidia technology for their autonomous vehicles.
Bloomberg summarizes well; "Nvidia has become one of the chipmakers leading the charge to provide the underpinnings of machine intelligence in everything from data centers to automobiles. As the biggest maker of graphics chips, Nvidia has proved that type of processor's ability to perform multiple tasks in parallel has value in new markets, where artificial intelligence is increasingly important."
Qualcomm (NASDAQ: QCOM)
Qualcomm's revenue has mostly come from wireless modem licensing fees, especially as a key supplier to Apple. However the company are currently facing legal (U.S. FTC and Apple litigation) and other issues such as pressure on declining smartphone related revenues. Qualcomm are also operate in the areas of IoT, security and networking industries. Given the coming boom in autonomous vehicles, Qualcomm are in the process of buying NXP Semiconductors (NASDAQ:NXPI) (for $47b), the leader in high-performance, mixed-signal semiconductor electronics - and a leading solutions supplier to the automotive industry.
Qualcomm Inc.'s latest Snapdragon chip for smartphones has a module for handling artificial intelligence tasks.
Samsung (OTC: SSNLF)
Samsung are the global number 2 semiconductor manufacturer, and the global number 1 smartphone seller. The rise of AI will lead to a huge increase in demand for both computer processing chips and memory chips - which Samsung can supply.
Samsung's "Bixby" is similar to Apple's personal assistant Siri.
In virtual reality (VR) headsets, as of Q1 2017, Samsung is the current market leader with 21.5% market share. Sony is second with 18.8%, followed by HTC with 8.4%, Facebook with 4.4%, and TCL 4%. Total worldwide shipments of augmented reality and virtual reality headsets reached 2.3M in the first quarter, according to IDC. The VR headsets represented over 98% of the sales. An IDC report from March predicts the amount of shipped AR and VR headsets will reach 99.4M units by 2021.
Tesla (NASDAQ: TSLA)
Tesla are the global leader in Autonomous Vehicles ((AVs)). As AVs progress from stage 1 to stage 5 (full autonomy) Tesla can be a large beneficiary in terms of electric car sales and transport as a service (taxi company). Tesla may also benefit from selling their AV technology to other car manufacturers, or if they expand into using AI in the home as they already have the power wall and solar roof. Meaning Tesla may end up being your taxi company, your energy supplier, and your content provider both in your car and home. All of these can be run using AI programs from your smartphone. Elon's latest venture is neural networks - wherein he is looking at how we can connect the brain directly to a device.
Others to consider
Ebay Inc (NASDAQ:EBAY), General Electric (NYSE:GE), Nice Ltd (NASDAQ:NICE), Oracle (NYSE:ORCL), Salesforce.com (NYSE:CRM), Skyworks Solutions (NASDAQ:SWKS), Softbank (OTC:SFBTF)(they bought out chip designer ARM, and own 4.95% of Nvidia), Sophos Group (LN:SOPH) (IT security), and Twitter (NYSE:TWTR).
The companies that make the hardware behind the AI boom - especially the optics (transceivers, transponders, amplifiers, lasers and sensors)
With all booms often it is wisest to buy those that make the picks and shovels. In this case it is the optics (transceivers, transponders, amplifiers, lasers and sensors), cameras, semiconductors and so on.
I have already discussed Samsung, Nvidia, Intel, Qualcomm, and AMD above, as they will do well from semiconductor design and sales.
Some of the major optics providers that can do very well include:
Applied Optoelectronics Inc. (NASDAQ:AAOI) - Design and manufacture high speed data and fiber-optic network products, such as transmitters and receivers. 2017 PE is 14.2, and 2018 PE is 12.6 representing excellent value for a growth stock. Analyst consensus price target is US$75.78, representing 23% upside.
Fabrinet (NYSE:FN) - Design and manufacture transceivers, transponders, optical amplifiers, lasers, and sensors. 2017 PE is 13.7, and 2018 PE is 12.2 representing excellent value for a growth stock. Analyst consensus price target is US$52.55, representing 23% upside.
Note: I will most likely write a separate article on how to benefit from the AI boom by buying the picks and shovels stocks behind the boom.
Conclusion
AI will be invisible, yet it will be everywhere. AI appears on our smartphones, with virtual assistants, augmented and virtual reality headsets, robots, in data centers, and in semi and fully autonomous vehicles.
My top 5 AI stocks to play the coming AI boom are Apple, Samsung, Alphabet Google, Facebook, and Nvidia. If I could find the next Nvidia or listed small cap AI company with potential I would include them in a top 6. For now I have not yet found, as mostly they get bought out by the tech giants before going public.
Apple and Samsung are chosen as they are the global top two smartphone sellers (the smartphone and AR/VR devices will mostly be the operating systems for mass market retail AI), they have very loyal customer bases to cross-sell new AI products to, and also control what chips they use in their devices. Apple may move towards their own AI chip, and Samsung are the global number 2 chip maker already.
Alphabet Google and Facebook dominate the internet, and therefore have a large influence on the retail and business market. They are both already leaders in AI, with the financial backing to buy out any competitive threats. We could perhaps add Amazon to this group also.
Nvidia are the clear chip design leader in the AI space, and have an excellent track record. They are a must have in any AI portfolio. AMD would be a cheaper alternative for those worried about Nvidia's valuation.
Finally an equally wise move would be to buy the "pick and shovel" makers behind the boom such as Applied Optoelectronics and Fabrinet.
I am interested to hear your favorite AI stock and why. As usual all comments are welcome.
Disclosure: I am/we are long GOOG, FB, SSNLF, FN, AAOI. I wrote this article myself, and it expresses my own opinions. I am not receiving compensation for it (other than from Seeking Alpha). I have no business relationship with any company whose stock is mentioned in this article.
Additional disclosure: The information in this article is general in nature and should not be relied upon as personal financial advice.
Editor's Note: This article discusses one or more securities that do not trade on a major U.S. exchange. Please be aware of the risks associated with these stocks.