Thesis
Visteon Corporation (VC) has a lot going for it. The company has several demographic tailwinds and solid financials. Although the entire automotive industry has been under pressure after years of record sales, I believe Visteon to be a smart investment.
About The Company
Visteon Corporation designs, engineers, and manufactures electronics products for auto makers. The company provides instrument clusters ranging from standard analog gauges to high resolution, all-digital, reconfigurable, 2-D and 3-D displays. It also provides information displays, infotainment, audio systems, and other electronics. The company's breakdown by product, region, and customer is shown in Figure 1.
Figure 1: Visteon Corporation Breakdown

Source: Visteon 10-K
Visteon is comfortably mid-cap with a market cap of $3.3B. The company posted $3.17B in revenue last year. Average daily volume is around 300,000 shares so it is not actively traded. Insiders hold a 5.6% stake in the company.
What I Like
Visteon has a P/E ratio of 25.3 which is on the higher side. It is higher than the automotive industry average. Forward P/E is 15.56 which implies a lot of growth. PEG is 1.04 which does not bake in very much of this implied growth. Visteon has posted significant growth recently.
Year over year, quarterly earnings are up 231%. Earnings are expected to increase 38.8% next year, and 108% over the next three years. In the most recent quarter Visteon posted record sales, adj EBITDA, adj EBITDA margin, and a record backlog. Past and future growth for Visteon is shown in Figure 2.
Figure 2: Visteon Corporation Past And Future Growth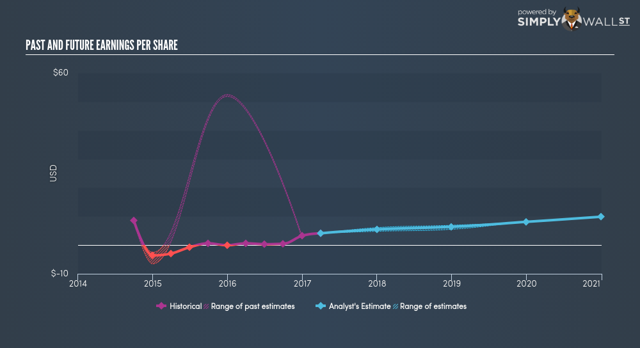 Source: Simply Wall St
The company boasts some exceptional performance metrics as well. Return on equity is in line with the industry average at 21.8%. However, return on assets and capital are both above the competition at 7% and 17% respectively. Performance metrics are shown in Figure 3.
Figure 3: Visteon Performance Metrics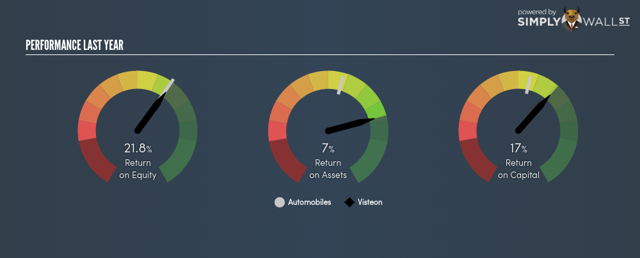 Source: Simply Wall St
Visteon also has an impressive balance sheet. The company has a debt/equity of 58% with total debt of $396M. However, it also has $688M of cash, so the debt is not really something to worry about. Visteon also deploys a stock repurchase program. As of Q1 2017, there was $275M remaining in the buyback program.
Opportunities And Drivers
Visteon has multiple significant growth drivers. As technology permeates all aspects of our lives, cars are becoming a lot more connected. Visteon's top three products are instrument clusters, displays, and infotainment. If you bought a new car recently, there is a good chance that you have a digital instrument cluster. I believe a major driver is the continued integration of technology into cars.
Visteon has also posted solid growth in China. Sales in China grew 26% from 2015 to 2016. New business wins grew 84% over the same time period. China is a huge opportunity for all of automotive and I consider this a significant driver as well.
The company's priorities going forward do include everyone's favorite buzzword: autonomous driving. Visteon is developing a level 3+ autonomous driving platform and plans on launching the platform at CES 2018.
Visteon also plans on accelerating its China business. The company set a goal to achieve double digit sales growth for 2017. Other goals are fairly typical and include improving margins and sales goals.
Risks
Some risks for Visteon include substantial international operations. Any change to international trade may pose some volatility going forward. The company needs to continue to develop revolutionary technologies to maintain its status. Automotive is a cyclical industry, however, I believe Visteon will grow despite the industry's cyclical nature. For more risks check out the company's 10-K.
Final Thoughts
I believe Visteon has posted, and will continue to post, significant growth. I believe the company's valuation is fair considering the amount of growth it has had. I believe its balance sheet is outstanding and there are a lot of drivers for the company going forward. There are no risks that stand out to me but all risks should be considered. I like Visteon Corporation.
Disclosure: I/we have no positions in any stocks mentioned, but may initiate a long position in VC over the next 72 hours. I wrote this article myself, and it expresses my own opinions. I am not receiving compensation for it (other than from Seeking Alpha). I have no business relationship with any company whose stock is mentioned in this article.