With the S&P 500 recently breaking above its April 2011 high, below we take a look at how valuations for the index and its ten sectors have changed since then. As shown in the first chart below, the S&P 500's trailing 12-month P/E ratio currently stands at 14.09. This is up more than two points since the index made its lows in the fourth quarter, but it's also well below the level it was at in early 2011.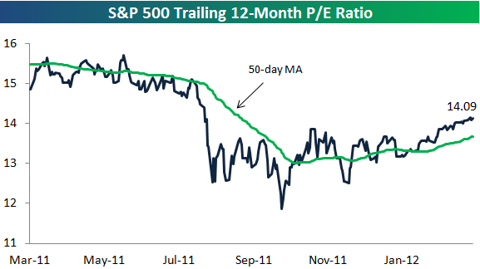 Below are trailing 12-month P/E ratio charts for the ten S&P 500 sectors. As shown, every sector except Utilities and Telecom currently has a lower P/E ratio than it had in early 2011.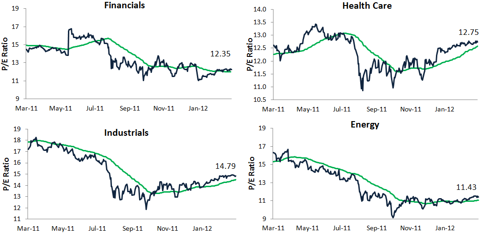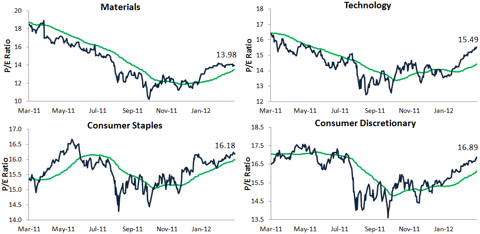 Below is a table showing the change in each sector's P/E ratio since April 29th, 2011, which was the S&P 500's prior bull market high date. As shown, the Energy sector has seen its P/E fall the most at -4.17 points, followed by Materials (-3.22), Industrials (-3.08) and Financials (-2.32). The S&P 500's P/E has fallen 1.49 points from 15.59 down to 14.10. Telecom and Utilities are the two sectors that have seen P/E expansion since 4/29/11.
Earnings have been strong since early 2011, as evidenced by the contracting P/E ratios of the S&P 500 and its cyclical sectors. Now that the market has broken out, will we finally start to see some P/E expansion again?