Reports surfaced early today that an incident at Micron Technology's (NASDAQ:MU) Inotera plant led to production capacity loss of around 60K wafer starts per month out of the supplier's total of 125K wafer starts per month.
News out of Reuters stated that:
"Tech research firm TrendForce said in a report that a nitrogen gas dispensing system malfunction had led to the contamination of wafers and equipment in one of Micron's facilities near central Taiwan and that some output had to be scrapped."
Reuters also noted that:
"TrendForce analysts base their reports on channel checks in the supply chain, a media officer with TrendForce told Reuters."
Later in the day, Micron Technology issued a statement denying production delays after the incident at the fab. MU reported that it had fully restored the operation of a fabrication factory in Taoyuan from a "minor facility event," and that it expects no material impact on its business.
What if the rumors were true?
The incident is a two-edged sword for the company.
At least one-sixth of its DRAM output for the fiscal quarter would be compromised (60,000 wafers out of 125,000 wafers/month), resulting in reduced revenues for the company and drastically impacting EPS.
On the other side of the sword, the loss of 60,000 wafers would result in a 5.5% cut in global DRAM monthly output, which would surely affect average selling prices (ASPs) of DRAMs by compounding the already severe shortage.
I noted in a March 31, 2017, Seeking Alpha article entitled "Micron Technology May Have A DRAM Yield Problem - Does It Matter?":
"Micron Technology noted that DRAM revenues in its most recent quarter increased 22%, but 21% was from ASP increases while only 1% was from an increase in bit shipments."
DRAM revenue growth for Q3 was comparable - a 20% QoQ on a 14% increase in ASPs. Thus, revenues are directly related to ASPs brought about by lack of DRAM capacity investment in 2016, while at the same time DRAM demand has continued to grow at a strong pace.
If there was indeed an incident at Inotera, it didn't affect MU stock, which was up 4.70% in concert with most of the technology.
What if the rumors were false?
The stock has risen in parallel with rising memory ASPs, which I described in the above mentioned SA article. This trend is illustrated in the chart below.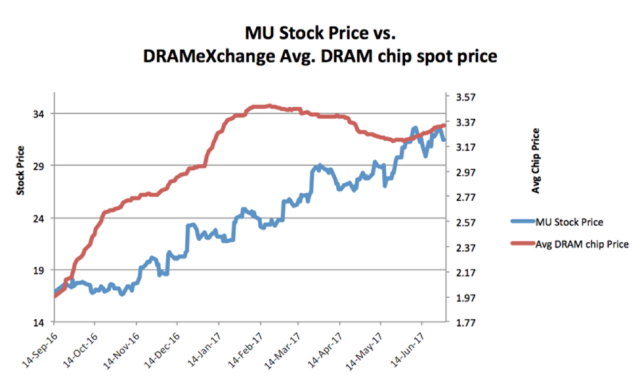 The other significance of this chart is that it quotes DRAMeXchange, which is the memory and storage division of TrendForce. In fact, DRAMeXchange has become the leading source of DRAM and NAND pricing, is quoted extensively in the media and utilized by investment analysts in market reports. A quick internet search will identify the numerous financial new outlets utilizing pricing data from DRAMeXchange. In addition, the website says it has "a strong membership base of 410,000 subscribers."
My intention is not to disparage DRAMeXchange in any way, but when a media officer at the company tells Reuters "TrendForce analysts base their reports on channel checks in the supply chain," as I noted above, it raises the specter of inaccuracy in data supplied to investors and subscribers. ASPs reported on the company's website and charts provided to subscribers are used by analysts to place valuations on memory companies, and stock movement is tied to these data.
I've illustrated this with the chart below from a December 6, 2016, report from Credit Suisse which quotes DRAMeXchange as the source.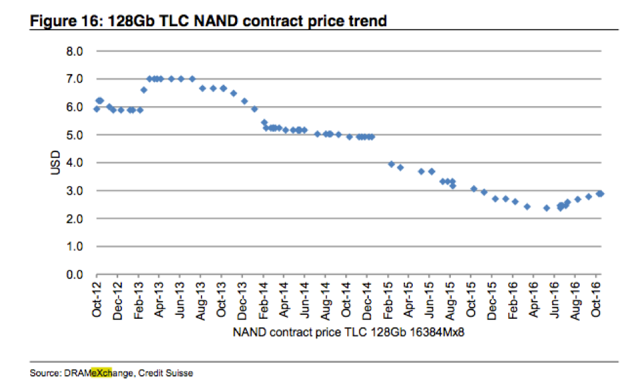 Investor Takeaway
DRAMeXchange provides a valuable source of information between conference calls from memory suppliers. Otherwise, an investor and analyst would have to wait until disclosure by the memory company only at the end of each quarter. However, today's breach could have had significant impact on MU stock today. DRAMeXchange stated that the incident was provided from "channel checks in the supply chain." These are the same sources that provide the firm with ASPs.
Investors need to be suspicious of any data published, not only by DRAMeXchange but any research firm providing data that is instrumental to stock movements and evaluations.
Disclosure: I/we have no positions in any stocks mentioned, and no plans to initiate any positions within the next 72 hours.
I wrote this article myself, and it expresses my own opinions. I am not receiving compensation for it (other than from Seeking Alpha). I have no business relationship with any company whose stock is mentioned in this article.