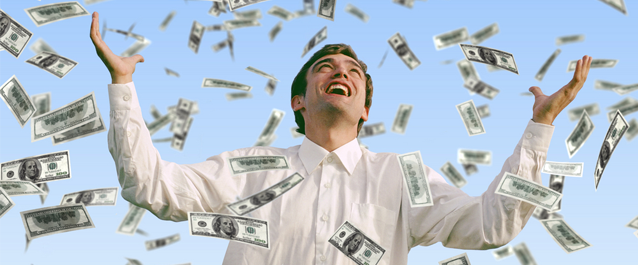 Hello and welcome back to my portfolio update, where every quarter I give the readers an update on the portfolio, the value changes, the transactions, the dividend changes, and the plan going forward.
Reasoning, Strategy & Goal
For new readers, you may want to check out my introduction article below which goes into more detail. The reasoning for choosing high yield over wealth generation, such as dividend growth investing, is due to wanting the income as soon as possible. Due to residing in London, living expenses are higher than the rest of the UK, and I share my salary with the fiancee as we're planning on starting a family. The plan is to DRIP my investments until retirement, but the income is there if needed in case of emergency or a special vacation.
I mainly invest in regulated investment companies, RICs, as they are required by law to distribute at least 90% of their earnings to shareholders. Naturally, this means that the dividend yield is higher compared to a regular c-corp such as Coca-Cola (NYSE: KO). If RICs are trying to expand or grow, they will usually have to issue shares in order to raise the capital required.
The money will be evened out across the REIT, BDC and CEF sectors, with maybe a small portion in MLPs. Once I reach my goal comfortably, I'll be fortifying the portfolio in order to generate wealth. This will be done by diversifying into dividend growth companies in areas of safety such as the consumer goods and utility sector.
The goal is to save until the income comfortably passes my salary of £33,000 as then I will have the freedom of retiring if I so wish, or continuing to work in order to have a more lavish lifestyle. If I continue to save at least £13,000 a year, I will hit this figure by approximately 2032, 15 short years!
Portfolio Series:
Introducing My New High Yield RIC Portfolio
The Q1 2017 High Yield RIC Portfolio Update
The Portfolio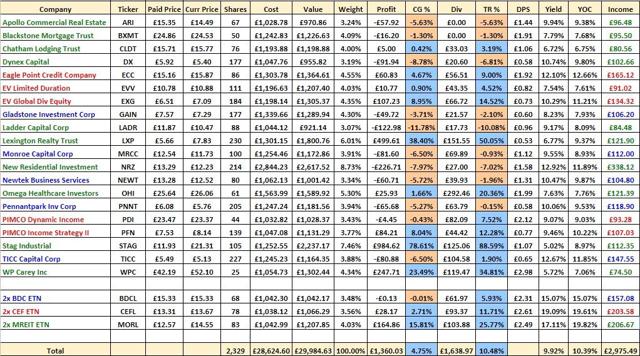 In the past 3 months, the capital gain from the portfolio has decreased by 5.25% and total return by 4.22%. Even after my transactions for the quarter, my yield on cost still remains at 8.84% after paying the 15% US withholding tax.
My annual dividend has now grown to £2,529.17 after subtracting 15% (£446.32) from the total income. This represents a £323 increase from Q1, and I'll now receive £210.76 ($272.13) a month on average. Considering the volatility of the market and the high-yield path I've chosen, I'm happy that the majority of the portfolio decline was due to currency exchange rates, rather than a bad decision on my part.
Due to the GBP/USD rising by 3% over the past 3 months from $1.25 to $1.29, this has adversely affected both the portfolio value in the image above and the income received in the dividend section below. You will be able to see the transactions listed below, that the price hasn't changed much since I've purchased them apart from the ex-dividend dates where prices get adjusted to stop traders profiting.
Portfolio Transactions
In total, I deposited £3,250 into my brokerage account in Q2, and below is a table of where that fresh capital was spent.
| | | | | | | |
| --- | --- | --- | --- | --- | --- | --- |
| Transaction | Date | Company | Shares | Price | Current Price | Change |
| BUY | 4/19/2017 | Gladstone Investment (NASDAQ:GAIN) | 177 | $9.47 | $9.44 | -0.31% |
| SELL | 4/20/2017 | Omega Healthcare Investors (NYSE:OHI) | 61 | $34.80 | | |
| BUY | 4/20/2017 | New Residential Investment (NYSE:NRZ) | 172 | $15.97 | $15.82 | -0.93% |
| BUY | 5/25/2017 | Blackstone Mortgage Trust (NYSE:BXMT) | 50 | $31.42 | $31.70 | 0.89% |
| BUY | 6/19/2017 | Apollo Commercial Real Estate (NYSE:ARI) | 67 | $19.07 | $18.73 | -1.78% |
I made a new purchase in Gladstone Investment after doing some research on the BDC. Some of my findings were published a month later in the article "Should Gladstone GAIN Your Investment."
In the comment section in my previous portfolio articles, I had considered the possibility of selling half of my overweight position in Omega Healthcare Investors in order for a higher yield. One of my previous investments, New Residential Investment, came under fire and its share price closed at -7.89% for the session after falling by more than 13%. This was due to fears over its connection with a partner Ocwen (NYSE:OCN) after a cease and desist order was issued from the NCCOB. I saw the opportunity and made an investment below its closing price, so my timing was pretty good on the day.
Blackstone Mortgage Trust and Apollo Commercial Real Estate were both purchases after reading articles from some of my favorite authors, Brad Thomas and The Fortune Teller.
Portfolio Dividends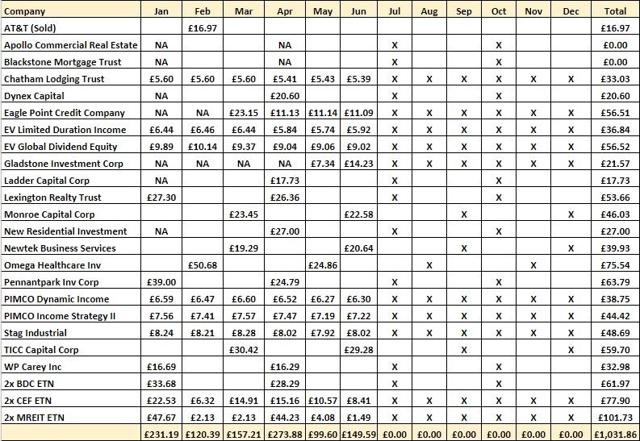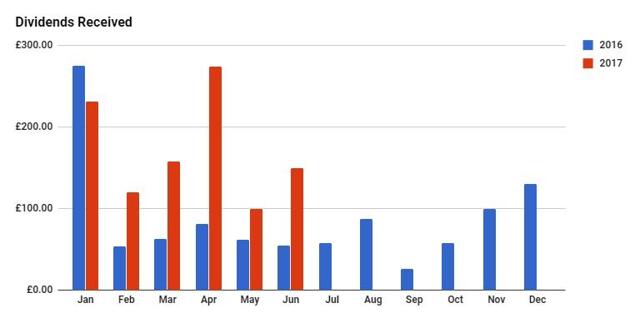 For Q2, the dividends amounted to £523.07, for a monthly average of £174.35 ($225.17). This is only a change of 2.80% compared to Q1 but it should be higher. Selling half my position in OHI for NRZ resulted in May's income being lower compared to February, the benefits of this will be seen this month in July when NRZ pays out. February also benefited from my last AT&T (NYSE: T) dividend while March saw a special from Eagle Point Credit Company (NYSE: ECC), and the leveraged CEF ETN (NYSEARCA: CEFL) paid more than it did in June, though its monthly dividends come with a certain degree of variance.
Last but not least, the 3% foreign exchange impact. In Q1, I said I was looking to achieve £2,750 by end of 2017, with a 5-year goal of £10,000 by end of 2021. It's more than likely that it'll be closer to £3,000 by end of 2017 if I maintain my current level of monthly deposits.
Portfolio's Future

I went against my word on increasing my BDC and CEF exposure but I'll definitely make some progress for the future! I'm currently in the process of publishing an article on some of the CEFs I'm interested in, so look out for that in the next day or two. There are only a few diversified REITs that I'm interested in. These are none other than the big hitters Realty Income (NYSE:O), National Retail Properties (NYSE:NNN), Store Capital (NYSE:STOR), and commercial REIT Starwood Property Trust (NYSE:STWD).
For BDCs, I'm still looking to add Main Street Capital (NYSE:MAIN), Ares Capital (NASDAQ:ARCC) to my BDC lineup and I could even increase my weighting in my leveraged BDC ETN (NYSEARCA:BDCL) ever so slightly.
If you appreciate this article and wish to be notified on future publications, either on my portfolio journey or research that I do for Seeking Alpha, please click on the "Follow" button and feel free to either inbox me or leave a comment below!
Disclosure: I/we have no positions in any stocks mentioned, and no plans to initiate any positions within the next 72 hours.
I wrote this article myself, and it expresses my own opinions. I am not receiving compensation for it (other than from Seeking Alpha). I have no business relationship with any company whose stock is mentioned in this article.
Additional disclosure: I'm long everything in the portfolio!