Legg Mason, Inc. has been a powerhouse in the world of asset management for over a century. Founded in Baltimore, Maryland in 1899, Legg Mason is a publicly traded company (NYSE:LM) manages $710 billion in assets across six continents and employs over 3,400 professionals across 40 offices worldwide.[1]
What is a more unique characteristic of Legg Mason is their multi-manager business model. The asset management leg of their business consists of 9 subsidiary firms that specialize in a particular area and work in complete autonomy. These subsidiaries include Brandywine Global, Clarion Partners, ClearBridge Investments, Martin Currie, The Permal Group, QS Investors, RARE Infrastructure, Royce & Associates, and Western Asset Management. Together, these affiliates help to contribute to Legg Mason's vision of providing active investment "expertise" to their clients.
Although Legg Mason has grown to be one of the largest asset managers in the world, it hasn't been a necessarily smooth ride. In 2014, one of their subsidiaries, Western Asset Management, settled a class action lawsuit for $21 million involving the breach of their fiduciary duty to ERISA plans by "failing to disclose and promptly correct a coding error that caused the improper allocation of a restricted private investment to the accounts of nearly 100 ERISA clients. The private investment that was off-limits to ERISA plans had plummeted in value by the time the coding error was discovered, and Western Asset had an obligation to reimburse clients for such losses under the terms of its error correction policy. Instead, Western Asset failed to notify ERISA clients until nearly two years later, long after the firm had liquidated the prohibited securities out of those client accounts."[2]
In 1997, Legg Mason settled another class action lawsuit for $2.7 million involving their brokerage unit overcharging investors for selling stock on the Nasdaq.[3]
The point of this article isn't to necessarily highlight some of Legg Mason's legal troubles, but to take a deep dive into their value proposition as an active investment manager. We have taken a deeper look at the performance of several other mutual fund companies and have come to one universal conclusion: they have failed to deliver on the value proposition they profess, which is to reliably outperform a risk-comparable benchmark. You can review by clicking any of the links below:
Controlling for Survivorship Bias
It is important for investors to understand the idea of survivorship bias. While there are 67 strategies that are currently offered by Legg Mason, it doesn't necessarily mean that these are the only strategies that Legg Mason has ever managed. In fact, there 108 funds that no longer exist due to a variety of reasons including poor performance or the fact that they were merged with a separate fund. Think about that for a second. The vast majority of strategies offered by Legg Mason ultimately did not survive. We will show what their performance looks like, in aggregate, shortly.
Fees & Expenses
Let's first examine of the costs associated with their current strategies (67 total). It should go without saying that if investors are paying a premium for investment "expertise," then they should be receiving above-average results consistently over time. The alternative would be to simply accept a market's return, less a significantly lower fee, via an index fund.
The costs we examine include expense ratios, front end (NYSE:A), level (NYSE:B) and deferred (NYSE:C) loads, and 12b-1 fees. These are considered the "hard" costs that investors incur. Prospectuses, however, do not reflect the trading costs associated with mutual funds. Commissions and market impact costs are real costs associated with implementing a particular investment strategy and can vary depending on the frequency and size of the trades taken by portfolio managers. We can estimate the amount of cost associated with an investment strategy by looking at its annual turnover ratio. For example, a turnover ratio of 100% means that the portfolio manager turns over the entire portfolio in 1 year. This is considered an active approach and investors holding these funds in taxable accounts will likely incur a higher exposure to tax liabilities to short term and long term capital gains distributions relative to those incurred by passively managed funds.
The table below details the hard costs as well as the turnover ratio for all 67 active funds offered by Legg Mason that have at least 3 years of complete performance history. You can search this page for a symbol or name by using Control F in Windows or Command F on a Mac. Then click the link to see the Alpha Chart. Also remember that this is what is considered an in-sample test; the next level of analysis is to do an out-of-sample test (for more information see here).
On average, an investor who utilized an equity strategy from Legg Mason experienced a 1.24% expense ratio, a max front-end load of 5.65% for equity funds with a front-end load, a max deferred load of 1.79% for equity funds with a deferred load, and a 0.42% 12b-1 fee for equity funds with a 12b-1 fee. Similarly, an investor who utilized a bond strategy from Legg Mason experienced a 0.78% expense ratio, a max front-end load of 3.54% for bond funds with a front-end load, and a 0.21% 12b-1 fee for bond funds with a 12b-1 fee. These expenses can have a substantial impact on an investor's overall accumulated wealth if it is not backed by superior performance. The average turnover ratios for equity and bond strategies from Legg Mason were 43.86% and 59.22%, respectively. This implies an average holding period of about 20 to 27 months, on average. It is safe to say that Legg Mason makes investment decisions based on short-term outlooks, which means they trade quite often. Again, this is a cost that is not itemized to the investor, but is definitely embedded in the overall performance. In contrast, most index funds have very long holding periods--decades, in fact, thus deafening themselves to the random noise that accompanies short-term market movements, and focusing instead on the long term.
Performance Analysis
The next question we address is whether investors can expect superior performance in exchange for the higher costs associated with Legg Mason's "expertise." We compare each of their 175 strategies, which includes both active and dead funds, that have at least 3 years of performance history since inception against its current Morningstar assigned benchmark to see just how well each has delivered on their perceived value proposition. We have included alpha charts for each of their current strategies at the bottom of this article. Here is what we found:
83% (146 of 175 funds) have underperformed their respective benchmarks or did not survive the period since inception.
17% (29 of 175 funds) have outperformed their respective benchmarks since inception, having delivered a POSITIVE alpha
2% (3 of 175 funds) have outperformed their respective benchmarks consistently enough since inception to provide 95% confidence that such outperformance will persist as opposed to being based on random outcomes
It is safe to say that the majority of funds offered by Legg Mason have not outperformed their Morningstar-assigned benchmark. Of the strategies that did have a positive alpha, only 3 had enough consistency to yield a statistically significant result. The inclusion of statistical significance is key to this exercise as it indicates which outcome is the most likely vs. random-chance outcomes.
Examining statistical significance always needs to be taken in context. We can find high statistical significance of a random variable with simply two observations. The problem with relying solely on statistical significance without context is that we can be basing conclusions on small samples, which you can imagine can be problematic, especially for a long-term investor.
This is what we see with the three Legg Mason strategies that do have a statistically significant alpha. Two out of the three funds have only been around for three years while the other has been around for six years. To illustrate our point, it would only take the Western Asset Macro Opportunities Fund (MUTF:LAOIX) to underperform its benchmark by 1% this year in order for its alpha to become statistically insignificant. One year of relative underperformance should not have such an impact on the investment conclusions we draw from our analysis. This is the major problem of drawing conclusions based on small sample sizes (Law of Small Numbers).
Because we would expect one out of every 45 funds to have a statistically significant alpha just by random chance alone, the fact that we have three with limited performance history suggests that their success has been a result of random luck.
Regression Analysis
How we define or choose a benchmark is extremely important. If we relied solely on commercial indices assigned by Morningstar, then we may form a false conclusion that Legg Mason has the "secret sauce" as active managers. Because Morningstar is limited in terms of trying to fit the best commercial benchmark with each fund in existence, there is of course going to be some error in terms of matching up proper characteristics such as average market capitalization or average price-to-earnings ratio.
A better way of controlling these possible discrepancies is to run multiple regressions where we account for the known dimensions (betas) of expected return in the US (market, size, relative price, etc.). For example, if we were to look at all of the US-based strategies from Legg Mason that have been around for at least the last 10 years, we could run multiple regressions to see what their alpha looks like once we control for the multiple betas that we know are being systematically priced into the overall market. The chart below displays the average alpha and standard deviation of that alpha for the last 10 years ending 12/31/2016.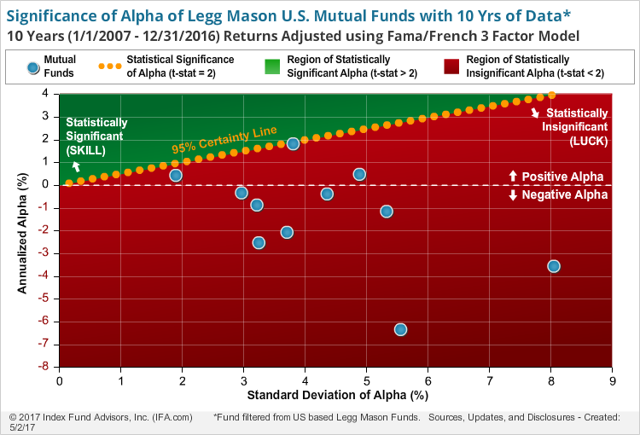 As you can see, of the 12 funds that met the criteria, zero produced an alpha that was statistically significant at the 95% confidence level (green shaded area). What we can say is that all strategies from Legg Mason do not have a statistically significant alpha once we control for their risk exposure. Why is this important? It means that if we wanted to simply replicate their risk exposure, we could do so more cost effectively through the use of index funds. Given the lower costs associated with index funds, we could have more confidence that we will experience a more desirable result compared to more expensive actively managed funds.
Like many of the other largest financial institutions, a deep analysis into the performance of Legg Mason has yielded a not so surprising result: Active management is likely to fail many investors. We believe this is due to market efficiency, costs, and increased competition in the financial services sector. As we always like to remind investors, a more reliable investment strategy for capturing the returns of global markets is to buy, hold, and rebalance a globally diversified portfolio of index funds.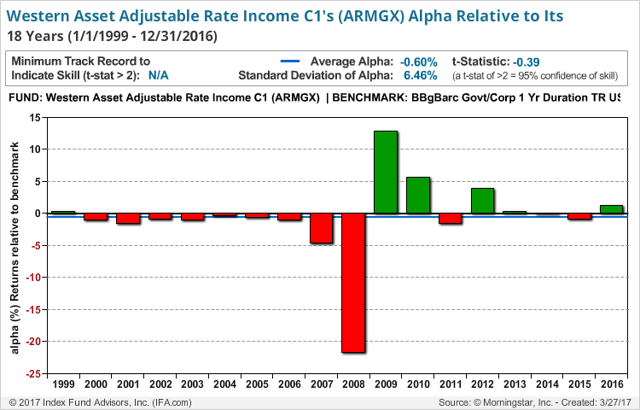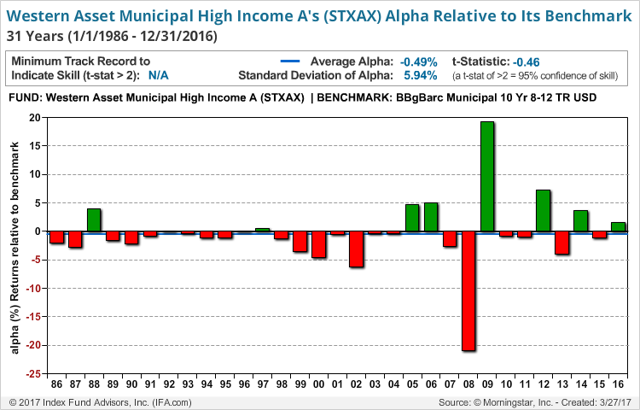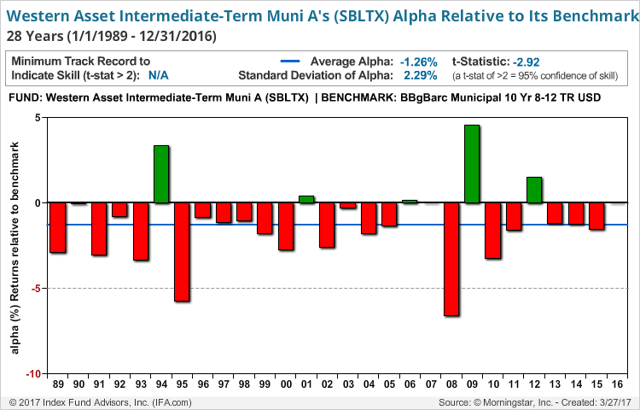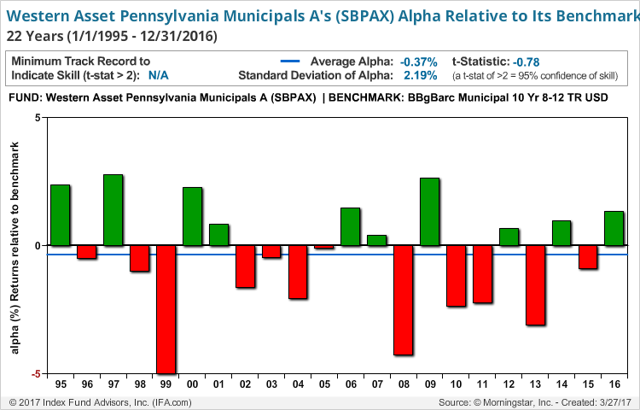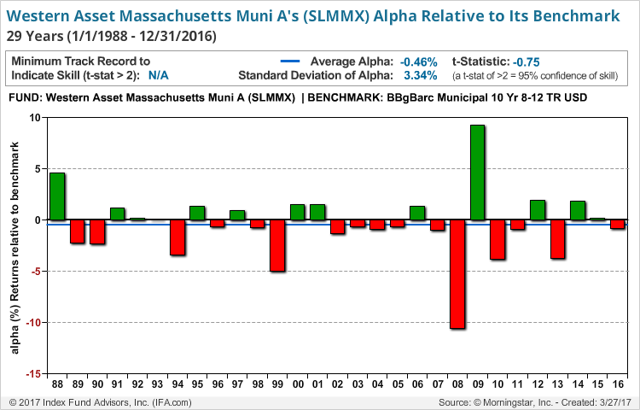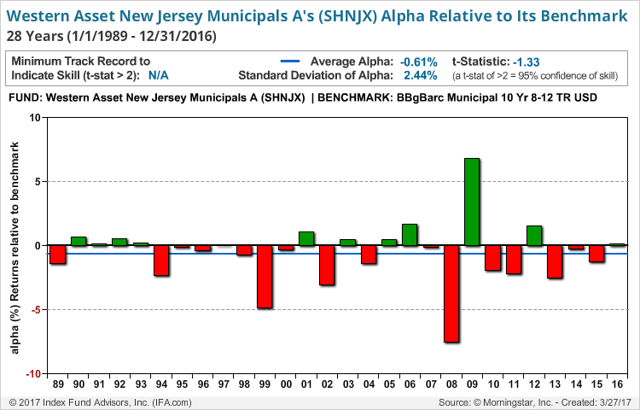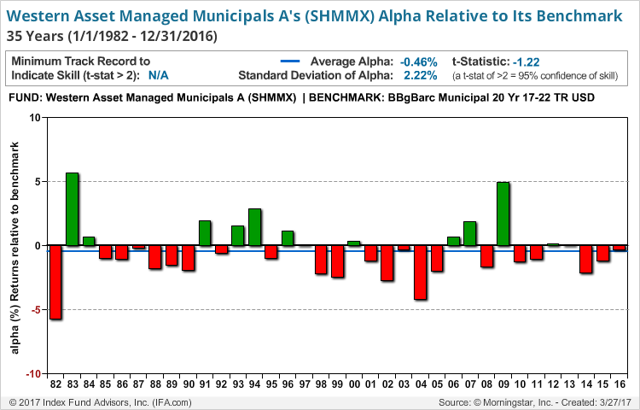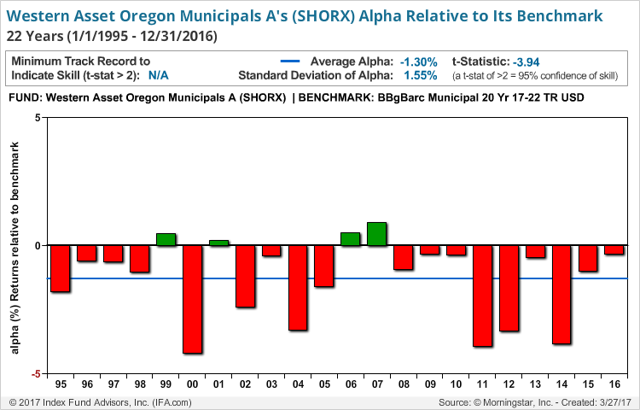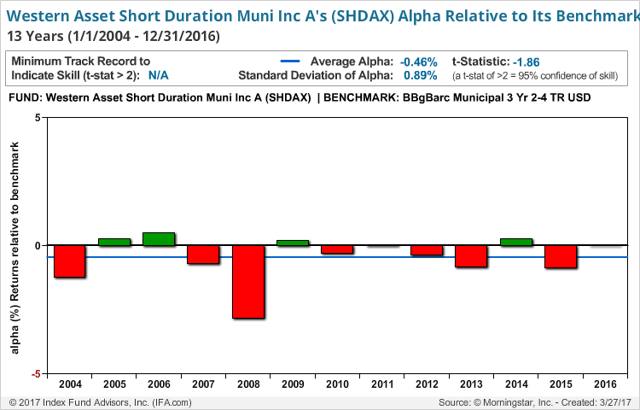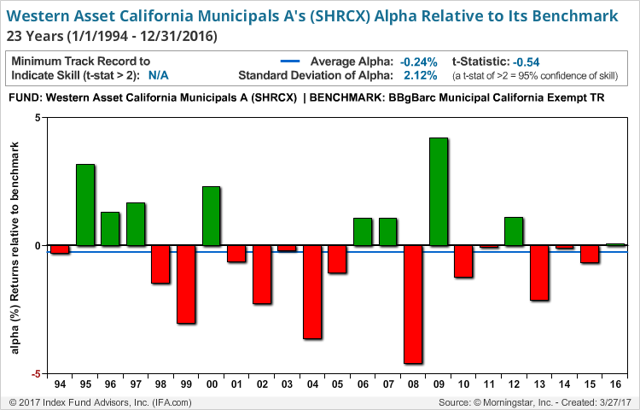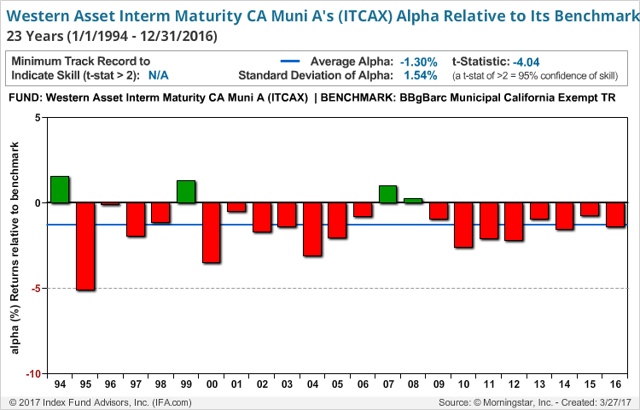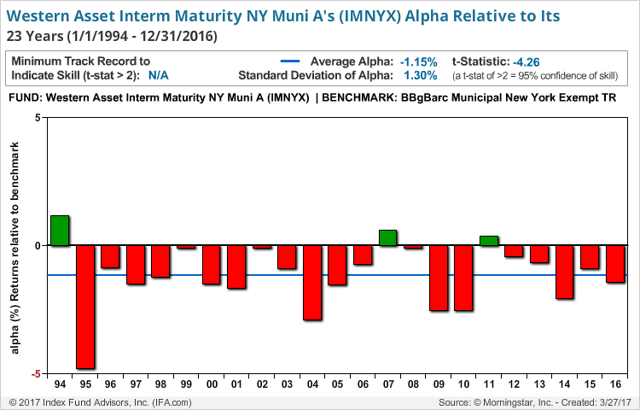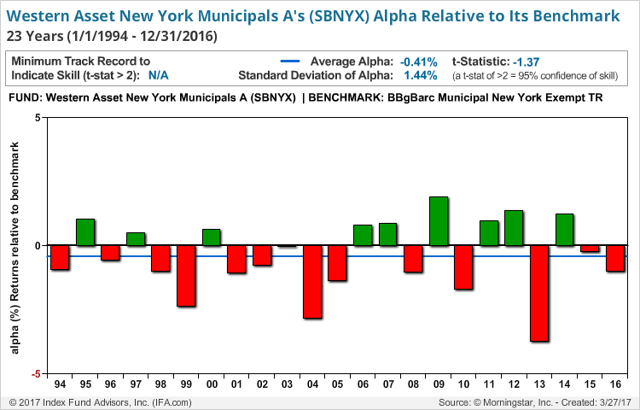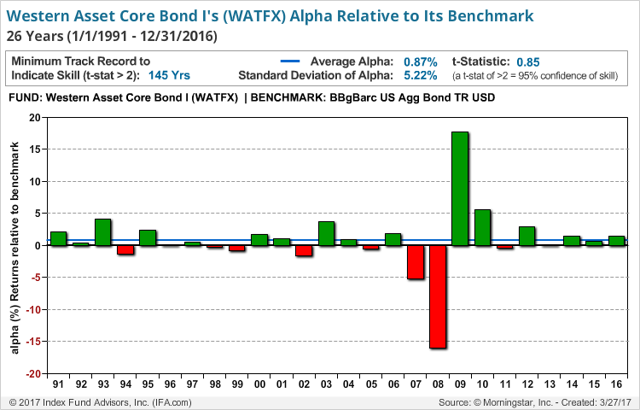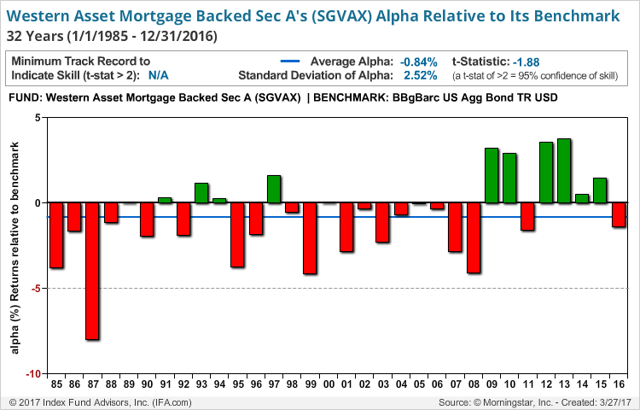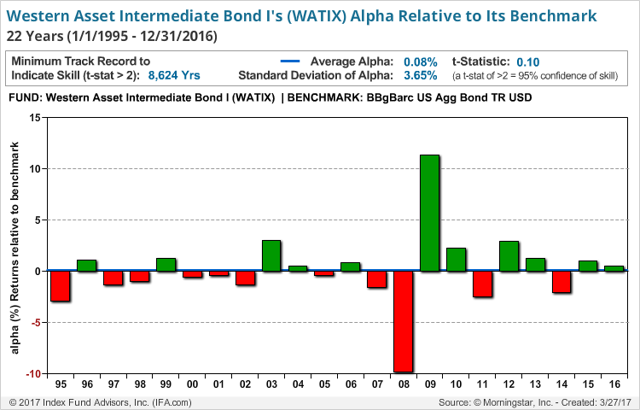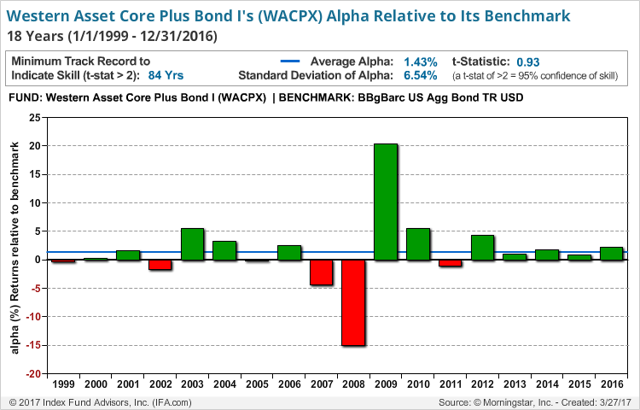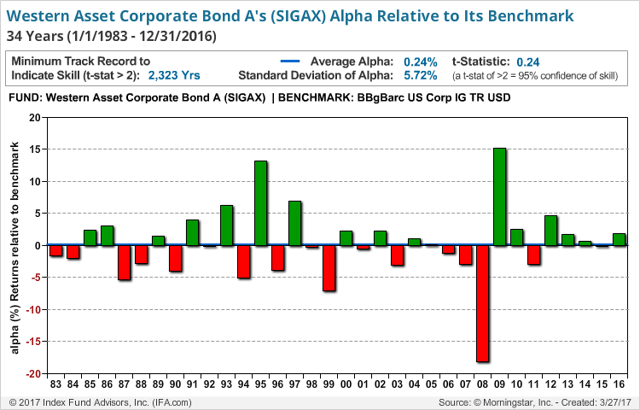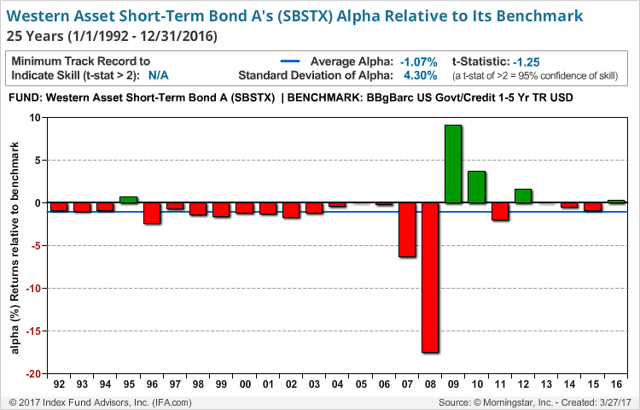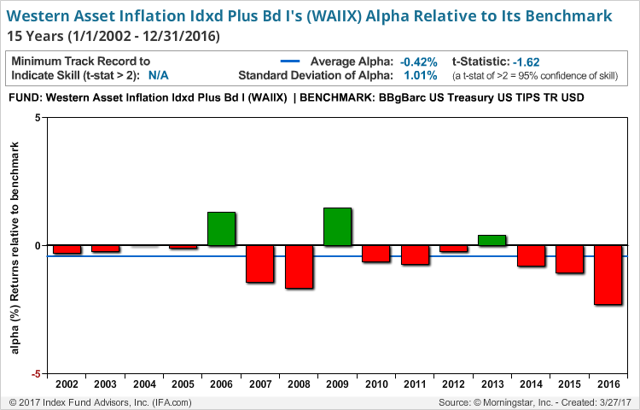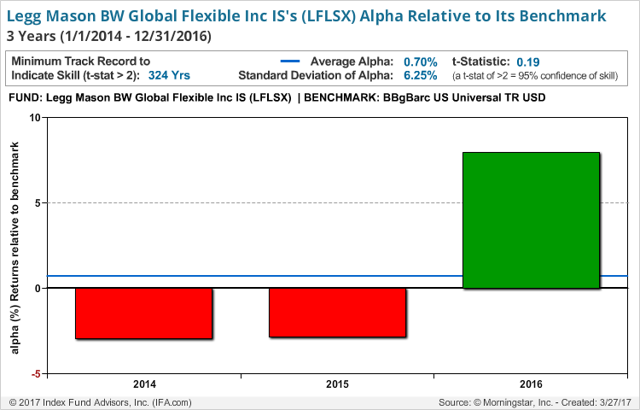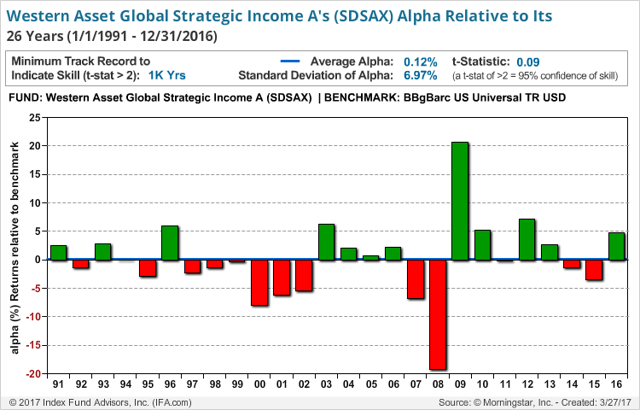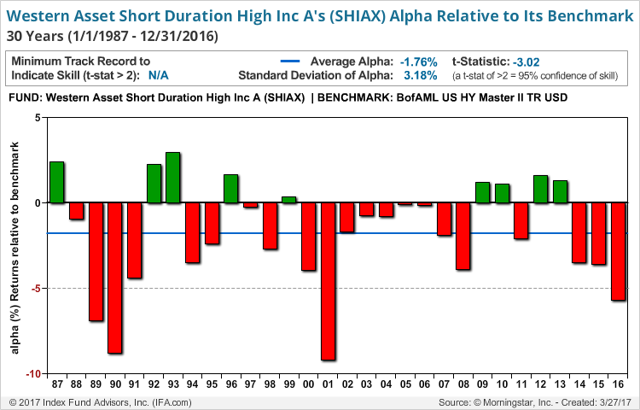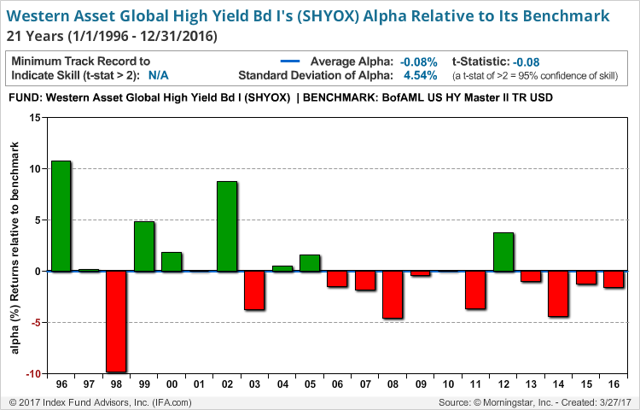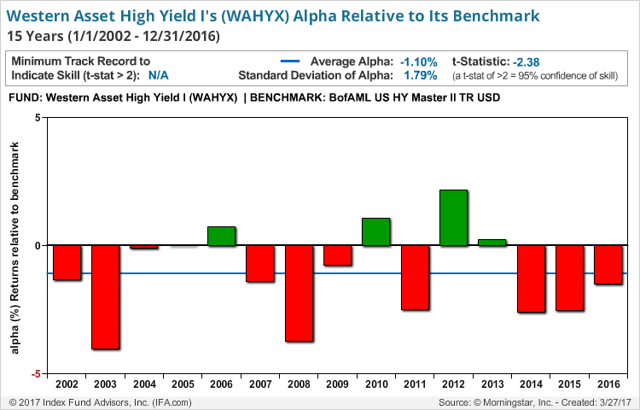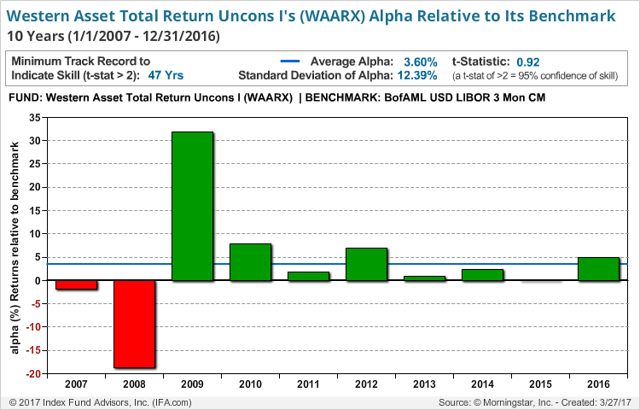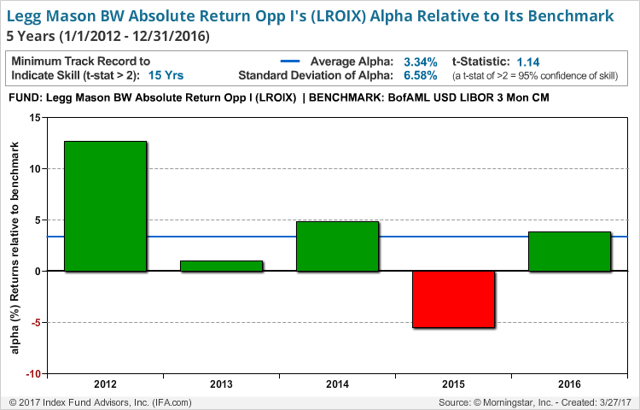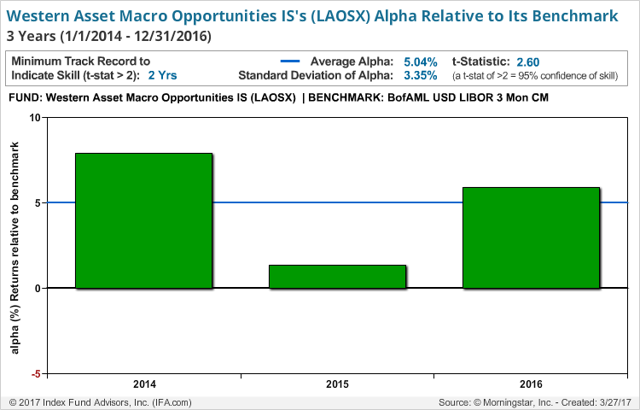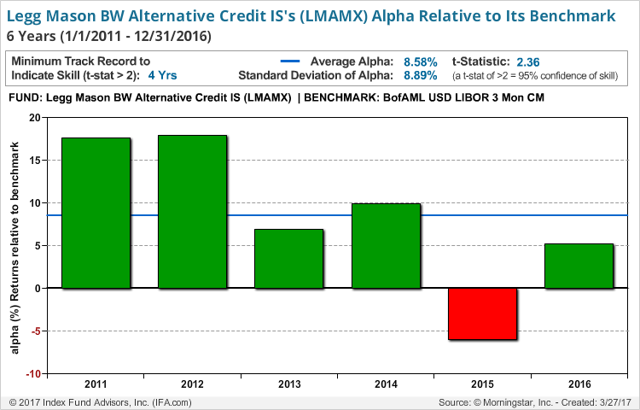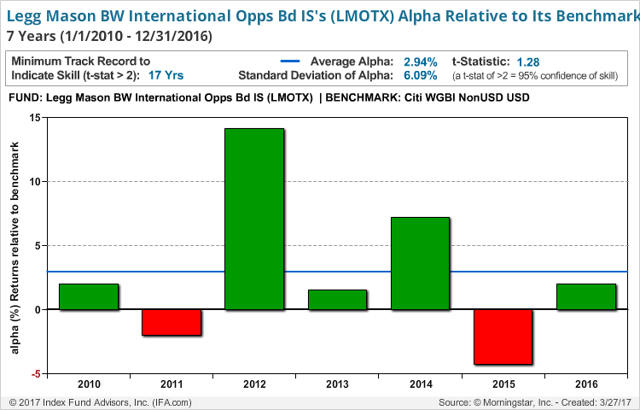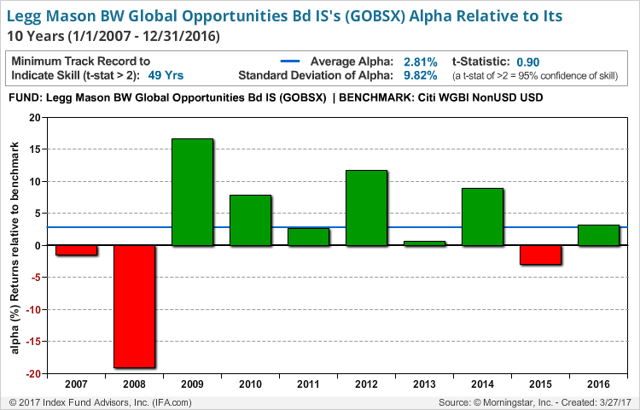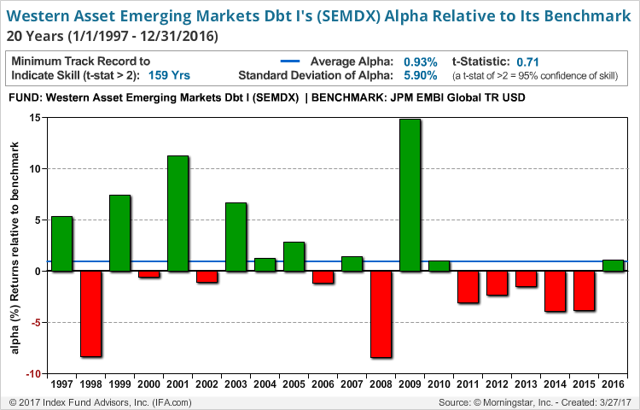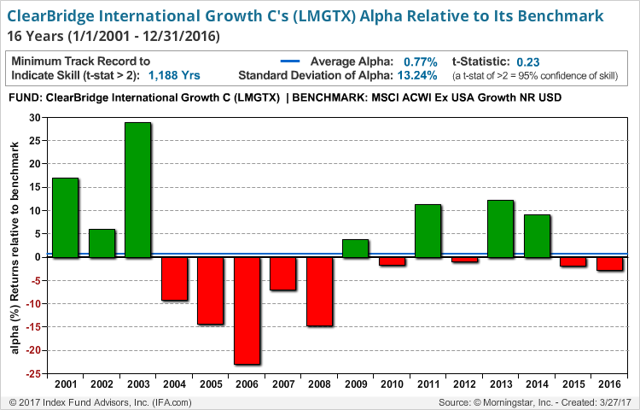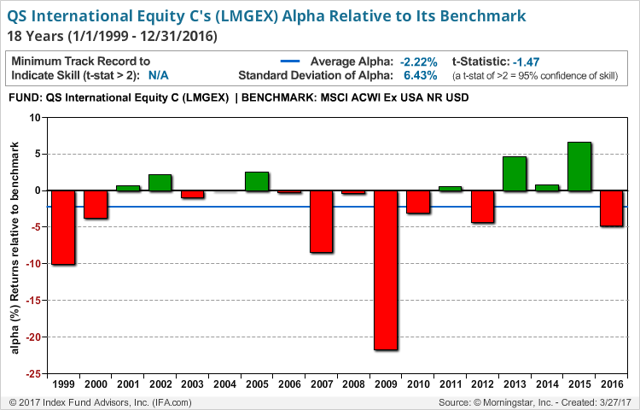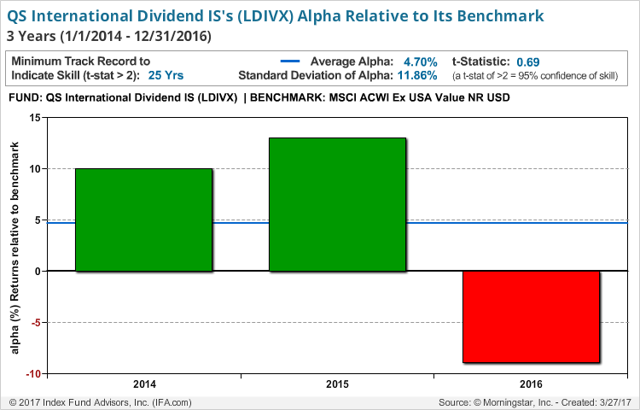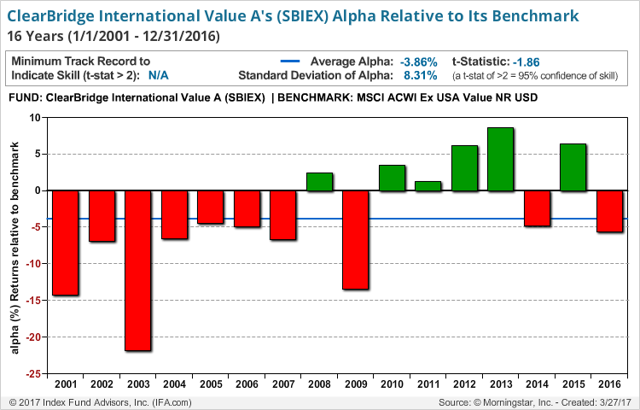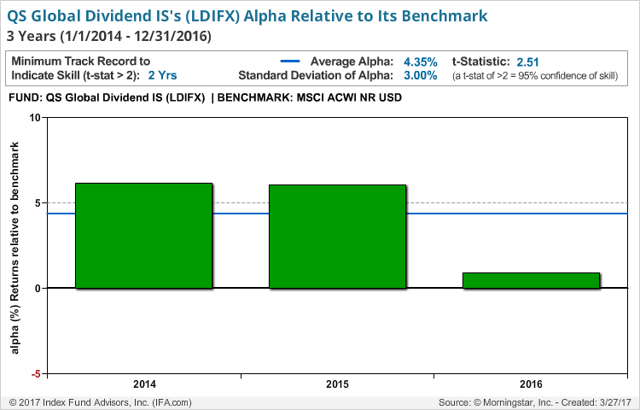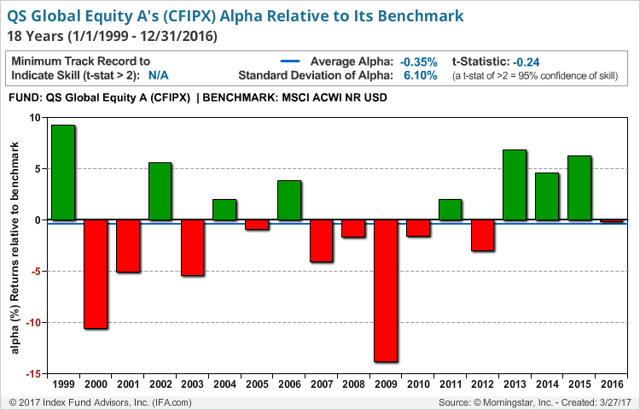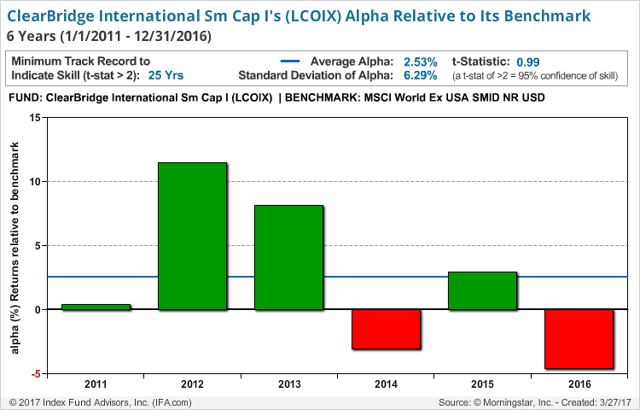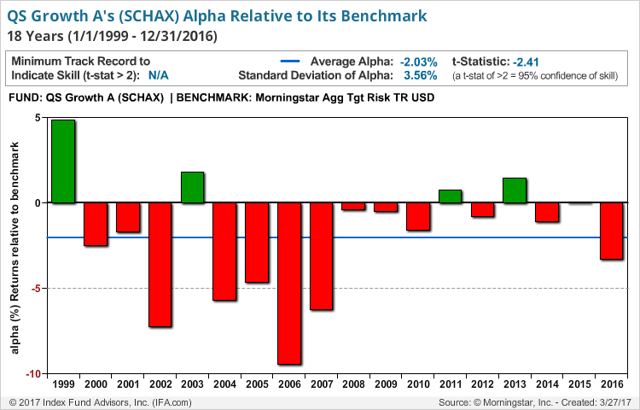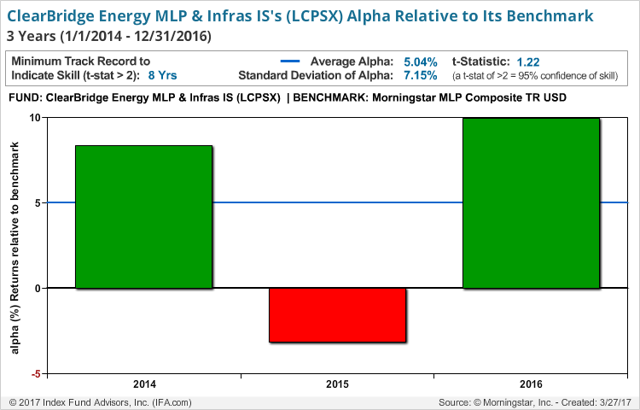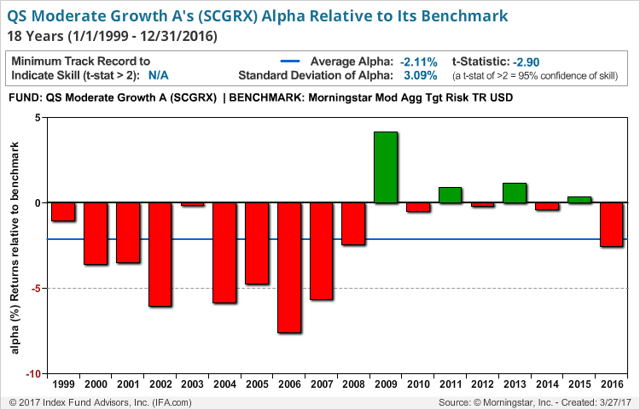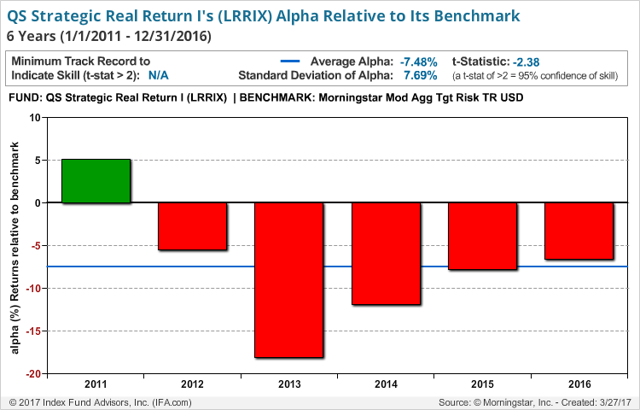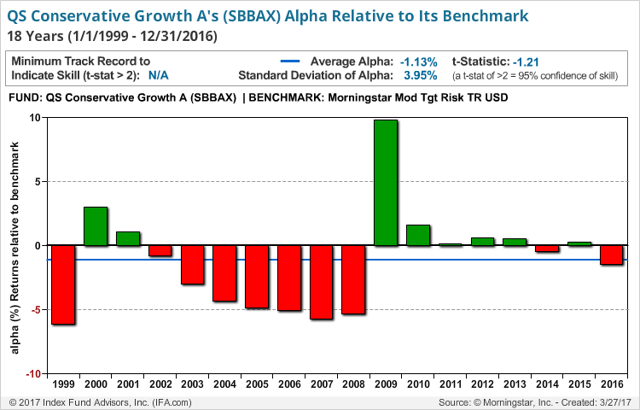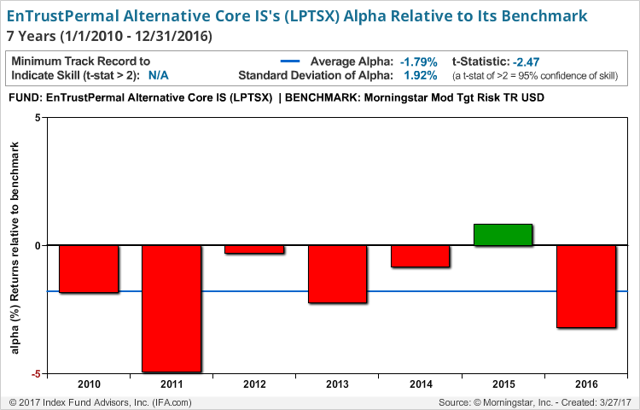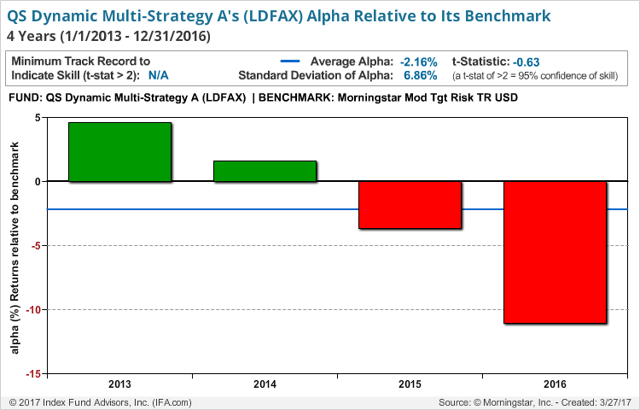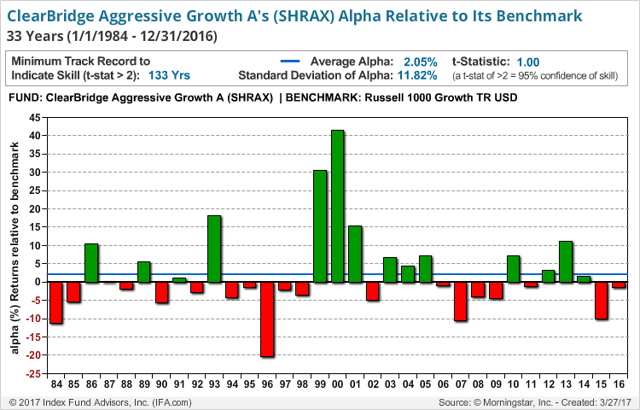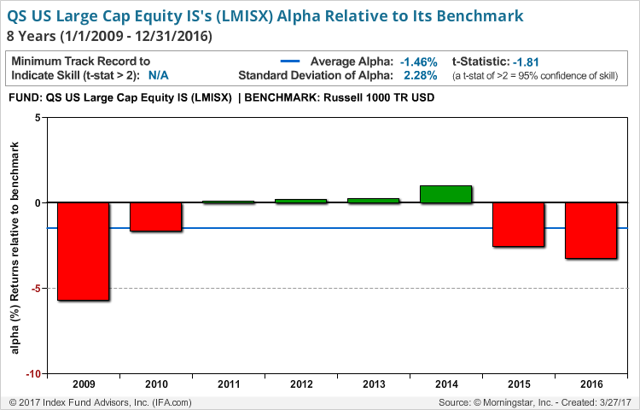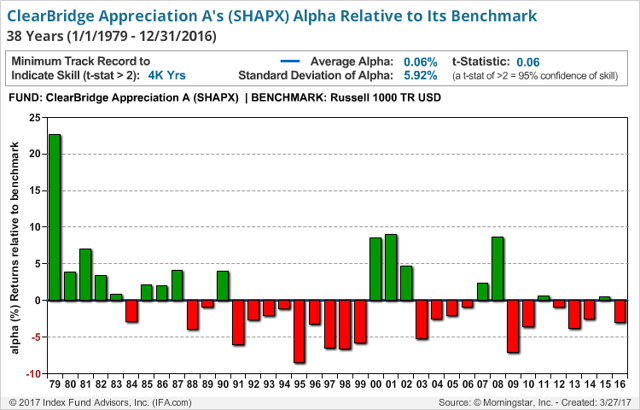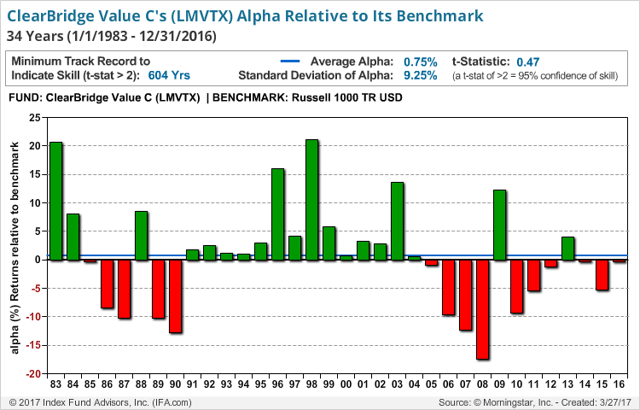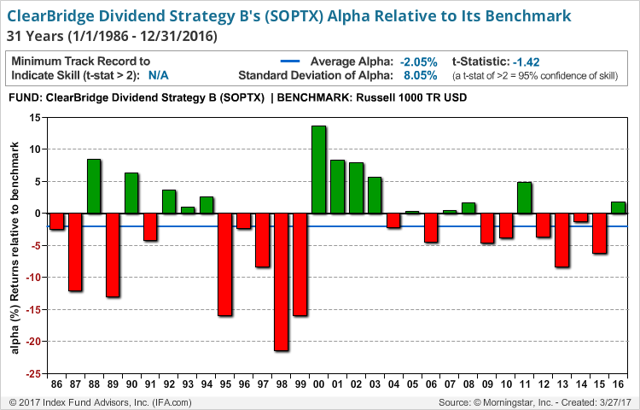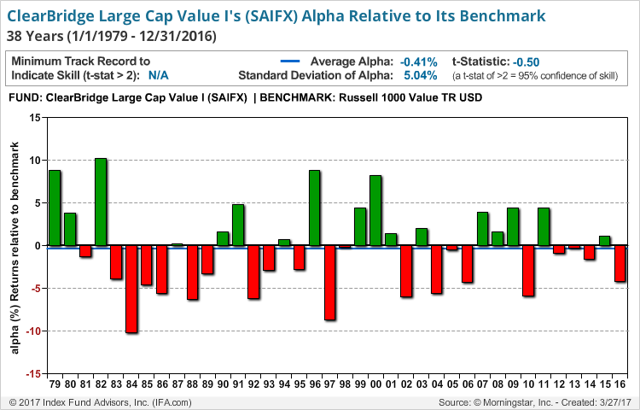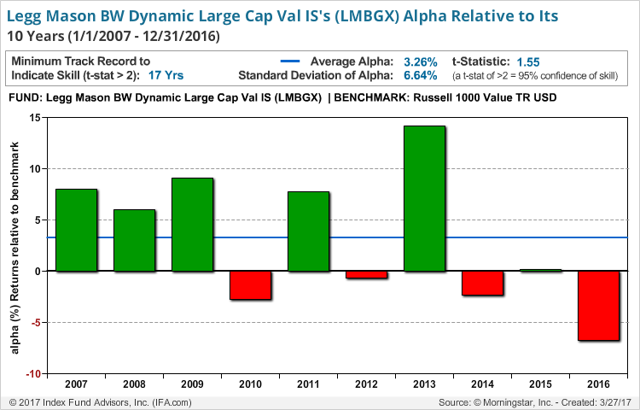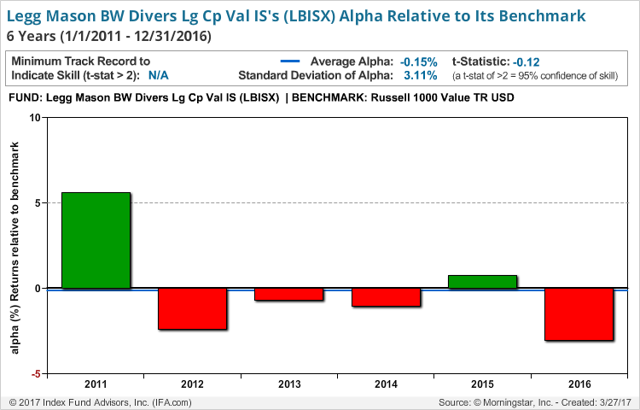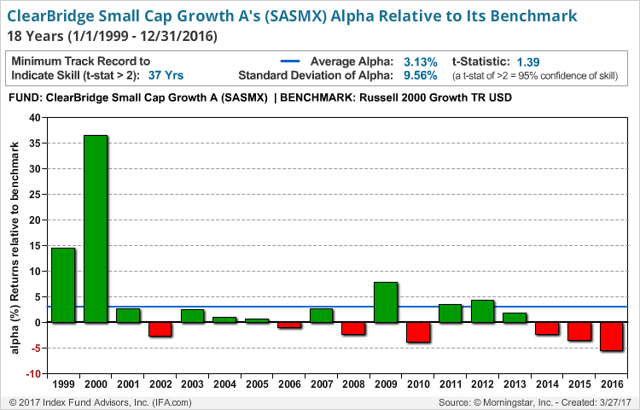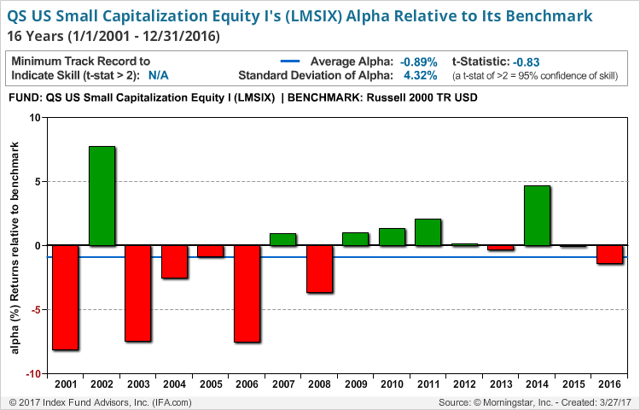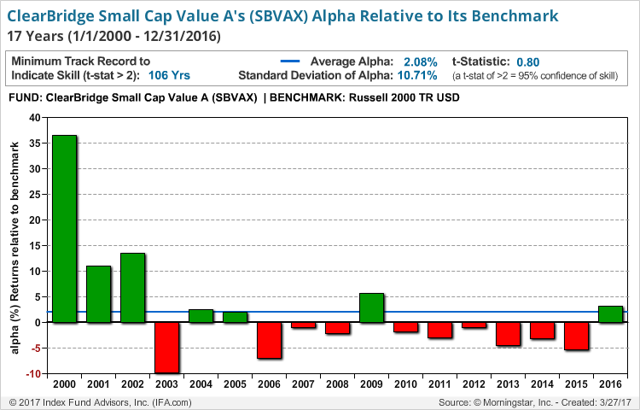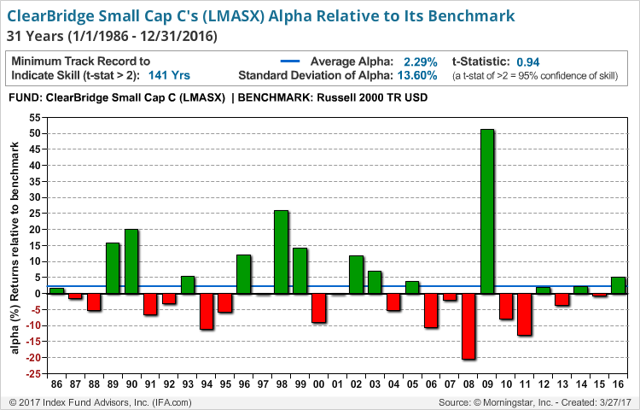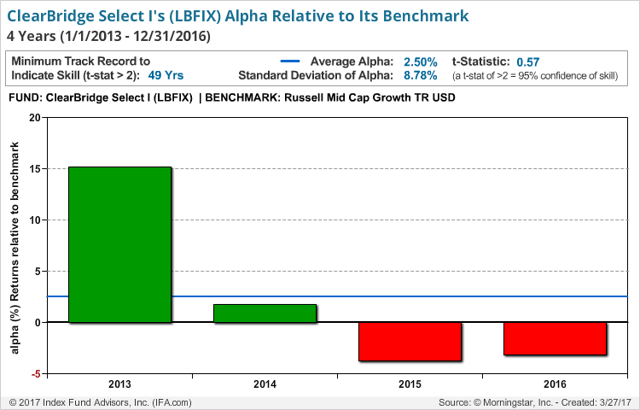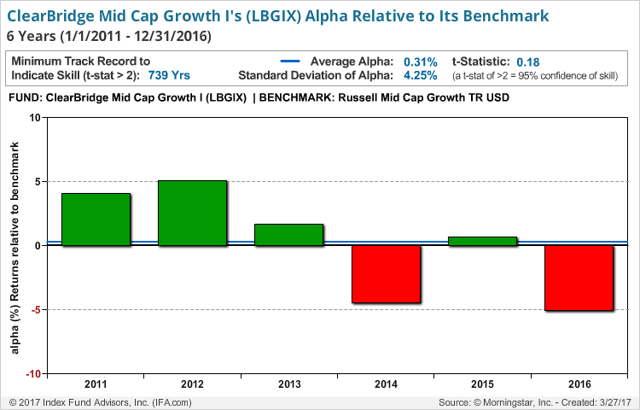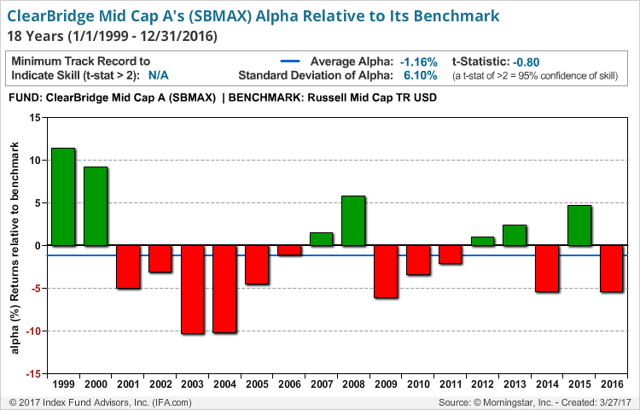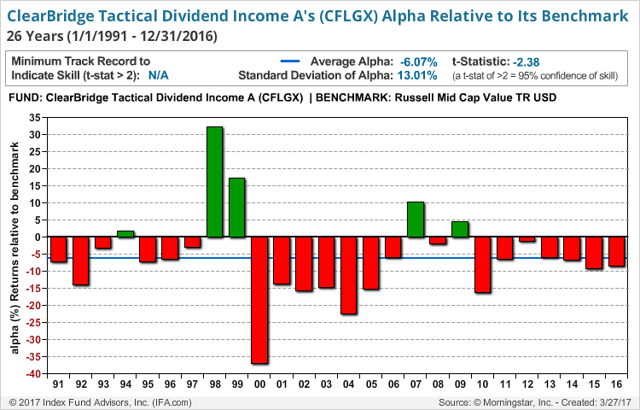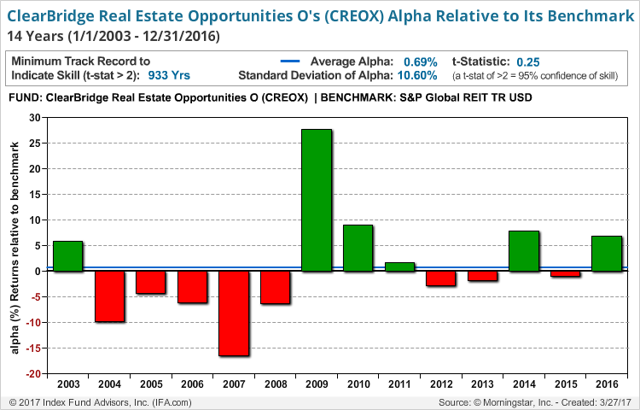 ---
[1] Figures as of December 31, 2016.
[2] Securities and Exchange Commission. "SEC Charges Legg Mason Affiliate With Defrauding Clients." January 24th, 2014. https://www.sec.gov/news/press-release/2014-13
[3] Atkinson, Bill. "Legg Mason to settle suit, agrees to pay $2.7 million." The Baltimore Sun. December 31, 1997. http://articles.baltimoresun.com/1997-12-31/business/1997365001_1_legg-mason-bacigalupo-stock-brokerage
Disclosure: I/we have no positions in any stocks mentioned, and no plans to initiate any positions within the next 72 hours.
I wrote this article myself, and it expresses my own opinions. I am not receiving compensation for it. I have no business relationship with any company whose stock is mentioned in this article.