While all eyes have been on Energy Transfer's Rover pipeline project as it is slated to startup sometime this month adding material new takeaway capacity, Northeast production has already begun to surge even prior to its startup. New highs have recently been reached in Appalachia, with dry production exceeding 23.6 Bcf/d based on the pipeline flow sample, an increase of about 1 Bcf/d from the end of May. Is this just the beginning of a flood of new gas from Appalachia to hit the US market as critical new pipeline projects finally come to fruition over the next six months?
The recent increase has come entirely from Western Appalachia including Western Pennsylvania, West Virginia and Ohio, while Eastern Appalachia has remained fairly flat year-to-date, as seen in the figure below.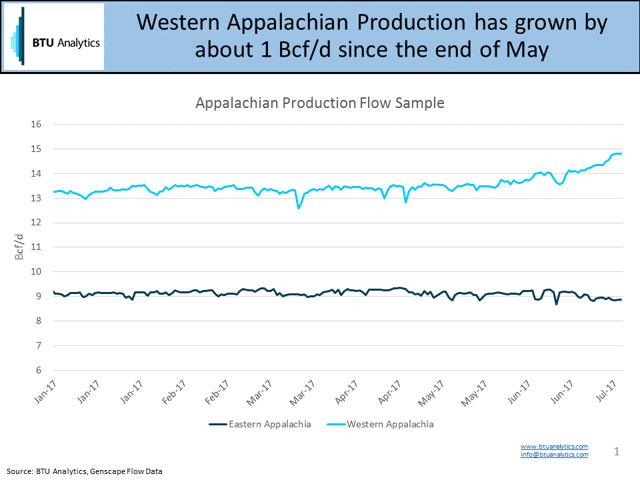 Eastern Appalachia still remains bottlenecked until new pipeline takeaway capacity comes online. However in Western Appalachia, about 1.2 Bcf/d of incremental pipeline takeaway capacity came online in the fourth quarter of 2016, including the first phase of the TETCO Gulf Markets project, Dominion's Lebanon West II and the REX Zone 3 Expansion project. Although this capacity came online at the end of last year, total production in the region did not immediately increase to fill this incremental capacity, and in fact has just recently grown enough to backfill the additional capacity. This has been reflected in the recent weakness in Dominion South Basis, which fell an average of $0.57 from May to June, as seen in the following figure.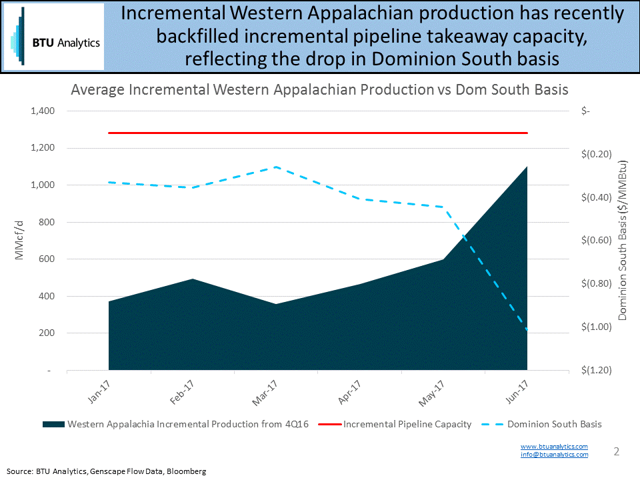 So why the recent increase in production when much of the year has been fairly flat? It may in part be due to the decrease in excess backlog in the region coupled with the need for increased drilling activity. We estimate excess backlog was essentially depleted at the beginning of this year, requiring new wells to be drilled to grow production, as seen below.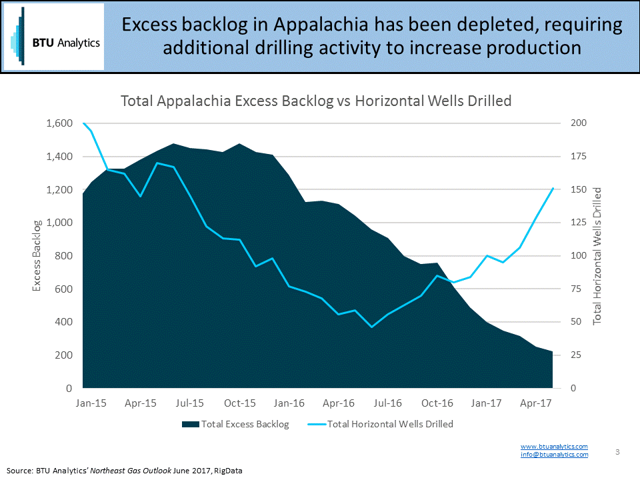 Further, the average spud-to-sales time in Western Appalachia has decreased in 2016, averaging now about six months, as seen in the following figure. Though new pipeline capacity was available at the beginning of this year, an average spud-to-sales time of six months would put it at the June time-frame for incremental molecules from increased drilling activity to hit the pipe.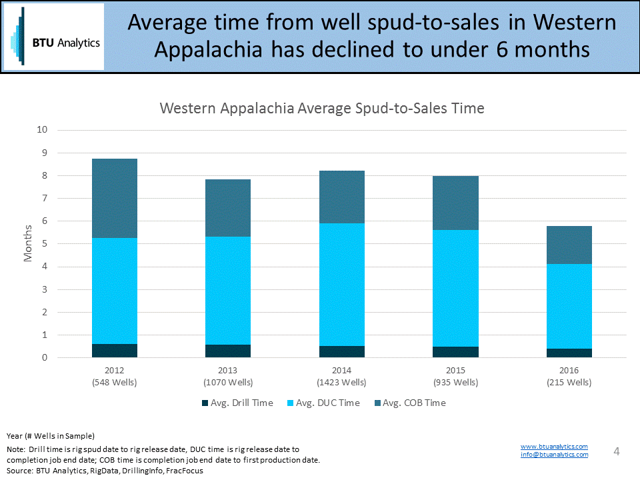 The increase in production may also be a reflection of the anticipation of the startup of Rover as producers begin to ramp production to meet transportation commitments. In the near term, Rover is set to bring online from 1.5-2 Bcf/d in Phase 1. Beyond the first phase of Rover, 4.7 Bcf/d of additional capacity is slated to come online at the end of the year with the remainder of Rover, TETCO expansion projects, TCO Leach/CGT Rayne Xpress and Nexus. Despite the recent basis weakness, as drilling activity continues to increase, production is poised to grow tremendously when this additional capacity opens up. With the startup of meaningful new Northeast infrastructure finally upon us, questions remain on how quickly production will respond to fill the new capacity, as well as how this potential flood in production will impact and compete with other producing regions in the US.
Disclosure: I/we have no positions in any stocks mentioned, and no plans to initiate any positions within the next 72 hours.
I wrote this article myself, and it expresses my own opinions. I am not receiving compensation for it. I have no business relationship with any company whose stock is mentioned in this article.