In this article, I look at the financial profile of the senior gold producers deriving the majority of their sales in North America. To complement the picture, I have also added New Gold (NYSEMKT:NGD) due to its high growth production profile compared to the senior gold producers. As always, I invite the readers to do their own due diligence before investing.
On the senior gold producers

Barrick Gold (NYSE:ABX) offers the best value among the senior gold producers. ABX has one of the lowest valuations among its peers trading at 5.9x EV/LTM adj. EBITDA, almost half that of Agnico Eagle Mines (NYSE:AEM). It sports the highest adj. EBITDA margin close to 50% thanks to its low cost structure and effective working capital management. Its liquidity profile is highly adequate with the fixed charge coverage ratio being twice the minimum industry standard for such a covenant and the working capital ratio above 2. Management is laser focused on maximizing its free cash flow by divesting assets, increasing productivity, and spending diligently on internal projects. ABX's free cash flow yield is already one of the highest among its peers at 8.5%, partially due to its relative undervaluation. It will continue to increase as the stock trades below its latest close. Cash generated internally and from divestitures is being used to reduce debt targeted at $5.0B by year end 2018 from $7.8B at the end of 2016 which represents a decrease of 36%. That being said, I would not be surprised if management chooses to keep debt on the balance sheet given the long average debt maturity of 17 years and the low average cost of debt of 5.5%. ABX total leverage should rapidly decrease below 1.0x from 1.36x currently, and I expect ABX credit risk to be upgraded this year or next by the rating agencies. This is also good news for bond holders hence the current 6%-13% premium on the debt in the secondary market.
Among the negatives, Barrick Gold is expected to see its production decreasing by 4.1% 2016A-2019E CAGR mitigated by a slightly lower AISC. This is in line with the industry trend for the foreseeable future (see chart below). The production decrease is largely due to recent divestitures and lower capex during the recent bear market in gold. I do not view a lower production to ~5 million gold ounces necessarily as a negative. ABX made costly acquisitions during the last bull market bloating its balance sheet with debt in research to higher future sales. Free cash flow suffered tremendously as the price of gold decreased by 45% from its peak in 2011. Management has been on repair mode since the last shakeup in the ranks, and I expect it to continue weighing carefully its capital allocation among internal projects, acquisitions, debt repayment and dividends.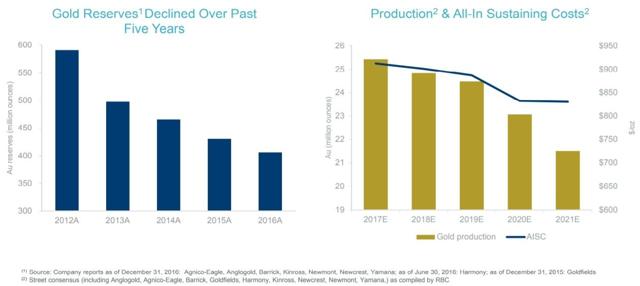 Source: June 20th, 2017 Goldcorp presentation
If it was not for its relatively high valuation, AEM would be my top pick. AEM's financial profile is top notch with a very low leverage, high margins, and a low cost profile leading to healthy recurring free cash lows. However, ABX provides a better expected return with lower risk to the downside should gold decreases from here. Said differently, the margin of safety of ABX is higher than that of AEM. I expect a re-rating of ABX as the deleveraging continues and the valuation multiple catches up with AEM.
Newmont Mining (NYSE: NEM), Goldcorp (NYSE:GG), Kinross Gold (NYSE:KGC)) and Yamana Gold (NYSE:AUY) do not offer the same compelling story as ABX and AEM at the present time. Here is why:
NEM ranks in the middle of the pack with a relatively low average mine life. Current working capital management is above average and AISC is expected to remain stable in the next three years. Therefore operating cash flows will continue to be highly correlated to the gold price, just like its dividend. Plus, I expect NEM to be more active than its peers in the market place to replenish its gold reserve as evidenced by the recent $109MM investment in Continental Gold. That will lead to higher cash volatility. Fundamentally I view NEM like a deep-in-the-money call option on gold but with higher risk than AEM and lower expected return than ABX.
GG is more of a restructuring story with its 20/20/20 growth plan (i.e. 20% production growth, 20% growth in reserve, and 20% reduction in AISC) to get out of its financial hole. This should increase margins, improve cash, and reduce leverage over time. For the time being, GG largely relies on selling assets ($615MM worth of assets held for sale as of 1Q 2017) and using more debt ($2.9B of undrawn credit facility) to face its short-term obligations instead of free cash flows. GG working capital ratio is barely above 1 and its free cash flow yield is poor due to its relative high valuation compare to its low free cash flow generation. As such, investing in GG today looks more of leap of faith on management to perfectly execute the 20/20/20 growth plan.
KGC trades at a discount to its peers despite a relatively solid financial profile. KGC has no short-term debt obligations and a manageable cost of debt underpinned by the recent refinancing of its 2020 term loan with a 10 year unsecured debt facility at 4.50%. The main reasons behind KGC low valuation are relatively low margins, high cost structure, and exposure to higher geographical risk (i.e. Russia and West Africa) representing 39% of its gold production. KGC is more vulnerable to a low gold price than its biggest peers mitigated by a higher operating leverage. Therefore the risk/reward seems to balance out but for the risk-averse investor, ABX and AEM remain a better bet.
AUY provides the biggest leverage to gold and possibly the biggest return. However AUY is highly levered and its fixed charge coverage ratio and its working capital ratio are below 1, which expose AUY to financial instability if the gold and silver prices deteriorate. As AUY cannot generate strong free cash flows at current prices (-$23MM in 1Q 2017), it draws on its revolving credit facilities to face short-term obligations (almost half of the amounts are already drawn). I thus expect the company to soon monetize some of its assets deemed non-strategic to increase its cash position. Its margins are among the lowest despite a reasonable AISC so any operational improvement should greatly benefit its cash position. AUY is in the most precarious financial situation, and as such I would avoid AUY in favor of ABX and AEM until management gets its house in order.
The growth story
New Gold provides an interesting story unlike the senior producers. Although it is considered an intermediate producer, it has the capacity to produce over 1 million gold ounces per annum. NGD is among the lowest cost producers with attractive margins. Production is expected to increase by double digits to 600Koz per year in the next three years thanks to the completion and ramp-up of the Rainy River ("RR") project. Still in the pipeline, the Blackwater project has the capacity to add another 485Koz per year. The development of the RR project was rocky at best, and that cost the position of the former chief operating officer in December 2016. It also forced management in 1H 2017 to bolster NGD's balance sheet via a large equity offering and the sale of a gold stream for total gross proceeds of $238MM. Not only NGD has now enough cash to complete the RR project ($389MM remaining growth CAPEX to be spent until commercialization next November) but also it has pushed up its debt maturity schedule beyond 2022 thanks to the refinancing of its 2020 term loan (5 year maturity extension with an interest rate lowered by 62.5bps to 6.375%). Absence of any more hiccups, NGD should produce very healthy free cash flows from 2018 and beyond. Deleveraging and financing of the Blackwater project should accelerate as gold price appreciates. I would encourage any potential gold investor to really look at NGD which I believe provides very low downside and strong upside from here.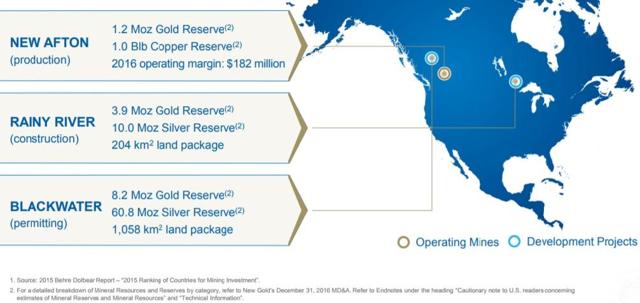 Source: June 27th, 2017 New Gold presentation
Conclusion
Barrick Gold offers the best expected risk-adjusted return among the North American senior producers to ride the nascent bull market in gold; Agnico Eagle Mines being right behind because of its relatively high valuation. In addition, New Gold offers an excellent growth story that gold investors should pay attention to. I believe those three gold producers have very low downside risk compare to other gold producers but they offer the highest upside.
Disclosure: I/we have no positions in any stocks mentioned, and no plans to initiate any positions within the next 72 hours.
I wrote this article myself, and it expresses my own opinions. I am not receiving compensation for it (other than from Seeking Alpha). I have no business relationship with any company whose stock is mentioned in this article.