Cisco's (NYSE: CSCO) Q3 FY17 earnings beat estimates, but their outlook for Q4 FY17 is negative.
Since the earnings release, three substantial events occurred: The International Trade Commission (ITC) ruling for Arista (NYSE: ANET), the Federal Trade Commission (FTC) ruling for Broadcom's (NASDAQ: AVGO) acquisition of Brocade (NYSE: BRCD), and Cisco Live US (in Las Vegas).
What do these events mean for Cisco's Q4 and near-term performance? This analysis uses our Artificial Intelligence (AI) engine to objectively examine the impact to Cisco through the lens of business intelligence surrounding these events.
A Summary of our Findings:
The ITC decision ratchets competition - recent '944 ITC ruling in favor of Arista will further impact near-term networking revenue growth.

The FTC decision puts an elephant in the room – FTC consent of Broadcom's acquisition of Brocade will cause customers to re-evaluate Cisco's fibre channel switches.

Cisco's networking business faces macroeconomic pressure - factors are creating uncertainty which will impact networking revenues.

Cisco Live: Cyber Security takes center stage, but is it ready for prime time? – Encrypted Traffic Analytics (ETA) cannot deal with zero-day malware and tunneled traffic.

Cisco Live: New hardware and integrated software offerings are one step forward, two steps back- Cisco's X86 computing options for edge computing are limited in memory and storage.

Cisco Live: Cisco doesn't have an #AI strategy – the acquisition of MindMeld is about chat-bots, ETA relies on ML with data from telemetry, but the use of AI in network security is missing.

Cisco Live: IOT growth does not equate to revenue – IOT has a "long way to go" before it can become a viable revenue generator like Amazon's IOT devices.
Analytics with Artificial Intelligence
This analysis is part of a continuing series that uses AI to analyze the earnings calls and business intelligence of publicly traded companies. As demonstrated in our previous articles, we use a novel approach to AI that analyzes textual data for qualitative signals in search of insight into a company's strategy, performance, and leading indicators of strength or weakness. To this end, we submit textual information into our AI engine, CIF, for a Meta-Vision analysis. Meta-Vision uses a reasoning model and propositional logic to create a Supporting-Fact model. For a detailed explanation of the technology and the analytic process, please click here.
Cisco Q3 FY17 Earnings in Focus
Cisco's share price has come under pressure in recent days from bad news and a discouraging earnings outlook. The following is a Meta-Vision snapshot of the Executive Statement: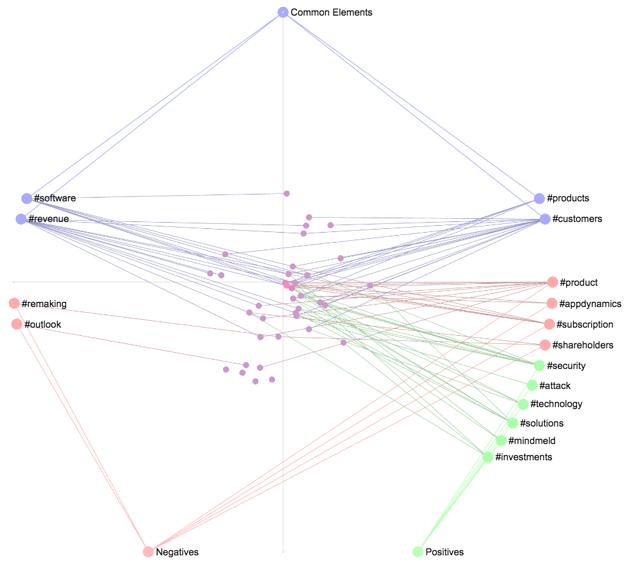 While the Cisco executive team presented a positive view, our Meta-Vision analysis painted a slightly different narrative. We provide sample observations below.
Under the #subscription MGHT, we see the following context from the transcript:
Deferred products revenue from our recurring software and subscription businesses was up 57% to $4.4 billion which includes the acquisition of AppDynamics during the Quarter. Excluding AppDynamics, the increase was 51%. In terms of orders, total product orders declined 4%....
An increase in 6% in subscription businesses is largely the result of the AppDynamics acquisition. Still, 51% is a substantial figure. A subsequent Meta-Vision on the Answers to Analyst Questions showed other analysts shared the same sentiment. In the #subscriptions MGHT, we see that the growth is, in part, tied to Cisco ONE bundled subscription offerings that make software subscriptions mandatory for all new Cisco 9K series.
So even in our current deferred revenue from Software and Subscription, there are elements of our core portfolio that are included in that $4.4 billion that you saw primarily through our Cisco ONE offerings that we put together....
Even Cisco's own team expressed concern that subscription growth rates may not be predictable.
But clearly, the transition to the software and subscription business obviously impacts how to think about guidance going forward. And when you -- when we see particularly large quarters with high growth like we saw this quarter, I think it will have an impact. I m not sure exactly how we look at what it means seasonally....
The #mindmeld MGHT reveals that Cisco is acquiring MindMeld to complement its collaboration portfolio with AI. This technology can improve the user voice interface, but is unlikely to create a new source of revenue at the moment.
...Our intended acquisition of MindMeld will help us simplify and enhance the collaboration experience even further through the power of artificial intelligence and machine learning. As chat and voice quickly become the interfaces of choice, MindMeld's AI technology will enable Cisco to deliver unique experiences throughout its portfolio. This acquisition will power new conversational interfaces for Cisco's collaboration products....
From the #attack MGHT, we see how Cisco's security expertise was put in focus with the recent WannaCry ransomware attack. Language suggested a possible lack of automation when it comes to cyber threat detection.
...as we've seen in recent days. Last week's WannaCry ransomware attack was another example of the devastating impact cybercrime can inflict on individuals, companies and countries around the world. Since Friday's attack, our Talos cyber threat intelligence team has been working around-the-clock to dissect the WannaCry ransomware....
Answers to Analyst Questions in Focus
To corroborate our analysis, we turn to Cisco's Q3 FY17 Answers to Analyst Questions. The following is a Meta-Vision snapshot: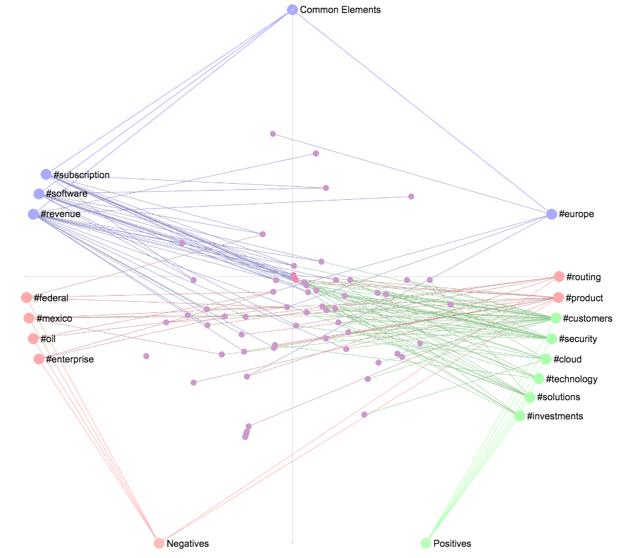 The Meta-Objects #federal, #mexico, #oil highlight how Cisco's switching business faces real macroeconomic pressure. Under the#federal MGHT, we can glimpse the rationale behind Cisco's subdued outlook as reflected in the following quote from Cisco CEO, Chuck Robbins:
I mean, the Public Sector business, particularly in the United States, the federal business is, frankly, it's about 1 point of that guide....

...Federal -- I mean, there's so much uncertainty around budgets....
This sentiment is further substantiated by supporting facts highlighted by the #mexico, #oil, #enterprise MGHTs. Select excerpts below:
…Mexico, there has been a lot of uncertainty in Mexico and that was actually down 49% for us year-over-year....

...Looking at our geographies which is a primary way we run the business, Americas was down 4%, EMEA was down 6% and APJC grew 2%. Total emerging markets declined 12%, with the BRICS plus Mexico down 10%. In our customer segments, Enterprise declined 2%, Commercial grew 1%, Public Sector was down 4% and Service Provider declined 10%....

...And the Middle East, obviously, with the uncertainty around oil prices, continues to be a little bit of a pressure as well....
Cisco Business Intelligence in Focus
Three significant events took place in the days and weeks following the earnings release. On its surface, these events would appear to impact Cisco. To understand the extent, we ran a Meta-Vision analysis on business intelligence for a 90-day period surrounding these events. June in particular caught our attention for the intense polarization of two events: Cisco Live and the ITC ruling on the Arista intellectual property litigation. A snapshot Meta-Vision follows.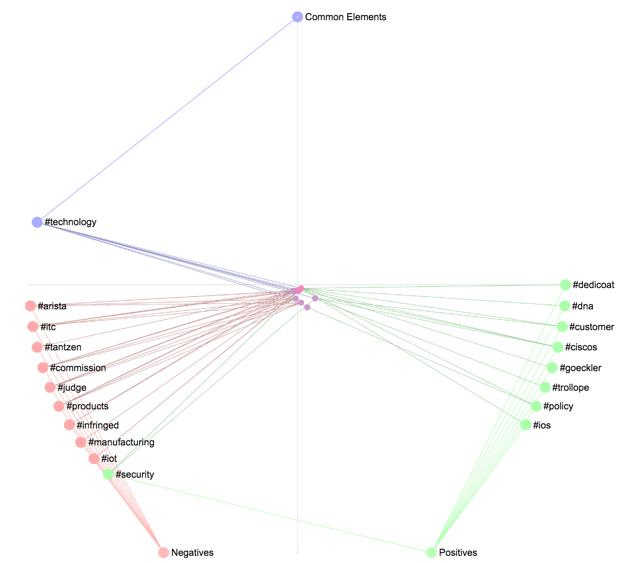 Our June 2017 Meta-Vision showed that the MGHTs were extremely polarized between two events. In the negative quadrants (NW, SW) the hashtags centered around the ITC ruling on the '944 case in favor of Arista Networks. On the other hand, hashtags in the positive quadrants (NE, SE) centered around Cisco Live.
The ITC '944 decision directly impacts Cisco's core revenue channel
In a nutshell, the ITC ruling had previously banned the import of certain Arista products. Arista subsequently redesigned the products covered under the '944 investigation. The ITC ruling enabled Arista Networks to sell its "redesigned" products. The following quotes provide some context and background into the ITC decision on '944 investigation.
From The Recorder on June 22, 2017:
Two and a half years ago, Cisco Systems Inc. declared IP war on networking rival Arista Networks Inc. Cisco general counsel Mark Chandler announced on his blog "official action to stop Arista's brazen misappropriation of the fruits of our engineers' labor". He listed 14 patents that Arista was allegedly infringing and called out copyright infringement that was "a strategy, not an accident." Today, Cisco's case against Arista is hanging by a few tenuous threads. The company lost its copyright trial in December. Cisco has dropped or Arista has been found not to infringe nine of the 14 patents. Of the five that the International Trade Commission has found infringing, Arista has successfully designed around three, with an administrative judge signing off on the third....
From Cisco's blog post, by Cisco General Counsel Mark Chandler, on June 21, 2017:
…in the meantime, that agency has decided to allow importation of Arista's redesigned product while ITC enforcement action is underway.
This event has significant implications for Cisco's network hardware dominance. First, Arista's ability to successfully redesign products and bring them back to market raises questions about the defensibility of Cisco IP – the same IP responsible for a lion share of revenue. Second, the litigation underscores a wider trend – Cisco's core revenue stream is eroding. Per IDC, Arista has been gaining market share at Cisco's expense. Of note Amazon, Microsoft, Google and Facebook have been using their own switches as far back as 2013. Also, Arista switches power Oracle's cloud.
Cisco Live: One step forward, two steps back
The second major event picked up in our Meta-Vision analysis centered around Cisco Live Las Vegas – an event where Cisco announces its latest products and services. Despite publicized efforts to pivot to a software-based services and revenue model, Cisco appears to be taking an increasingly hardware-centric delivery approach for network security. In a Forbes article that reported Cisco Live Day 2, the following was said:
Gupta then moved on to the Catalyst 9000 series. He began by showing the audience 'the most advanced campus-switching ASIC in the world,' which is at the heart of the 9K series. In addition to the programmable ASIC, the Catalyst 9000 series has the new open, programmable IOS XE, and model-driven APIs to provision everything on the switch. Gupta emphasized that with the 9K, Cisco really focused on better data and better telemetry. In addition, he added that Cisco paid particular attention to being able to host applications on the box, with an x86 CPU capable of running applications in containers or VM environments. I am zeroing in on this very important piece of adding more compute and app virtualization on the edge. Big question I have is "how" much compute is left to run non-networking apps.
Cisco appears to be moving into the business of building a new generation of switches to accommodate Encrypted Traffic Analytics (or ETA), Virtual Machine (or VM), and collecting telemetry at the edge for machine learning and malware detection in the cloud. This move provides little detail while creating many questions. On one hand, Cisco's earnings presentations have informed investors that it is moving away from its hardware past and pivoting to a Software-as-a-Service subscription model. On the other hand, Cisco is betting on another round of services that relies specifically on bundling software into proprietary hardware.
Although Cisco's revamped IOS opens up application programming interfaces (or APIs) for external developer access, it is a latecomer to game of Software Defined Networks (or SDNs). OpenDaylight is a collaborative open source project started in 2013. Most competitors of Cisco are already SDN-enabled with this open protocol for network switches. One of the main selling points of the new Cisco Catalyst 9000 series switch is how the X86 general purpose container for enterprise applications can run at the edge where telemetry is located. This idiosyncrasy of X86 VM co-tenanted inside these switches is limited in computing power, memory and storage. It is not part of a common cloud component that can be integrated or orchestrated with existing tools. The limited footprint of these switches will cap how much computing or storage can be used to support enterprise computing.
Per ZDNet, Cisco CEO Chuck Robbins was recently quoted at Cisco Live 2017, saying:
"Our team has launched encrypted traffic analytics with 99.995 percent efficacy that can determine when there's malware in encrypted traffic without decrypting it, really threading the needle between privacy and security."
With its 75 customer announcement and "99.995 efficacy", it's obvious that Cisco wants to carve a new revenue channel from the $75B cybersecurity market. The question is: can they succeed? We have yet to see a successful demonstration of this technology at work. For what we do know, Cisco teams have been "working around-the-clock to dissect" WannaCry. The language suggests a lack of automation.
The use of ETA for malware detection on "zero-day" malware is not possible since ETA requires a voluminous amount of training data before it can identify a single malware. In its present state, ETA resembles a research topic that is struggling to find practical value let alone deliver "99.995 percent efficacy" in general malware detection with encrypted traffic. Although it is beyond the scope of this analysis, we note that Cisco's white paper on "Encrypted Traffic Analytics" ignores many real-world malware issues such as "zero-day malware" or malware embedded inside tunneled traffic. We also note that there are many issues in performing statistical fingerprinting on Application-Layer-Tunnels in areas where tunneled traffic (e.g. Secure Shell 'SSH' tunnels or Virtual Private Network 'VPN') is present. Even if we assume some method exists that makes it statistically possible for such detection to work, the burden of supervised training on a large number of known malware and error rates will render ETA impractical for enterprise deployment. Moreover, ETA is not new. Another company, Vectra Networks, has released a similar product in 2015.
Cisco IOT "still has a long way to go…" to become a key revenue generator
Another new initiative from Cisco Live 2017 is the introduction of "Cisco Kinetic". It is a Cisco proprietary platform that normalize data for IOT messages at the edge using fog computing. Our analysis of Cisco BI indicates the IOT initiative is another work-in-progress. The following is a quote from a Biztech article on Cisco Live 2017.
Kinetic takes data not just from different network protocols like Wi-Fi, Ethernet, low-power wide-area network (LPWAN) and others, but also IoT gateway protocols like Profinet, Modbus and EtherNet/IP. The platform also uses fog computing, allowing companies to analyze data at the network edge, close to their connected devices without having to route it back to a data center. … Cisco has made dramatic progress but we still have a long way to go…
In Cisco's own words, Kinetics still has a "long way to go." Is this how Cisco views IOT as a revenue generator? For years, IOT has been positioned as one of Cisco's niche areas. Companies like Amazon have already demonstrated their ability to reap commercial value from IOT (e.g. the Echo, the Dot). Looking at Q2 and Q3 revenue by groups of similar products and services, the majority of Cisco revenue is still derived from Switching, NGIN Routing. When will IOT become a key revenue generator for Cisco?
Fibre channel switches - an elephant in the room
Our Cisco BI analysis also revealed that Cisco's fibre channel switches faces more headwinds in the immediate future. Cisco relies on Broadcom as a chip supplier for its fibre channel switches. The FTC approved Broadcom's acquisition of Brocade – a Cisco competitor in the fibre channel switches business. The following is a news quote from Reuters:
Chipmaker Broadcom Limited has won U.S. antitrust approval to buy Brocade Communications Systems, the Federal Trade Commission said on Monday.The $5.5 billion deal, which already has won approval in Europe and Japan, is the latest in the chip industry as companies bulk up in response to growing demand for chips in connected devices and cars. As a condition of approval, Broadcom agreed to build a firewall to prevent the merged company from using information it gains as Cisco System Inc's supplier to compete in selling the switches as Cisco's competitor, the FTC said.
This development puts Cisco between a rock and a hard place. In a BusinessInsider article, we observed the following quote from a Cisco spokesperson:
We appreciate the diligence of the FTC, and, previously, the European Commission, in reviewing this acquisition. Both agencies recognized the harm to competition that might result if Cisco confidential information provided to Broadcom were to be shared with our only fibre channel competitor, and crafted remedies to limit the potential impact on competition.
The FTC ruling will affect how customers look at Cisco with regards to their fibre switch products. In turn, this will affect their revenue growth.
Conclusion
Looking at the 3 events that followed the Cisco Q3 FY17 earnings call, Meta-Vision has painted a picture of deteriorating market dominance. The FTC and ITC rulings will significantly impact the growth of Cisco's core revenue model – Switches and Routing. Cisco is 2 years into its transformation under CEO Chuck Robbins, but has not provided a vision for Cisco to regain its network dominance. Its transformation into software, thus far, is designed to tie existing customers to its proprietary hardware at a time when industry trends are pushing for hardware-independent open solutions. In light of our analysis of the BI surrounding these events, we believe that the negative outlook provided for Q4 may have deeper implications and span a greater period of time.
Disclosure: I/we have no positions in any stocks mentioned, and no plans to initiate any positions within the next 72 hours. I wrote this article myself, and it expresses my own opinions. I am not receiving compensation for it (other than from Seeking Alpha). I have no business relationship with any company whose stock is mentioned in this article.
Additional disclosure: I am neither a certified investment advisor nor a certified tax professional. The data presented here is for informational purposes only and is not meant to serve as a buy or sell recommendation. The analytic tools used in this analysis are products of SiteFocus.