Non-Farm Payrolls (NFP) And CAD Job Numbers
Jul. 07, 2017 11:54 AM ET
SPY, QQQ, DIA, SH, IWM, TZA, SSO, TNA, VOO, SDS, IVV, SPXU, TQQQ, UPRO, PSQ, SPXL, UWM, RSP, SPXS, SQQQ, QID, DOG, QLD, CRF, DXD, UDOW, RWL-OLD, SDOW, VFINX, URTY, EPS, TWM, SCHX, VV, RWM, DDM, SRTY, VTWO, QQEW, QQQE, FEX, ILCB, SPLX, EEH, EQL, SFLA-OLD, SPSM, QQXT, SPUU, IWL, FWDD, SYE, SBUS, SMLL, SPXE, PPLC, PPSC, UDPIX, JHML, OTPIX, RYARX, SPXN, USSD, HUSV, RYRSX, SCAP, SPDN, SPXT, SPXV, USWD
Non-farm payroll (NFP):
The most important number to track on the jobs report this morning is not the top number, or the unemployment rate, it's wages, and it has disappointed again.
U.S. employers add +222k Jobs in June
June unemployment rate 4.4%; consensus 4.3%
June average hourly earnings +0.15%, or +$0.04 to $26.25; year over year +2.5%
May unemployment unrevised at 4.3%
May payrolls revised to +152K; April revised to +207K
June labor-force participation rate 62.8%
Private sector payrolls +187K and government payrolls +35K
June average workweek +0.1 hour to 34.5 hours
The revisions showed job growth was better in April and May than previously thought. The U.S. economy has created an average of +194k jobs over the past three months.
USD has pared some of its overnight gains (€1.1419, £1.2907, ¥113.76).
Selling pressure in the bond market is stalling as the payrolls release shows once again that bond investors place more importance on the wage inflation reading than the jobs growth figure.
The market is pricing in +62% chance on the Fed lifting rates one more time before the end of the year.
The yield on the U.S. 10-year Treasury note has fallen -3 bps to +2.365%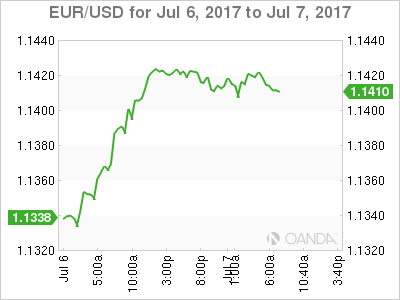 Canada jobs report:
Job Creation Keeps Chugging Along in Canada
Canada adds 45,300 jobs in June
Unemployment rate falls to +6.5%
June avg. hourly wages +1.3% y/y
Jun full-time jobs +8,100; part-time +37,100
Canada June participation rate at 65.9% vs. 65.8% in May
C$1.2903 +0.65%
Today's numbers eliminate the last possible obstacle for the Bank of Canada should it choose to raise its policy rate next week (July 12) as widely expected.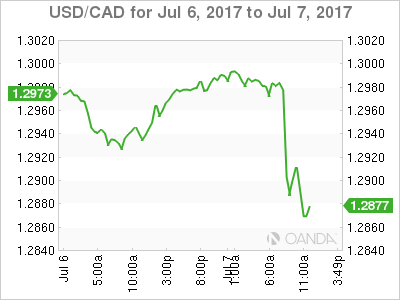 This article is for general information purposes only. It is not investment advice or a solution to buy or sell securities. Opinions are the authors; not necessarily that of OANDA Corporation or any of its affiliates, subsidiaries, officers or directors. Leveraged trading is high risk and not suitable for all. You could lose all of your deposited funds.
This article was written by
Dean Popplewell has nearly two decades of experience trading currencies and fixed income instruments. He has a deep understanding of market fundamentals and the impact of global events on capital markets. He is respected among professional traders for his skilled analysis and career history as global head of trading for firms such as Scotia Capital and BMO Nesbitt Burns. Since joining OANDA in 2006, Dean has played an instrumental role in driving awareness of the forex market as an emerging asset class for retail investors, as well as providing expert counsel to a number of internal teams on how to best serve clients and industry stakeholders.