180 Degree Capital (TURN), formerly known as Harris & Harris, is a closed end investment fund focused on taking stakes in under-valued, public micro-capitalization companies. Its current portfolio of companies is mostly scientific in nature, with businesses ranging from quantum computing to applied materials to biotech. TURN has recently changed its management team, its business structure, and its business purpose after a long track record of eroding its net asset value and its share price. This article illustrates why TURN makes a compelling risk reward at its current share price.
For long-term holders of TURN, it has been a long slow decline in both share price and net asset value over the years: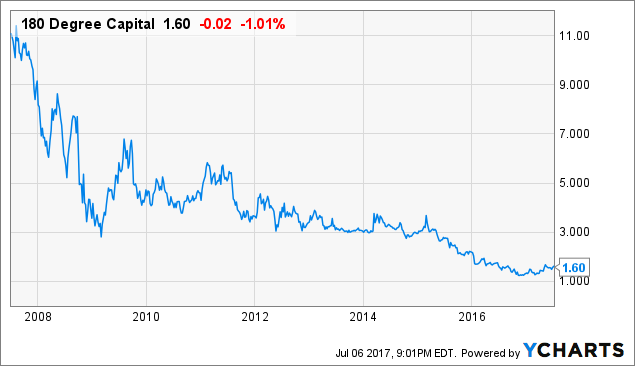 TURN data by YCharts
TURN shares are now trading at close to all-time lows. This circumstance has led to a transformational decision by the Board of the former Harris & Harris in December 2016 – to give up its status as a business development corporation ("BDC"). This decision makes sense for the company for several reasons. TURN's portfolio of companies does include some publicly traded companies, but the majority of its portfolio is made up of private companies. The current portfolio makeup leads to a very lumpy monetization pattern as the timing of private company exits is non-linear in nature. These types of businesses are not conducive to the generation of steady cash flows. A BDC, by its definition, is required to pay out its proceeds to shareholder in order to maintain its tax-exempt status, in a manner similar to REITs. With lumpy distributions, it is no wonder that TURN's share price has struggled. In making this decision to convert to a closed end fund, TURN has faced up to the current nature of its portfolio in converting to a business structure that better reflects its current portfolio.
This decision will also help TURN to reduce its cash burn rate. A BDC had substantially higher compliance costs than a regular fund does. Bringing the average operating cost per year down from 7.5% of assets to 4.5% will greatly reduce the hurdle rate in order for TURN to generate returns. Asset appreciation will also help to bring down this ratio as well.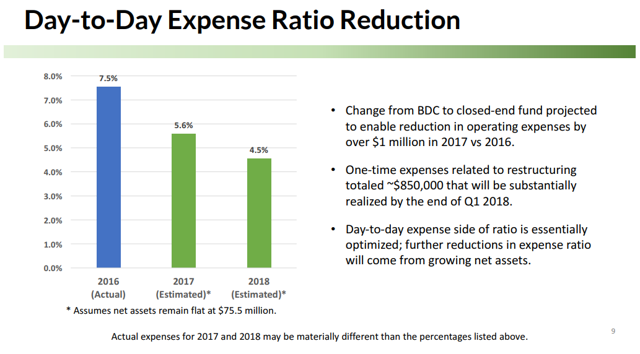 Source: Company Presentation
TURN is changing its underlying investment philosophy in conjunction with the change in business structure. Historically, TURN has taken venture capital type positions in companies, ranging from equity to preferred equity to debt financings. These investments have the potential for significant upside but have much less liquidity, especially for investors with minority positions in companies that they cannot influence business direction in a meaningful way. In the table below, TURN has a wide variety of ownership percentages in its portfolio of investments: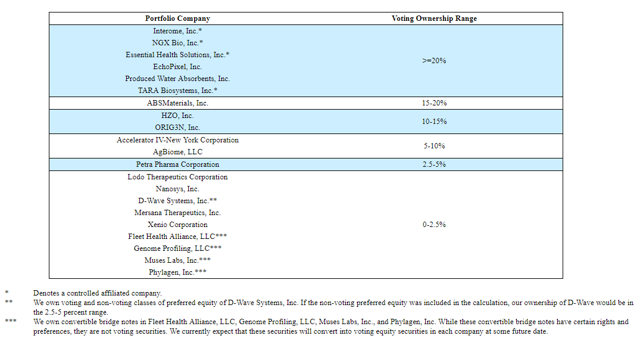 Source: Company Presentation
The lack of liquidity of these investments has been a problem for shareholders of TURN as they are very difficult to value. TURN has had a profitable track record on its investments, with an average return of approximately 50% on the 120+ deals it has entered and exited. The time frame is missing on these as a 50% return over seven years isn't that great a return. There were also the higher costs to maintain the BDC structure. There is significant alpha potential in publicly traded micro-cap companies which often have less analyst coverage, more information asymmetry, and more invested management teams; the downside is they can be more fragile to significant events which can lead to larger losses. Publicly-traded micro-caps offer similar upside to TURN's private portfolio but with substantially more liquidity available.
TURN has brought in a seasoned investment CEO, Kevin Rendino, who has a long track record of investing, most notably a 24-year career with BlackRock. His experience with BlackRock was largely with large caps, utilizing a "Graham and Dodd" type valuation philosophy. At first blush, this would appear to not be a great fit with TURN's micro-cap and private company portfolio and philosophy. However, Mr. Rendino has spent the last five years managing a smaller private investment company. This experience with a small entity should give him the ability to move the company forward, while blending in the systematic and professional approach gained through his experience with BlackRock. Mr. Rendino was suggested to the company by Lone Star Value Management LLC.
There will continue to be a period of time the company will be working off its private portfolio before its end strategy is in full effect. Mr. Daniel Wolfe has been with TURN/Harris & Harris for 13 years and helped to set up most of its current private deals. He will continue to work with Mr. Rendino in order to maximize the return on its significant private portfolio while providing continuity in the company. Going forward, TURN is intending to employ a three stage approach of "constructive activism" to its investments. Initially, it plans to focus on near-term winners that require no involvement (Phase 1) or some involvement (Phase 2). Phase 3 will occur when the company finds situations where it can instigate and drive turnarounds (the "180" in the company name). A current example is TURN's stake in Adesto (IOTS) where it has filed a 13D for the 1.8m shares or 8.8% of the company it owns.
Directors and management of TURN have 2.1% of the outstanding shares as of April 2017. Mr. Rendino has been in the market throughout June 2017 purchasing shares of the company and now is up to 284,000 shares on hand. While not significant, this is an encouraging sign that management is showing belief in the company.
Admittedly, all of these plans are only lip service at this point. It is a smart business plan, but the key will be how well management can execute. I personally share many of the same views towards the mispricing of securities that often occurs in the micro-cap investment space. I believe this is what is occurring at TURN itself.
Valuation
The biggest opportunity for investors in TURN is the massive discrepancy between TURN's net asset value and its current share price. Shares currently trade at $1.60, which is a 34% discount to its current net asset value at March 31, 2017, of $2.43. This is close to the largest asset to share price discount that TURN has experienced in its history. Their long track record of poor share and asset value performance is the biggest driver of this. The large private portfolio is also difficult for investors to value as well, which will lead to a discount as well. TURN's current market capitalization is $50.3m. It has no debt on its books, has $8.2m in cash on hand as of May 1 with a publicly traded portfolio (Adesto (IOTS), Enumeral (ENUM) and Synacor (SYNC)) totaling approximately $10.0m as of today. Additionally, on June 28, former private portfolio holding Mersana Therapeutics (MRSN) went public, converting a $2.8m private book value investment into a more liquid $4.1m public holding. This leaves TURN with a liquid base of cash and marketable securities totaling of $22.3m or $0.67/share. This means the market is only ascribing a value of $28.0m to its entire private portfolio, which has been valued by its the Board of Directors at $46.7m (post-Mersana). The private portfolio is audited by its external auditor PwC at year end; the March assessment is in-line with the audited year end values. This is the key source of TURN's mispricing.
The encouraging trend is the net asset value actually increased from $2.34 at December 31, 2016 to $2.43 at March 31, 2017, a c4% jump in one quarter (this was prior to Mersana announcement). One good quarter does not a company make, but it is a good initial first step for the company change in philosophy. Mr. Rendino only took over as CEO in April, but he has been a part of the Board of Directors since December 2016 and has likely been involved in the re-focusing of its mandate.
The market response to the Mersana announcement was a great example of the type of pricing asymmetry available in TURN. The announcement of Mersana's IPO created a net gain for TURN of $1.3m, or an increase to TURN's book value of $.04/share; TURN's shares responded by dropping $.02 the day of the announcement. Neither may sound like much but a $0.06 swing in valuation represents a 4% mismatch on publicly announced information that should have been a positive. With TURN's low analyst following and long history of poor performance, it is very likely a turnaround will take some time to be realized by shareholders, which gives us the opportunity here.
Risks
There are certainly risks with an investment in TURN at this point. The track record has been very poor and while new management has a strong pedigree, it is still working off a majority of the old private portfolio. This current portfolio has only $0.67 in liquidity (as measure by cash and marketable securities); if equity markets should tighten or M&A markets be less active, it makes it much harder for TURN to monetize its significant private portfolio. The company has a goal to continue to make its assets more liquid, which should help to close the gap, but this is not an overnight process.
The Takeaway
TURN is doing a lot of smart things for its business; it is making its portfolio more liquid which will make it easier to value. This should lead to an eventual closing of the 34% discount to its net asset value. TURN is also cutting its costs of operations through a conversion away from a BDC structure to a closed end investment fund. This will greatly reduce the hurdle rate for success for the new management team. An investment in TURN is admittedly a bet on new management, but with this large a discount to assets, this is a pretty good risk-reward setup, especially if they can build on their early returns.
If you see something in this article that you agree with, or even better disagree with, please take the time to comment below. This makes all of us better investors. I predominantly focus my investing in the small- and micro-cap company space, but reserve the right to deviate from time to time. If you like what I'm doing, you can follow me by hitting the "Follow" button at the top of this article. Plus, you can follow me in real time by selecting that option.
Disclosure: I am/we are long TURN. I wrote this article myself, and it expresses my own opinions. I am not receiving compensation for it (other than from Seeking Alpha). I have no business relationship with any company whose stock is mentioned in this article.
Editor's Note: This article covers one or more microcap stocks. Please be aware of the risks associated with these stocks.