Historically speaking, precious metals and the corresponding mining stocks tend to lag quite badly relative to their performance seen throughout the rest of the year. 2016 bucked the trend, as gold and silver looked to have broken out of their 4-5 year brutal bear market, and the mining stocks in particular strongly suggested that we are entering into the beginning stages of the next bull market.
Unfortunately, for gold and silver bugs, this year's summer decline is more in line with the doldrums we would normally expect to see from the sector during this time of year.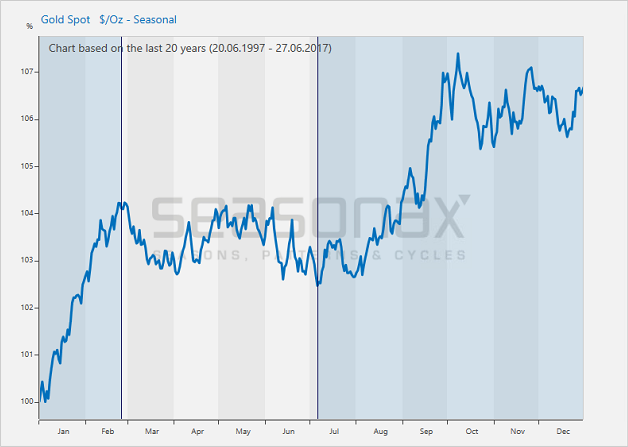 Source: Seasonax
As is typical when it comes to investor sentiment, though, when a sector is gaining momentum in the wrong (negative) direction, there is very little interest and money flowing in.
But as the saying goes, "When it rains, it pours." It wasn't enough for investors in the space to have to buckle up and hold on tight these last few months as the VanEck fund devastated a great number of junior mining stocks with their GDXJ "rebalancing act", no, the worst was still to come.
Red Eagle Mining
First up, we had the once promising explorer turned developer recently turned producer unleash the first major shockwave post-GDXJ rebalancing. On June 26, Red Eagle Mining (OTCPK:RDEMF) announced a rights offering that was needed to raise capital due to challenging issues the company faced at its San Ramon mine in Colombia a mere months after it had declared commercial production.
Challenging ground conditions have led to unacceptable dilution and gold losses using the current mining method. Consequently, to get the mine on a firm footing, management has deemed it prudent to halt stope production and move to a new mining method that will require the construction of a paste backfill plant.
In particular, the huge problem the rights offering caused was not that the company needed more funds to stay solvent, but the extent of the dilution (C$46 million) is what crushed existing shareholders.
From Red Eagle Mining
Rights Offering
Red Eagle Mining has filed a rights offering circular (the "Rights Offering Circular") with the securities regulatory authorities in each of the provinces and territories of Canada in connection with an offering (the "Rights Offering") of rights ("Rights") to acquire units of Red Eagle Mining (a "Unit") for gross proceeds of up to approximately C $46 million. Pursuant to the Rights Offering, each eligible registered holder of common shares of Red Eagle Mining ("Common Shares") as at the close of business on July 5, 2017 (the "Record Date") will receive one Right for each Common Share held. For each two Rights, the holder will be entitled to subscribe for one Unit at a subscription price of C $0.35 per Unit. Each Unit will consist of:
One Common Share of Red Eagle Mining; and

One transferable common share purchase warrant (a "Warrant") exercisable into one Common Share of Red Eagle Mining at a purchase price of C $0.50 per Common Share for a period of five years from the issue date. The Warrants will be listed for trading on the TSX subject to fulfilling the TSX minimum listing conditions.
The day before the announcement, shares of Red Eagle closed at C$0.44/share. Shares are now down 43% as of the close of business on July 6 and off 67% since the start of this year.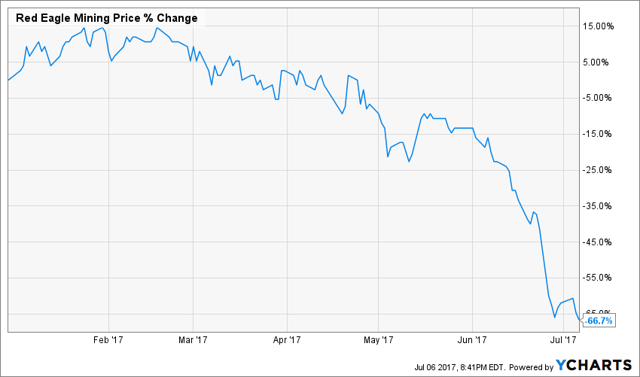 That's strike one.
Tanzania Mining Law Reform
Next up, mining stock investors were greeted with another bombshell, this time emanating out of Tanzania. The Tanzanian government submitted three bills to parliament on June 29 that would allow the government the ability to tear up mining, energy deals.
The government clearly wants a bigger piece of the pie.
Provisions include granting the government stakes of at least 16% in mining companies operating in the East African country, with the option to acquire up to 50%.
Full details can be found here.
To say that the companies and even analysts have been blindsided by the swift changes would be a huge understatement.
This is unprecedented in terms of an escalation and an assault on the mining sector," said Ahmed Salim, vice president of global advisory firm Teneo Intelligence.
In all fairness, the writing was on the wall for massive reform with this most recent announcement as earlier in the year, back in March, the government announced a ban on metals/minerals exports.
The Ministry on Friday said gold, copper, nickel and silver exports have been banned with effect from March 2, in a move to ensure mineral value-addition activities are carried out within the country. This, it added, was emphasized in the Mineral Policy of 2009 and Mining Act of 2010.

"Mineral value addition activities will provide employment opportunities, revenues and technology transfer, hence more benefits to the nation," the Ministry said. "All companies and individuals who were exporting concentrates and mineral ores to foreign countries for beneficiation, including processing, smelting or refining, will immediately stop, and start doing such activities within the country," the Ministry noted.
As a consequence of all the bad news piling on in from Tanzania since the start of March, many Tanzanian-focused mining companies have seen their share prices greatly reduced.
Acacia Mining (OTC:ABGLY), a leading African gold producer, is down 47% since March 1.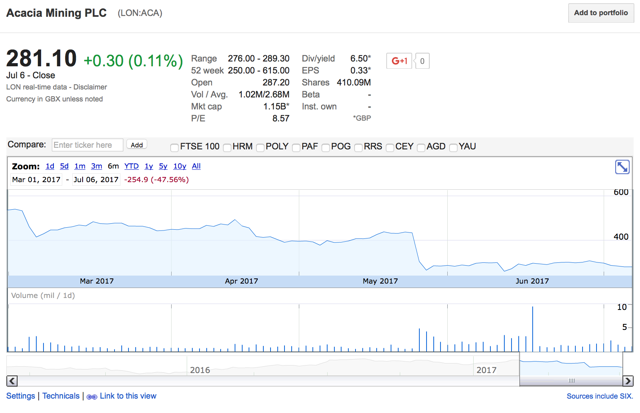 Although Acacia Mining is a relatively obscure name in the gold mining space, its largest shareholder Barrick Gold (ABX) is not, but not even the world's largest senior gold producer could find a way to escape this major event unscathed.
BMO's Andrew Kaip explains,
Acacia Mining (ACA-LON; Market Perform rated by Andrew Breichmanas) has been in an escalating dispute with the Tanzanian government that has led to the initial steps toward arbitration and now radical changes to the mining and tax law. ABX is increasingly being drawn into the discussion given its interest in ACA and the Tanzanian government's demand to negotiate directly with ABX...Pending clarity, we are downgrading shares of ABX to Market Perform and lowering our target price to $18 (from $21) based on an equal weighting of 1.5x NPV5% and 10x 2018E CFPS. Trading at 2.4x NPV5% vs. the large producer peers at 2.0x, shares of ABX are trading above peers with risk to the downside, in our view.
Shares of ABX are down 19% over the last three months. Much of Barrick's decline can be attributed to the overall negative sentiment towards precious metals mining stocks, but no doubt the "guilty by association" entanglement both Acacia Mining and Tanzania is contributing to the fall in share price.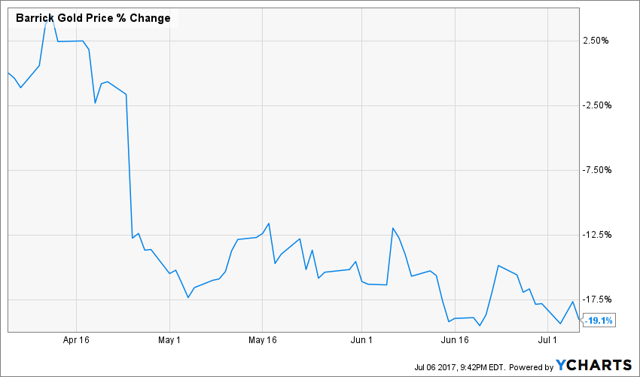 Although not directly tied to the precious metals industry, the graphite miners have also been heavily impacted by the recently reformed mining laws, as much of the world's most prospective graphite discoveries are found in Tanzania. Australian-based graphite explorers/developers such as: Magnis Resources (OTC:URNXF) (MNS.AX), Volt Resources (VRC.AX), Black Rock Mining (BKT.AX), Kibaran Resources (OTC:KBBRF) (KNL.AX), and many others have seen their shares first enter into a trading halt and then ultimately into a more serious suspension from official quotation as further clarity into how the ramifications of the new laws will affect all impacted industries is not yet fully understood or grasped.
Ditto for the energy sector. Companies such as BG Group (OTCQX:BRGXF), part of Royal Dutch Shell (NYSE:RDS.A) (RDS.B), Exxon Mobil (XOM), and Statoil (STO) are among those that could also be affected.
The flow of continual bad news sucker-punching the entire mining sector at a time when it is already vulnerable only adds insult to injury.
Strike two.
Tahoe Resources
Just when investors might have been thinking that things couldn't possibly get much worse in the mining sector and that perhaps even a lucky bounce was due, another piece of shocking news made the headlines this morning; Tahoe Resources (TAHO) received an order from the Supreme Court to temporarily suspend operations at the company's flagship Escobal silver mine.
As a result of the ruling, shares of TAHO were smashed by 33% by the end of the day's trading session.

Another devastating blow to the mining sector.
Three strikes... you're out!
The Nadir of Negativity
There comes a point in time when the monetary losses add up and become so staggering that even the most hardcore believers have to second guess whether or not it makes sense to keep on investing/speculating in a sector that feels like it is undoubtedly falling apart at the seams. Combine a precipitously falling spot price in silver and gold with a string of bad news after bad news (GDXJ rebalancing, Red Eagle debacle, Tanzanian mining law reform, and now Tahoe Resources mining suspension) events, and what you inevitably end up with are decimated share prices sector-wide that can't help but destroy conviction (which was already on exceedingly shaky grounds heading into this year).
Investor sentiment towards the precious metals mining sector arguably hasn't been this negative and bearish since the tail end of 2016.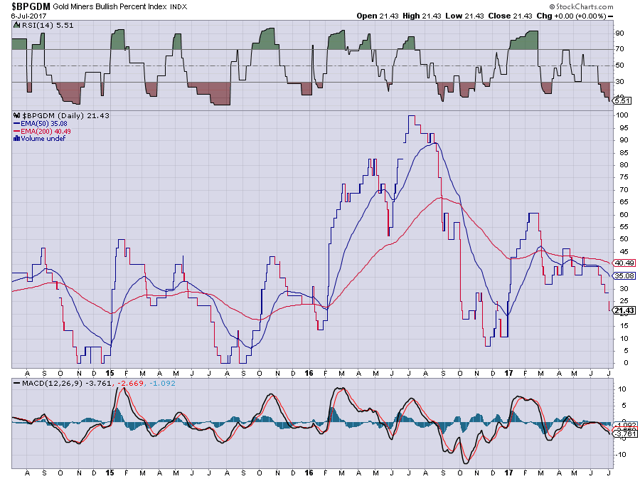 Source: StockCharts.com
But as the saying goes, "Buy low and sell high."
When even the most ardent bulls have altered course and decided perhaps it's time to finally abandon ship and join in on all the fun and hype being experienced in the cryptocurrency space, perhaps now isn't a bad time to embrace bargain basement hunting for some deeply discounted mining stocks.
Potential Areas for Opportunities
As a consequence of the three train wrecks described above, the most direct path towards locating potential areas of opportunities would be for investors to invest in exactly those companies that were affected by the bad news.
If you're an investor who thinks that the glass is half full and these individual stories aren't beyond repair, a flyer here would come at a time far removed from any recent 52-week highs.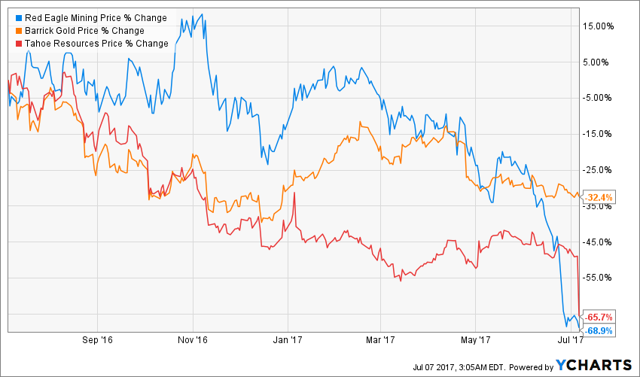 Over the last year:
RDEMF is off -68.9%
ABX is off -32.4%
TAHO is off -65.7%
*ACA.L was not included in the chart above as Acacia Mining stock information is not available on YCharts. ACA.L is off -47.8%.
Should Red Eagle Mining manage to successfully construct and implement the new paste backfill plant on time and on budget and re-start mine operations and meet production guidance in 2018, it is realistic to expect a significant recovery in the share price. Similarly, if the fears over the Tanzanian mining law reform are overstated, and the government doesn't alienate and drive off foreign investment, a large well-diversified produce like Acacia Mining could see a nice recovery; ditto for its largest shareholder Barrick Gold. Lastly, if one is to believe that the Escobal mine is too significant a revenue generator in Guatemala to put on long-term care and maintenance, then investing in shares of TAHO makes a lot of sense.
However, if an investor wants to seize opportunity but perhaps take on a slightly more conservative approach as opposed to that of potentially "playing with fire", an alternative way to play the fear is to invest in like-alternatives, which are companies that could possibly face strong headwinds and thus falling share prices in the coming months due to the attached stigma; this type of strategy could be called the proximity approach.
With the proximity approach, the goal is to look for mining companies that although may not be directly impacted by the bad news may find themselves having trouble catching a bid by fearful investors who are afraid of cross-contamination.
In the case of Red Eagle Mining, this once prospective junior gold producer was viewed upon as a flag-bearer who would put Colombia on the map for investors by proving it to be a workable (perhaps even desirable) mining jurisdiction. The recent fall of another once heralded Colombian exploration company, Cordoba Minerals (OTCQX:CDBMF), has essentially ground to a halt much of the positive progress and momentum that Colombia was starting to garner; for certain, the thrill is gone in the short term.
However, not all is lost because there are more than just those two names digging for precious metals in Colombia. Enter Gran Colombia Gold (OTCPK:TPRFF).
Shares of TPRFF have held up well relative to RDEMF and is more or less flat year to date.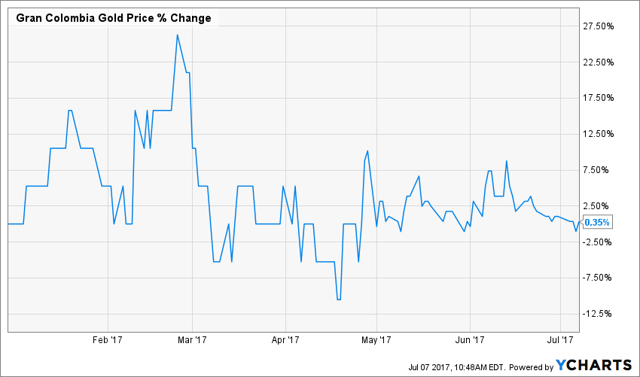 Up until now, Gran Colombia has mostly gone unnoticed by investors, but this company stealthily produced ~150,000 ounces of gold in 2016 at an All-In Sustaining Cost (AISC) of $850/oz. For 2017, the company has issued production guidance of 150-160k gold ounces. AISC should remain below $900/oz in 2017.
By many metrics, shares of TPRFF are undervalued.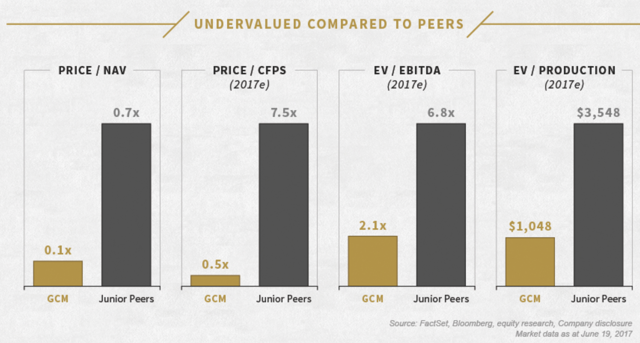 Source: Gran Colombia Corporate Presentation
The market cap of TPRFF is only ~$23 million, but keep in mind that the company features a very unorthodox share structure (which partially explains why the company trade at a discount to its junior peer group). There are only 20.5 million shares outstanding, but there are a number of debentures to account for, as shown below.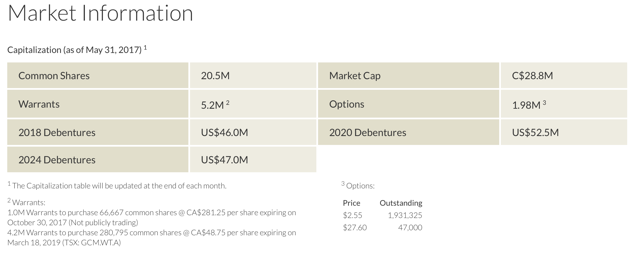 Source: Gran Colombia Corporate Presentation
Gran Colombia has made efforts in the past and continues to work on "normalizing" its share structure and balance sheet.
In the event that there are continued troubles with Red Eagle and its mining operations at the San Ramon deposit, a short-term unjustified sell-off may also spill over into Gran Colombia and thus bring down TPRFF shares, which for the patient investor would open up a buying opportunity to acquire some cheap shares.
Next, we turn to Tanzania and the potential fallout effect it could have on a number of junior mining companies. Although a company such as Acacia Mining has been heavily dependent on its producing gold mines in Tanzania, it has been no secret that the company has been looking to diversify elsewhere and throughout Africa.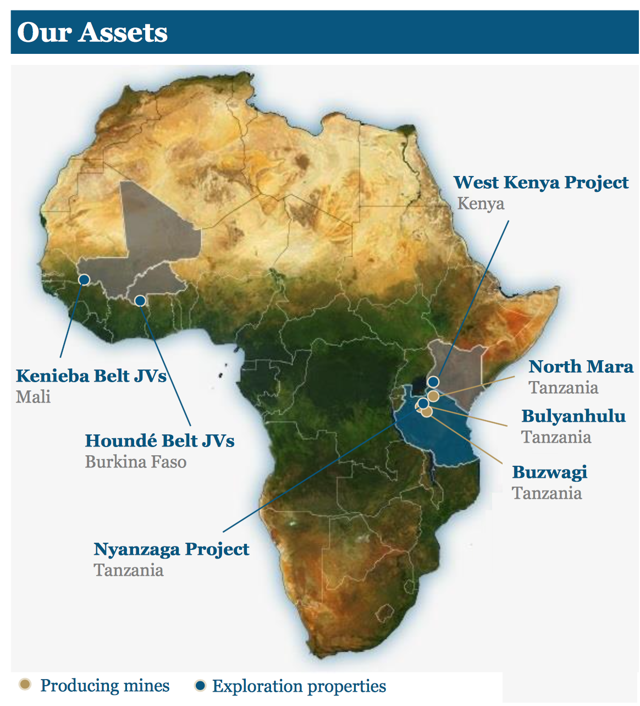 Source: Acacia Mining Corporate Presentation
With Acacia Mining presumably busy working with government and mining officials in Tanzania trying to come to grasps with the new reforms, it would be reasonable to speculate that some of the company's joint-venture endeavors with smaller junior companies outside the country will progress at a slower pace, or perhaps even put on the shelf until further notice. If such an event were to unfold, it wouldn't take long for shareholders of these smaller companies to become frustrated with the lack of progress being made and look to make a run for the exits.
Here are a few junior explorers who have joint ventures with Acacia Mining that will be worth monitoring closely over the next few months:
From Acacia Mining
Sarama Resources (OTC:SRMMF) in Burkina Faso.
The South Houndé JV Project comprises seven exploration permits for a total of 814 square kilometres within the highly-prospective central part of the Houndé Belt. Acacia has entered into an agreement with Sarama Resource which will allow the company to earn up to 75% equity in the project. Previous exploration by Sarama has identified a number high-quality exploration targets and includes the Tankoro Inferred Resource. Based largely on work completed over the past year our JV partner Sarama Resources announced an 87% increase in the oxide component of inferred mineral resource to 0.5 Moz of contained gold and a 40% increase in total inferred mineral resources to 2.1 Moz of contained gold at 1.5g/t Au at the South Houndé Project. This includes an inferred mineral resource estimate includes 1.0 Moz gold @ 2.7 g/t Au, reflecting higher grade shoots within the mineralised system.
Canyon Resources (CAY.AX) in Burkina Faso.
The agreement covers six exploration licences covering a total area of 1,105km2 over the Houndé Belt with Canyon Resources Limited. The earn-in agreement required an upfront payment of US$400,000 to acquire a 51% interest in the projects with the potential to earn up to a 75% interest through exploration expenditure of US$1.5 million by March 2017. On reaching 75% interest Canyon will be required to fund the ongoing exploration programmes at their equity level or be subject to dilution under a standard dilution clause. Further payments become due to Canyon on delineation of a 1.5 million ounce gold resource (US$1 million) and subsequently on the decision to mine (US$1 million).
Thor Explorations (THX.V) in Burkina Faso.
The Central Houndé Project covers three exploration licences covering a total area of 474km2 over the Houndé Belt with Thor Explorations Ltd. The earn-in agreement requires a spend of US$500,000 over the next twelve months, with a further spend of US$1 million over the following twenty four months required to earn a 51% interest in the project. Upon completion of the initial earn-in, Acacia may earn a further 29% interest in the project (bringing Acacia's interest to 80%) by spending an additional US$2 million and completing a prefeasibility study. Again standard dilution provisions apply should Thor elect not to contribute during any contributions phase.
On the flip side, if concerns over conducting business in Tanzania escalate and Acacia feels mounting pressure to diversify out of the country, we may instead see a flurry of activity and efforts being put into the aforementioned JV projects, which could then result in more of a tailwind boost to the share price of Sarama Resources, Canyon Resources, and Thor Explorations.
Lastly, in regards to mining operations at the Escobal mine being temporarily halted, over time, this event has the potential to remove a big chunk of silver supply to the markets (Escobal is ranked as the world's third largest silver mine). Depending on the duration of the suspension, and if it drags on for any considerable length of time and is able to somewhat meaningfully alter supply/demand dynamics in the market, it would be prudent for interested investors looking for bargain deals to keep tabs on other silver alternatives. The most straight-forward silver investment mining stocks platform an investor could turn to is the Global X Silver Miners ETF (SIL). Since there are not many publicly traded silver mining companies actively involved in Guatemala (and not another Escobal mine to be found), the proximity approach doesn't apply for this scenario; a basket approach would thus be the solution.
Here are the top 10 holdings in the SIL ETF.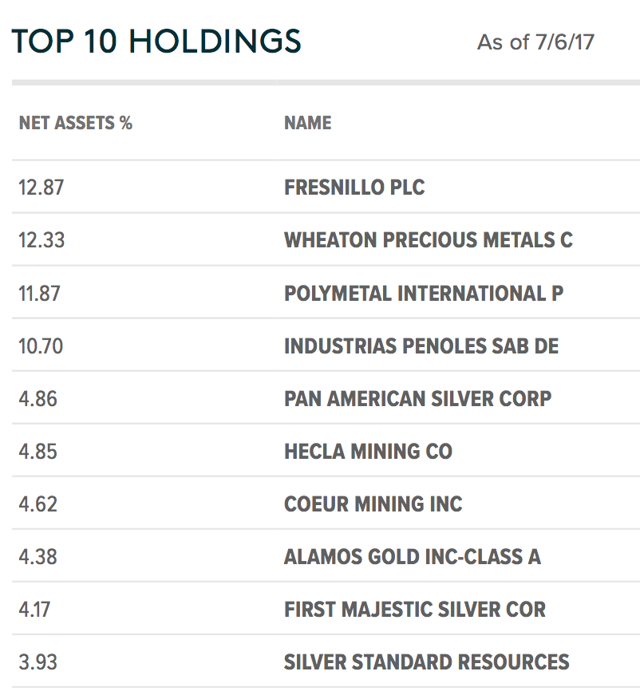 The SIL ETF is down 2.09% year to date.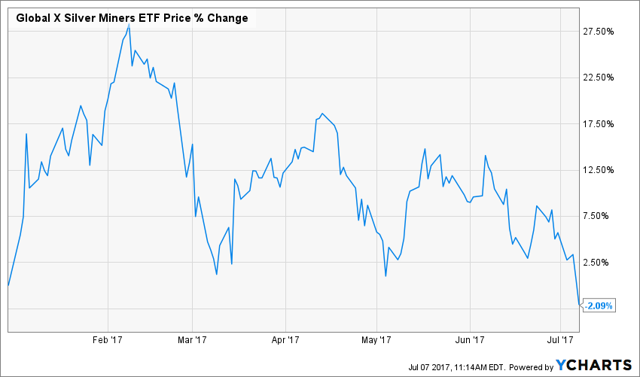 Some Thoughts
The summer months are typically a weak period for the precious metals and the mining stocks, and this year is proving up to be no different. If anything, the sector is being hit harder than normal with a plethora of bad news after bad news snowballing in and creating an avalanche that is wreaking havoc on investors' portfolios and performance returns.
Things started off ominously enough with so much attention being fixated on the GDXJ "rebalancing act" which dragged on for many months, crushing investor sentiment towards the precious metals sector. However, when the "mining event of the summer" was finally concluded and done with on June 16, many investors took a sigh of relief anticipating the worst to be over for sector, mistakenly assuming that a strong reversal and recovery was imminent.
Investors could not have been more wrong. The GDXJ "rebalancing act" did not mark the end of the summer doldrums, but only foreshadowed what was to come next... a lot more pain.
First, we were alerted to the serious operational issues and headaches being faced over at Red Eagle Mining which have led to a 67% reduction of the company's share price since the start of this year, further damaging already fragile investor psyche. Following up after the Red Eagle event, we had the sweeping reform in mining being enacted in Tanzania that is so significant that it has caused many mining companies conducting business in the region to have to issue trading halts and suspensions from official quotations, otherwise face the risk of a stampeding mass exodus of angry shareholders which would no doubt bludgeon already weak share prices. And finally, to complete the trifecta, just today, Tahoe Resources announced to the market that mining operations at their crown jewel project have been temporarily halted due to local community opposition.
"When it rains, it pours."
All of these events have to be considered a black eye to the precious metals mining sector, which impact it as a whole. For many investors, the belief is that the sector won't recover until sentiment improves and big money starts to pour back in. But how can sentiment improve when what we're getting is one piece of bad news after another? There comes a point in time when even the most ardent bull will elect to throw in the towel and walk away from the space entirely. Right now, the sector is illustrating to us that the risks are indeed high and that it's very difficult to find a safe parking spot with these individual mining companies; the latest turn of events is clearly showing investors that both large caps and juniors can be equally affected with bad news, and even the world's largest producer, Barrick Gold cannot be looked upon as a proverbial safe haven from such calamities. 30% haircuts sting, but massive declines of over 60% are brutal and can truly devastate a portfolio.
Nevertheless, when it comes to investing, there are two important axioms that have held true throughout the test of time:
"Buy low and sell high."
"Buy when there is blood in the streets."
If sentiment towards the precious metals and the mining stocks isn't at its lowest point of the year, we must be getting pretty close. Anyone who still has even remote interest in the space and hasn't been mortified away with all the negativity the sector has faced in recent months, now is perhaps as good a time as any to put together a shopping list of high quality stocks that might sell off inadvertently (the proximity approach) due to problems being experienced elsewhere. Or, because it is the summer doldrums and the entire sector is showing such immense weakness at the moment, a shotgun approach (ETF) might be best suited for certain investors. Otherwise, the most daring of speculators can use this opportunity to directly invest into the most broken stories themselves which are trading at levels not seen since late 2015/early 2016, the depths of the bear market.
The Depths of Despair.
The mining sector looks like it's just about ready to knock on the door.
Will you answer the call?
Disclosure: I am/we are long SRMMF. I wrote this article myself, and it expresses my own opinions. I am not receiving compensation for it (other than from Seeking Alpha). I have no business relationship with any company whose stock is mentioned in this article.
Editor's Note: This article covers one or more microcap stocks. Please be aware of the risks associated with these stocks.