Company Overview
Infosys Limited (INFY) (INFY.NS) is a global technology, consulting, and outsourcing leader employing over 200,000 people in 50 countries in Asia/Pacific, the Americas, and Europe. Just over 61 percent of revenue is derived from its U.S. operations, 25 percent from Europe, 2.5 percent from India, and the remaining 11.9 percent from the rest of the world. We expect the revenue from India to increase substantially this year and next and will explain why a little later.
The company's revenue stream is diversified further across multiple services and sectors. INFY provides business information technology services in application management, business applications, the Cloud, IT engineering, Infrastructure management, business process outsourcing, management consulting, and enterprise mobility. It services the following sectors: financial services (33.5 percent), manufacturing (22.4 percent), retail (14.1 percent), telecom (9.9 percent), energy and utilities (5 percent), life sciences (4.6 percent), healthcare (2 percent), transportation and logistics (2 percent), and all others (6.4 percent).
It is also well diversified across its broad client base with only 21 percent of revenue derived from its top ten clients and has over 1,160 active clients. It is important to note that its client retention rate is over 97 percent making the business very sticky in terms of recurring business revenues.
Prior-year financial statements show revenue increasing at a compound annual rate of 12.7 percent over the past four years and 11 percent for profit after taxes over the same period. The company has zero long-term debt and strong free cash flow. The stock currently trades at $14.94 per share and a P/E (price to earnings) ratio of 15.9 which compares favorably to the historical average of 19.3. The dividend is $0.46 per share for a yield of 3.1 percent. India does not withhold taxes on dividends paid to U.S. citizens.
Investment results in USD (U.S. dollars) vs. INR (Indian Rupees)
The first chart below depicts an investment (excluding dividends) in USD. Over the past 10 years, one would have notched a gain of 51.9 percent holding INFY shares. However, an investor from India would have fared much better as shown in the next chart.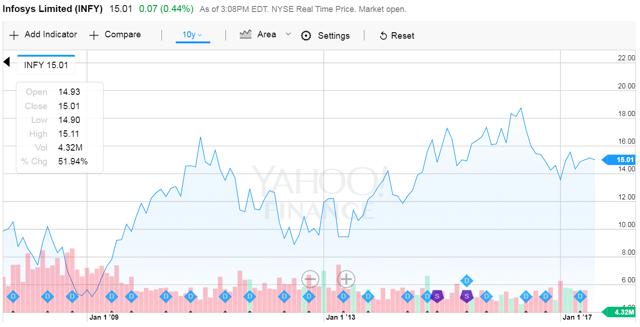 Source: Yahoo Finance
Here, we look at an INFY investment made in Rupees. Over the same 10-year holding period, the gain would have been 257.6 percent (excluding dividends). An investor from the U.S. would not have achieved any different result by investing in INR as opposed to USD. The difference is the result of a strengthening USD relative to the INR over this period.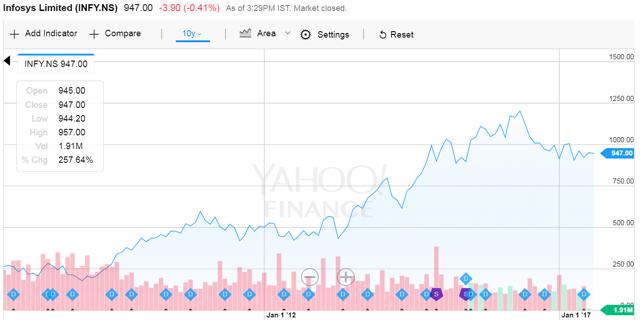 Source: Yahoo Finance
How much of a difference can currency fluctuations make? Huge! Look at the chart below comparing USD to INR over the last 10 years. Looking at a 10-year period shows that prior to 2012 the relationship was significantly different. The USD rose relative to the INR by about 63 percent the last 10 years. INFY traded at about 250 INR at the beginning of the period, which would translate to about $6.25 in USD terms, assuming an (FX) exchange rate of 40:1. Today, INFY trades at 947 INR, which at the current FX of about 65 translates into $14.57 USD. The prices on the two exchanges will not match since one is open while the other is closed, so trading is not simultaneous. Plus, there is always the potential for temporary differences in pricing, until the arbitrage crowd notices, when either the U.S. or Indian investors become more excited about a stock than the other group. The size of the difference at the beginning of the time period cannot be explained without digging into more specific FX rates and existing regulatory climates that may have existed at the time. Suffice it to say that the results of this general analysis and explanation do not hinge on those specifics.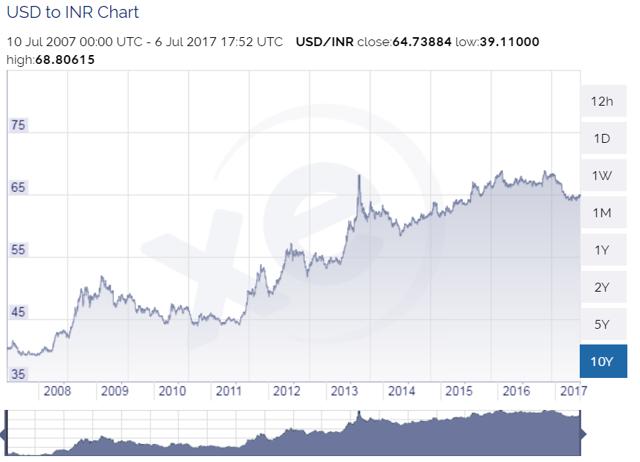 In the end, nearly all (if not all) of the difference in returns is the result of currency fluctuations over the period. The point of this exercise to show how important it is to identify trends in currency relationships when investing in foreign stock, even if (or especially if) one buys ADRs. Being on the wrong side of a currency trend can rob an investor of a significant portion of the potential total return s/he could have accumulated. Just picking a great company is not enough, especially over the short- to intermediate term.
Take another look at the above chart and notice that the trend line defining the bottom of the bullish USD trend has been broken to the downside. The U.S. economy is sluggish, having difficulty growing above 2 percent, while the Indian economy is growing at over 7 percent. The central bank of India continues to support much higher interest rates relative to the U.S. Federal Reserve. Inflation is higher in India but not unreasonably so. These and other economic factors are creating an environment which we believe favors the INR relative to the USD for the foreseeable future. If the trend continues, the INR will regain much of its PPP (purchasing power parity) losses of the last six years, and that would be extremely beneficial to U.S. owners of INFY shares. It will, of course, make little difference to Indian investors since for them, a Rupee is a Rupee, and its value is determined mainly by domestic inflation.
Fundamentals past and future
Using the Friedrich algorithm, we can see the fundamental ratios for INFY both in INR and in USD. It relies heavily on analysis of the FCF (free cash flow) generated by the company because cash does not lie (while earnings can be manipulated). The first table below shows the results in INR. Since INFY has a fiscal year end of March 31st, there is no TTM (trailing twelve-month) column shown. Detailed explanations and formulas for the ratios listed are provided at this link. If you prefer to read the information in another language just scroll down to the top of the text and click on the drop down menu (Language) at the left and pick your language to translate.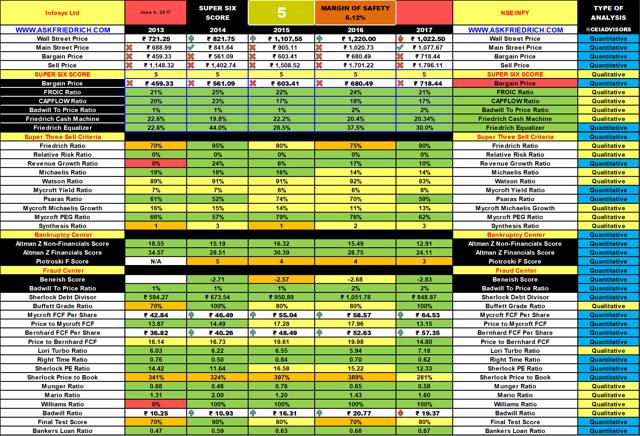 Source: Friedrich Global Research
I generally look at the Main Street Price (estimated fair value) first, then I check the FROIC (free cash flow return on invested capital) the Friedrich Cash Machine (free cash flow as a percent of revenue) and then skip down to the Price to Bernhard FCF ratio (Price to FCF).
Following this path, we see that the current price of 974 INR is below the Main Street Price. We interpret this to mean that, from our point of view, the stock is priced below fair value. Moving down to the FROIC, please notice that this ratio is consistently above 20 percent. That is relatively rare in today's environment of overvalued equity markets. Next, if we look at the Friedrich Cash Machine, we see that it is consistently at or above 20 percent also. This is also a relative rare occurrence today as most companies fall in the 5 to 15 percent range for this ratio. Now, we look at the Price to Bernhard FCF to determine, once again, if this stock is priced advantageously. At 14.8, this ratio looks enticing.
This is very important because, based upon a study conducted by Mycroft Research of a 60-year back test period, we find that companies priced at 15 times FCF or less significantly outperform market averages. In the study, the Dow Jones Industrial Average held over the full 60 years turned $10,000 into $511,470 for a compound annual rate of return equal to 6.77 percent. That sounds okay, but when investing only in those DJIA component companies priced at 15 times FCF or less, rebalancing annually, the same investment produced a compound annual rate of return equal to 21.08 percent, or $965,011,511. The difference is staggering. And, that is what prompted the creation of the Friedrich algorithm. We apply the algorithm to more than 17,000 stocks from 36 countries around the globe to identify great investment opportunities. INFY is one of the few that caught our attention.
Now, we will take a look at the INFY ratios calculated in USD in the following table. Why is this important? Here, we include a TTM column that also includes a more recent share price. The earlier table was all based upon year-end data and price. The only problem is that when the year-end is the same as TTM, it produces a zero for revenue growth. Ignore the zero. Ideally, we would like to buy this great company at under $10 USD.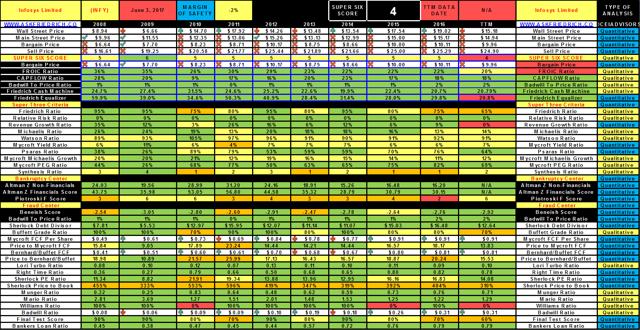 Source: Friedrich Global Research
Unfortunately, we do not expect that to occur unless something terrible happens like a deep global recession similar to the financial crisis of 2008-09. It could happen, but we are confident that INFY will be able to bounce back strongly just as it did in 2009. Remember, at that time, the USD was trading much closer to parity relative to the INR while now it trades at a premium of over 70 percent on a PPP basis. In other words, this time around, we would have a cushion that did not exist the last time to help reduce the size of any potential downside risk.
Looking at the Friedrich charts below, first in INR and then in USD, we see that at 974 INR, it is more favorably priced than it has been in the last five years.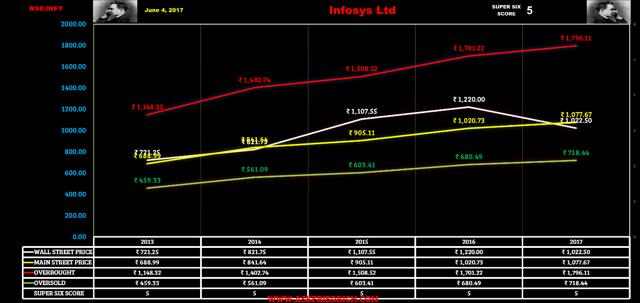 Source: Friedrich Global Research
The USD chart tells a similar story. Note that the Wall Street Price (white) is the market price, the Main Street Price (yellow) is our estimated fair value, the overbought (red) is 66 percent above fair value and the oversold (green) is 33 percent below fair value.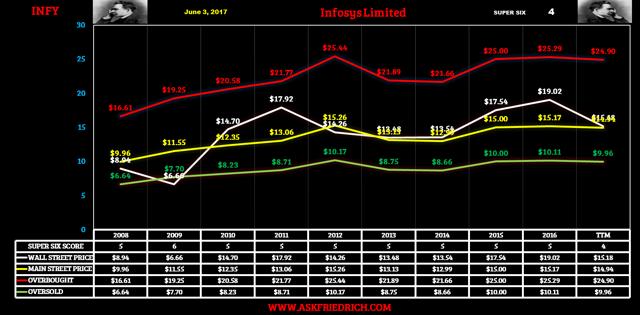 Source: Friedrich Global Research
The USD chart has 10 years of history, and as you can see, the Wall Street Price only dipped below the Oversold level once in the last 10 years. For the reasons mentioned above, it is unlikely to revisit that level again in the next few years regardless of the economic environment. If it does, we will be backing up the truck, so to speak.
We mentioned earlier that we expect that the percentage of revenue derived from India to grow substantially over the next two years. Our reasoning is based upon two pieces of intelligence we came across. The first is from story we found in the Financial Times.
"India's tax revolution is testing the reputation of Infosys, one of its biggest IT companies, which has been put in charge of what is probably the biggest digital project the country has ever seen."
The second is the revolution in digital payments technology from Quartz. You can read the full article here.
"Technology is set to redefine banking in India. Digital payments are rapidly disrupting the cash-friendly nation's spending habits. In an April 2017 global survey on internet security and trust, a whopping 86% of Indians said they would likely use mobile payments over the next year, well above the world average of 57%."
We do not think that the H1B visa dispute will have a lasting or meaningful effect on INFY. The company will adjust its business model to fit the outcome. The new business in India and elsewhere outside the U.S. should be more than enough to offset any temporary slowdown in its U.S. market operations.
The consistency of results reported by this outstanding company point to a strong probability of continuation. While there is no such thing as a sure thing in investing, we think this one stands head and shoulders above the majority of investing alternative available in today's market.
Conclusion
INFY is a buy at the current price. It does not trade this cheaply very often. The 3 percent dividend yield just adds icing to the cake.
If you have any questions, please feel free to ask them in the comment section below, and don't forget to hit the "Follow" button next to my name at the top of this article. We are now able to analyze indices and will begin the process of analyzing ETFs, mutual funds and certain popular portfolios managed by gurus of the investment world. That effort will, of course, be in addition to providing analysis on individual stocks.
For those who would like to learn more about my investment philosophy, please consider reading "How I Created My Own Portfolio Over a Lifetime."
Disclosure: I/we have no positions in any stocks mentioned, but may initiate a long position in INFY over the next 72 hours. I wrote this article myself, and it expresses my own opinions. I am not receiving compensation for it (other than from Seeking Alpha). I have no business relationship with any company whose stock is mentioned in this article.
Additional disclosure: DISCLAIMER: This analysis is not advice to buy or sell this or any stock; it is just pointing out an objective observation of unique patterns that developed from our research. Factual material is obtained from sources believed to be reliable, but the poster is not responsible for any errors or omissions, or for the results of actions taken based on information contained herein. Nothing herein should be construed as an offer to buy or sell securities or to give individual investment advice.