Introduction:
I've been using the strategy known today as "Dividend Growth Investing" for more than 30 years. A lot of those years, I didn't realize that I was using that strategy, however. While the strategy has many proponents, these days, back when I began investing, "growth" stocks were all the rage, and I believed that I was a growth investor.
In my circle of associates, our definition of growth stocks were companies like Coca-Cola (KO), where I worked, and companies like Procter & Gamble (PG), Colgate Palmolive (CL), Kimberly-Clark (KMB), and Johnson & Johnson (JNJ), where my friends worked.
We were really something, back in those days. We wore designer suits, drove fancy company cars, had company expense accounts to entertain our larger customers, and 401(k) plans to invest in. Those plans would allow us to save money in an account that would grow tax free until we began to withdraw money from the account at retirement.
Best of all, the companies that we worked for would match our contributions to the plan with what they called "company matching dollars." How good was that? The kicker was that we each could purchase stock in our own companies at a discount and without any commission, which in those days was pretty stout.
What Is Dividend Growth Investing?
There are basically (and this is a broad generalization) three different types of stocks, for all intents and purposes.
There are stocks that do not pay any dividend at all. None. These are generally growth oriented stocks, and people purchase them because they offer up the opportunity for capital gains, through appreciation in the stock price. Nothing wrong with that.
Then, there are stocks that pay dividends. Now, these dividends can be fixed. They can be somewhat erratic in nature, up one year down the next. But these are generally known as "dividend paying stocks."
Then, there are dividend growth stocks, a group that pays a dividend every year and increases that dividend annually. Some of those companies are the ones that I mentioned earlier, like KO, KMB, CL, JNJ, and PG. Some are companies that a lot of us have never even heard of or are not familiar with. What sets them apart is the annual dividend increase. These are the Dividend Growth stocks. But don't be confused: The "growth" part is in the dividend first and the price appreciation second.
What Do I Look For?
I like to select my stock purchases from a list of stocks that are Dividend Champions, Dividend Contenders, and Dividend Challengers. David Fish updates this list, monthly, and publishes it here.
A Dividend Champion is a company that has increased their dividends annually for at least 25 years in a row.
A Dividend Contender is a company that has increased their dividends annually for at least 10 years in a row.
A Dividend Challenger is a company that has increased their dividend annually for at least 5 years in a row.
Things To Consider:
When I was working, the salary increases that I would get every year were pretty impressive, at least by today's standards. Today, salary increases seem to be a thing of the past for most people, or they are often less than the underlying inflation.
When I consider investing in DG stocks, I do not always worry about the size of the dividend as much as I do the size of the annual dividend increase, known as The Dividend Growth Rate.
I like to invest in companies that increase their dividends at a rate that is greater than inflation and that have the Free Cash Flow, to continue raising those dividends in the future.
Is it guaranteed that DG companies will never freeze, reduce, or eliminate their dividends? Of course not. Look at the financial sector after the start of the recession in 2008-2009. There are more examples, so, let's be in agreement here. Nothing is "guaranteed."
Johnson & Johnson
If we look at a company like Johnson & Johnson and consider an investor who purchased 10 shares every month beginning in January of 1984 and through October of 1984, that investor would have accumulated 100 shares by the end of the year.
Johnson & Johnson has a fantastic website where investors can create different investment scenarios. Using our example of an investor who accumulates 100 shares by October of 1984 and holds those shares, with dividends being reinvested along the way, we would get this result: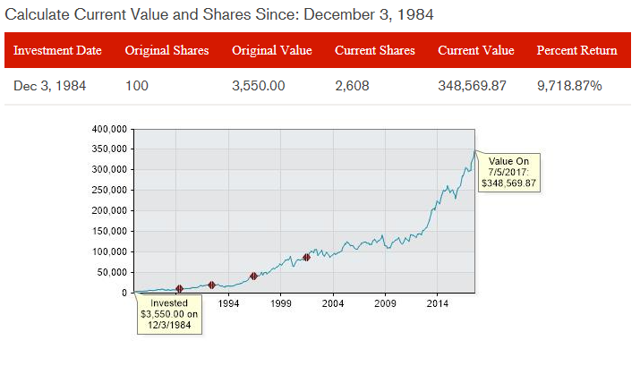 The Johnson & Johnson investor who began accumulating shares in the company back in 1984 and held his 100 shares and reinvested dividends along the way would have a position worth $346,569 today and would be receiving $8,762 in dividend income over the next 12 months.
The red dots on the chart represent each of the stock split events for JNJ stock holders.
Kimberly Clark
Again using the same scenario for our investor as we did for Johnson & Johnson the Kimberly-Clark investor accumulates 100 shares by October of 1984 and holds the stock until today, reinvesting dividends along the way.
At the Kimberly-Clark website, the investment calculator looks like this: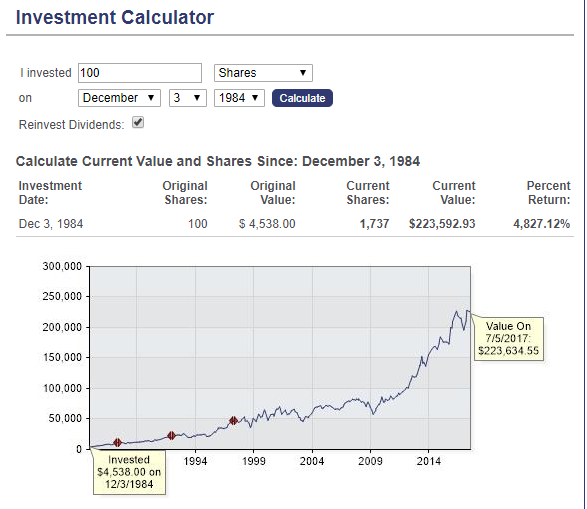 This investor would have 1,737 shares of Kimberly-Clark today, worth $223,592. The investor would be receiving dividend income over the next 12 months of $6,739. Those little red dots represent stock splits as in the case of Johnson & Johnson.
Colgate Palmolive
Wash, rinse, and repeat. Same scenarios as above, this time looking at Colgate Palmolive, from its website: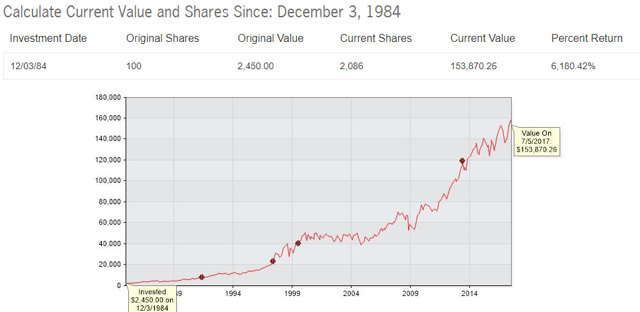 The current value of the investment would have grown to $153,870, and the current income from dividends would be $3,337 annually. And again, red dots are stock splits.
What's The Point Here?
In my investing wheel-house, I like to purchase shares in companies that I think are priced at a value. That "priced at a value" has no relationship to what I might have paid for a company in 1984, but everything to do with how that company is priced, relative to its intrinsic value, right now. Today. Not the past, but here and now.
So, an investor like myself is going to be looking for opportunities to add to existing positions, based on that value metric or initiating new positions based on that same valuation metric.
What does that mean? It means that the results can and often do increase the returns and income almost exponentially.
The Perfect Portfolio was begun in April of 2009. As a CD matured, we took $100k and invested that money into 10 companies with our investment in each of those being $10k per position. These are the companies we purchased with that initial maturing CD.
Coca-Cola, Kimberly-Clark, Colgate Palmolive, Johnson & Johnson, Procter & Gamble, Abbott Labs (ABT), McDonald's (MCD), Altria (MO), AT&T (T), and Chevron (CVX).
We bought these same stocks, in the same quantity ($10k for each position) in June of 2010, when another CD came due.
In June of 2011, the final CD matured, and we bought positions in some new companies as well as making a final $5k contribution in the existing holdings. The new companies that we bought with $10k positions were Intel (INTC), Reynolds American (RAI), Microsoft (MSFT), Exxon Mobil (XOM), and Verizon (VZ).
What You Should Know:
While we were adding these companies to The Perfect Portfolio, guess what? We were also adding them to the original 401(k) plan started in 1984. That plan was rolled into an IRA, which I still have, and that IRA is invested in DG stocks. Every company that I've worked for had a 401(k) plan, and I participated in that plan. When I left those companies, I rolled the money into the IRA and invested in DG stocks along the way.
Like many other investors, buying stock in a particular company is NOT a one and done situation. For many of us, we keep going back to the well for more, when the stock is priced at a value and when we have the extra available cash to make a purchase.
So, that 1984 investor, who made purchases along the way in stocks like the original five that I bought, when they were priced at a value (and believe me, there were plenty of times that those stocks were priced at a value from 1984 until the present day), we bought more shares, reinvested the dividends, and held onto the positions.
Where Do We Go From Here?
There was an interesting comment made on my last article that basically criticized my sharing The Perfect Portfolio as a source of income that I use to supplement my Social Security. That comment said this:
It strikes me as "not telling the whole story" that the stated premise of this article is

"The first goal is to provide dividend income to supplement my Social Security benefit.

Since you've claimed to have 6X (or more) of your SS coming in from a handful of stocks bought decades ago.

If the income from the portfolio described in this article represents an almost invisible portion of your overall retirement income, I think your readers deserve to know that. It puts the article and the ensuing discussion in the proper light. Then readers can decide if this style of investing is appropriate for their personal situations.
I can't speak for anyone else, but in my case, I own the tax deferred IRA, and that is my largest portfolio in terms of value and dividend income. The dividend income in that portfolio is being reinvested as it's paid. The reason the dividends are reinvested is my belief system in the miracle of compounding. Since I just turned 68, and since there are no RMDs (required minimum distributions) for money held in this IRA, until I turn 70 1/2, the dividend income in this portfolio is not being drawn to supplement my Social Security income.
Beginning in 2009, I started funding a Roth IRA for myself and for my wife. Those accounts are growing in value and the end product for those Roths is money that will not be taxed upon withdrawal. If we decide not to withdraw any money from the Roths and instead pass those on to our children upon our death, they will have to "close out" the Roths, but the money that they take from the Roths will not be taxable to them.
That brings us to The Perfect Portfolio. As I pointed out, this is a taxable account and was created to supplement my mother's income as CD's became less attractive. Taxes were paid on the dividend income as part of her income tax filing. When she passed away, I started drawing the dividend income, as a supplement to my job income, and when I retired and started to take Social Security, I used the dividend income to add to that Social Security income.
What Does The Future Hold?
Since the most actively managed portfolio in my investment wheelhouse is The Perfect Portfolio and since I decided to begin buying stock in companies in 2016, it seemed to me that in order to be transparent with readers about what we were doing and why we were doing, it was best served by using this portfolio as a platform.
While the critic is correct is suggesting that The Perfect Portfolio is not nearly as large as my IRA, the fact remains that this portfolio is larger in value than many other portfolios that people have, and I don't consider the value of this portfolio or anyone else's portfolio to fall into the category of "chump change."
Every investor has to start someplace. Some begin with $25 a week invested into an Index Fund. Some inherit money and invest $10k, $20k, $30k or more into stocks and bonds.
Whatever YOUR portfolio value, it is your money that is at risk and your probable goal to be investing for your retirement years. If this series can help you meet your own objectives in any way, shape, or form then I am more than honored to have played whatever part my articles play in helping you achieve your goals.
In Conclusion:
As of today, The Perfect Portfolio contains 31 positions. Even though we began purchasing stock in 2009, 2010, and 2011 (investing a total of $300k over the three years), I brought the portfolio prices "up to date" by adopting 2015 (December 31) as our starting point.
The reason for that was to make the portfolio relevant to people today and to suggest that, perhaps, the original 15 holdings may be attractive to investors today. Had I used the original cost basis for these 15 companies, most people would have likely thought, "Well, I'll never buy those stocks at those prices, so they are irrelevant to my investing world."
By updating to the time period we selected, the debate as to whether or not the original 15 are still relevant in today's market becomes a worthy debate issue.
The next group of companies, 11 in all, are companies that we added to our portfolio in 2016, and those 11 companies are as relevant today as they were in 2016 to investors looking for ideas.
The last group in this portfolio are the companies that we have added so far this year (2017) and along with these, there is a list of potential purchases during the remainder of the year that we shared with readers in this article.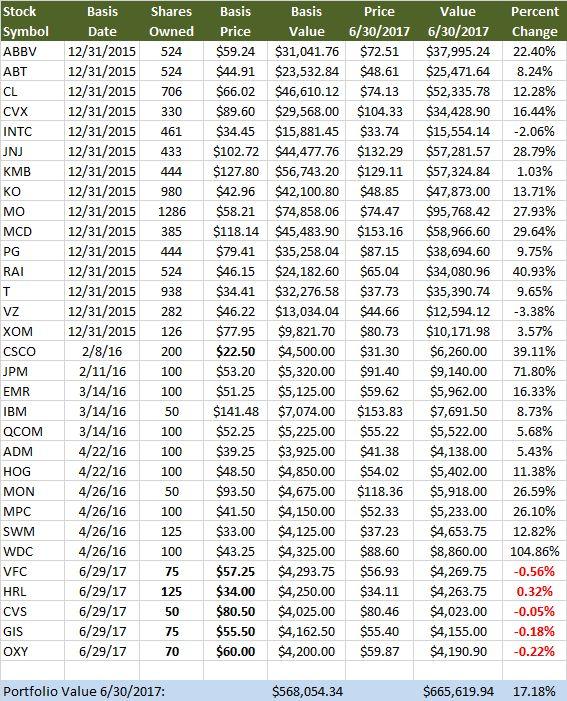 I have said that The Perfect Portfolio has two objectives. First to add dividend income to my cash flow, in order to supplement my Social Security. The second objective was price appreciation - that is, capital gain potential.
But there is a bigger objective here than my personal goals. And, that is to show investors that there are value opportunities in the market at any given point in time and that regardless of your investable capital, there is no reason like the present to get started in the effort to secure your future.
So, while I am writing for older investors, I am also writing for younger investors as a forum for discussion and as a marketplace of ideas. I hope you will continue to follow along, and I appreciate your input to this project via your commentary!
Disclosure: I am/we are long CVS ABT ABBV CL JNJ KO KMB MCD MO PG RAI T VZ XOM CVX JPM CSCO ADM HOG EMR MPC MON IBM SWM WDC QCOM VFC OXY GIS HRL. I wrote this article myself, and it expresses my own opinions. I am not receiving compensation for it (other than from Seeking Alpha). I have no business relationship with any company whose stock is mentioned in this article.