Today's Topline Jobs Numbers Masks Weakness Under The Hood
Jul. 07, 2017 3:47 PM ET
SPY, QQQ, DIA, SH, IWM, TZA, SSO, TNA, VOO, SDS, IVV, SPXU, TQQQ, UPRO, PSQ, SPXL, UWM, RSP, SPXS, SQQQ, QID, DOG, QLD, CRF, DXD, UDOW, RWL-OLD, SDOW, VFINX, URTY, EPS, TWM, SCHX, VV, RWM, DDM, SRTY, VTWO, QQEW, QQQE, FEX, ILCB, SPLX, EEH, EQL, SFLA-OLD, SPSM, QQXT, SPUU, IWL, FWDD, SYE, SBUS, SMLL, SPXE, PPLC, PPSC, UDPIX, JHML, OTPIX, RYARX, SPXN, USSD, HUSV, RYRSX, SCAP, SPDN, SPXT, SPXV, USWD
2 Comments
Summary
Government, government-supported, and low-wage sectors made up most of the jobs creation.
Jobs creation in those sectors generally do little to signal GDP growth.
Troubling signs in the auto sector will likely lead to layoffs from the current quarter forward.
The 3% GDP growth that President Trump had hoped for seems fatuous right now, absent nearly immediate fiscal stimulus.
Revisions to prior months' data powered a more robust three months average jobs data.
The June top line jobs report print this morning was generally very positive, with 222,000 new jobs created. Unemployment printed at 4.4%, up Slightly from the May rate of 4.3%. The U-6 unemployment rate also increased from 8.4% in May to 8.6% in June.
Average three-month unemployment printed at 194,000 jobs, owing largely to revisions for April and May, which were revised up from 174,000 to 207,000 and 138,000 to 152,000, respectively. That average three month average rate is up substantially from the abysmal 121,000 three month average that we reported with the May jobs report.
Turning to our quarterly analysis of wage data, average monthly wages also increased by about $4 per week from May, up nominally by 2.76% over June last year. That's about a 1% real wage increase over the 1.7% trimmed mean PCE produced by the Dallas Fed.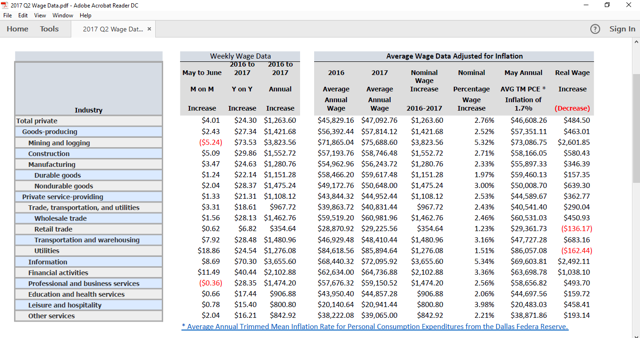 Turning to sector job creation, we are seeing much of the jobs growth in this June report in sectors like Government, (35,000 jobs), Education, and Healthcare and social assistance (59,100 jobs) much as we have seen for the last several years. Jobs in these sectors tend not to signal a particularly robust economy because they are largely funded by governmental expenditures and taxes.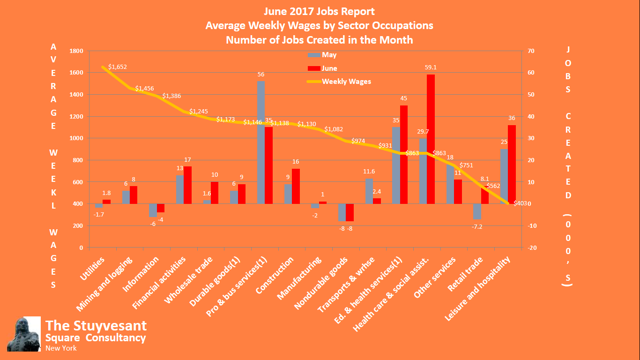 We also note that 36,000 of the new jobs created were in the very low paying Leisure and Hospitality sector, where average wages are around $400 per week.
On the positive side, relatively higher-paying Construction Sector jobs increased, as did jobs in the Durable Goods Manufacturing, and Financial activities, Mining and Logging and Utilities.
Nevertheless, it seems from a glance at our exclusive chart of jobs creation by average weekly wages that job creation has either decreased or simply increased at a small rate over last month in sectors that signal a more robust economy. For example, if we take away the Government sector, publicly supported sectors like Education, Healthcare and Social Services, and the low wage Leisure and Hospitality sectors, totaling over 130,100 jobs created this month, we come up with a far less robust 91,900 jobs.
This, coupled with the likelihood of layoffs in the auto sector and related suppliers due to weak auto demand, and "sticky" longer-term interest rates (even in view of rising short-term rates) causes us to reiterate our concerns about the current quarter (i.e., 2017Q3) into the first half of 2018 that we discussed last month.
Absent some successful fiscal policy initiative with nearly immediate effect (e.g., a reduction in the FICA tax withholding) , and assuming no "black swan" catastrophe, we foresee continued moderate- to low- growth in the range of 2%, +/- half a percent for the balance of this year. It's unlikely the 3% growth the president had hoped for -- a 50% increase in the acceleration of growth --is unlikely to be realized before this time next year; it's fatuous at this point.
___________________________________
Author's note: Our commentaries most often tend to be event-driven. They are mostly written from a public policy, economic, or political/geopolitical perspective. Some are written from a management consulting perspective for companies that we believe to be underperforming and include strategies that we would recommend were the companies our clients. This approach lends special value to contrarian investors to uncover potential opportunities in companies that are otherwise in downturn. (Opinions with respect to such companies here, however, assume the company will not change.)
If you like our perspective, consider following us by clicking the "Follow" link above.
This article was written by
Before establishing The Stuyvesant Square Consultancy, J.G. Collins spent some 30 years building a career in executive and consulting financial roles, with a particular emphasis in business taxation. His experience spans work for Fortune 100 companies, one of the former "Big Eight" international accounting firms, and client service for large middle-market public accounting firms. He has advised domestic and foreign clients in the tax-efficient structuring of legal entities, effective tax rate planning, mergers and acquisitions, corporate reorganizations, treasury operations, financial instruments, international taxation, tax accounting under GAAP, state and local taxation, and sales and miscellaneous taxes. He has managed countless federal and state tax audits to successful resolutions for clients. His experience spans a diverse array of industries, including private equity, motion pictures and music entertainment, fashion, real estate, publishing, technology development, retail, and oil and gas. Mr. Collins conceived and branded the specialty industry entertainment practice of one of the nation's leading accounting firms and oversaw the business tax marketing program for business enterprises of another large regional firm. Mr. Collins' marketing collateral and published articles have been extraordinarily well received because of his ability to present intricate and complex aspects of tax, business, policy, and politics in clear, concise, easily understandable prose devoid of jargon and irrelevant detail. An astute, data-driven observer of business, politics and economics, Mr. Collins has advised political candidates and public officials on campaign, political and policy matters for more than two decades, and has twice been a delegate to his political party's national quadrennial convention to nominate the American president. His expertise as a champion debater and orator in his student days, along with his savvy marketing expertise, has allowed Mr. Collins to coach private and public sector executives and candidates on public speaking, speech writing, message development and successful business presentations. Campaign collateral he developed for political campaigns has been used in university courses as an "excellent example of persuasive campaign advertising". Mr. Collins holds degrees in Economics and Accounting from the Stern School of Business, New York University. His elective coursework included a number of political science courses, including International Politics, International Organizations, European Politics and other more basic political science courses.
Analyst's Disclosure: I/we have no positions in any stocks mentioned, and no plans to initiate any positions within the next 72 hours. I wrote this article myself, and it expresses my own opinions. I am not receiving compensation for it (other than from Seeking Alpha). I have no business relationship with any company whose stock is mentioned in this article.

Disclaimer: The views expressed, including the outcome of future events, are the opinions of the firm and its management and do not represent, and should not be considered to be, investment advice. You should not use this article for that purpose. This article includes forward looking statements as to future events that may or may not develop as the writer opines. Before making any investment decision you should consult your own investment, business, legal, tax, and financial advisers.
Seeking Alpha's Disclosure: Past performance is no guarantee of future results. No recommendation or advice is being given as to whether any investment is suitable for a particular investor. Any views or opinions expressed above may not reflect those of Seeking Alpha as a whole. Seeking Alpha is not a licensed securities dealer, broker or US investment adviser or investment bank. Our analysts are third party authors that include both professional investors and individual investors who may not be licensed or certified by any institute or regulatory body.