Introduction

For investors who are no longer in the accumulation phase, enjoying retirement without the worry of your portfolio's value must be high on the agenda. Not only do you want your wealth to be maintained or growing higher than inflation, but you also want the same for your income! No one wants a CEF that uses return of capital so you're given your money back and you pay for it in fees! It's even worse if it's destructive ROC, which basically means the investments are being sold at a loss due to the income structure.
If you're in the accumulation phase, you may not mind lower prices as it means you can now buy more shares, hopefully at a greater discount to the net asset value. It's an entirely different case if you're buying shares in a CEF when the assets are gradually declining. You would have to trust the management team's ability to turn things around and show a better return in the future.
For this article, I'm going to show you the CEFs that have been around for over 20 years and are trading above their share price since their inception date, but what if you're new and have no idea what a CEF is?
What are Closed End Funds?
A closed-end fund is a pooled investment fund with a manager overseeing the portfolio; it raises a fixed amount of capital through an initial public offering. The fund is then structured, listed and traded like a stock on a stock exchange. Once this happens, no additional shares are issued, and the CEF is traded at the market price, which means you can get a premium or discount to its underlying net asset value. This is different from an open-end fund which can issue or redeem shares at any time, and are priced at the NAV at the end of the trading day. An investment advisor or fund manager actively manages the closed-end-fund, whereas an ETF or Index Fund are passive investments and are naturally lower in terms of fees.
The Results of the CEFConnect Screen
| | | | | | | | | |
| --- | --- | --- | --- | --- | --- | --- | --- | --- |
| Name | Ticker | Category | Inception | Inception Price | Current Price | Difference | Market Yield | Discount |
| Gabelli Multimedia | GGT | Global Equity | 11-15-1994 | $8.06 | $8.95 | 11.04% | 9.87% | -0.78% |
| New Ireland Fund | IRL | Ireland Equity | 3-29-1990 | $12.00 | $13.83 | 15.25% | 8.96% | -9.25% |
| Templeton Dragon Fund | TDF | Asian Equity | 9-8-1994 | $15.00 | $20.10 | 34.00% | 8.46% | -12.38% |
| Tekla Healthcare Investors | HQH | US Healthcare | 4-23-1987 | $10.00 | $25.03 | 150.30% | 7.93% | -2.04% |
| Tekla Life Sciences Investors | HQL | US Healthcare | 5-8-1992 | $15.00 | $20.79 | 38.60% | 7.81% | -0.10% |
| JH Premium Dividend Fund | PDT | US Preferred | 12-21-1989 | $12.00 | $16.78 | 39.83% | 6.97% | 4.94% |
| Flah&Crum Preferred Income | PFD | US Preferred | 1-31-1991 | $15.00 | $15.74 | 4.93% | 6.72% | 8.93% |
| India Fund | IFN | India Equity | 2-23-1994 | $15.00 | $27.37 | 82.47% | 6.24% | -10.53% |
| Deutsche Municipal Income | KTF | Tax Free Income | 10-20-1988 | $12.00 | $13.55 | 12.92% | 6.21% | 7.45% |
| BlackRock MuniYield | MYD | Tax Free Income | 11-29-1991 | $15.00 | $15.03 | 0.20% | 5.75% | 1.01% |
| BlackRock MuniVest Fund II | MVT | Tax Free Income | 3-29-1993 | $15.00 | $15.75 | 5.00% | 5.56% | 3.01% |
| BlackRock MuniHoldings Fund | MHD | Tax Free Income | 5-2-1997 | $15.00 | $17.62 | 17.47% | 5.55% | 3.65% |
| Deutsche Strategic Muni Inc | KSM | Tax Free Income | 3-22-1989 | $12.00 | $12.47 | 3.92% | 5.54% | 0.16% |
The table has been organized based on the highest distribution yield. What is interesting to note is that different categories are presented to give the investors a wide selection to choose from. You've got a choice from continents, countries, sectors and US municipals!
First let's take a look at the expense fees you would pay for owning these CEFs and any leverage they utilize.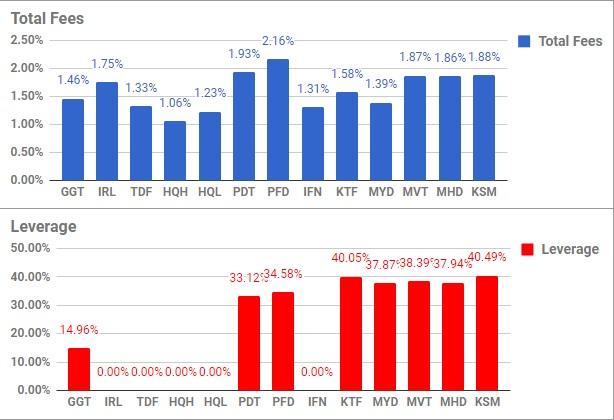 The fees are quite reasonable across the board, but one thing I find interesting is how IRL, TDF, and IFN not only have large discounts to NAV but also have some of the highest market yields without using leverage. The growth from HQH is especially impressive while still trading at a small discount.
All of the municipal funds are safe while the Treasury and corporate yields remain low; however, the 37-40% leverage for these products is concerning to me. If I was to choose, it would be MYD, which has the lowest fee and leverage and the second highest market yield.
Z-Scores
For those who don't know, a Z-score helps determine whether a CEF is cheap or expensive at its current discount level. It shows whether the current discount is close to the mean (average) for a given period. A positive figure indicates the value is higher than the mean (expensive) while conversely a negative figure indicates the value is lower than the mean (cheap).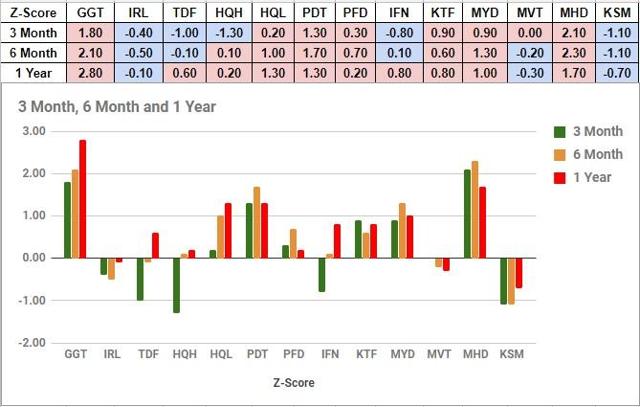 What we can see from the chart is that GGT, TDF, HQH, HQL and IFN have been gradually getting cheaper. We can disqualify GGT and HQL though due to the fact they are still showing a positive figure, meaning they are still expensive on average to their respective discounts.
It looks like HQH is the cheapest compared to its average discount, followed by TDF and IFN. Though KSM is also relatively cheap, as indicated by its discount on the very first table, it also sports the lowest market yield out of everything.
Discount Valuation Compared To Average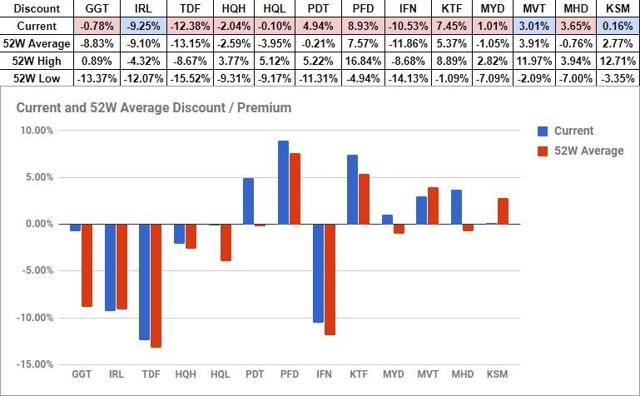 Only IRL, MVT and KSM are currently trading below their 52-week average discount values. Though, if we were to relax the rules a bit, TDF, HQH, PFD, IFN and MYD are trading very closely to their 52-week average.
If we wanted to do arbitrage trading and try to benefit from mean reversion, KSM would be our best bet as it's currently 2.61% away from its average.
Performance History

This helps explain why TDF has the highest discount and a gradually decreasing Z-score, and that is due to its NAV declining by -21% in the five-year period. Considering HQH has the lowest negative Z-score and IRL's current discount is less than the 52-week average, these two would be my picks based on this chart. However, for a special situations play, TDF could provide some nice alpha if the NAV improves.

This is disappointing considering all three leveraged CEFs, one global equity and two preferreds, are extremely expensive when comparing their Z-scores and current discounts. I wouldn't invest in any of these at the moment.

With declining NAVs across the entire sector, and all municipals currently selling at a premium to NAV, I see no reason to invest in these either. The only trade I would do is what I mentioned earlier, and that would be to buy KSM and see if it can close the gap as it's being unfairly punished considering the 15% gap in total return.
Conclusion
From the screen that was narrowed down from over 100 CEFs to just 13, I hope I've been able to show to investors, especially those that are retired, that if you pick carefully, you can not only preserve your capital but also earn a nice yield.
Based on my findings, I would like to suggest HQH as my top pick, followed by IFN and IRL. All three have showcased great returns with no leverage needed. They also have some of the lowest management fees. This gives you one CEF in the healthcare sector domesticated in the USA, one CEF focused on the Indian emerging market, and one CEF focused on the low tax haven, Ireland, with its very small 5% French allocation.
I've chosen to ignore HQL even though its portfolio is different from HQH, simply because it's still quite expensive compared to its rival while also having a lower yield and a higher management fee.
If you appreciate this article and wish to be notified on any future articles published by myself, please click on the "Follow Me" button and feel free to either inbox me or leave a comment below!
Disclosure: I/we have no positions in any stocks mentioned, and no plans to initiate any positions within the next 72 hours. I wrote this article myself, and it expresses my own opinions. I am not receiving compensation for it (other than from Seeking Alpha). I have no business relationship with any company whose stock is mentioned in this article.