Discipline is the bridge between goals and accomplishment.
- Jim Rohn
Last week, the discussion centered around the premise that equity investors find themselves in the midst of a secular bull market. As with any theory or forecast concerning the stock market, nothing is ever cast in stone. The best we can do is use the historical evidence that is before us and intertwine it with other factors to produce what is likely to be a high probability outcome. While some might not agree with the secular bull market conclusion, one thing we can all agree on is that market participants are bombarded with information.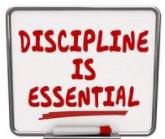 While the road will still be filled with unknowns no matter how much backtesting, statistics and historical data we have, discipline will help negate the unknowns that pop up. Given the high tech world of investing these days, we have more understanding and better options than ever before. All of the data that is brought to our attention, adding to our knowledge of the financial markets, is wasted without discipline.
Many market participants become afflicted with a disease called short-term-itis. The underlying cause of this affliction is market noise. Combine that with the abundance of investment options investors have at their disposal and it can overwhelm the most disciplined.
Headlines that capture everyone's attention, whether they be directly related to the financial world or not. Succumbing to the never ending issues bombarding investors on a daily basis leads to the first symptom of this malady. The overwhelming urge to abandon the plan. Discipline used properly marries with all of that knowledge to produce positive results.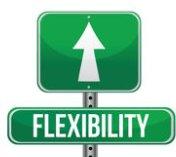 Everyone will make mistakes when it comes to investing. Being wrong is ok, staying wrong is a recipe for failure. Some of the best strategies ever produced to manage a portfolio become worthless if an investor can't stay with them to see it to a successful outcome. Enter flexibility, a trait that an investor must possess when embarking on portfolio management. One doesn't have to believe in any trends or technical analysis. They don't have to subscribe to any theory to the point of exhaustion, but they do have to be flexible.


How the market does in the first half plays an important role in the market's performance in the second half of the year. Bespoke Investment Group demonstrates this fact in a recent study compiling the market returns using two strategies. First, owning the S&P 500 in the second half of the year if the index was up in the first half. The second only owns the S&P 500 in the second half if the index was down in the first half.
"Starting 50 years ago, if you only owned the S&P in the 2nd half of years where the index was down in the first half, you'd be down 16.9%. In contrast an investor would have gained 410% if you only owned the index in the 2nd half of years where the index was up in the first half."
A remarkable contrast.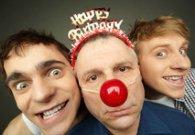 Some investors shy away from following or being involved in a strong market. It's a common mistake. One that is constantly being made. Human nature takes over as some become obsessed with the notion that they won't be the greater fool. No, not them. Memories of past market crashes kick off this response, and it is the initial reaction that comes to their minds in these situations. The problem is more times than not it is triggered at the wrong time.

In an ironic twist of fate, one has already become the greater fool when they fight what the stock market is telling them. Sorry, if anyone wants to draw the conclusion that this is all an opinion. I beg to differ, it is fact, and is borne out by the actions and stock market advice we have seen and heard since 2013.

Yes, I realize it is redundant, but unless one grasps the entire picture, these preconceived notions never leave the human mind. 2013 is brought up again because it is when a new high was made after years of a sideways market. Not many wanted to follow the strength displayed then, the initial reaction and advice was quite the opposite.

It wasn't just the perma bears that were telling us to avoid being the greater fools as new market highs were being made. The economic backdrop was far from strong and it became easy to disdain equities. On the other hand, many realized what was really taking place by watching the story being told by the equity market. Who was the greater fool?

In yet another example of strength begetting more strength, Ryan Detrick explains that market history indicates the back half of this year might surprise many.

Buckle up and get set, the remainder of this year could be very interesting and full of surprises.


Economy
ISM Manufacturing shows up at 57.8 for June. Economists were expecting the headline index to come in at a level of 55.1, up slightly from last month's level of 54.9. The present reading is just shy of the six-year high of 57.9 back on August 2014.
ISM Services did not disappoint as well, being reported at a solid 57.4 in June. While economists were expecting a headline reading of 56.5, the actual reading was just shy of the post election high of 57.6.

U.S. Census monthly report on nominal construction spending continued to show weakness across the board. Spending was down in most non-residential categories in May and many are down over the last 3 or 12 months as well. No other way to say it, this was an all around negative report.


If auto sales continue to track on the current pace, U.S. auto sales will show the first year-over-year decline since the financial crisis.


Leuthold Group notes:
"Even as the jobless rate keeps falling, wages aren't moving all that much. True, demand for labor remains robust, but there's a supply shortfall among many skilled occupations that is stunting overall employment and wage growth. Annual growth in nonfarm private payrolls already has slowed from a cycle peak of 2.6% in February 2015 to 1.7% in May,. While wages in the under supplied areas are heating up, the lack of supply means many openings will go unfilled, a 'fact on the ground' unrelated to Fed moves."
June nonfarm payrolls showed a gain of 222,000, beating expectations. The report also included positive revisions to prior month's numbers. Wage growth remains stagnant. There are six million job openings, the issue that employers face finding skilled workers remains the headwind for further job growth.


Record low mortgage default rates go against the commentary that the consumer is strapped because retail spending isn't as robust as some would like.



Global Economy
J.P. Morgan Global manufacturing PMI continued to show strength with a reading of 52.6.
Joseph Lupton, Global Economist at J.P. Morgan:
"The Global Manufacturing PMI was unchanged in June and continues to point to solid, steady gains in global industry at mid-year. At the same time, firming new orders and broadly based production gains across consumer goods and business equipment suggest factory output is well supported heading into the second half of the year."



The positives continue in the eurozone. Manufacturing for the region is now at a 74-month high. Germany led the way with an increase for the sixth time in seven months; its PMI now being reported at 59.6. France did its part with a PMI of 54.8 for June, with a strong rise in new orders. Italy continued with a strong reading as well. A solid report of 55.2 for June, slightly below the record level of 56.2 recorded in April. Spain ended the second quarter with a PMI read of 54.7, slightly below the 55.1 level for May.
Germany Industrial production increased by 5% over the same period last year. France also reported an increase, as all of these reports are sending a message that the improving conditions in the eurozone are continuing.
The ECB released its meeting minutes and the initial reaction to the news was negative. Policymakers discussed whether to drop their longstanding pledge to expand/extend the QE program. The minutes revealed a comment indicating that rate cuts further into negative territory were unlikely.
Market reaction to this news was confounding. Isn't this the trajectory that should be in place when we start to see the continued economic improvement that has been reported month after month? Slowly increasing interest rates with an improving economic backdrop is quite bullish.


Japanese Manufacturing PMI remained in expansion mode with a June read of 52.4. That is now 10 straight months of readings above 50.

Chinese PMI moved back into positive territory with a reading of 50.4, up from the prior month report of 49.6. The increase in New Orders sparked the gain.

Bloomberg reports that Deutsche Bank (NYSE:DB) is preparing to move large parts of the trading and investment banking assets it currently books in London to its hometown of Frankfurt in response to Brexit. The strategy, which is still being finalized and would be reviewed if the Brexit scenario changes, will probably be implemented over the next 18 months.
Of some concern, the U.K. trade balance continues to look brutal, with no sustained shift yet, thanks to Brexit.


In Canada, the MLI Leading Indicator suggested the recent growth spurt has peaked for the time being. The composite leading index slowed to a 0.1 percent gain in May, down from 0.4 percent in April and a peak rate of increase of 0.8 percent in December 2016.

Earnings Observations
Brian Gilmartin started off a recent blog post with this comment:
"Each week, this blog posts for readers the forward 4 quarter earnings estimate, which might be one of the better leading indicators available to the ordinary investor, and yet it gets very little coverage or discussion from the mainstream media."
I couldn't agree more. The data being reported week after week is a must read for me. Here is his capsule summary for this week:
Thomson Reuters data (by the numbers):
Forward four-quarter estimate: $134.72 (last print for Q2 '17 through Q1 '18 as we roll into Q3 '17-Q2 '18 next week)
P.E ratio: 18(X)
PEG ratio: 1.82(X)
S&P 500 earnings yield: 5.56%
Year-over-year growth of the forward estimate: +9.75%, or the highest growth since mid-May '17.
Mr. Gilmartin's Trinity Asset Management is a registered advisory service that provides information and opinions on the stock market that I find to be invaluable. It is timely, spot-on analysis.
The large center money banks kick off earnings season next Friday.


The Political Scene

North Korea is back on radar screens. On July 4th, the country test fired a missile best described as an intercontinental ballistic missile. While the launch carried the rocket less than 600 miles from the Korean peninsula and into Japan's maritime exclusive economic zone, the height it achieved (more than 1,700 miles) suggests a powered flight range over 4,000 miles, enough to strike Anchorage and getting closer to Honolulu.
Experts on the matter are saying the reason to be concerned about a conflict in the Korean peninsula is not that it is likely; odds are about 1 in 100, not 1 in 2 or higher. Rather, it's the collateral damage to the world economy that it would create.
Bespoke wrote a note earlier this year on the potential economic impact:
"Busan itself handled 1.61 million TEUs of traffic per month over the past year, making it roughly the 6th busiest port in the world. Tianjin, serving Beijing at the northwest corner of the East China Sea, is the 10th busiest port in the world while further south is Shanghai, the busiest port in the world. Not all of these ports would be immediately threatened in some sort of real conflict involving North Korea, but we really cannot understate the centrality of the seas around China for global trade and economic activity."
Trade volume growth has continued to accelerate with the current year-over-year pace of expansion the best since early 2015. Given this information, it is apparent why diplomatic solutions have been the primary goal in dealing with this problematic area of the world. However, these constant displays by the North Korean government lead some to believe it will take much more than diplomacy to put this to rest.
As it applies to the investment scene, there is no way to adjust or prepare for this or any other issue that may never come to pass or can be resolved positively.
An interesting takeaway regarding investor sentiment on this geopolitical issue. The price of gold has not rallied in the face of this unrest. The price of gold closed this week at a four-month low. It may be a tell as to what traders and investors are thinking about the probabilities of this turning very ugly. It is also best to be reminded that a rising interest rate environment is toxic for gold.


The Fed and the Yield Curve
Still worried about the yield curve? Urban Carmel has some answers and the data to back up his conclusion:
"Is the yield curve 'inverting' a useful indicator? It's true that inversion (when 10 year yields are less than 2 year yields) has occurred ahead of every recession in the past 40 years. But there's a big problem, the lag between inversion and the start of the recession has been at least a year and several times as long as 2-3 years. That's not especially helpful, except to say that a recession now is probably more than a year or two in the future."

Source: Federal Reserve
The thought of no recession on the doorstep should add confidence to any investor that plans to stay long the equity market.


No wonder why many stock market investors get gray hair. It was just two short weeks ago that many were worried about the lows that were being put in on the 10-year Treasury when it closed at 2.15%. The fixed income market was telling us something. I said it then, and repeat it now, that is sheer nonsense and suggested a reversion was about to take place.
Well it happened. Now the talk is how fast interest rates are rising and how investors are overly concerned. They wonder what this could mean for their equity positions as the 10-year closed at 2.37% this week.
Is the media kidding me with the commentary suggesting it's time to rethink the interest rate situation and owning equities? Traders and nervous nellies hit the sell button this week when they concluded that the global central bankers will start to reverse programs that have been in place regarding interest rates. Earlier I mentioned the positive takeaway regarding what the ECB revealed in its minutes on this topic. The same commentary when the 10-year was 2.15% needs repeating. With the 10-year at this higher level, there is zero to be concerned about on this front.
I may sell some stocks to book a profit, sell some stocks that are extended, but I won't be selling any stock because the 10-year is at 2.4%.



Sentiment
CNBC recently conducted a poll where it asked the question "How Much Longer Will the Bull Market Last?" The results show a full third of respondents believe the bull market will last less than one year, 50% say it will last one year or less, and an astounding 70% have it going less than two more years. Not exactly the irrational exuberance of 1999.
According to AAII, bullish sentiment remained depressed at 29.5%. That's the fourth straight week that less than a third of individual investors have been bullish and a record 131 straight weeks where less than half of them have been optimistic towards equities.
Sorry, but I will say it again, this is the most hated bull market in history, and that feeds into the secular bull theme very nicely.

Crude Oil
Just when the calls for sub $40 oil were rampant, U.S. crude oil prices completed an eighth straight day of gains last Monday. That gain marked the longest winning streak in more than five years for WTI. The streak did come to an end on Tuesday with a drop of $0.24 for WTI.
Weakness continued with a headline out of Russia opposing more production cuts. Headlines continued to swing the market as a drawdown in crude oil inventories inspired a rise in prices.
WTI closed at $44.29, down $1.90 for the week, giving up a little more than half of last week's ($3.15) gain. That's six out of the last seven weeks where the market has seen a lower weekly close.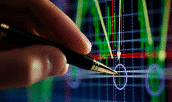 The Technical Picture
Another Dow Theory Buy signal was generated this past week as the Dow Transports made a new high and confirmed the earlier high made in the Dow 30. Across the board market strength continued as the Dow Industrials also put in a new closing high this week.
While some say it is not always right, and is subject to interpretation, Dow Theory has been right far more than it has been wrong. It sent a warning with the Dow Theory sell signal of September 1999. The tech bubble burst and a bear market ensued. Everything turned around completely when a buy signal was sent to investors in June 2003. Another sell signal in November 2007 if heeded would have saved investors a great deal of anguish. Finally, all turned bullish again with a buy in October 2008, and since then has never looked back.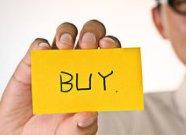 Dow Theory has generated numerous buy signals all during this bull market, and is one of the keys that's kept me bullish throughout the entire upside move. Anyone fighting these signals has simply been on the wrong side of the trade.
However, just as I have written in the past, when these signals are flashed, they are not a call to now go all in at the very moment they are generated. In fact, more times than not, a pullback ensues right after all seems aligned for higher stock prices.

Call it overbought, extended at the time of the buy signal, whatever you wish, that is the reality. What these signals represent is very simple. The bull market isn't topping; it isn't rolling over. Instead it is showing across-the-board strength that will show up in higher prices down the road.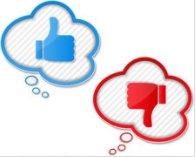 While the Dow just made new uptrend highs, the bifurcation that started a week or so ago continues as the Nasdaq just made new downtrend lows. The result of this tug of war brought to the attention of readers on June 24th has more clarity now, but a definitive short-term outcome is still in doubt.
Research shows that the last time the market experienced this type of behavior was March 2014. In that time frame, the Nasdaq continued lower, the S&P then joined the Dow Industrial index and Transports to a new high. A month later all four indices were lower. The damage was limited and the long-term uptrends were never in doubt. There is a high probability that we might see the same pattern this time around.
The issue investors have to realize is that this time around could easily mean an initial downside target that is 80 S&P points from the high. IF, and that remains an IF, the weakness in tech spills over, an initial downside target of 2,370 comes to mind.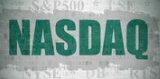 Adding to those short-term concerns is recent market analysis by Urban Carmel. I respect his work for a variety of reasons, but the main one is his ability to make the right call time after time. When Mr. Carmel speaks, I pay attention, and this time, it is about the relevance of the Nasdaq to the overall equity market.
"In the past 7 years, falls of more than 4% in the Nasdaq, (which we have just witnessed) have preceded falls in the S&P of at least 3%. That doesn't sound like much, but it would be the largest drop so far in 2017. A key watch out now is whether the Nasdaq weakens further and breaks both its 50 day moving average (it has) as well as its mid May low (5,996,). If so, then the S&P 500 is likely to follow with its first 5% correction since the US election. These are the consistent historical patterns."
The short-term may be dependent on that May low in the Nasdaq. The scenario presented above meshes with what was written here on June 24th:
"The tech selloff may not be over just yet."

"A correction down to Nasdaq 5900-6000 would not surprise me at this time, or say 4%-5%."
The rebound in the Nasdaq on Friday took it right to resistance. Next week will be the test to see what direction it wants to take.

The daily chart of the S&P shows that the first significant decline seen found support at the 2,419 level. Once that gave way, the 50-day moving average came into play next as support was found at 2,406.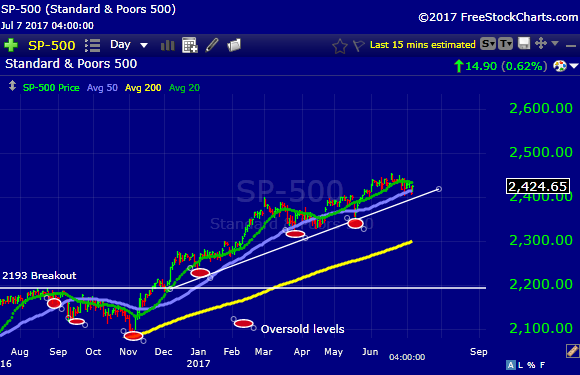 Chart courtesy of FreeStockCharts.com
So far, that has held, as the Index hovers between the two short-term moving averages. The upward slanting trend line from the breakout last December remains intact. Choppy action should be expected now, with near-term support pegged at 2,370 and 2,336 pivots, with resistance just ahead at 2,428, then 2,444.
A gentle reminder. The daily, weekly technical commentary presented is short- to intermediate-term based. The long-term trend remains in solid shape. The very broad NYSE (comprised of 2,800 stocks) is also at an all-time high and confirms that the breadth remains supportive of the trend. Add to this, the cumulative advance-decline line for both the S&P 500 as well as the NYSE reached new highs recently.


Individual Stocks and Sectors

Companies that have come down in price and offer income have caught my attention. Physicians Realty (NYSE:DOC) is the first that deserves a mention. A secondary offering announced on June 29th dropped the stock 5%, and with a interest rate backdrop, that wouldn't appear favorable for REITs as the weakness continues. More often than not we see that shares rebound once the secondary offering news is absorbed, and in my view, the interest rate worries are overblown. Selling at $19, shares yield 4.7%.
Cisco Systems (NASDAQ:CSCO) and Intel (NASDAQ:INTC) remain core holdings in my book. These old tech firms are slowly morphing into different companies. Cisco (3.7% yield) is no longer just a networking company. It is becoming more and more involved in Internet security as a software company. Intel's purchase of Mobileye (NYSE:MBLY) shows its interest in entering other markets to spur growth. Shares currently yield 3.1%.
Microsoft (NASDAQ:MSFT) was once thought as being dead money until it turned the tables on that prediction by getting into the cloud. The same fate may be awaiting both Cisco and Intel, as they each possess solid management that will eventually get it right.
Limited risk with solid long-term potential while receiving income in stocks that are selling at below market PEs. A nice combination.
Nike (NYSE:NKE) is a company that I thought would be a turnaround situation this year. After listening to the December 2016 earnings call, I came away with a feeling that this company's management team was committed to right the ship, and I targeted shares to rise from the $50 level to the mid 60s.
Its latest earnings report bolsters that opinion, and I am increasing my target price from the mid 60s to $70.
It's funny how I hear that the market doesn't have many compelling stories to really get investors' attention. The consensus is that nothing is exciting about the stock market now. So before I get into a counterargument, I scratch my head and say what exactly do these pundits want? We have had eight years of rising equity prices. Where have they been? Gone are the days where value was just about everywhere, and things from an investment perspective were relatively easier. Ironically, many didn't see it that way back then either.
I disagreed with the naysayers back then and I'll disagree with their views now. Many years of bull markets have passed; other periods have produced overwhelming evidence to be involved in equities. This bull market ranks right up there with those periods as there remains compelling evidence that the equity market is headed higher than it is today.
Perhaps it is the information that we have today, perhaps it is how we can better process that information, that draws that conclusion. More importantly, the strength in equities isn't just here in the U.S. Out of the 76 country stock markets tracked by Bespoke Investment Group, 84% are in the green for the year so far, with an average first half return of 7.84%. For sure, the bulls will be told once again how this is all a mirage, and will be reminded of that the next time there is a correction.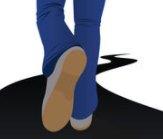 Before we look ahead to get an idea of where the stock market may be going, it is always a good idea to see where we have been. The S&P 500 has gained just under 20% over the past eight months. In my view, it is trading at a fair valuation. I do believe the upside may be limited in the very near term.
The outsized gain we have experienced can be worked off in a basing pattern, as we have seen in the past. This time around though there are more short-term signals flashed to put the thought of a 100-150 point dip (4-6%) from the highs in the S&P into the picture as a consideration also. Investors need to remain grounded as they are reminded here by the comment presented by FactSet Research:
"Excluding bear market years, the average maximum annual draw down for the S&P 500 since 1980 is 9%."

Decent global macro data and a continued improvement in earnings add to a high probability outcome that equity prices have not peaked here.
This mid-year analysis also contains a 4-6% pullback that can occur at any time. I'm not into the idea of assigning a reason for said pullback; I'll leave that to the media pundits. It is more than safe to say this stock market need no reason to give back some of the recent gains.
So while I am tossing around the thought of a contained drawdown here, I am not positioning or waiting for it. Why? A 150 point decline in the S&P if it occurs now or down the road will appear scary to many, but given the levels at which the market is trading today and where it has come from, it is a mere blip on the radar screen. No analysis is fool proof, especially short-term analysis. So I remind all, including myself, that the stock market has a mind of its own and likes to frustrate the masses. Market participants could just as easily rotate out of Technology into other areas, consolidate, and then stocks could put in another run to new highs before any pause occurs.
Despite the news around us, that leaves investors with little to worry about, as the primary positive trend is THE guiding force. It is more of stay the course, don't over analyze, and let the market do most of your thinking.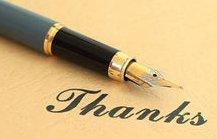 to all of the readers that contribute to this forum to make these articles a better experience for all.
Best of luck to all!
Disclosure: I am/we are long DOC, GOOG, MSFT, INTC, NKE.
I wrote this article myself, and it expresses my own opinions. I am not receiving compensation for it (other than from Seeking Alpha). I have no business relationship with any company whose stock is mentioned in this article.
Additional disclosure: The opinions rendered here are just that - opinions - and along with positions can change at any time. As always I encourage readers to use common sense when it comes to managing any ideas that I decide to share with the community. Nowhere is it implied that any stock should be bought and put away until you die. Periodic reviews are mandatory to adjust to changes in the macro backdrop that will take place over time.