Last Time Out
Hope is always high, but at the end of the day, what is the Beast of Bentonville more worried about? Amazonian Whole Foods? Smelling the potential of another rooster or two in the hen house, Wal-Mart recently ran a "stealth price comparison test" in nearly 1,200 of its U.S. stores in the hopes of closing the pricing gap between itself and competitors, including Aldi.

Does this sound like Mega-lomart is worried about upscale grocers?

Where's your sign? Closing the pricing gap means the obvious answer is the Germans are coming and it's time to bunker down, in more ways than one. The continuance of economic contraction coupled with stagnant wages and increasing inflation, viz. stagflation and economic strangulation resulting from tight monetary policy, will not help matters for many, including Millennials.

Reality check on tap? Big Trouble in Little China? Commodities, Eurodollar and Bonds Hinting? History Repeating?

Vulture Culture - A workplace or organization that seems to feed on itself, picking over the bones of failure and blaming everyone else, rather than itself. Vulture Cultures are particularly damaging because the enemy is within, and not always easy to pinpoint.
Some might say Amazon (NASDAQ:AMZN) or Wal-Mart (NYSE:WMT) have it all under control, and on either side of that fence, one might hear this infamous utterance...
Hush...Hush, Sweet Charlotte?
This classic 1964 American psychological thriller directed and produced by Robert Aldrich received seven Academy Award nominations.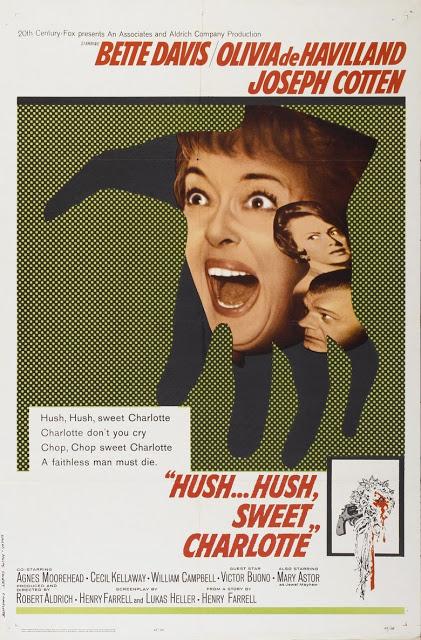 Starring Bette Davis, Olivia de Havilland, Joseph Cotten, Agnes Moorehead and Mary Astor (in her final film role) with notable appearances by Victor Buono, Bruce Dern and George Kennedy.
Faded Southern belle Charlotte Hollis lives in depression and loneliness in her family's Louisiana plantation house, still distraught over the unsolved axe murder of her married lover 40 years earlier, a bloody killing that she was accused of.
When the state condemns her home to put in a new highway, she defiantly refuses to leave, with a shotgun. When her long-lost Yankee cousin Miriam arrives to help, heads start to roll, literally.
All those decades ago, was Sweet Charlotte really her lovers killer, has she been insane all these years, or are things not really as they seem and is there more than meets the eye?
Speaking of similar situations, soothing words and following up on the vulture culture Of Amazon, Wal-Mart And Millennials?
Amazon vs. Wal-Mart?
"Shopping for food while hungry makes grocery stores squeal with delight." - Alan Robert Ross
One of the two biggest mistakes one can make. Of course shopping for new venues, yield or margin while hungry for revenue can lead management astray as well.
"Part of the interesting article [our last Nattering's] is about whether your type of consumer will proliferate and have the disposable cash to maintain that lifestyle.

There is another, large group... perhaps the majority... who can't afford to buy much of anything that is not the least expensive alternative. That market seems up for grabs."
That segment is growing and will be a knock down drag out between Wal-Mart, Lidl, Aldi, Kroger (NYSE:KR) and anyone left standing.
"AMZN is going to squeeze producers to try to capture that market."
Amazon must feel the Whole Foods (WFM) demographic and spending capacity is either going to grow or an increase in that market share can be achieved. Or does AMZN intend to change WFM into something it is not? Which would be very ill advised.
I think a better description is that AMZN is just the Sears Catalog online. Look at the pictures, find what you want, order and have it delivered. It's not a new business model, and like Sears, it made AMZN the world's most successful retailer. - Kertch
If Amazon's intent is to cross over (retail grocery vs. online retail) and fight in a "heavier" weight class (growing lower income space), then this may be a gross miscalculation, as that battle might be a complete mismatch.
Cross Over Mismatch?
Put Kroger, others and the impending Aldi, Lidl panzerblitz aside, IMHO, Amazon has as much chance of winning a brick and mortar war with Wal-Mart... as McGregor (UFC, mixed martial arts) does of beating undefeated Mayweather (-2250 to open, yes, a suckers punch chance) in a boxing match.
Is anyone old enough to remember World Heavyweight Champion Muhammad Ali vs. Antonio Inoki, the Championship Wrestler?
Fans (like investors) got caught up in the hype, sported big bucks for tickets and PPV only to witness an ugly event and ending.
Ali threw a total of six punches in 15 rounds. The majority of the fight saw Inoki on his back kicking at Ali's legs.
The fight was poorly received, the crowd at the Budokan threw rubbish into the ring and chanted "Money back! Money back!". The fight is considered by boxing writers and fans as one of the most embarrassing moments in Ali's career.

Above, the highlights, if you can call them that, could be indicative of what might happen if Amazon (Inoki or McGregor) attempts to go up against Wal-Mart (Ali or Mayweather). In my best Howard Cosell:
Excepting the fighters bank accounts, this so called event masquerading as sport, was an ugly, boring travesty in which the fans got shorted, and sport took a black eye. This was a classic, mistake that is, where things were not as advertised or what they seemed.
Just For The Money?
It is not uncommon where misinformed and detached management, acting outside of its bailiwick, makes a demographic and/or macro blunder.
The supermarket business is a low margin industry, with the average profit margin for supermarkets typically ranging from 1% to 2%. However, natural, organic and gourmet food markets enjoy higher averages from 3.5% to 6%. As the war against the middle class rages on, that demographic is shrinking.
Much like shopping while hungry, shopping for new venues while revenue hungry, can lead to disaster, viz. to name just one of many text book cases where management was "punch drunk", Fresh N Easy.
Let's not forget wide eyed investors...
"That's why companies like AMZN and TSLA can't afford NOT to make a deal every year. If they don't make large deals, then their books are static and people start to figure out their real operating financials." - Philip Davis

This was exactly the same operating model used by Bernie Ebbers at MCI/WorldCom, and there were plenty of people who believed the "perpetual growth" narrative right up until it crashed. - Kertch
It is usually a disconnect with the field, bad incoming data or skewed perceptions, that precipitates a tactical or strategic error by detached management and investors. After which many scratch their heads and ask, "what in the hell were we [or they] thinking?" Usually followed by, "Oh, they obviously weren't..."
What could be a clear case of things not appearing as they seem and TBD? Even Sweet Charlotte knows that one thing leads to another...

A Crude Consumer Squeeze?
Three years running July has been a disaster for crude. Is it one month early this year or more to come? Although the recent dollar dip means lower foreign prices in dollar terms...
/CL - After hitting a 10-month low on June 20th, 9 of the last 11 trading days, oil has been in a bear rally. What's the impetus? Price, supply, demand, market sentiment?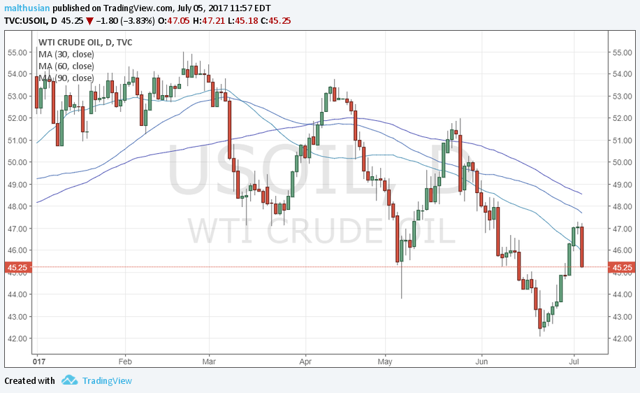 Above, bottom of last dip from high 52.22 hit low 42.05 the chart indicates last two dips formed upward resistance at $45.50. $45.92 would be fib retracement (10.17 x.381) or (1 - .618) of the last dip.
On Friday, June 30th, WTI closed month, quarter and half year end at 46.33, so a lot of confluence at that point.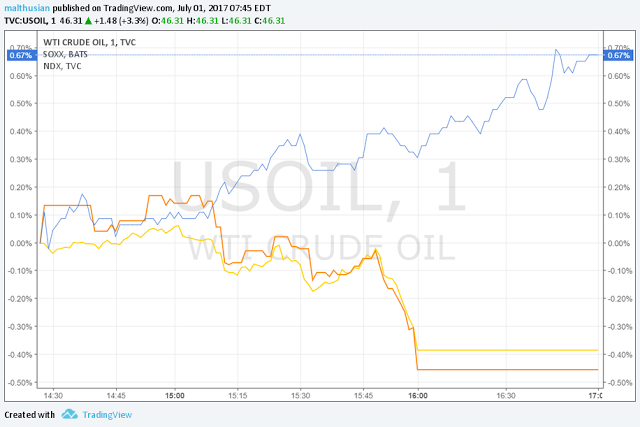 But did anyone notice what oil did into and after the Friday close? Again, liquidating tech stocks to cover their oil shorts. Evidenced above where covering got furious from 3PM EST on.
My spider sense says weaker shorts took profits. What would it take to flush the diehard shorts? A potential 50% retrace of the last dip to $47.13; or .618 = $48.26; or .763 (1 - .236) = $49.81. FYI, .763 was the retrace on the last dip.
In fact, the July 4th high broached the 50% retracement level at $47.29, and was probably looking for more "gas in the tank" to advance, pun intended.
On July 5th, retail and mall REITs were hammered on a report that pre July 4th weekly retail traffic declined 8%.
Since July 4th was cancelled by cash poor consumers with shrinking real wages and credit life lines being tapped out, it's either going to be relief or continued liquidation for oil viz. the upward rally could break off to the downside.
July 5th was day 10 since the recent low, no short covering in that session as the traditional post July 4th run-up at the pump went poof. After which Russia threw water on production cuts, dropping WTI like a rock from $47.21 high to a $44.98 low.
Where did all the money go? On the day, only one index was substantially in the green while all others got clubbed or flat. Surprise!!! (sarcasm) it's the NDX, as the oil shorts had no need to run for cover and some bought tech stocks on the dip.
Looking at the size of the candle that just got hung up, a 50% retrace through day 9 may be all that's in the cards? Worry not, Thursday's API draw was the largest since 2016, boing!! that was worth a short-lived rebound to $46.37, after which focus on oversupply dropped the hammer and price back down to $44.12.
A closer review of that daily chart above indicates a low to high cycle of 15-16 trading days in the last two post dip bounces. If this cycle does NOT break off, then July 12th or 13th would be the end of the current bear rally wave.
In any event, this bear rally wave has largely been the pre July 4th pump-up, with short covering in oil at the expense of tech stocks being sold to cover margins. Another case of things not appearing as they seem?
Stronger shorts are harder to squeeze or flush out. Real impetus might arrive by Wacky Wend, depending on the number of shorts still in position.
That not uncommon "unwind" is one week in advance of Thur July 20th settlement of the Aug contract, where one might find additional short covering powder?
As of Friday 7/07 close OI is 434,038M of notional WTI barrels. On NYMEX as of 7/03 COTS there are a total (combined options and futures) of 382,619 commercials net short. That's just a few and perhaps like Sweet Charlotte, around whom things aren't what they seem, they won't back down? TBD.



Happy Trails
Hope you folks enjoyed yourselves, catch you later on down the trail. Would like to thank you folks fer kindly droppin' in. You're all invited back again to this locality. To have a heapin' helpin' of Nattering hospitality. Naybob that is. Set a spell, take your shoes off. Y'all come back now, y'hear!
This is our 124th in a series of thematically related missives which will attempt to identify the macroeconomic forces with potential to adversely affect capital, commodity, equity, bond and asset markets.
I wish to dedicate this missive to one of my mentors, Salmo Trutta, who is a prolific commenter on SA. Without Salmo's tutelage, and insistence on not masticating and spoon-feeding the baby ducks, as in learning the hard way by doing the leg work and earning it, this missive would not have been possible. To you "Proximo"... "win the crowd and win your freedom" - Spaniard.
Disclaimer
Investing is an inherently risky activity, and investors must always be prepared to potentially lose some or all of an investment's value. Past performance is, of course, no guarantee of future results.
Before investing, investors should consider carefully the investment objectives, risks, charges and expenses of an investment vehicle. This and other important information is contained in the prospectus and summary prospectus, which can be obtained from the principal or a financial adviser. Prospective investors should read the prospectus carefully before investing.
Market Plays
As for how all of the above ties into the potential and partial list of market plays below... the market as a whole could be influenced, and this could tie into any list of investments or assets. Those listed below happen to influence the indices more than most.
There are many macroeconomic cross sector and market asset correlations involved that affect your investments. Economic conditions, the eurodollar, global dollar debt and monetary policy all influence the valuation of the above and market plays below via King Dollar's value, credit spreads, swap spread pricing, market making, liquidity, monetary supply and velocity, just to name a few. For a complete missive series listing covering those subject and more, click here.
The potential global economic developments discussed in this missive could affect numerous capital and asset markets, sectors, indexes, commodities, forex, bonds, mutual funds, ETFs and stocks.
A List of Additional Potential Market Plays (Long or Short?):
Apple (NASDAQ:AAPL); Google (NASDAQ:GOOG) (NASDAQ:GOOGL); Facebook (NASDAQ:FB); Microsoft (NASDAQ:MSFT); Citigroup (NYSE:C); General Electric (NYSE:GE); Cisco (NASDAQ:CSCO); Bank of America (NYSE:BAC); Amazon; Tesla (NASDAQ:TSLA); S&P 500 Trust ETF (NYSEARCA:SPY) ; Ford (NYSE:F); Starbucks (NASDAQ:SBUX); Intel (NASDAQ:INTC); AT&T (NYSE:T); IBM (NYSE:IBM); and Exxon Mobil (NYSE:XOM).
Disclosure: I/we have no positions in any stocks mentioned, and no plans to initiate any positions within the next 72 hours. I wrote this article myself, and it expresses my own opinions. I am not receiving compensation for it (other than from Seeking Alpha). I have no business relationship with any company whose stock is mentioned in this article.