Steel (SLX) producers are in the limelight once again after Trump-talk on imposing tariffs on cheap imports. US Steel (X), Nucor (NYSE:NUE) and AK Steel (AKS) had all gained between 8% and 10% in the second half of last month. Even analysts, basing their opinions on measures related to section 232, went long on some steel sector stocks. While tariff introduction may constitute a good trading idea in the near term, does it also constitute a long-term investment case for steel makers? In this piece, I list out factors that counter this theory.
Tariffs cannot be a long term solution
The first assumption underlying a long case is that Trump will institute tariffs for as long as it takes for the domestic industry to recover. This may not be possible as steel consuming industries employ roughly 60 times the number of people employed in steel producing companies. And there's a precedent one can look up. When President Bush imposed steel tariffs in March 2002, the consequences were disastrous. Based on this report put up by Trade Partnership LLC 200,000 Americans lost their jobs in that period due to higher steel tariffs. The report also adds that the number of Americans who lost their jobs due to higher steel prices was higher than the total number of people employed by the steel industry itself.
Tariffs also undercut the "Made in USA" sentiment trumpeted by the Trump administration. Steel-consuming companies which manufacture their equipment overseas would gain over domestic manufacturers because of the cost advantage. Given Trump's ambitions and his recent fundraiser for the 2020 election campaign, I think he can ill-afford to let these trends develop for the next two years.
Does not end the problem of overcapacity
Much of the decline in steel prices and the current state of the steel industry can be attributed to overproduction in China. In order to cut back losses arising from low demand at home, Chinese steelmakers have been dumping excess inventory offshore at depressed prices. Unlike entities in the US which will go under if they operate beyond the realm of commercial viability, state-owned Chinese companies face no such problem. They will continue to operate as long as its government props them up.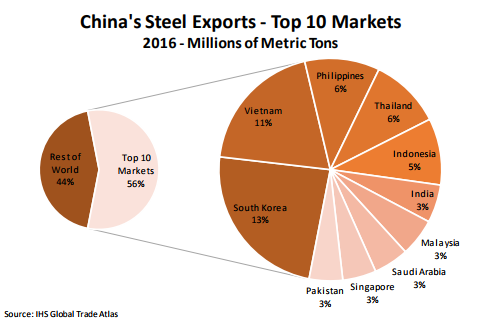 Based on figures provided by International Trade Association, US was only the 25th biggest destination for Chinese steel exports in 2016. The US received 0.8% of total steel exported by China. Therefore such low percentages are unlikely to force the Chinese to cut capacity ensuring global steel prices continue to languish at low prices.
The industry faces other competitive pressures from within the country
Lastly, the intended steel tariffs would make the industry reliant on tariffs to drive competitiveness even as they face pressures elsewhere. Integrated steel producers continue to face competitive pressures from mini-mills which are smaller and more efficient. In end-markets such as automotive, the industry has to contend with substitution by aluminum and automakers trying to add multi-material vehicles to make them light weight. Therefore, the problems of the steel industry go beyond the tariff, no-tariff problem. To become really competitive individual entities need to undergo rigorous asset reviews, stop catering to end-markets with money-losing products and develop new processes and products that make them cash flow positive regardless of the tariffs. Until this happens, a long case on steel producers is a difficult one to convince.
Note: If you find the article interesting, kindly hit the follow button right next to my name to be updated about my latest insights.
Disclosure: I/we have no positions in any stocks mentioned, and no plans to initiate any positions within the next 72 hours.
I wrote this article myself, and it expresses my own opinions. I am not receiving compensation for it (other than from Seeking Alpha). I have no business relationship with any company whose stock is mentioned in this article.