We had a nice jobs surprise on Friday morning but economic news from the world economy has been pretty encouraging already lately. There are considerable upturns in Europe, Japan and a number of emerging markets, and China has stabilized with its PMI rising well above 50. Here is American Funds:
For the first time in years, the world's major economies all appear to be on the road to recovery. Heading into the second half of the year, clarity is improving on many fronts.
It is rather optimistic about the US:
In addition, corporate profits, which came under pressure in 2015 and 2016, have rebounded, surging more than 13% in the first quarter. Taken in combination with strengthening wage growth and retail sales, these conditions point to accelerating growth in the second half.
It notes that at 95 months, this is already one of the longest recoveries (on average, recoveries last 64 months since WWII) and what's more, it doesn't see the kind of imbalances (inflationary pressures, inventory build-up, stock or housing bubbles) that usually end the expansion, hence the optimism.
And it's not just the US: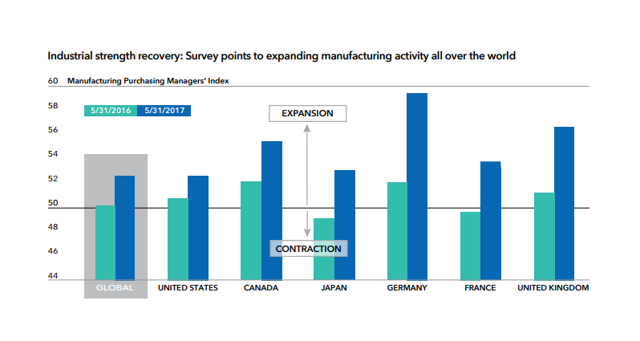 The movement of PMI's since the financial crisis: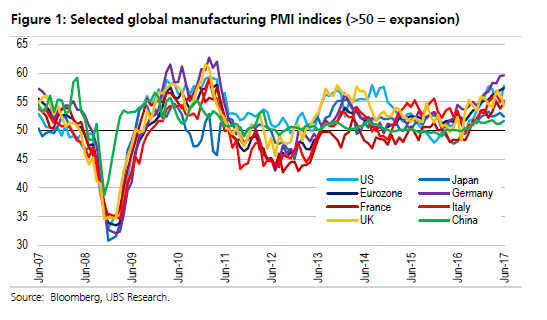 There is also a rare unison recovery in company earnings: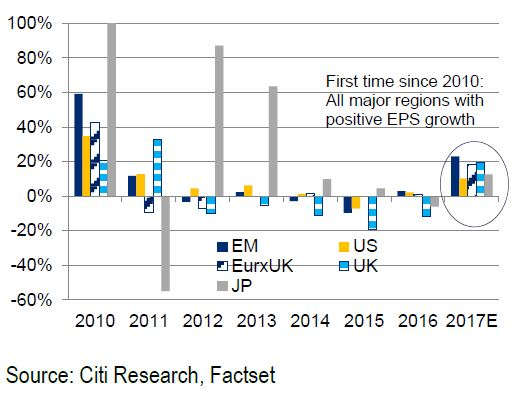 We're not all that convinced, we have to say. While we think that while the short-term outlook could indeed be improving, the longer-term outlook isn't.
Short-term outlook
Even the short-term outlook might not be as rosy as American Funds seems to assume. For instance (from Business Insider):
The IMF has downgraded US growth forecasts for this year and next: to 2.1% from 2.3% for 2017, and to 2.1% from 2.5% in 2018. But that's just one of the IMF's many red flags. "There are constraints being put on this economy by income polarization and high levels of poverty," Nigel Chalk, the US mission chief for the IMF, said during a press conference in Washington.
Monetarists like Evans-Pritchard from The Telegraph are closely watching credit conditions, and they are also not convinced:
The global 'credit impulse' has fallen as dramatically over recent months as it did during the onset of the Lehman crisis, signalling serious headwinds for the world economy and asset prices just as the US Federal Reserve tightens monetary policy. A key UBS tracking indicator shows that the impulse has plummeted by 6pc of GDP since peaking last year, driven by powerful swings in China and the US. The two economic superpowers are both suffering from credit saturation.
This is the same decline as before the financial crisis, although Pritchard notices that the circumstances are clearly different, it's hardly reassuring. One should also notice that the global credit impuls is not the same as the volume of global credit.
It's the rate of change of change in credit it's a the second derivative for the mathematically inclined.
China
We're also not so sure about China. Debt has been rising at a precipitous rate, from CNBC:
According to the Bank for International Settlements, that debt reached 257 percent of its gross domestic product at the end of 2016, slightly above the same measure in the United States, and significantly higher than the 184 percent for emerging economies over all. But what worries economists most is the pace at which it has mounted. At the end of 2007, China's debt stood at only 152 percent of G.D.P.
Twenty years on from the Asian financial crisis this stuff deserves full attention, for obvious reasons, from Bloomberg (our emphasis):
In 2015 research firm Capital Economics Ltd. studied emerging-market meltdowns since 1990 and discovered that every country that had experienced a rise in private debt relative to gross domestic product of more than 30 percentage points over the course of a decade ended up in some sort of banking crisis.
This is hardly reassuring, given the rise in Chinese debt which far outpaces this. Authorities are clearly aware of this and are reigning in credit and tightening regulations around the shadow bank sector. The result is that the credit impulse declined by 12 percentage points in April, hardly a recipe for increasing global growth.
Brave new world
However bright or not so bright the short-term outlook is, the longer-term outlook remains distinctly clouded. We give you multiple reasons for concern:
With few exceptions, debt levels have kept on rising since the financial crisis.
Productivity growth is slowing down in most of the developed world.
Demographics are worsening almost everywhere.
Eurozone imbalances and fault-lines are all still there.
Fact is that demographics and declining productivity growth have significantly diminished potential growth (or trend growth, the red line in the graph below) from four economies, Canada, the euro area, the US and the UK.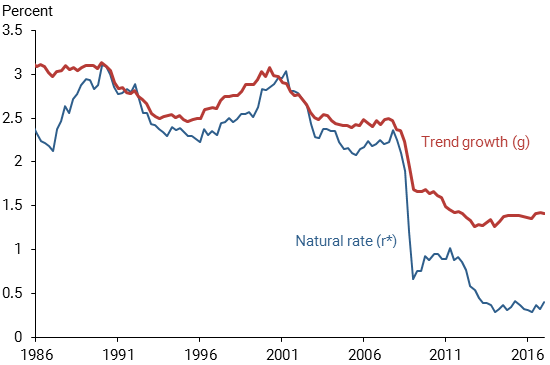 What you also see is an even steeper fall in the natural rate of interest (variously defined as the rate at which inflation is stable or where output equals potential output). This is an effect of the slower trend growth, which (according to Fed board member John Williams):
reduces the demand for investment, while longer life expectancy tends to increase household saving
This environment can only be changed with changed demographics (which is unlikely) and/or a sustained investment bonanza increasing the quality and quantity of the capital stock, which increases productivity.
These are not easily achievable policy goals by any means, while on the one hand policy should be geared towards achieving these at least to some degree, policy makers should also be thinking how best to adapt to this new reality.
This brave new world is having all sorts of implications:
It is likely that the present recovery is as good as it gets.
We live in an age of diminished expectations.
Low interest rates are here to stay.
Asset bubbles and financial instability are increased risk.
While low nominal growth greatly hobbles public finances (especially given the worsening demographics), low interest rates lessen the risk of immediate crisis but also put adjustment
Given the structural low rates, central bank asset purchasing is likely to become much more common compared to the past.
In fact, we could sum this up in one word: Japan. But in a number of respects, Japan was better placed to deal with an economic environment like this than many other countries.
Conclusion
Optimism has come back to the markets even in the face of a sputtering growth agenda from the US government. At first sight, there is indeed cause for optimism, there is something of a synchronized global recovery in manufacturing, growth, and company earnings.
However, underneath trouble is brewing and this is likely to be as good as it gets. Another thing to keep in mind is how central banks are going to react to this, they are not likely to take this upturn lying down.
Disclosure: I/we have no positions in any stocks mentioned, and no plans to initiate any positions within the next 72 hours.
I wrote this article myself, and it expresses my own opinions. I am not receiving compensation for it (other than from Seeking Alpha). I have no business relationship with any company whose stock is mentioned in this article.