The Market Is Getting Expensive... Here's How To Stay Profitable
By Samuel Taube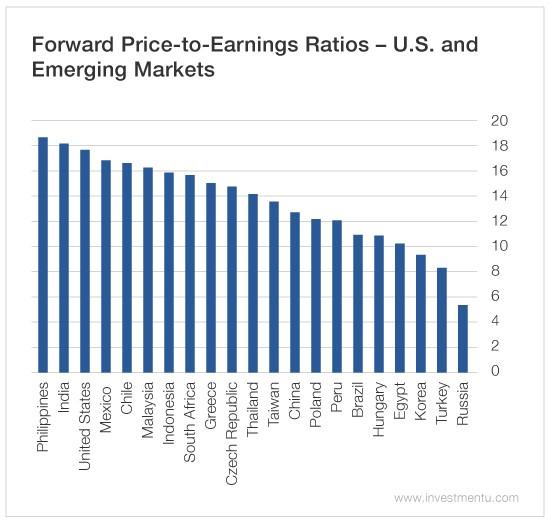 There's really no denying it - value investors are having a tough time in the U.S. right now. Our markets are dominated by expensive stocks. As you can see from this week's chart, U.S. equities are sold at a steep markup today compared to other global investments.
It's not hard to see why.
The current bull market is in its ninth year, and the Dow has tripled in price since its 2009 lows. But the index's earnings haven't even doubled over the same time period. The result has been what analysts call multiple expansion. American investors are paying higher prices for each dollar of earnings than they'd pay almost anywhere else in the world.
Some bearish pundits have used our country's high P/E ratio as evidence of an impending crash. We don't agree with them. As Alexander Green recently wrote, these kinds of financial fearmongers are usually wrong - and often driven by ulterior motives.
But we do acknowledge that American large caps just don't offer the same potential upside as other asset classes nowadays.
One way to find value in this environment is to look beyond the U.S.
As you can see above, the countries of the former Soviet bloc have some incredibly cheap equity markets. Hungary's forward P/E ratio is more than 33% lower than ours. Russia's is more than 66% lower. The SPDR S&P Emerging Europe ETF (NYSE: GUR) offers good exposure to both.
South America's equity markets are also appealingly cheap - especially those of Brazil and Peru. Thus, the iShares MSCI All Peru Capped ETF (NYSE: EPU) and the iShares MSCI Brazil Capped ETF (NYSE: EWZ) are good choices for value-focused investors.
But for investors who prefer to keep their money in the land of the free, there are other options.
The high P/E ratio of the U.S. stock market is largely a function of expensive megacaps. Alphabet (Nasdaq: GOOG) (GOOGL) sells for a dizzying 33 times one-year earnings. Amazon (Nasdaq: AMZN) sells for an almost unbelievable 200 times one-year earnings.
It's no wonder these Nasdaq blue chips have hit some choppy waters recently.
But if you look to small cap and midcap U.S. stocks instead, you'll find much more reasonable valuations.
Disclosure: We expressly forbid our writers from having a financial interest in their own securities recommendations to readers. All of our employees and agents must wait 24 hours after online publication or 72 hours after the mailing of printed-only publication prior to following an initial recommendation. Any investments recommended by Investment U should be made only after consulting with your investment advisor and only after reviewing the prospectus or financial statements of the company.
This article was written by
Your journey to financial liberty starts here. In 1999, we launched Investment U to answer one question, "How do I obtain true financial freedom?" Here we are, more than 20 years later, still dedicated to providing new and experienced investors with insights into this critical financial question. Investment U is your one-stop shop for taking your financial future into your own hands and – unapologetically – building the investment accounts that will let you live life on your terms. You'll learn proven, easy-to-master systems for wealth building, whether markets are up or down… whether you're a trading novice, a dabbler or a seasoned pro. You may not think you're qualified to invest your money in anything other than a house or a low-interest savings account, but we completely disagree. You may think investing involves a broker, high fees, is time-consuming… or is just plain confusing. We also respectfully disagree – and will prove it to you with our guidance. We guide you with the understanding that no one cares about your money more than you do.