I've extolled the virtues of Home Depot (HD) as a retailer for some time now. I've loved its meteoric rise driven the old fashioned way; excellent operating metrics where margins improve almost continuously. Recently, I even went as far as calling it the best retailer anywhere. HD, however, has also returned tens of billions of dollars to shareholders in recent years via its rapidly growing dividend and very impressive buyback. The only way it can do those things is because of its FCF, and in this article, I'll take a look at its FCF margins in order to determine their potential impact on HD's ability to continue to pay its dividend as well as buy back stock in the future. Given the valuation of the shares, capital returns will be more important than ever going forward.
I'll be using data from Seeking Alpha for this exercise.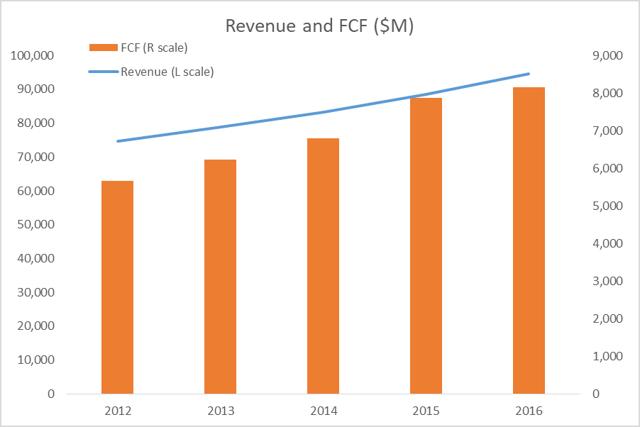 This chart almost doesn't look real – it more closely resembles rosy projections – but it is; HD has been this good in the recent past. The revenue number is about as smooth as it can be, rising from $75B in 2012 to $95B last year and the FCF bars aren't far behind to be sure. FCF is up from $5.7B to $8.2B in that same time frame, and in case you were wondering how HD was able to afford its prodigious capital returns, wonder no more.
The really impressive thing here is that revenue in 2016 was 27% higher than it was in 2012 but FCF is up 44% by comparison. That is because FCF margin – which we'll get to shortly – was up 14% over this same period. That means that HD became 14% more efficient at turning a dollar of revenue into cash it could use to buy back stock, pay the dividend or whatever else it saw fit. In short, HD's growth here has been impressive and this is what has allowed HD to fuel its stock price increases with billions of dollars in buybacks as well as paying its decent 2.3% dividend.
So we know HD has been able to grow its revenue and FCF at nice, steady rates over the past five years, and I also mentioned that FCF margin has increased; but by how much?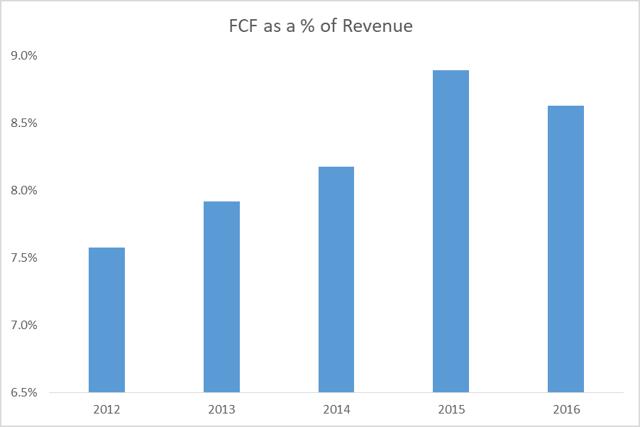 FCF margin was 7.6% in 2012 and peaked in 2015 at 8.9% before settling at 8.6% last year. That sort of growth is quite strong, and I mentioned that it allowed HD to grow its FCF dollars much more quickly than revenue during this time frame, something it has put to good use for the capital returns I highlighted above. Without this sort of growth, HD's debt pile would likely be much larger than it is or, alternatively, HD simply wouldn't have been able to buy back as much stock as it has. Neither of those outcomes are beneficial for shareholders, but thankfully, management wasn't faced with that choice.
The thing is that HD's FCF margin rates aren't really that exorbitant; 8.5% FCF margin is certainly a good result, but it isn't like HD is knocking the cover off the ball. There are many large cap stocks that sport FCF margins that are double that rate or more, but to be fair, it is pretty strong against other retailers. The point I'm trying to make is that although FCF margin fell last year, it would seem there is room to run here. If margins have peaked and HD cannot crest 9%, that would have negative implications for HD's FCF dollars, and thus, its ability to return capital to shareholders. If it hasn't, that means the buyback party will continue without undue stress on the balance sheet.
And that's really the heart of the issue here; do you believe HD can continue to grow FCF or not? If the answer is no, HD's relatively tepid revenue growth is going to cap the amount of capital it can return because FCF will only grow at or near revenue growth rates; perhaps even less if declining FCF margin is a recurring theme going forward. If, however, you believe HD can improve margins, it should continue to do very well in terms of the buyback; the dividend is very safe so I don't consider it a variable in this discussion because it is going to get paid one way or the other.
So where do I come down? I haven't yet seen enough evidence that HD's FCF margin improvements are done. The increase of 2015 over 2014 was huge and looks more like a spike than a sustainable move at this point and let us not forget that 2016 was still ~40 bps higher in terms of FCF over 2014. That means that the long-term trajectory of HD's FCF margin is still well intact, and if there is one management team I would not bet against, it is this one. The construction boom that has fueled HD's rise in the past few years hasn't slowed down and homeowners continue spend nicely to improve their homes; until those things stop, HD's capital returns are in very good hands. HD isn't without risks just because expectations are very high at this point, but given its tremendous ability to turn revenue into cash, we should continue to see billions and billions of dollars in buybacks annually going forward and that should help support the stock price.
Disclosure: I/we have no positions in any stocks mentioned, and no plans to initiate any positions within the next 72 hours.
I wrote this article myself, and it expresses my own opinions. I am not receiving compensation for it (other than from Seeking Alpha). I have no business relationship with any company whose stock is mentioned in this article.