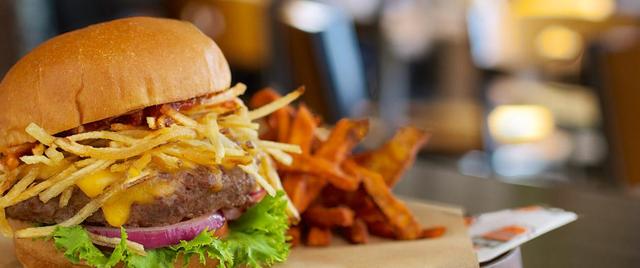 Source: Bad Daddy's Burger Bar
Good Times Restaurants (NASDAQ:GTIM) released its Q2 results amid a broader slowdown in the restaurant industry. Investors were looking to see if the challenging environment would negatively impact same-store sales (SSS) or if some unexpected good news could lift the company's valuation.
More specifically, any slowdown in SSS at the company's growth engine, Bad Daddy's Burger Bar, would likely cause shares to plummet as the fast-casual restaurant concept with national potential is the main reason to buy shares in GTIM.
In the following, I will share with you what I found interesting from the Q2 announcement in regards to revenue, earnings, valuation, and outlook for FY17.
Revenue - Luckily, Bad Daddy's Is Still The Main Growth Engine
The company stated that total revenues increased 19% from $15.3M in Q2'16 to $18.2M in Q2'17. Nearly all revenue growth stemmed from BDBB, which managed to grow by nearly a third from $8.5M to $11.3M, while the Good Times brand struggled to improve markedly by growing only 2.5% from $6.79M to $6.96M (influenced by factors such as one new opening and remodeling of multiple restaurants).
While revenue growth is of course of great interest to investors, it is highly influenced by factors such as new restaurant openings and remodeling of existing ones. In the quarter, GTIM opened one Good Times restaurant and one BDBB restaurant which take the total of new restaurant openings YTD to four. The company reiterated that it expects to open five additional BDBB restaurants before year's end, which would take the number of new additions to eight for a total of 51 company-owned restaurants (23 BDBB and 28 Good Times).
For your convenience, here's an overview of the company's total restaurant portfolio, which is growing steadily:

Source: Q2'17 SEC filing
In terms of same-store sales, both brands performed quite well compared to the industry. SSS increased for BDBB by 3.2% while the Good Times brand managed a minor increase of 0.5% net of remodel closures.
According to Black Box Intelligence's Restaurant Industry Snapshot from April, restaurants experienced a third consecutive month of negative same-store sales by declining -1% in April (YoY). Furthermore, same-store traffic for the month declined markedly by -3.3% albeit a modest improvement of 0.1 percentage points over the prior month.
Overall, when considering the challenging industry environment with traffic and sales in decline, one must acknowledge that both GTIM brands are performing quite well. The Good Times brand could easily have followed its fellow QSRs into the abyss, but management's initiatives, such as remodeling restaurants, improving the quality of the menu, and advertisement campaigns, must be working since SSS increased - albeit very modestly.
While no investor is purchasing the GTIM stock because of the Good Times brand, it is crucial that the brand keeps its head above water since the 28 restaurants could easily become a headache if sales would begin to decline rapidly. This would clearly remove investors' focus from the BDBB growth story.
Investors, therefore, are not expecting much from the GTIM brand which could provide the stock with some much-needed tailwind, should the industry outlook improve and management's initiatives prove fruitful. Especially the former should improve performance significantly as the Good Times brand is more susceptible to industry downturns than the Bad Daddy's brand due to their difference in target group appeal.
As mentioned above, SSS of BDBB increased 3.2%, which is great as this indicates that GTIM has been able to weather the storm by increasing sales from fully matured restaurants in an industry downturn. Black Box Intelligence, however, reported that the best performing segments of the industry are, and have been for some time now, fine dining, upscale casual, and family dining:
The best performing segments in April, and the only ones with sales increases, were fine dining, upscale casual, and family dining. As has been the case for over a year, upscale casual and fine dining are at the top of the average guest check scale and are aligned with a more experience-based dining proposition for a less price sensitive consumer than mid-scale industry segments. It is important to note that sales for all three of these segments appear to have been positively affected by the shift in the Easter holiday.
BDBB is part of the fast casual segment which Black Box noted the following:
The weakest segments in April were fast casual and quick service. After years of positive growth and being one of the top performing industry segments, quick service has experienced a downturn in 2017. Additionally, the Black Box Intelligence Market Share Report shows that fast casual is the fastest growing segment, which indicates a possible cannibalization effect occurring in the segment.
Two things are interesting in this quote:
Firstly, performance of the fast casual segment was poor in April. This followed a poor first quarter which only makes Bad Daddy's SSS performance more impressive. BDBB's positive performance could indicate that consumers are choosing the Bad Daddy's brand over other comparable fast casual concepts. Positive reviews from consumers on Yelp and TripAdvisor show great satisfaction with BDBB:

Source: TripAdvisor


Source: Yelp
Secondly, fast casual could be cannibalizing the QSR segment. This might be true for other restaurant brands, but I don't believe this holds true for GTIM as we have seen SSS growth from both BDBB and Good Times restaurants. Also, I think the investments that have been made to remodel the Good Times restaurants and improve its menu have made the QSR a lot more appealing and modern, which definitely gives the company an edge over a lot of the competition.
Earnings - Bad Daddy's Expansion Should Bring Much Needed Profits
GTIM reported a quarterly loss of $564K equivalent of $(0.06) diluted per share. EBIT and EBITDA came in at $(528K) and $175K, respectively, which means that the company's EBIT loss increased nearly $100K compared to Q2'16 while EBITDA improved to $175K from $118K.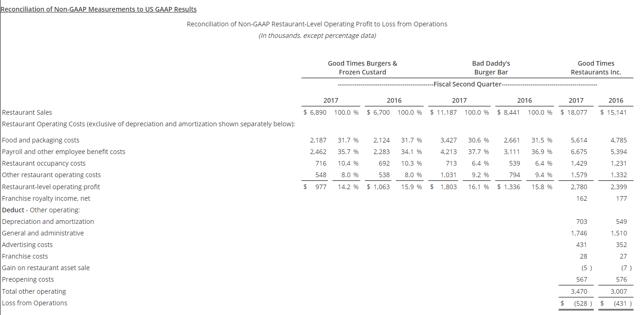 Source: Q2'17 press release
In my opinion, the most interesting line item shown above is Payroll and other employee benefit costs. The payroll line item is interesting because it increased $1.2M from Q2'16, which is equivalent of a 1.3 percentage point increase in payroll as a percent of restaurant sales.
Obviously, investors like to see unchanged payroll costs as a percentage of sales, but the increase seen above had good reasons. In its Q2 report, the company explains that the higher payroll costs are primarily driven by increases in the tipped minimum wage rate in Colorado.
Furthermore, Boyd Hoback, CEO, explained on the earnings call that:
[…] our Colorado stores have an approximate 500 basis point higher labor costs than our North Carolina stores, simply due to the tip credit minimum wage of $6.28 per hour in Colorado versus $2.13 an hour in North Carolina which is, obviously, very significant.
The increase in minimum wage in Colorado suggests that it would be prudent for the company to keep expanding beyond the Centennial State as significant cost improvements in terms of payroll expenses could be obtained. The company currently has eight BDBB restaurants outside of Colorado (North Carolina), but this corresponds to only 17% of its portfolio, so potential further tipped minimum wage increases would hurt the company as it is very difficult to pass the cost increase along to the customer since these are quite price sensitive (if not for BDBB, then surely for Good Times).
To sum up, the company's strategy so far has been to develop its home market before venturing outside the borders of Colorado. This makes sense, but at the same time, if significant cost reductions could be obtained by investing in other states, this should obviously be done. Therefore, it was pleasant to hear Boyd Hoback mentioning on the earnings call that the company intends to open BDBB restaurants in other locations:
On a current average unit volume of $2.7 million, the North Carolina stores have a restaurant-level operating profit of over 20%. So we're excited to ramp up our expansion with additional stores, both later this year and in 2018 in the Southeast and Midwest where we can capture that additional margin.
The company's strategy to capture additional RLOP margin should improve earnings results in the years to come, and it seems like GTIM's fortunes lie beyond the borders of Colorado.
While we're on the subject, let's comment briefly on the Q2 development of the two favored KPIs; restaurant level operating profit and adjusted EBITDA.
I've written about these metrics before and interested readers should follow this link to learn the components of the two KPIs.
In Q2'17, RLOP increased (see image above) around 16% compared to Q2'16 while adjusted EBITDA fell slightly by 3%.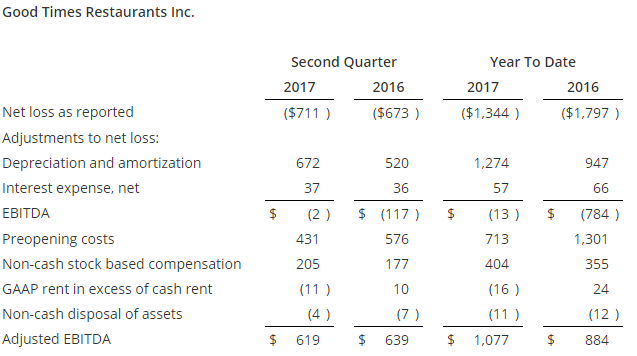 Source: Q2'17 press release
There's not much to say about the increase in RLOP other than it's positive that the company has managed to increase revenue while keeping many line items somewhat fixed. The only exception is the aforementioned increase in payroll costs.
One should keep in mind that RLOP by no means is a substitute for e.g. EBIT because many vital costs are moved from restaurant level to HQ level, which gives the impression of profitability although this is far from the case. For example, advertising spend creates a benefit for the restaurants, but the associated costs are allocated on HQ level, which means that costs and benefits become delinked. I know this is standard accounting practice and that the result is ultimately the same, but it's quite easy to get distracted by phantom profits in the non-GAAP jungle.
Speaking of phantom profits, adjusted EBITDA, as mentioned above, declined slightly in a combination of higher D&A, higher non-cash stock based compensation, and lower pre-opening costs (yes, it is all upside down).
Adjusted EBITDA reflects a "had we not done this and that"-way to improve traditional EBITDA. Obviously, I'm not a big fan of this metric as I think it is meaningless to add back expenses such as pre-opening costs since these are associated with investments in new restaurants that end up generating revenue and EBITDA for the company. It seems odd to say "if we didn't have those annoying preopening costs, our EBITDA would have been much better" when EBITDA originates from investments in new restaurants that naturally have pre-opening costs. It's a quirky version of the chicken and egg problem.
In any case, you should judge for yourself if you want to put emphasis on EBITDA or adjusted EBITDA.
Outlook and Valuation
The company reaffirmed the previously adjusted guidance of total revenues of approximately $78M to $80M and a year-end revenue run rate of $92M to $94M. These figures are lower than the ones given in the first outlook for FY17 where the company expected revenues of $80M to $82M and a revenue run rate of approximately $94M to $98M. In any case, as I have discussed before, GTIM needs scale because SG&A especially is weighing on profitability, which is why the company must continue to invest in new restaurant openings to increase revenues.
In terms of adjusted EBITDA, the company previously guided in the range of $4.5M to $5M with preopening costs of $3.5M. The current guidance given in Q2 was lowered a notch to a range of $4M to $4.5M of adjusted EBTIDA with preopening costs of $3M.
Given this guidance holds true, GTIM is currently (share price of $3.25) trading at 10X forward adjusted EBITDA. This does not sound steep for a company with such great growth opportunities, but when one normalizes the adjusted EBITDA for the most significant factors, the result becomes quite different.
If we eliminate pre-opening expenses ($2.5M to $3M) and non-cash equity compensation expenses ($800K) from adjusted EBITDA, we get a forward EBITDA range of $250K to $750K, which means GTIM is trading at approximately 57X to 172X forward EBITDA. This is steep - even if EBITDA doubles for FY18.
Lastly, a quick note on the company's cash position. The company ended the quarter with $4.8M in cash and $1.4M in long-term debt. Because GTIM is burning cash and investing heavily in remodeling Good Times Restaurants and opening new BDBB restaurants, the $4.8M is obviously not enough to fund further expansion. This leaves two options: 1) Borrow more money or 2) raise equity and dilute shareholders.
The company has previously taken advantage of a high share price to raise equity, but this move, although it was sensible and by the book, did not seem to play well with investors since the stock has fallen significantly and never recovered since then. It is, therefore, given the current low share price, "prudent" to raise debt instead of equity.
GTIM's plans to tap its credit facility at Cadence Bank and intends to end the year with approximately $6M in long-term debt. The total credit facility at Cadence is $9M, which means that the company only has $3M left for FY18 development. This point was touched on the Q2 earnings call:
We finished the quarter with $4.8 million in cash and had drawn down $1.4 million on our $9 million debt facility. We believe our excess cash balance and our debt facility will support our total CapEx needs related to new store development through the end of fiscal '17 and we have plans to expand our senior debt facility for fiscal '18 development.
It will be interesting to see how this expansion of the company's senior debt facility will fare. Right now, the company has no trouble paying interest on its current borrowing, but as these increase, operating profitability must follow to avoid the well-known vicious circle of raising cash to pay down debt.
Conclusion
Overall, Q2 was good for GTIM. The SSS increase was favorable compared to the industry and management reaffirmed its FY17 outlook. The next interesting thing for investors, aside from the FY17 report, will clearly be the outlook and plans for FY18.
I find it hard to believe that GTIM can continue to rapidly grow its business without market cap following suit. Although the company will likely continue to struggle with profitability in the short run, the growth in sales should begin to attract the interest of the market that cannot ignore a growth company selling at a forward P/S of around 0.5.
Disclosure: I am/we are long GTIM. I wrote this article myself, and it expresses my own opinions. I am not receiving compensation for it (other than from Seeking Alpha). I have no business relationship with any company whose stock is mentioned in this article.
Editor's Note: This article covers one or more microcap stocks. Please be aware of the risks associated with these stocks.