Investment Thesis
US investors often overlook an important market just north of their border, Canada. While some regions of Canada have been hit hard by the sharp decline in crude price back in 2015, the country's economy is actually picking up momentum lately due to recent strong economic data. A way to participate in the growth of the country is through ETFs with exposure to the Canadian market. The iShares MSCI Canada ETF (NYSEARCA:EWC) with its relatively low MER and a portfolio of Canada's major companies offers investors a great way to gain exposure to this important market.
ETF Overview
EWC is an ETF that basically tracks the MSCI Canada Index. Because it is passively managed, it has a relatively low management expense ratio (MER) of 0.48% compared to other mutual funds. Its MER is relatively higher among ETFs, as many ETFs have an MER below 0.2%. This is likely because EWC involves holding stocks in a stock market outside of the United States. The ETF offers a trailing 12-month yield of 1.79% and has a P/E ratio of 19.06, lower than S&P 500's ratio of 21.56. Compared to ETFs tracking the S&P 500, EWC is at a slight discount.
Past Performance
As the chart below shows, $10,000 invested on its inception date in March 1996 will return $50,000. This is more than 500% return in 21 years. Its average annual return since inception is 8.07%. The ETF's return took a few hits including the 2008/9 financial crisis and the dramatic decline in crude price in 2015. Overall, the ETF closely tracks Canada's economy.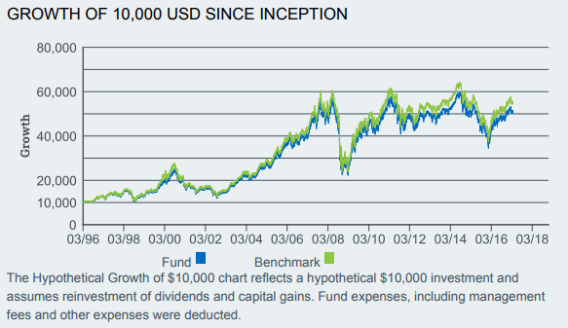 Source: iShares Website

Source: iShares Website
Stock Holdings
The table below shows EWC's top sectors. As can be seen, financials accounts for 42.26% of the total holdings, followed by energy sector, 22.67%, and materials sector, 10.58%. Canada's financial sectors include its five major banks, and insurance companies. Its energy sector includes companies such as midstream pipeline infrastructure companies and crude oil giants. Companies included in the index are generally large-cap and well-established Canadian companies.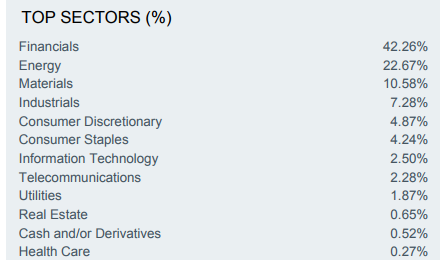 Source: iShares Website
The ETF's top 10 holdings are shown as follows. As can be seen, 6 of the top 10 holdings are in the financials sector, and 3 of its top 10 holdings are in the energy sector. These top 10 holdings compose 46.7% of the ETF's portfolio. While investors might be concerned about Canada's top 5 banks' exposure to residential mortgages, Canada's top banks consistently produce better-than-expected earnings report. Except Canadian Imperial Bank of Commerce (NYSE:CM), whose focus is still mainly focused in Canada (CM has finally made its entry into the US through the acquisition of PrivateBancorp), the remaining four banks have already diversified their business through increasing exposure in the United States or Latin America. For example, Toronto-Dominion Bank (NYSE:TD) has more business in the United States than in Canada; Bank of Nova Scotia (NYSE:BNS) has extensive operations in Latin America. With the Canadian economy strengthening and an already improving US economy, Canada's top five banks are expected to benefit from the continuing rise of interest rates in both countries.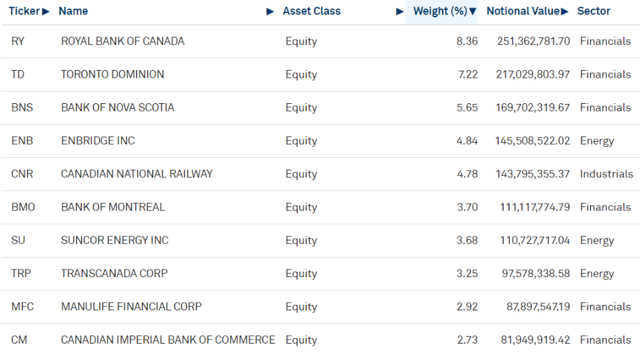 Source: iShares Website (as of July 6, 2017)
The table below is a quick summary of the 12-month targeted price for the top five banks. As can be seen, the consensus among the analysts is a steady rise in the stock prices. On top of capital appreciation, Canada's top five banks offer a decent dividend with a yield as high as 4.79%. The five banks also have a history of growing their dividend over time. Including the yield, the targeted 12-month total return is in the low-double-digit figures.
| | | | | | |
| --- | --- | --- | --- | --- | --- |
| Bank Name | Current Stock Price (CAD) | No. of Analysts | 12 Month Price Target (CAD) | Target Vs. Current | Yield |
| Royal Bank (NYSE:RY) | $95.13 | 16 | $102.00 | 7.20% | 3.66% |
| Toronto-Dominion | $65.15 | 17 | $71.20 | 9.30% | 3.69% |
| Bank of Nova Scotia | $78.44 | 16 | $84.90 | 8.20% | 3.88% |
| Bank of Montreal (NYSE:BMO) | $95.74 | 16 | $102.00 | 6.50% | 3.76% |
| Canadian Imperial Bank of Commerce | $106.36 | 15 | $120.00 | 12.80% | 4.79% |
Target Price provided by Thomson Reuters (as of July 6, 2017)
The ETF's second largest sector, energy sector, has experienced general weakness lately largely due to the recent decline in crude oil prices. However, by examining the top three holdings, there may be room for the shares to decline in the near term, but there is even a greater upward potential than the top five banks.
Enbridge (NYSE:ENB), whose business is mainly in the midstream pipeline transmission, has a low-risk business model with 96% of its cash flow underpinned by long-term commercial agreements, meaning its cash flow is not dependent on the fluctuation of the commodity pricing. With its recent acquisition of Spectra Energy, its revenue source is more diversified and stable. Moreover, it has an ambitious growth initiative to grow its dividend by 10~12% annually through 2024. This growth potential makes it an attractive long-term investment. The ETF's second largest holding in the energy sector is Suncor Energy (NYSE:SU), which many only see as an oil sands giant. Its business extends to oil refineries and gasoline stations as well. These diversified segments provide the company an extra layer of protection against a drastic decline in crude oil price.
Below is a chart that outlines the consensus of analysts' 12-month price target of the three energy companies in the ETF's top 10 holdings. As can be seen, the yield from these three companies are comparable to Canada's top five banks, but with a much higher capital appreciation potential. Overall the ETF's top holdings are poised to appreciate in the coming 12 months.
| | | | | | |
| --- | --- | --- | --- | --- | --- |
| Company Name | Current Stock Price (CAD) | No. of Analysts | 12-Month Price Target (CAD) | Target Vs. Current | Yield |
| Enbridge | $51.46 | 15 | $62.50 | 21.50% | 4.76% |
| Suncor Energy | $36.93 | 26 | $47.80 | 29.40% | 3.49% |
| TransCanada Corp. (NYSE:TRP) | $62.55 | 15 | $70.80 | 13.20% | 4.01% |
Target Price provided by Thomson Reuters (as of July 6, 2017)
Canada's Economic Outlook
Canada's economy has been improving considerably. The recent economic data confirms the economy's strength with strong exports and better-than-expected jobs report. The country's unemployment rate has also dropped to 6.5%, its lowest level in over eight years. This is further confirmed by the recent hawkish tone by the key officials of Canada's central bank about a rise in the country's interest rate despite weaker inflation data. Therefore, it is expected that Canada's economy will continue to grow. However, investors must be aware of the higher household debt in Canada as it may limit Canadian consumer spending especially in a rising interest rate environment. Overall, with a stronger-than-expected economy, it should have a positive impact on the country's stock market, especially financials, consumer discretionary, consumer staples, and information technology sectors.
Risks
Since EWC invests in Canadian equities, investors need to be aware of the risk of currency. Canadian dollar has gained quite a bit of ground against the USD lately due to an improving economy and the hawkish tone from Canada's central bank. It is difficult to predict whether its exchange rate will continue to trend up or not. In addition, investors also need to realize that a greater proportion of Canada's economy is exposed to commodity pricing than the US. A crash in commodity prices can significantly hurt the country's economy. Investors will need to evaluate these risks.
Investor Takeaway
With Canadian economy is improving, US investors who would like to gain exposure outside of the US stock market should seriously consider their neighbor north of the border. The iShares MSCI Canada ETF is a great way for investors to gain such an exposure because its portfolio includes a mixed bag of large-cap Canadian companies which are expected to continue to grow.
Disclosure: I am/we are long ENB, TD, CM. I wrote this article myself, and it expresses my own opinions. I am not receiving compensation for it (other than from Seeking Alpha). I have no business relationship with any company whose stock is mentioned in this article.