Baidu: A Pessimistic Outlook
Summary
In the recent years, Baidu has barely grown while its competitors such as Alibaba and Tencent are growing much faster.
Mobile applications are taking market shares and revenues away from Baidu's search engine.
Baidu does not have many advantages in AI, especially after Andrew Ng resigned. The future of AI remains uncertain.
For the past few years, Baidu (Nasdaq: NASDAQ:BIDU) has been considered one of the top three Chinese IT giants along with Alibaba (NYSE: BABA) and Tencent (OTCPK:TCEHY), which are collectively referred as "BAT". However, Baidu's recent performance has distanced itself from Alibaba and Tencent, which are growing at a much faster pace than Baidu. Meanwhile, mid-sized companies such as NetEase (Nasdaq: NTES), whose market capitalization is almost the same as Baidu, is catching up. I hold a pessimistic view of Baidu's growth story, which is mostly based upon its AI technology whose future remains mostly unknown. In the meantime, Baidu's only growing revenue source is iQiyi and its primary business, the search service, faces stagnation due to growing mobile end services.
Compared with Alibaba and Tencent, Baidu is becoming smaller in size and growing at a lower speed. People used to value Baidu, Alibaba and Tencent at the same level because they have the strongest presence in the Chinese technology industry. However, as of now, among "BAT", the "A" and "T" operate much larger businesses than "B":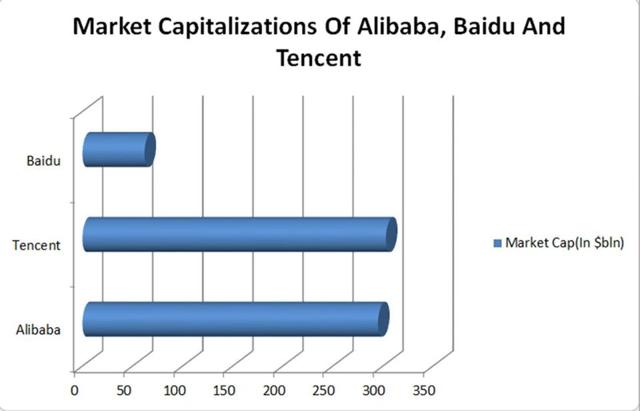 (Source: FORBES)
As shown by the graph above, Tencent and Alibaba are one step away from the $300 billion market cap while Baidu is barely over $50 billion. More importantly, Tencent and Alibaba are demonstrating a lot more market presence due to their large user base. For example, "BAT" all offer mobile transaction services. Baidu has Baidu Wallet, Alibaba has Alipay, and Tencent has Weixin Pay and QQ Wallet. Nevertheless, most businesses in China only offer the Alipay and Weixin Pay as acceptable payment methods. In 2017 Q1, Baidu Wallet attained only 0.36% of the mobile payment market share. Baidu has spent a lot of effort in promoting this application by connecting it with other Baidu services such as iQiyi, Baidu Delivery and Qunar. But these channels still fail to get Baidu Wallet enough customers. According to Baidu's 2016 Q4 report, the number of activated users for Baidu Wallet just reached over 100 million while Tencent's mobile payment service (QQ Wallet and WeChat Pay combined) has more than 600 million and Alibaba has 450 million by the same time period.
I interpret this huge difference of user base as a result of Tencent and Alibaba's better ecosystem. Most of China's urban population relies upon Alibaba's Taobao for online shopping; in the meantime, they use Tencent's QQ and WeChat for instant communication. These applications that satisfy people's fundamental daily needs allow Alibaba and Tencent to increase their presence in people's daily life and increase people's constancy. Moreover, with abundant cash flows, they invested heavily in the mobile payment services through offering discounts directly to customers. On the other hand, Baidu does have almost full control over the search engine service in China. But it did not promote its application successfully at an early stage while Alibaba and Tencent occupied huge market shares; also, it fails to provide enough incentives for its search engine customers to use Baidu Wallet because Baidu does not offer an ecosystem. I can do almost anything through Tencent to satisfy my daily needs, such as messaging my friends, splitting bills with them, and paying for my groceries and taxi, and this provides much convenience for me. But I can't do the same through Baidu's platform. Consequently, Baidu's products and services, especially those that are not very differentiable, will not receive as much popularity as Tencent's or Alibaba's among consumers.
Additionally, there is another interesting perspective to compare "BAT" based upon users' trust. For Alibaba, users trust its service like a bank. This reputation originates from Alibaba's reliable service in its online wealth management services such as "Yu'e Bao" and a lot of merchants have been relying upon Alibaba for e-commerce for a long time. Tencent is almost on the same level as Alibaba. Merchants offer services through WeChat Pay and use Tencent's platform and application for professional communication. Neither of these two companies have many scandals related to security breach and they earned a good reputation. Nevertheless, Baidu is notoriously known for its misconduct with customer information. For example, if a user searches a keyword on Baidu as a registered user with phone numbers, he/she will soon receive phone calls from related merchants asking if the user needs any relevant services. Also, the "Wei Ze Xi" incident has severely damaged Baidu's reputation. Consequently, Baidu's negative public image could disadvantage it greatly while entering new markets and promoting new services as customers will have more faith in other companies like Alibaba and Tencent.
As I have explained Baidu's disadvantages to its "peers", I will further analyze the prospect of the company's main revenue-generating service: the search service. Many people believe that as more and more Chinese people are learning to use Internet, they will inevitably have to use Baidu's search engine, which will continue to grow at a fast pace. However, according to Baidu's latest 20-F, in 2016, Baidu's revenue from search engine barely changed from the previous year. This stagnation could be attributed to the recent development of mobile end services. As applications are the core of smartphones, many applications are making things easier for users to obtain information so that they don't have to turn to Baidu for help. For example, with a smartphone, I can track my flight with an application called FlightAware rather than searching the flight number through search engines. As a result, many companies turn to these mobile applications to advertise and market their products instead of relying on Baidu's service. One of them is Weibo (WB), a Chinese version of Twitter that has gained much popularity on the mobile end. The number of clients using Weibo's marketing service and its revenue has gone up by 50% and 67% compared to the previous quarter.
Furthermore, Baidu's dominance in search engine service is under threat posed by Tencent. Tencent has pushed into news feed and search services by adding these function to its most popular social app, WeChat. As I have mentioned above, people have strong reliance upon smartphones and spend much time on these applications. Even though now WeChat users can only search content published on WeChat, many analysts believe Tencent will provide full-web search capability in WeChat through its partnership with Sougou, the second largest search provider. For the advertising and search service market, Baidu has to face these new competitors. Thus, its search services' growth will be limited in the foreseeable future.
Another revenue generating service of Baidu is iQiyi. iQiyi has been growing at a fast pace. Its revenue in 2016 doubled compared with 2015. This growth is mainly due to iQiyi's exclusive copyrights of certain imported popular TV series from foreign countries. Its competitors include Tencent Video and Youku. Tencent Video may catch up quickly if it is willing to spend more on obtaining copyrights while it has a huge user base through WeChat. On the other hand, iQiyi's increase in revenue is cancelled out by the decline of Baidu transaction services whose revenue dropped by 30%. Overall, Baidu barely grew in the past year. Baidu's recent performance makes me cast doubt on its future growth capability which supports its current valuation.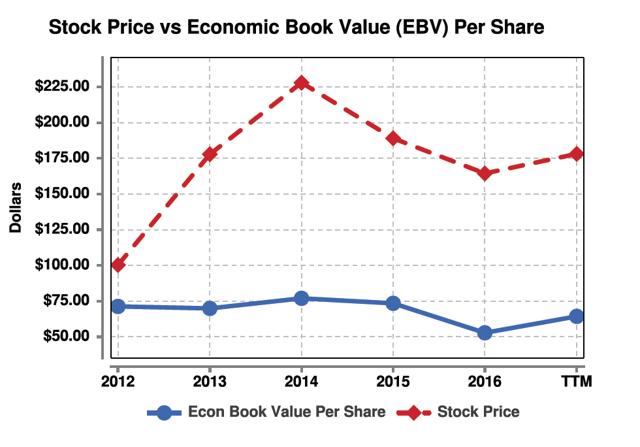 (Source: S&P Capital IQ)
The economic book value per share (EBV) measures the no growth value based upon the company's current NOPAT and the stock prices reflects market's expectation on the company's future profits. As of now, the stock price is almost 2.8 times the EBV for Baidu. In the meantime, Baidu has been facing stagnation while other Chinese tech companies, not only Alibaba and Tencent but also JD.com (JD) and NetEase, are growing at a much faster pace. If Baidu is unable to present investors a brighter future with more growth in the next year or so with its AI development, I believe Baidu's stock will face a landslide.
Furthermore, I am not so optimistic about Baidu's AI technology. Baidu is far from being the leader in the AI area. Alphabet/Google (GOOG) (GOOGL), Microsoft (MSFT), Amazon (AMZN) and Apple (AAPL) all have their own voice assistant products and they have incorporated AI into real-life practice. Furthermore, Google has the worldly renowned AlphaGo. Meanwhile, Baidu still has not published any finished customer-facing products even though it offered a platform to AI developers. Moreover, Andrew Ng, one of the top scientists in AI, resigned from Baidu earlier this year as the chief scientist. This change of leadership will cause turmoil inside Baidu and interfere with its AI development, which is already a few steps behind. Thus, I doubt that Baidu will succeed in occupying a significant share in the AI market. More importantly, will AI prove to be profitable? Will Baidu's investors be patient enough? Will the success arrive in time? I am sensing a bit of desperation rather than confidence in its "All in AI" slogan.
As I don't believe Baidu has much growth potential, my price target for Baidu's stock in 2 years will be around $100, which is still a bit higher than the $73 from Baidu's economic book value per share due to growth from iQiyi.
This article was written by
Analyst's Disclosure: I/we have no positions in any stocks mentioned, and no plans to initiate any positions within the next 72 hours. I wrote this article myself, and it expresses my own opinions. I am not receiving compensation for it (other than from Seeking Alpha). I have no business relationship with any company whose stock is mentioned in this article.
Seeking Alpha's Disclosure: Past performance is no guarantee of future results. No recommendation or advice is being given as to whether any investment is suitable for a particular investor. Any views or opinions expressed above may not reflect those of Seeking Alpha as a whole. Seeking Alpha is not a licensed securities dealer, broker or US investment adviser or investment bank. Our analysts are third party authors that include both professional investors and individual investors who may not be licensed or certified by any institute or regulatory body.