MLPs: Oil Takes Another Licking, MLPs Keep On Ticking
MLPs reversed intraday to finish positive Friday, which, when combined with outsized gains on Monday, was enough to finish the week slightly positive. That makes two straight positive weeks and two straight weeks of outperforming the S&P 500 and utilities. MLP capital markets activity has been negligible for over a month now, which is perhaps a contributing factor to MLP strength this week.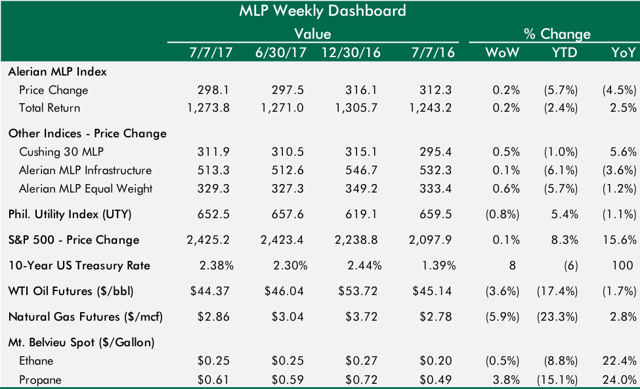 MLPs ticked higher despite another rough week for oil, natural gas and NGL prices (NGL prices above are from Thursday). MLPs have proven much less durable than advertised, and their rare strength this week in the face of weak commodities is a testament to how the perception of MLPs as durable has changed. It is now a surprise when MLPs show signs of durability in the face of macro volatility.
Speaking of durable advertisements, the Timex one below may remind some older investors of a time when MLPs could have shared Timex's catchy tag line. It's doubtful that either MLPs or Timex can fully restore their past glory, but they can prove useful for their intended purposes.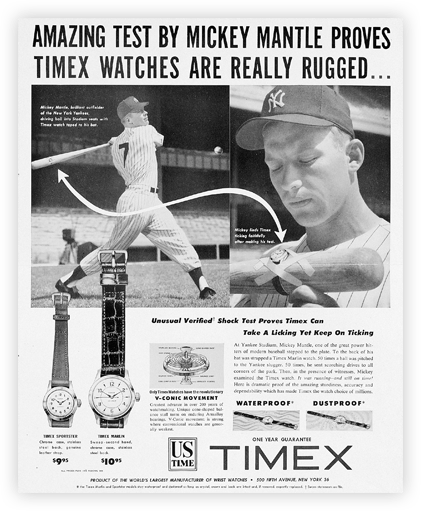 For MLPs, that original use case was as a fixed-income alternative tied to ownership of a long-lived, hard asset with some tax deferral advantages. That still seems achievable in today's low interest rate world, but it probably requires more capital discipline among MLPs, more rationalization and consolidation.
Poll Question Recap
I posed a simple question last week: Will MLPs have higher returns than S&P 500 in 2017? 62% said "No," which is logical given the dramatic outperformance year to date for the S&P 500 versus anything related to energy (ex-utilities).
But there are some optimists out there. Or maybe it's a combination of optimism for an MLP rally and skepticism that the S&P 500 will continue higher. In any event, thanks for participating. So far, so good, though, as we are one week into the second half, and MLPs are ahead by 0.1%!
Winners and Losers
MLP performance varied wildly this week, as usual. TC Pipelines (TCP) and Suburban Propane Partners (SPH) continued the recent trend of natural gas pipelines and propane MLPs - generally defensive groups of MLPs - outperforming. In June, those two groups of MLPs outperformed other sub-sectors as commodity prices dropped. Year-to-date laggards CSI Compressco (CCLP) and Teekay Offshore Partners (TOO) both spiked last week and faded this week, although both held onto some of their gains. Other than that, no real trends apparent.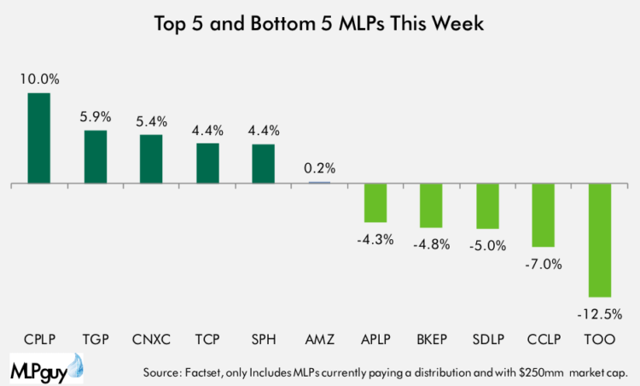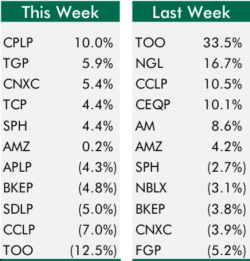 Year-to-Date Leaderboard
On the leaderboard for the year, PennTex Midstream Partners (PTXP) no longer trades but retains the best return, although I expect it to be overtaken at some point as the year progresses. Capital Product Partners (CPLP) popped into the top 5 after leading all MLPs for the week. Among the bottom 5, just Enbridge Energy Partners (EEP) had a positive week, but there were no changes in order among the losers.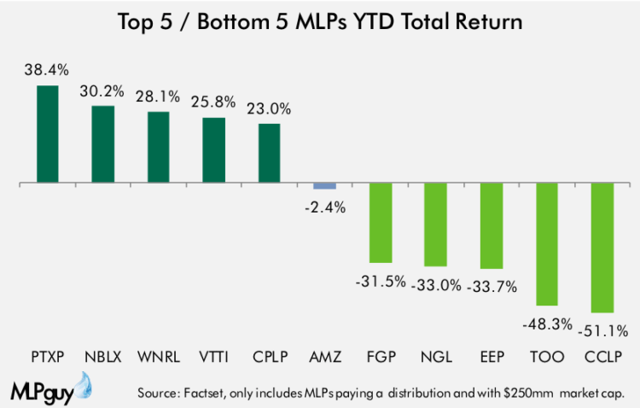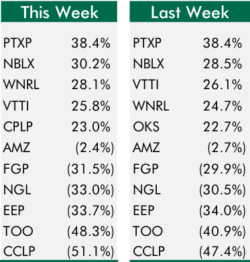 General Partners and Midstream Corporations
GPs and corporations underperformed the MLP Index this week, tracking more closely with oil prices. Perhaps that signals some shift in retail interest in MLPs versus institutional selling of corporations. Higher-beta names like SemGroup Corp. (SEMG), Archrock, Inc. (AROC) and Targa Resources Corp. (TRGP) did not surprise with losses on oil price weakness.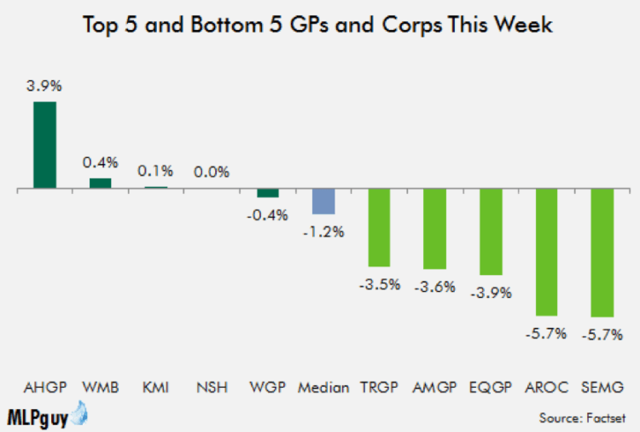 EQT GP Holdings' (EQGP) decline may have been related to the EQT Corp. (EQT) activist investor that made noise on Monday. Antero Midstream GP's (AMGP) decline may have been the result of lower NGL prices and natural gas prices. Williams Companies (WMB) continues to trade defensively after its strategic shift away from commodity businesses via asset sales and de-leveraging / simplification transactions early in the year. Tallgrass Energy GP (TEGP) didn't get much love this week despite its dramatic quarterly dividend increase.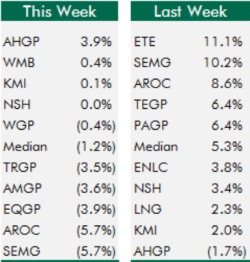 News of the (MLP) World
Another week of no capital markets action, although there were a few interesting tidbits related to... wait for it... the Permian Basin. Also, another CEO stepped up and bought units of its MLP, although that same CEO hasn't been spending much time with his fellow unitholders at investor conferences lately.
Growth Projects
Other
Distribution Announcements
This article was written by
I serve as Portfolio Manager on the Listed Infrastructure Team at CBRE Clarion Securities, a global asset management firm based in Radnor, PA. My primary focus is on investing in Midstream companies, including Master Limited Partnerships (MLPs), as well as transportation companies (rails, airports) for larger infrastructure investment team.