I'm quite the avid PayPal (PYPL) user. I like the idea of virtual currency transactions and the ability to easily send money to parties. I never would've thought PayPal would face open-source competition. There's a new cryptocurrency on the block that threatens to disrupt PayPal's business model. Should this disway investment?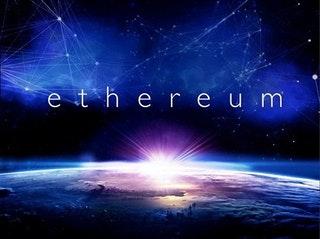 What differentiates Ethereum from Bitcoin
The (relatively) new kid on the block, Ethereum has differentiated itself from Bitcoin in a couple of ways. While PayPal has processed hundreds of transactions per second without issue, Bitcoin has been limited to 3-4 real world transactions per second since its inception. In theory, that number could be pushed to 7, but that requires that the transactions be of the most basic form (small amounts with few terms). Should Bitcoin garner serious adoption, it requires that it can keep up with demand. Here's where Ethereum comes in. Currently, the Ethereum blockchain can support around 20 transactions per second, which pales in comparison to PayPal. That is until the Raiden network comes alive, which promises minimal fees and virtually unlimited transactions per second. The technology is pretty complicated, but in essence, instead of bottlenecking the transactions by forcing them to be ledgered onto the ethereum blockchain, Raiden works P2P (peer to peer).
I've been playing with Ethereum for a couple weeks now, and it is quite intuitive. Within an hour I figured out how to get my PC mining the virtual currency, had a wallet signed up and joined a "pool" which allows me to pool resources with other "miners".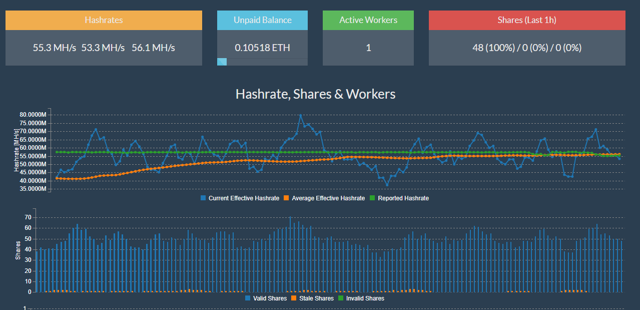 Source: My ethereum mining operation (my desktop)
None of this is particularly good for PayPal. Ethereum provides complete anonymity, while PayPal is bound by immense government regulations. It took me less effort to begin to mine my own ethereum than it would have been to create a PayPal account. Sending and receiving currencies was just as simple, and the algorithm would make it simple for one to layer on PayPal style services and protections.
Another big plus of holding currency in ethereum instead of PayPal is the lack of the currency's dilution. There's a reason people don't like holding a lot of cash in, cash. If your money is not doing something (invested) it's constantly losing purchasing power. There are a limited number of ETHs that will ever come into existence, and each one is harder to produce than the last.
PayPal's investment thesis
PayPal has always seemed like a much more sensible holding to me than the FANG stocks. It trades at a premium multiple (over 40x), but it is also posting excellent growth. Despite its newfound competition, PayPal continued with its string of excellent financial results. The company grew its customer base another 10% to almost 200 million, and they grew the total payment value by almost a third.
While other authors on Seeking Alpha discuss the investment as being sound assuming a near 30x EBITDA valuation, I see this as assuming the best case scenario. Should the headwinds start to affect performance, which I believe they will, based on Ethereum solving the main issue that held back BitCoin, growth, and multiples will face significant compression.
Let's play with the two scenarios I see most likely and determine what a fair valuation is for Paypal.
Scenario A, Crypto bubble:
This is what the market currently expects, given Paypal's frothy valuation. In that case, we have what is a fairly valued company (cheap relative its peers like Square (SQ)). The company is growing TPV 25% YOY with no end in sight, trading at below 30x FCF and can grow rapidly into a large scale Visa (V). This seems like an acceptable, albeit historically expensive entry point.
Scenario B, Cryptos soar:
What concerns me about PayPal is what their bread and butter are, online transactions. While Visa, MasterCard and Square all focus on physical transactions that are much more immune to cryptocurrencies, PayPal could be hit hard by an improved Ethereum or PayPal. Sites like Overstock (OSTK) already accept bitcoin. They are actually working on a blockchain stock exchange, I'll be writing on it, follow me if that interests you... Then PayPal's premium valuation relative Visa and MasterCard (MA) could actually head in the other direction. Those names trade in the high 20s forward PE, while PayPal trades above 40. That presents a lot of downside risk if PayPal's growth is hit by cryptos. Assuming PayPal fetches the same multiple as credit card companies should crytpos take-off (I believe it'd be lower), that puts the stock at $35 (30% downside risk). That doesn't mean the stock would be cheap, either. That gives it a high 20s ratio. Should they begin to experience additional pressure, there is plenty more room to fall.
What to do
I'm going to wait. I'd like to see where cryptocurrencies go after they can support enough transactions to bring them into the mainstream. While PayPal is no Amazon (AMZN) it is certainly no fire sale either. I'd consider it expensive given the industry headwinds it faces. If you have cash burning a hole in your pocket, I'd look towards MasterCard, Visa or Amex (AXP) instead.
Thank-you for reading. If you enjoyed the article, please scroll up and click the orange "FOLLOW" button next to my name to receive future articles.
Disclosure: I/we have no positions in any stocks mentioned, and no plans to initiate any positions within the next 72 hours.
I wrote this article myself, and it expresses my own opinions. I am not receiving compensation for it (other than from Seeking Alpha). I have no business relationship with any company whose stock is mentioned in this article.