Introduction
It was the best of times, it was the worst of times.

-- Charles Dickens
Precious metal investors have two distinct mindsets: physical buyers and paper buyers. Paper investors in ETFs purchase price exposure to silver, not the metal itself. Investors in silver ETFs experienced the worst of times this past week, seeing a price decline of over 6%.
Owners of physical silver of course experienced the same declines, but may have a different mindset. In their view, this price decline may have created a great opportunity to convert more fiat currency into real, tangible savings. Looking back, physical buyers of silver might say that this was the best of times.
We aren't attempting to moralize about the evils of the paper market; we participate in both the physical and paper markets. We hold vaulted silver, and also trade the paper ETFs – both long and short – based upon what we believe to be high probability trades.
Summary View
Each week, we publish our view and outlook for the week ahead for gold and silver and the iShares Silver Trust (SLV). We read all comments from the Seeking Alpha community and appreciate the many insights and perspectives.
We take a multi-factor look at this market in an attempt to provide perspective, not "final answers." Last week, we were cautionary on SLV entering the week, but mid-week attempted to trade the bottom when the Viking Silver Indicator flashed an under-valued signal. When that signal went back to neutral, we exited our position neutral before the end-of-week carnage, and we will enter next week once again cautionary with no positions.

Technical Picture
When SLV broke beneath its recent 2016 low, it was a bad sign for silver bulls, and there is little doubt that the bears have the technical upper hand on a longer-term basis. The SLV Fibonacci retracement appears to have some validity, showing support near $14.50. The weekly RSI is showing an over-sold condition; the last time that RSI was this low, SLV rose the next week each time. Nevertheless, only one of the three times did signal that the near-term bottom was in place. We would not be surprised to see a relief rally this week, which may or may not signal that a short-term bottom is in place.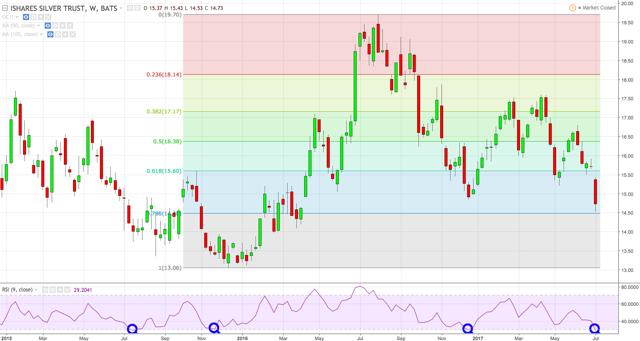 From a daily or weekly trend perspective, silver appears to be in a sharply declining trend as seen below. From a technical perspective, the silver bulls have little reason for hope. Overtaking $16/oz next week would be important for silver investors to change the technical narrative.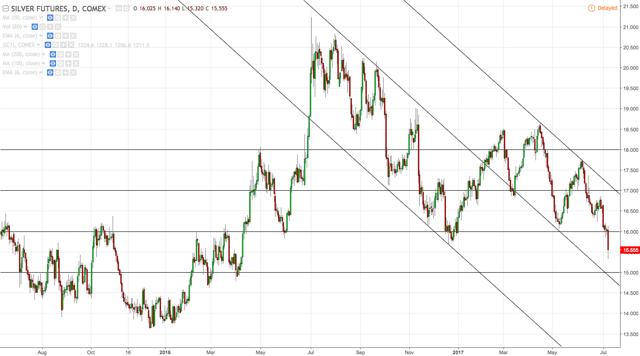 Precious Metal COT Report
By far the best news for silver comes in the form of this week's Commitment of Traders report, which gets more and more bullish by the week. Through July 3rd, commercials continue to rapidly reduce their net short position, while hedge funds rapidly reduce their net long position.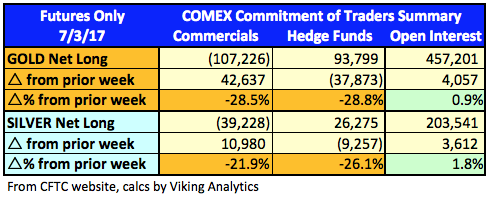 The "smart money" commercials have reduced their net short position to 39,000 contracts, its lowest level since early 2016 . . .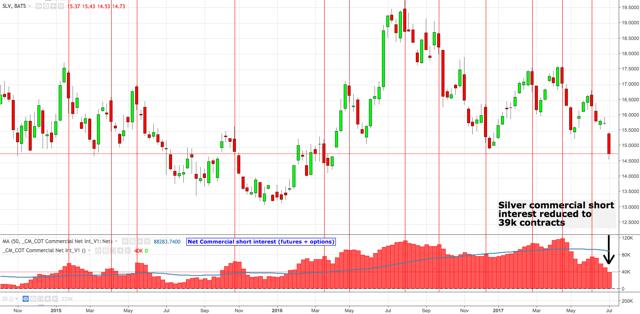 . . . while managed money (one category of what we have called "hedge funds") are reporting their lowest net long position since the summer of 2015. We believe that the end of week action could easily have taken the managed money participants into a net short position, something that often is a precursor to a multi-year bottom. We shall see.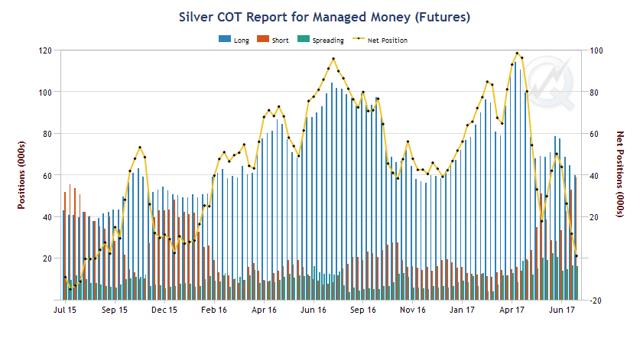 Source: CMEGroup
Safe Havens and Alternatives
The rating we provide for "safe haven alternatives" in our SLV decision matrix is based upon the Viking Silver Indicator. This indicator measures the relative divergence between SLV and safe haven assets like the USDJPY currency pair and Treasury Inflation Protected Securities ("TIPS").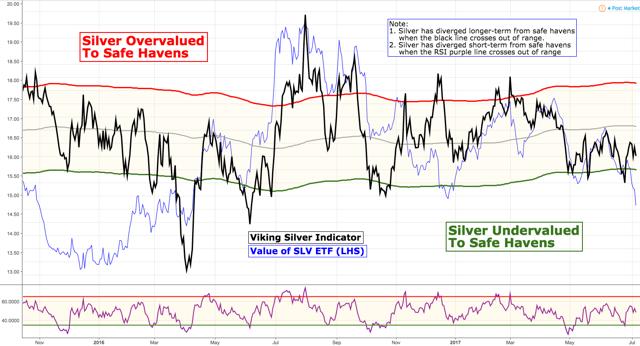 Even though silver has dropped to its lowest level since April 2016, our indicator does not currently consider SLV to be undervalued.
Our premium subscribers receive an update each day on our proprietary under-valued indicators for gold, silver and miners. If you click the links at the top or bottom of this article, you can learn more about our premium service.
Thanks for any feedback below. If you liked this article, please hit the follow button above!
Note all charts were created on the TradingView website, and the tables were created by Viking Analytics if not otherwise credited.
Disclosure: I/we have no positions in any stocks mentioned, and no plans to initiate any positions within the next 72 hours.
I wrote this article myself, and it expresses my own opinions. I am not receiving compensation for it (other than from Seeking Alpha). I have no business relationship with any company whose stock is mentioned in this article.