PDL BioPharma (NASDAQ:PDLI) acquires and manages products, royalty agreements and debt facilities in the biotech space. It is in the process of changing its business into a specialty pharma holding company, similar to Valeant Pharmaceuticals (VRX), Perrigo (PRGO), Horizon (HZNP), and Depomed (DEPO). Most of these types of companies, including PDLI, have taken hits recently. Specialty pharma companies have overextended themselves with debt from drug acquisitions, and due to public outcry and controversy in Washington, they aren't able to raise drug prices substantially anymore. This has resulted in the prices and multiples of specialty pharma products going down. This opens up the opportunity for PDLI to make an acquisition of a pharma asset at a good price in the near future, which it plans to do. PDLI is also aggressively selling its recently acquired flagship product, hypertension drug Tekturna, in the United States with a large sales force of 40 reps.
Biotech ETFs like IBB have done very well in the last couple of weeks. This is because Washington drafted an executive order that calls for easing regulatory hurdles for the drug industry. It is an industry-friendly stance, and doesn't call for drug pricing cuts as was expected by many healthcare investors. This is good news for pharma stocks and specifically for PDLI, as it's currently negotiating with copayers for its drug Tekturna. This bill also gives PDLI some wiggle room to increase the price a little for Tekturna as it sees fit.
Tekturna - A Drug That Generates Good Cash Flow
PDL's Strategy With Tekturna
PDLI acquired Tekturna from Novartis (NVS) in June 2016 for $110M up front, plus $89M on the first-year anniversary, and up to $95M in milestone payments based on sales performance. Tekturna is being sold under PDLI's subsidiary Noden Pharma. PDLI owns 98%, practically all, of Noden. Tekturna is a specialty drug that probably will never generate more than $200-300M per year in sales. But it is a solid revenue generator and fits in well with PDLI's culture of having consistent revenue streams, just like the revenue streams from its royalty and interest revenues.
Tekturna was created by Novartis and it got FDA approved on March 6, 2007. When it got approved, it was expected to be a blockbuster drug with peak sales in the billions. However, the drug has gone through many setbacks since approval.
Tekturna reached its peak sales of $557M in 2011. Then, in early 2012, a blackbox warning was put on it. This warning is to avoid the use of Tekturna (aka aliskiren) in combination with ACE inhibitors or angiotensin receptor blockers (ARBs). Also, if a patient has renal impairment or liver issues, is diabetic or has chronic kidney disease, he shouldn't be taking Tekturna. Other than that, Tekturna is an effective drug with seemingly less side effects than ACEs or ARBs.
Tekturna was an approved first-line therapy for hypertension. But because of its pricing, ACEs and ARBs are tried on patients first because they're generic and much cheaper. However, with ACEs and ARBs, some patients experience a chronic cough, as described here and here. Tekturna has significantly less side effects than those drugs, a much milder cough, so it's a good alternative to patients who experience bad side effects.
Novartis wasn't as interested in pushing Tekturna after the blackbox warning. It's just been distributing it worldwide wherever it's requested for the past four years without marketing it. This opened up the opportunity for PDL. After PDL's research, it concluded that if it picked up the marketing where Novartis left off, then the company could greatly increase the number of Tekturna treated patients.
I spoke with PDL's CFO, Peter Garcia, about Tekturna. Mr. Garcia said that the sales reps call on doctors to make them aware of the drug. Many doctors don't even know it exists. PDL's goal is to let doctors know about it and suggest it to patients who are struggling with the side effects of the ACEs and ARBs.
From PDL's investor presentation at the Jefferies 2017 Healthcare Conference, it says:
Tekturna is deemed to be an alternative to ACEs and ARBs, especially in ACE/ARB intolerant patients. ~12% are intolerant of both ACEs and ARBs = 9.3 million in U.S. alone.
Those 9.3 million patients are who PDL is targeting to take Tekturna. The Tekturna sales team is helping to guide doctors to identify their patients that have hypertension and are intolerant of ACEs and ARBs and prescribe Tekturna to them. The investor presentation also states that PDLI did a lot of research regarding Tekturna before acquiring it. The company conducted 21 interviews with physicians, hypertension specialists and payers. It also conducted a survey which 209 professionals of this demographic participated in. The company concluded that promotional efforts could increase the number of Tekturna treated patients.
The presentation shows the recent monthly revenue of Tekturna and Tekturna HCT below: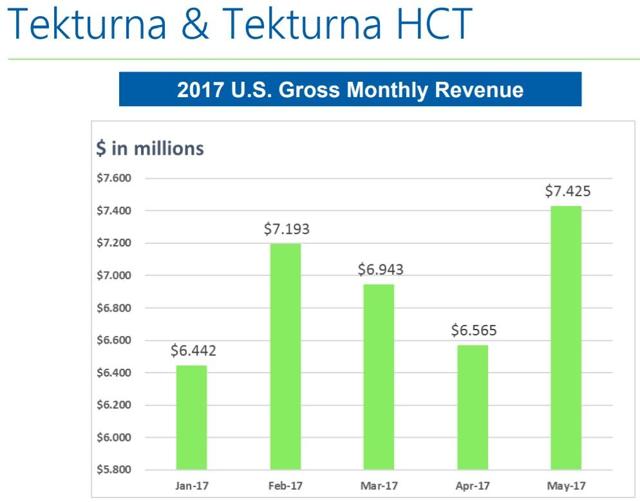 The number of Tekturna scripts in the US got a boost in May 2017, after falling the previous two months. This was likely a result of the sales force gaining traction.
PDL will focus on marketing Tekturna in the US, as it can get a higher price for the drug there compared to other countries. The company will cut down and even remove Tekturna from countries where the sales are very little and it isn't profitable. This strategy for Tekturna might work better for a small company like PDL rather than a big global pharma powerhouse like Novartis.
Another of PDLI's strategies is to work with copay groups to minimize the copay to the patients. That's another goal that the sales team is working on.
PDL Is Looking To Make Another Specialty Drug Purchase With Its Cash Pile
PDLI is currently sitting on $200M in cash, and has positive cash flow. The company is looking to make one or two more purchases of a specialty pharma product. Ideally, this product will complement Tekturna, and the sales reps would be able to sell it to the same doctors who prescribe Tekturna. This would be in the cardiovascular space since Tekturna treats hypertension.
The dividend was cut and a share buyback was put in its place in March 2017. That way, if the company wants to make a big acquisition, it can put its buyback on hold. The buyback is to repurchase up to $30M of stock through March 2018. The company has already repurchased 7.6 million shares through April 30, 2017, at an average price of $2.16 per share, or a total of $16.4M. The additional $13.6M available for buybacks can be used as a backstop to protect against downside in the stock.
PDLI's High Book Value
In the latest earnings call, CFO Peter Garcia valued the company's book value at $4.65 per share as of the end of the first quarter 2017. Since that time, none of its assets have gone down. Since it's bought back shares, the total book value has gone up from buying back shares trading at below book value.
The company doesn't give guidance, but expects to remain profitable, said Mr. Garcia.
Tekturna is PDL's flagship and most important asset. But the company also has many other royalty and debt investments, as shown on page 29 and 30 of the June Investor Presentation. If an investment goes south, then it writes off the investment, which is what it had to do last year. Some assets still need to be written down, but even if those weaker assets go to zero, the book value of the company is still above $4.00 per share, according to Mr. Garcia.
PDL issued $150M of 2.75% convertible notes in late November 2016 due in December 2021. The convertible bond offering made the stock fall because investors don't like them. They are convertible which would dilute existing shareholders if the stock went up. But today, that news turns out to be good. It allowed the company to borrow funds at a low coupon rate of 2.75%. And because PDL did a cap call on the bond, the strike price to the company is $4.88. This means that the bonds will only be converted to stock if it trades at over $4.88 per share, much higher than the stock's current price of around $2.40 per share. Since the convertible bonds likely will never get converted because they expire in 2021, it's effectively just a bond with a 2.75% borrow rate. If the bonds do end up getting converted at some point, then shareholders will be happy as that's about twice the current share price.
Upcoming Catalysts
There are a few positive catalysts for PDLI coming up.
1. An increase in Tekturna sales will cause the stock to go up. As the sales force continues to work on selling the drug, they will find more doctors who will bite and start prescribing the drug more frequently.
2. Another drug acquisition to complement Tekturna will likely be looked at as good news. PDLI is looking to acquire more drugs and will likely make a new acquisition by the end of the year.
3. The company makes progress with the pharma payers. This will allow patients to get Tekturna at a lower price.
Any positive news flow from the above three catalysts could give the stock a nice boost.
Conclusion
PDL has a large cash balance, revenue generating assets, and a large sales force in place for its flagship drug, Tekturna. It is in a good spot to remain profitable while its book value is almost twice the size of its share price. Its continued buyback plan protects investors from downside in the stock. For a conservative biotech investment in today's healthcare business friendly government, PDLI looks like a good investment.