Delcath Systems Offers Significant Upside For Risk-Tolerant Investors
Summary
Delcath Systems is developing unique, proprietary medical products which are aimed at treating the unmet needs of patients with liver cancer.
There has been significant regulatory and commercial progress in Europe as well as substantial clinical trial progress in the United States.
Recently released clinical data has provided shareholders with renewed optimism.
Financial difficulties must be addressed in the immediate future if Delcath Systems is to succeed.
Significant potential upside awaits investors who are willing to tolerate the risk associated with this investment.
Delcath Systems (NASDAQ:DCTH) offers tremendous potential upside for investors who are willing to tolerate a high degree of risk. Shareholders stand to reap a financial windfall if the company manages to successfully navigate clinical, regulatory, and financial hurdles. Delcath Systems' rock-bottom share price provides investors with the opportunity to initiate a large position in the company and take advantage of this uniquely asymmetric risk/reward opportunity.
Introduction
This article will begin by discussing Delcath Systems and its proprietary medical products. Next, the diseases that Delcath Systems seeks to treat will be explored. The markets for these diseases will be outlined. The completed and ongoing clinical trials will then be described. The clinical progress in the United States as well as the regulatory and commercial progress in Europe will then be explored. This article will then explore upcoming catalysts for Delcath Systems' and the company's financial position. Finally, potential risks faced by Delcath Systems will be discussed. It will be demonstrated that Delcath Systems presents an asymmetric risk/reward opportunity for investors who are willing to shoulder the risks associated with clinical, regulatory, and financial obstacles.
This article will delve deeply into what has been happening at Delcath Systems for the last several years. Primarily, this thorough analysis is provided because no Seeking Alpha author has published detailed analytical coverage of Delcath Systems since May 2013. One article published on July 7th, 2017 briefly covered Delcath Systems' current financial situation but did not explore other aspects of the company.
Despite the lack of coverage, there have been plenty of significant developments. Therefore, this article will serve to provide investors with a detailed update on the company, its completed and ongoing clinical trials, its progress through regulatory processes, its financial position, and the potential risks faced in the future.
Delcath Systems
Delcath Systems is a medical device company focused on the treatment of cancer. Specifically, Delcath Systems is focused on the treatment of primary and metastatic liver cancers. The company has developed proprietary medical technology which directs high-dose chemotherapy into the liver. This innovation will be described in further detail below.
Melphalan Hydrochloride for Injection and the Delcath Hepatic Delivery System
Delcath Systems' proprietary product is Melphalan Hydrochloride for Injection which is used with the Delcath Hepatic Delivery System. The treatment takes place in three steps:
Isolation: A catheter is inserted through the arterial system and is positioned to deliver melphalan hydrochloride. The liver is then isolated by occlusion balloons which block the flow of blood from the liver to the heart.

Infusion: The liver is then saturated with melphalan which is delivered through the catheter.

Hemofiltration: Blood which exits the liver is collected and sent out of the body through a catheter. The blood is then sent through Delcath Systems' proprietary hemofiltration system which decreases the concentration of the chemotherapeutic compound. Finally, the filtered blood is returned to the body.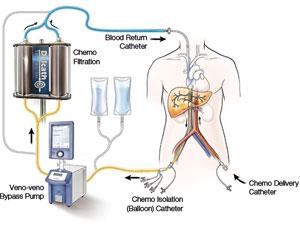 Source: Chemosat.com
The Delcath Hepatic Delivery System is considered an "investigational product" in the United States. In Europe, the system is marketed under the name "Chemostat".
Liver Cancers Targeted by Delcath Systems
Delcath Systems targets a wide variety of liver cancers. Specifically, Delcath Systems "has supported clinical research of liver directed high dose chemotherapy in patients with metastatic ocular and cutaneous melanoma, metastatic colorectal cancer, metastatic neuroendocrine tumors and hepatocellular carcinoma."
Liver cancer occurs in a significant number of new patients every year and is highly deadly. Statistics from the American Cancer Society demonstrate that:
About 40,710 new cases (29,200 in men and 11,510 in women) will be diagnosed
About 28,920 people (19,610 men and 9,310 women) will die of these cancers
Approximately 700,000 people every year are diagnosed with liver cancer. According to research from Cancer Research UK, illustrated in the following graph, older populations are the most likely to be diagnosed with liver cancer.
In sum, there is a large population of patients who are diagnosed with liver cancer each year. Furthermore, liver cancer is particularly deadly.
Market for Treatment of Liver Cancer
The market for the treatment of liver cancer is valued at approximately $700 million and is forecast to grow at a compound annual growth rate of 7-15% until 2021. There are currently only two therapies for the treatment of liver cancer: sorafenib and regorafenib. The lack of effective treatments is thought to contribute directly to the high mortality of patients diagnosed with liver cancer. Therefore, a new and effective targeted therapy for liver cancer would benefit patients and tap into a large and growing market.
Clinical Trial Results
Delcath has struggled in the past to achieve clinical trial results sufficient to support the approval of its proprietary percutaneous hepatic perfusion system. On May 3rd, 2013, an FDA panel voted unanimously against the approval of the Delcath Systems' Melblez Kit for treatment of ocular melanoma metastatic to the liver because the risks to patient health outweighed the potential benefits of the treatment.
More recently released data, however, has given Delcath Systems' shareholders more reason for optimism. On May 29th, 2015, the company presented positive data for patients with metastatic uveal melanoma who received CHEMOSAT treatment. The results demonstrated that the company's percutaneous hepatic perfusion system "can be used safely to control hepatic metastases in selected UM patients with a high rate of hepatic progression free and excellent overall survival."
On January 12th, 2017, Delcath Systems announced that retrospective data would likely be sufficient to attain the appropriate efficacy signal in its ongoing ICC Phase 2 trial and announced its intention to release interim results when they are ready. More positive news arrived on February 21st, 2017, as the company announced "that a retrospective, multicenter study demonstrated that 45.7 percent of patients with ocular melanoma that metastasized to the liver who underwent percutaneous hepatic perfusion (PHP) using investigational Melphalan/HDS experienced a complete or partial response. The study further showed that among those who responded to treatment, overall survival was projected to be more than three years."
In sum, while Delcath Systems has experienced difficulties in obtaining approval from the FDA in the past, there are recent indications that the company's proprietary technology is still producing clinically meaningful results for patients.
Ongoing Clinical Trials
Delcath Systems is engaged in several ongoing clinical trials in order to determine the safety and efficacy of its proprietary technology in treating metastatic ocular melanoma, as well as primary liver cancer. The following graphic demonstrates the clinical programs which are currently underway.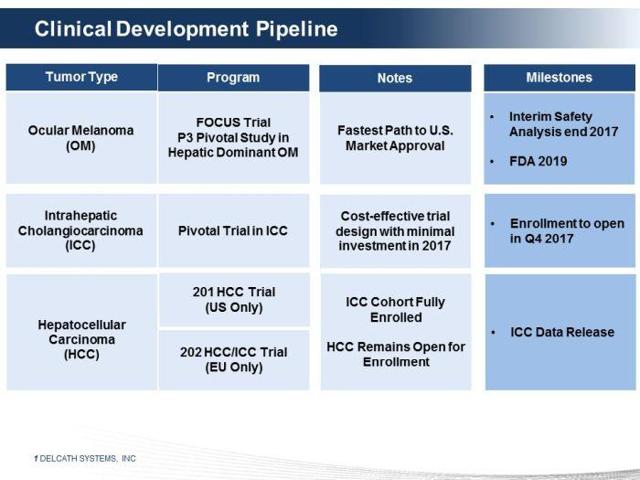 Source: Delcath Systems
FOCUS Phase 3 Clinical Trial
The FOCUS Phase 3 trial "is designed to evaluate two groups of patients who have melanoma that has spread from the eye to the liver: one group (50 percent) will get high-dose chemotherapy delivered specifically to the liver, while the other group (50 percent) will get one of four standard best alternative care treatments."
This clinical trial will evaluate the survival of patients and the response of the cancer to the treatment. Delcath Systems has agreed to a Special Protocol Agreement with the FDA for this clinical trial.
Pivotal ICC Trial
The pivotal ICC trial will assess the efficacy and safety of Percutaneous Hepatic Perfusion for the treatment of patients with intrahepatic cholangiocarcinoma (primary liver malignant tumor). In March 2017, it was announced that Delcath Systems had agreed to a Special Protocol Assessment with the FDA for this trial.
Special Protocol Assessment
The fact that Special Protocol Agreements have been agreed to with the FDA for both clinical trials is a significantly positive development for the company. Essentially, the Special Protocol Agreements mean that the FDA has considered the design of the clinical trials and agrees that the trial designs will be sufficient to meet regulatory requirements if trial objectives are met. These agreements should provide investors with optimism that if the clinical trials meet their objectives, regulatory delays will not pose major obstacles to the commercialization of Delcath Systems' proprietary medical products in the U.S.
European Regulatory and Commercial Progress
The Delcath Hepatic CHEMOSAT Delivery System is commercially available in Europe. The first commercial order of the CHEMOSAT Delivery System was announced on March 20th, 2012. Since then, use of the CHEMOSAT Delivery System has expanded significantly in Europe. On December 2nd, 2015, it was announced that 250 treatments with the CHEMOSAT Delivery System had been completed in Europe since commercial sales began. Further good news arrived on April 18th, 2017, when it was announced that Spire Southampton Hospital had performed over 100 procedures with CHEMOSAT Delivery System.
Next Upcoming Catalyst
The next significant upcoming catalyst for Delcath Systems which may have a significant impact on the company's share price is the release of the FOCUS Phase 3 interim safety analysis in 2H 2017. Publication of data in peer-reviewed journals and/or the presentation of data at scientific conferences and investor presentations may also help to increase the share price.
Possibility of De-listing/Reverse Split
Investors considering Delcath Systems should carefully assess the company's financial position prior to initiating a position. It is impossible to ignore the fact that shares in the company have lost around 99% of their value over the past few years. This is a significant issue not only for the value of shareholders' investments in the company but for the NASDAQ listing requirements as well. NASDAQ sent a notice to the company stating that it must close at or above $1.00 per share for a minimum of 10 consecutive business days prior to August 14th, 2017. This date is now fast approaching. Management has proposed a reverse split in order to meet the listing requirement. This must first be voted on by the company's shareholders.
It is possible, however, that Delcath Systems could seek and obtain a 180-day extension which would allow it to continue trading below $1.00 per share as long as it demonstrated an intention to resolve the issue and met other listing requirements. Delcath Systems has successfully sought an extension to a de-listing notice in the past when it was granted an additional 180 days in 2013. Some investors may decide to wait to see if an extension is granted before taking a position in Delcath Systems. Others may wish to invest prior to this potential event in order to take advantage of the low share price.
Risks
There are plenty of risks on the road ahead for Delcath Systems. Like any clinical stage biotechnology company, Delcath Systems' could experience regulatory setbacks. Clinical trials could fail to meet any or all of their safety and efficacy endpoints. Furthermore, the company could face unexpected financial costs which cripple its ability to carry out its clinical programs. Finally, there is potential for de-listing if the company fails to attain the 180 extension.
Conclusion
The diseases targeted by Delcath Systems' proprietary medical systems represent a large market which is largely underserved. Recent clinical developments should provide a significant degree of optimism to Delcath Systems' shareholders. Delcath Systems offers plenty of upside to investors who are willing to face considerable regulatory, clinical, and financial risks.
Editor's Note: This article covers one or more microcap stocks. Please be aware of the risks associated with these stocks.
This article was written by
B.A, University of Toronto. Juris Doctor, University of Saskatchewan.I am an individual investor focused on biotech, technology, and natural resources. I have also recently started covering the marijuana industry.I often write about undervalued biotech companies with significant potential to disrupt existing markets. I will increasingly cover the market for recreational and medicinal marijuana which is poised to rapidly expand as legalization takes place in Canada and several American states. I am a graduate of the University of Saskatchewan College of Law and have spent several years researching the interaction between Indigenous rights and natural resource development in North America, Australia, and New Zealand. Much of my writing on Seeking Alpha focuses on the impact of social, legal, and political factors on the North American resource extraction sector.
Analyst's Disclosure: I/we have no positions in any stocks mentioned, and no plans to initiate any positions within the next 72 hours. I wrote this article myself, and it expresses my own opinions. I am not receiving compensation for it (other than from Seeking Alpha). I have no business relationship with any company whose stock is mentioned in this article.
Seeking Alpha's Disclosure: Past performance is no guarantee of future results. No recommendation or advice is being given as to whether any investment is suitable for a particular investor. Any views or opinions expressed above may not reflect those of Seeking Alpha as a whole. Seeking Alpha is not a licensed securities dealer, broker or US investment adviser or investment bank. Our analysts are third party authors that include both professional investors and individual investors who may not be licensed or certified by any institute or regulatory body.