I will do my best to give you facts, not fluff.
For those who have followed me in the past, I appreciate it. It's been a long while since my last SA article. (Sorry to those who were counting on me always having time to write articles?) No, I am not huddled in a corner fearing "expert" analysis showing me up. The reality is my family has moved and I have a new job - which I love - giving me less time to write up companies I follow. Little has changed in the time "away" regarding manufacturers of firearms, however I have a few points that might be useful for your future investment in Ruger (RGR), American Outdoors Brands (AOBC) and Vista Outdoors (VSTO). What I hope to point out is what the trends are showing, and I believe trends can be followed.
* Something big IS happening!
NICS Data
It is always a good thing to start with NICS checks. I have mentioned many times that NICS are not a perfect proxy for demand, but it is a decent measure that is easily tracked and followed. It does give us some insight into what is happening in the market for firearms.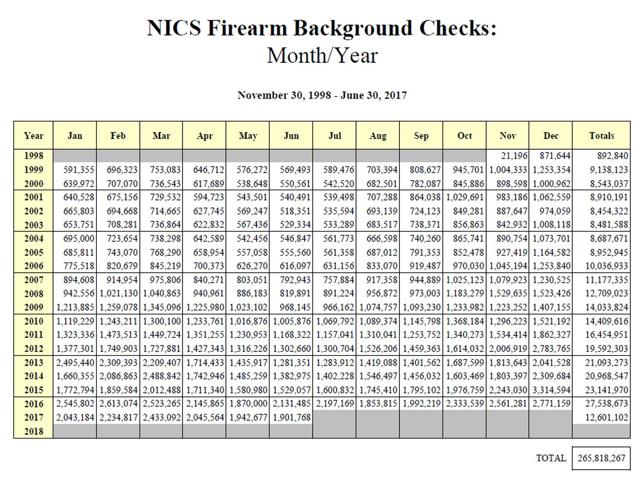 (Image source)
At first glance, NICS appear to show that sales are down nearly 20% from the 2.1 million checks the same month of 2016. (As mentioned many times before, the industry is cyclical and has a typical pattern that can be followed each year.) This could be a sign of a worrying drop however it is too early to know for sure as June showed 1.9 million checks for 2017 which is still above the 1.52 million checks that were run during June of 2015. (So it is down roughly 20% from 2016, but it is still 24% higher than 2015.)
May numbers show us that NICS were strong with a record May, even beating the 2016 numbers. This is part of why we need to see more data before we can know what the market is doing for sure.
NICS Data, a Closer Look
What is even more interesting is the trend I discussed in my last article, listed here. If you chart out the overall NICS numbers we could be getting a deviation from the typical pattern which could be a break in the trend. Based on overall checks this could be problematic.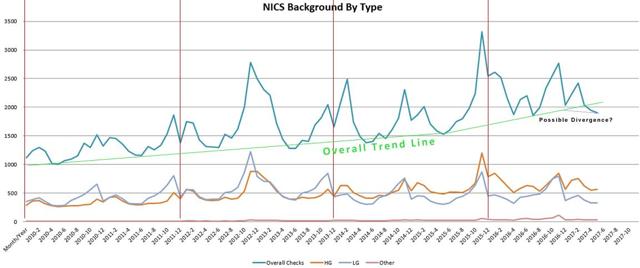 (Image source: NICS data compiled in excel on my computer)

During the last few months, numbers have fallen a little bit below the trendline for all checks. This trendline shows every type of check without looking at the type of firearm or device. However, the second chart shows better what is truly happening.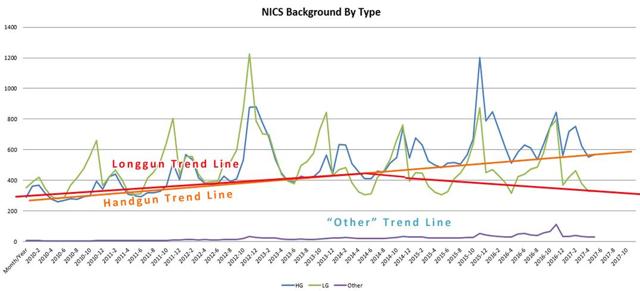 (Image source: NICS data compiled in excel on my computer)

It is apparent that Long guns are in decline. It is also apparent that handguns are still having increasing NICS checks. (Other is also increasing, but is a much smaller percentage of the market for background checks.) The trendline shows that the Vista Outdoor company Savage Arms – maker of rifles – will have a tough time breaking records if things continue in this direction. Luckily for Vista they only receive about 10% of their income from Savage Arms. The majority comes from ammunition and other firearm accessories and products. However the ammunition market seems to be one where people are expecting deals for the foreseeable future. (Barring any catastrophes or material shortages.)
Handguns, the Popular "Evil"
The trend for handguns is one I mentioned in my last article and Ruger and AOBC CEO's have been telling us about for at least a year.
Michael Fifer, former CEO and well paid board member, mentioned this a few months back. It sort of meanders through a few points, but does give you most of the reasons for increased sales…
"You've got the same factors driving interest; you've got more concealed carry in more states; you've got more new shooters coming along; you've got generally, it's more socially acceptable to admit to your friends that you actually like guns and enjoy having them and oh, by the way, come look at the newest one I just bought, let me show it to you. All that stuff drives demand. And some municipalities, you have the cops backing off. They're being seen by the media too often as the enemy. And so, they're backing off and crime rates in those cities are soaring to the roof. Those people could care less [ph] who's president, they want to defend themselves. So, all those drivers come back." (source)
In the Q1 conference call, James Debney mentioned this as well.
"First, personnel and family protection remains the strongest motivator for consumers purchasing firearms. Second, target shooting is the most popular recreational activity amongst firearms owners. And third, in the last 16 years, the pool of firearm consumers continue to grow and diversify. Today 35% of firearm buyers are young and ethnically diverse, while 38% are female. We believe these are positive long-term trends that are well-matched with our existing firearm and accessory products and our new product development plan"
Gemtech and silencers/suppressors
As Mr. Mackie did a nice job of pointing out, AOBC has purchased Gemtech. Gemtech sells silencers which will likely boost some sales for American Outdoors. However, we are likely at the ground stage of this run and numbers are likely very low for suppressors. (Of interesting note… Ruger is already in the suppressor business and has been for about a year.) There are also talks about a "hearing bill" in congress that could make suppressors easier to obtain in all states. It is a bit early to know what will come of all of this though.
Which one to Invest in?
Between Ruger and AOBC the nod goes to Ruger. There are many reasons why, but the numbers below don't lie. Debt is still something on the books at AOBC while Ruger carries none. Smith & Wesson has had a large promotional event during the last few months ($75 rebate check for SHIELD pistols) that just ended. The rebate was a large enough event that Smith & Wesson sent out a letter to purchasers that they were delayed on the rebate checks but that they would have it handled shortly. (Can we say reduced income and margins next quarter?)
They also have added a decent rebate for the Summer, which is usually the worst quarter for manufacturers of firearms. The new rebate is similar for a few states, but it is for magazines and ammo for the majority of the country. It is still a promotional offer that Ruger is not giving out as of yet.
Ruger seems to value the products a little more than Smith, and seems to be willing to let them pick up market share in order to reduce margins over at AOBC. It seems Ruger is not playing along in that game… at least not from what we can see.
Ruger also has a far higher short position at the moment, meaning any good news from them could send the stock much higher quickly.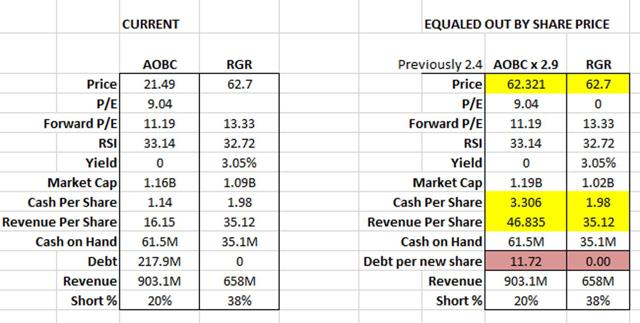 (Image source: Stock data compiled in excel on my computer)
While I believe Ruger is the better buy at this time, I would not necessarily sell AOBC either. If you are a long-term thinker, hold onto it. It will likely go higher in the future due to sheer sales numbers and conservative reporting.
If you are looking for faster opportunities AOBC is not one to keep though.
Disclosure: I am/we are long RGR, AOBC, VSTO.
I wrote this article myself, and it expresses my own opinions. I am not receiving compensation for it (other than from Seeking Alpha). I have no business relationship with any company whose stock is mentioned in this article.