Fitbit In A Fight For Its Life
Summary
Fitbit is struggling to compete on both the high end and the low end of the activity tracker market.
A large portion of Fitbit's consumers did not buy the device but rather received it as a gift and do not tend to keep using the device, and are unlikely to upgrade.
Activity trackers and health data are increasingly becoming a feature for ecosystem players such as AAPL, GOOG and MSFT which will keep potential profit margins for FIT very low.
It's no secret that recent times have been challenging for Fitbit (NYSE:FIT). I took the time to do a deeper dive into the company's troubles to see if there was any hope for a turnaround as some have suggested. Fitbit is a company that manufactures activity trackers that make it easier for its customers to track and increase their level of activity. As you would imagine, Fitibit's customer are mainly based in the US with a few other countries (UK, Canada, Australia) coming next.

In those markets, Fitbit is fighting for mainly users of Apple's (AAPL) iOS as those users typically have more revenues and thus are more likely to be focused on and investing in activity trackers. That also translates into much higher rankings for its app on the Apple App Store than the competing Android store: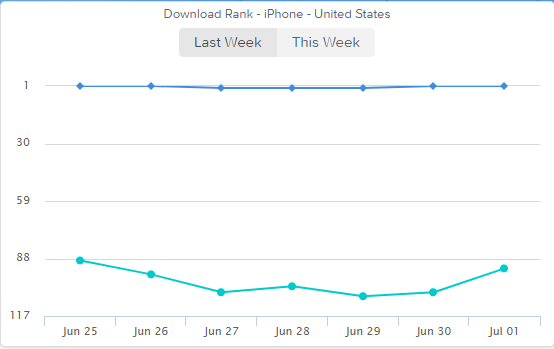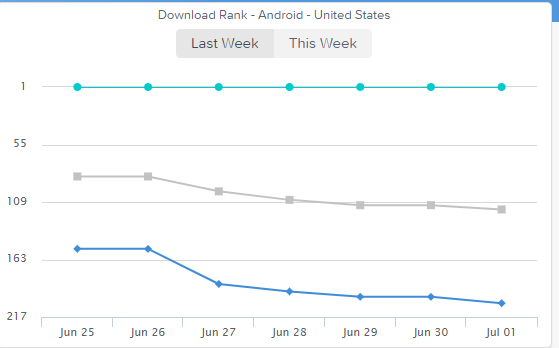 One of the many issues Fitbit faces, though, is its difficult relationship with Apple. In a world where users are looking for integrated, easy solutions, Fitbit's data does not sync with Apple Health, a big problem for many of Apple's users. The thinking behind that was to force its users to get data through Fitbit's own app rather than becoming a "commodity provider" of health data for Apple. That decision was one of the reasons why Apple stopped selling the Fitbit device and this is clearly an ongoing issue.

The fact that Apple now has its own health device, the Apple Watch, is obviously a big factor as well and has left Fitbit and other players in a tough spot. Already, smaller health players such as Pebble, Jawbone and Hello have or are in the process of shutting down. Why?

Health Data Has Become A Feature For Ecosystem Plays

I've written about the power of ecosystem plays (FAAMG) and the challenge in competing with them. They are playing the long game and are more than happy to compete at little to no margins to have more user data. We have very little information about Apple Watch's numbers, its revenues or profitability, but it's safe to say that Apple is putting a significant effort to capture the health market. Competitors such as Samsung (OTCPK:SSNLF) have also been launching activity trackers and I'd expect Google (GOOG) (GOOGL) to join that group as well in the short to medium term. Microsoft (MSFT) also is making a play. Such giants are willing to play the long-term game in an effort eliminate players like Fitbit because it's not just about making that feature profitable, but about making the overall ecosystem experience as good as possible.

Despite having a much higher price point, interest in the Apple Watch has now surpassed Fitbit: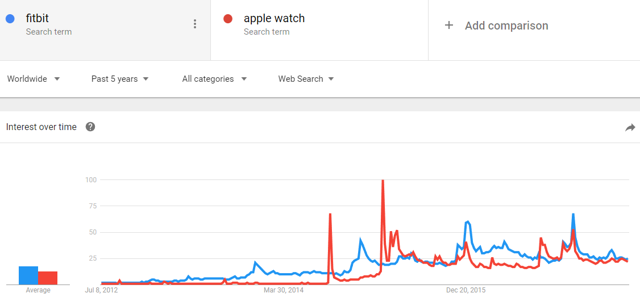 Who Is Buying Fitbit Devices?

One trend that you'd expect but is much stronger with Fitbit than you might expect are holiday sales. Don't get me wrong, having incredibly large sales around Christmas can be a good thing:

The problem is that it does seem like a large portion of these devices are purchased as gifts because the idea is great, the price is within the correct range and while there is a clear holiday boost, the retention of those new users does not hold up anywhere near what you'd hope for: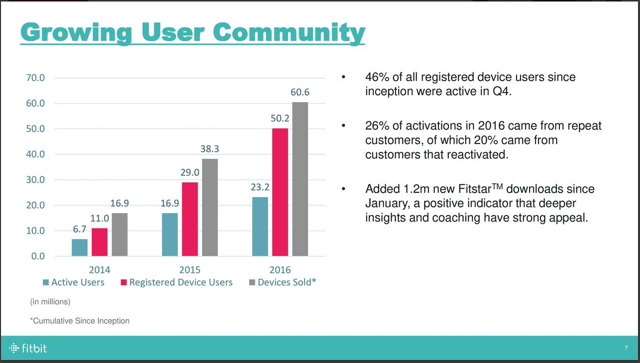 If new users are not even logging into the website a few weeks in, how could we expect them to upgrade their device? One of the problems for Fitbit is its profit margins, and I'd expect those issues to remain. Why? Because Fitbit remains a lower-end device and more serious activity trackers are typically going for products such as the Apple Watch or Garmin watches. That means Fitbit is unable to invest significantly into improving its device which is critical right now given the rapid pace of improvement and innovation expected over the next few years in health trackers.
On the low end, Fitbit is facing increased competition from products such as Huawei's band. As Stratechery's Ben Thompson puts it: "Fitbit is in a pretty untenable position: Apple will take the high-end wearable market, while Chinese competitors will take the low-end. "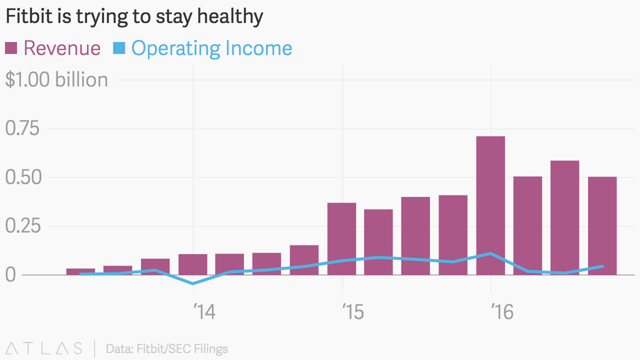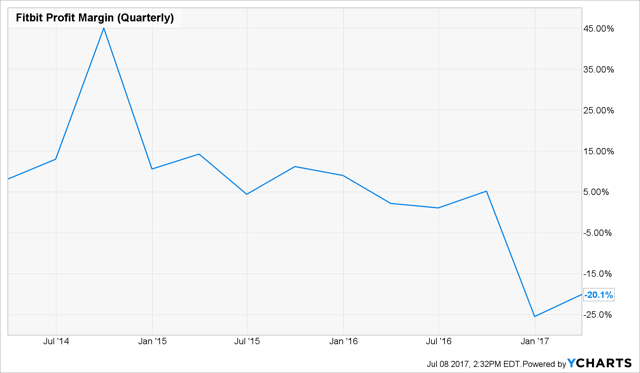 No Longer Worth A Gamble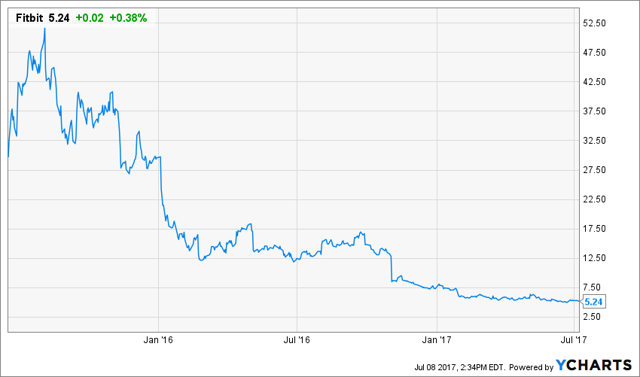 At one point, I believed Fitbit might be worth a gamble although I never quite pulled the trigger. Despite the rapidly decreasing market cap, I think FIT remains a must sell. It will fail to generate growth acceleration and compete with players that can play the very long-term game for activity trackers, mainly the ecosystem players. Fitbit is unlikely to convert many consumers from competing services so it relies on new consumers that gain interest in health tracking devices. That addressable market is shrinking which explains why Fitbit's revenues declined so much in the two most recent quarters. The other source of growth, of course, would be new product launches but given Fitbit's lower R&D spending, it's not surprising to hear about issues in new product developments that include an app store that's not ready, losing key personal, delays, etc. Feels like a story we've heard before including notably BlackBerry (BBRY) except that FIT does not have an enterprise recurring business.
This article was written by
Intelligent Speculator is a market discussion and research group that focuses mainly on technology stocks and macroeconomic trades. Intelligent Speculator does provide new stock picks usually on a weekly basis that are either outright or long/short trades. Intelligent Speculator provides views of the different trends in the internet marketplace and its effects on the stocks involved. Since the author has both a financial (CFA exams completed) and a technology-based (through various experiences as webmaster/strategist) experience, he has an advantage in looking through the numbers. Visit Intelligent Speculator (http://www.intelligentspeculator.net/)
Analyst's Disclosure: I am/we are long AAPL. I wrote this article myself, and it expresses my own opinions. I am not receiving compensation for it (other than from Seeking Alpha). I have no business relationship with any company whose stock is mentioned in this article.
Seeking Alpha's Disclosure: Past performance is no guarantee of future results. No recommendation or advice is being given as to whether any investment is suitable for a particular investor. Any views or opinions expressed above may not reflect those of Seeking Alpha as a whole. Seeking Alpha is not a licensed securities dealer, broker or US investment adviser or investment bank. Our analysts are third party authors that include both professional investors and individual investors who may not be licensed or certified by any institute or regulatory body.