This is the first in my 'Buyers Basket' series, which provides a quick weekly rundown of timely stock picks for active investors. Aimed at buy-and-hold DGI investors focused on total return, I will try to feature a mix of value and growth stocks as well as the occasional ETF.
Finding Where Technicals, Growth, and Value Align
Since my goal here is to offer quick, actionable stock picks with a fair amount of safety at current prices, I will highlight 10-20 companies each week that I feel have the best blend of current value, investor sentiment, growth catalysts, and technical price movement. As a long-only buy-and-hold investor, I will typically only feature stocks that I would also include in my Best Balance Sheets portfolio, which is composed of companies with a long history of revenue and EPS growth that possess the strongest balance sheets in their respective sectors.
Without further ado, here are my Buyer's Basket picks for the week of July 10th, 2017…
Technology: Broadcom Limited (AVGO), Red Hat, Inc. (RHT), Universal Display Corporation (OLED), Microsoft Corporation (MSFT)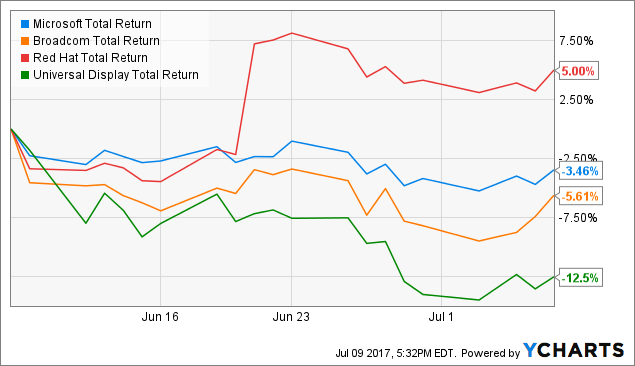 MSFT Total Return Price data by YCharts
Microsoft
Azure's cloud revenues climbed 93% in the latest quarter as DGI as Microsoft announced plans for significant layoffs in order to continue boosting its margins and cloud focus. I expect that revenue declines in its lower-margin hardware segment will be largely overlooked by investors given the massive cost savings of the planned layoffs and its clear pivot to higher-margin "intelligent cloud" expansion. Its stock seems to have formed a short-term bottom near $68 and looks to be headed higher.
Broadcom
Multiple tech selloffs over the past month have created attractive buying points for some of the best companies in the sector. At the top of this list is Broadcom, a rapidly growing semiconductor developer with an unbelievable 5-year dividend growth CAGR of 49% (5-year yield-on-cost: 8.22%!) and an equally impressive streak of revenue and cash flow growth. Now down about 7% from recent highs, the company is trading at a forward PE of only 14.4 and a low PEG of 0.95 with a 3-year revenue growth rate of over 50% and projected 3-5 year EPS growth of 15.4%. I think AVGO is a solid buy here.
Red Hat
Red Hat Software popped 10% in June after a stellar Q1 earnings report, and after a slight pullback the stock looks set to continue its upward trajectory. The company is firing on all cylinders while trading at one of its steepest discounts-to-fair value in the past ten years according to Morningstar. It may be trading at an all-time high with a PE of 66, but itIt is Barring a major market correction, this could be the last time we see it in this price range for some time.
Universal Display
Universal Display has exploded this year with its propriety OLED technology seeing worldwide adoption across smartphones and televisions. Apple (AAPL) just announced that in 2018 it will be using OLED screens in all of its new smartphones, which should provide a massive long-term licensing stream for Universal Display, which collects fees for any devices using their patented OLED technologies and materials. This allows the company to enjoy 20-30% operating margins compared to physical OLED screen producers such as LG Display (LPL), whose historical margins hover around 5% and who also pay licensing fees to Universal Display.
OLED seems poised to command a Qualcomm-like monopoly in the screen licensing space for years to come if current adoption rates continue, and (at least until now) without any of the legal drama. The stock has come down 11% over the past month and looks to be a good value here, which is saying a lot -- few if any established companies can boast a forward PE of 71 and still not be overvalued due to OLED's matching 71% net income growth.
Utilities: Southern Company (SO), WEC Energy Group, Inc. (WEC), Dominion Resources, Inc. (D), American Water Works Company, Inc. (AWK)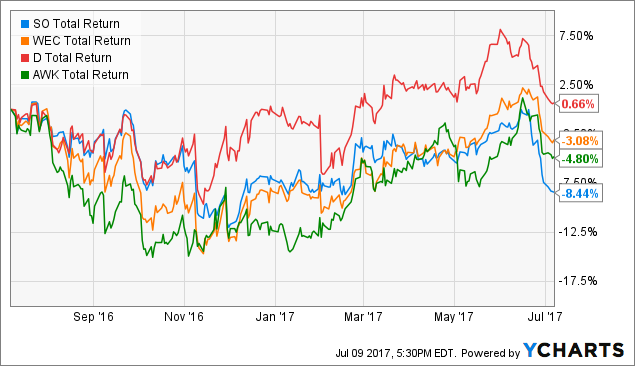 SO Total Return Price data by YCharts
These stocks comprise my favorite public utilities along with Next Era Energy Partners (NEP and its parent NEE). All offer long histories of dividend growth, wide moats, current yields between 2-5%, excellent balance sheets, and attractive technical buying points after declining 5-8% each over the past three weeks. While utilities may seem somewhat unattractive as the Fed mulls faster interest rate hikes to reach levels they can cut from in case of a recession, these companies likewise offer a great deal of safety in recessions and stand to benefit if a major infrastructure bill is passed. I plan to add to all of them here.
Media: Comcast Corporation (CMCSA), Scripps Networks Interactive, Inc. (SNI)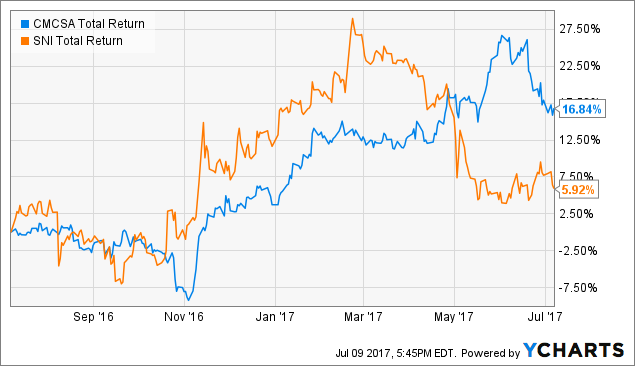 CMCSA Total Return Price data by YCharts
Comcast
Comcast has become the most diversified and tech-savvy U.S. media conglomerate, and ever since the Great Recession its stock has enjoyed lower volatility and steadier growth than its peers. The depth of its media portfolio under NBCUniversal is astounding (see below), and its visionary moves into the digital media and sports realm with Hulu, Fandango, and other apps are helping to drive growth. Down over 7% in the past month, now is a great time to pick up shares before the stock heads higher.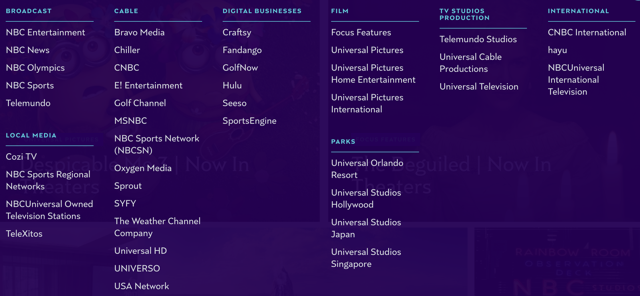 Source: NBCUniversal.com
Scripps Networks Interactive
Scripps is my favorite current value pick in the media space and has one of the strongest balance sheets in the sector. Consistent revenue and income growth for the past 10 years, an industry-leading operating margin, and a historically low valuation make this a strong buy for me. The company's little-discussed status as a dividend growth machine is a huge plus as well. Scripps has quietly been raising its dividend since 2008 at a fast clip: its 5-year DG CAGR is 20%.
Shows like House Hunters, Chopped, and their many spinoffs have become true TV staples for busy millennial viewers who just want reliable programming instead of flicking through hundreds of channels. A new partnership for Scripps to provide digital content on Snapchat (and hopefully similar deals to follow) should help drive growth with younger audiences and help the network navigate the consumer shift to digital packages. Now trading at the low end of its upward trend line, SNI is a strong buy for me.
Consumer Discretionary: Nike (NKE), Under Armor (UA), Lululemon Athletica (LULU)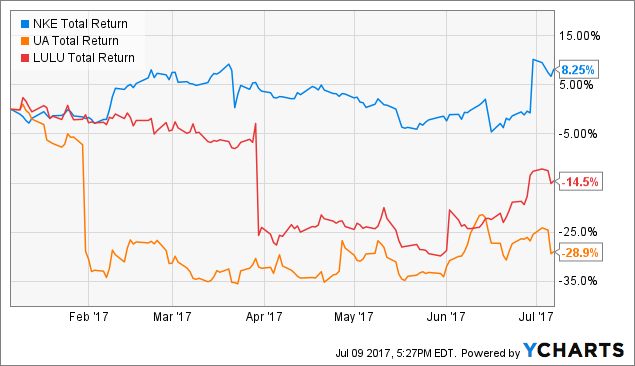 NKE Total Return Price data by YCharts
After Nike's encouraging Q1 earnings report sent shares up 10%, a turnaround in investor sentiment is pulling the rest of the apparel sector up with it. Lululemon's shares are now up over 20% from their bottom around $48 in mid May and are still trading a significant discount to historical levels. Under Armor may have an unrealistic PE of 48x earnings, but its 1.85 PEG ratio is lower than NKE's 2.12 (LULU is at 1.66) and it sports an equally strong balance sheet and the highest revenue, income, and operating cash flow growth among the three names.
I accept that markets are mostly (but not always) efficient, and if investors are willing to pay a premium for UA's growth prospects, I am not going to wait for the fundamentals of a single metric like PE to dictate my overall view of a stock. All of these companies have great balance sheets and significant growth opportunities ahead of them, especially with expansions into the Asian market and increasing digital sales. I think they are all a buy at this time, with UA being the riskiest but potentially the most rewarding.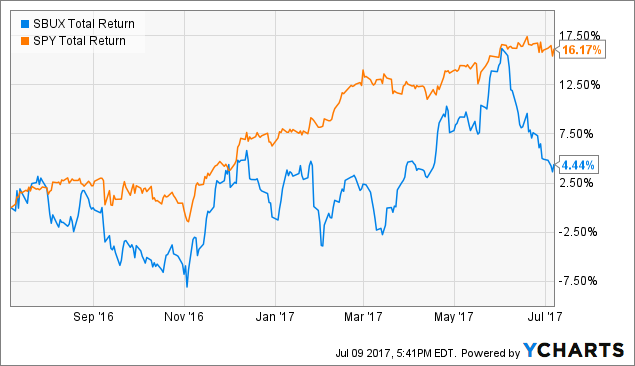 SBUX Total Return Price data by YCharts
Starbucks (SBUX)
With an outstanding 5-year dividend growth CAGR of nearly 25%, ample growth opportunities and favorable consumer trends in Asia, and an incredible balance sheet across the board, Starbucks seems to be firing on all cylinders these days. Luckily for investors, a nearly 12% drop in share price over the past month has left it at the low end of the upward channel it has been trading in since early 2009. Barring any unforeseen circumstances, SBUX looks like a strong buy here and may soon be headed upwards, and fast.
Consumer Staples: BUD, ABEV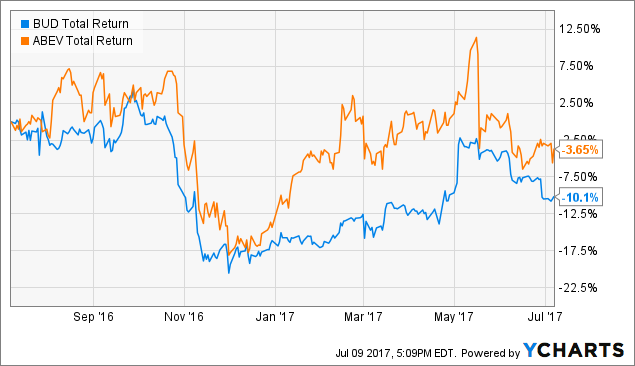 BUD Total Return Price data by YCharts
Anheuser-Busch InBev (BUD)
BUD has strong technicals at the moment, having established a nice slow climb after bottoming at around $100 last fall. Roughly even over the past three months, the stock is now trading at the lower end of its trading channel and seems to be continuing its upward trend. If you're worried about an impending market crash, this could be a great addition to your portfolio. BUD was extremely resilient during the financial meltdown and Great Recession and is still significantly undervalued compared to historical levels. It may be a fairly "boring" value stock, but it's low volatility, massive moat, and recession-resistant cash flows will help you sleep well at night.
AmBev S.A. (ABEV)
More adventurous international investors may also want to consider Anheuser Busch's Brazilian subsidiary AmBev , which in my opinion has an even better balance sheet better than its parent, higher expected growth, and a high probably of being fully acquired by BUD in the next few years. However, ABEV understandably carries significantly greater currency and political risk due to Brazil's ongoing political scandals and has much higher volatility. This is not a stock for risk- or volatility-averse investors, but the expected long-term returns make it well worth a buy at current levels.
Data Center REITs: Digital Realty Trust (DLR), CoreSite Realty (COR)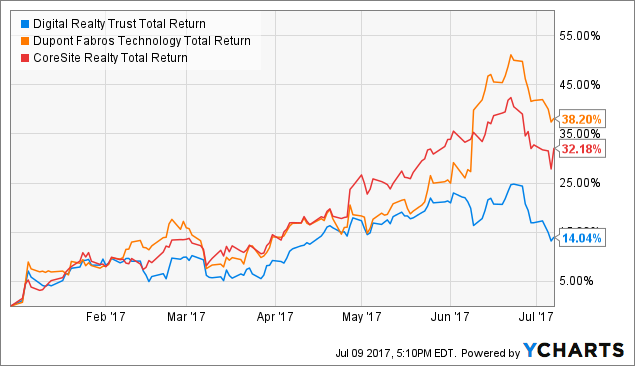 DLR Total Return Price data by YCharts
Digital Realty is the second-largest data center REIT, has been growing its dividend since 2005, and recently announced plans to acquire one of its top competitors, DuPont Fabros Technology (DFT). The acquisition has been received warmly by investors as it should help increase cash flows to bolster DLR's somewhat meager mid-single-digit dividend growth CAGR, which has been outpaced in recent years by DuPont and CoreSite Realty (COR), my other favorite pick in the space. After the tech selloff (and likely some profit-taking), DLR and COR are off their most recent highs by about 9-10% since late June and looks ready to head higher on increasing demand for data center space.
Retail REITs: National Retail Properties (NNN), Tanger Factory Outlet Centers (SKT)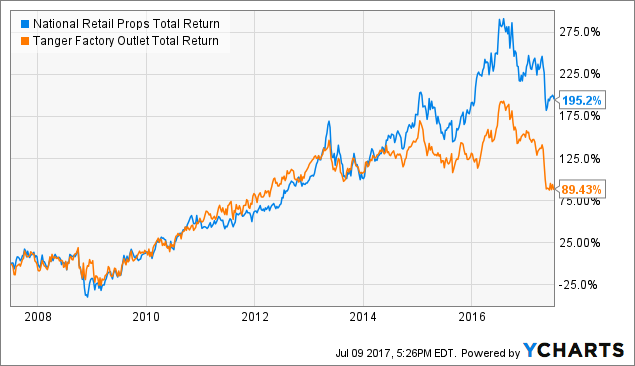 NNN Total Return Price data by YCharts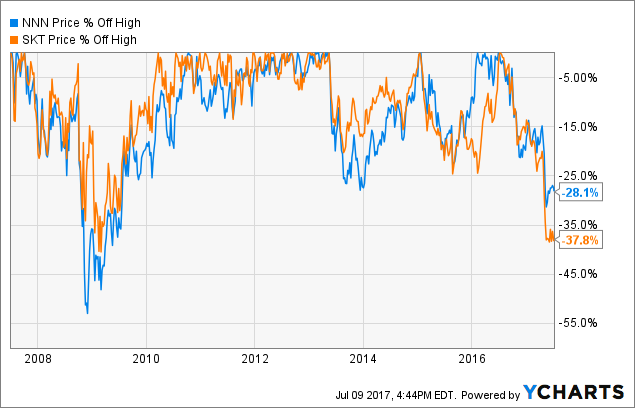 NNN data by YCharts
Possibly the two best-run and most "boring" retail REITs, National Retail Properties and Tanger Factory Outlets have also suffered more than their peers in the Amazon-fueled retail sector crash this year. If you, like me, are of the view that the selling is now overdone and that quality retail REITs will return to their former glory, then these names should be some of the safest bets around for a long-term hold. The value and potential for price appreciation hasn't been better for SKT and NNN since 2008-2009, and their 19-year dividend growth streaks should put DGI investors at ease. Factoring in price technicals and investor sentiment, I rate NNN a strong buy here and SKT a buy.
Defense & Industrials: LMT, UPS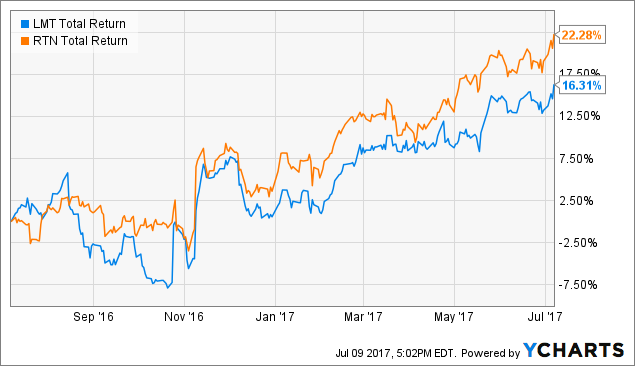 LMT Total Return Price data by YCharts
Lockheed Martin (LMT)
Lockheed's THAAD missile system has quickly become a sought-after centerpiece in a new worldwide missile defense arms race of sorts, as provocations from a defiant North Korea have heightened investor focus on this highly specialized technology. The THAAD system is propelling Lockheed's expansion into the Middle East and Asia as well as pushing the U.S. to increase funding to expand the system's capabilities.
As the world's largest government defense contractor, LMT has a decades-long string of contracts and projects ahead of it along along with with the near-term potential catalyst of a military budget boost from Congress. Over the past year its stock has been underperforming my other favorite defense holding Raytheon (RTN) despite having higher net income growth and a greater yield, and I think that trend may change soon. While there are many great defense companies to choose from, in my opinion LMT offers the best combination of growth, value, and risk at the moment.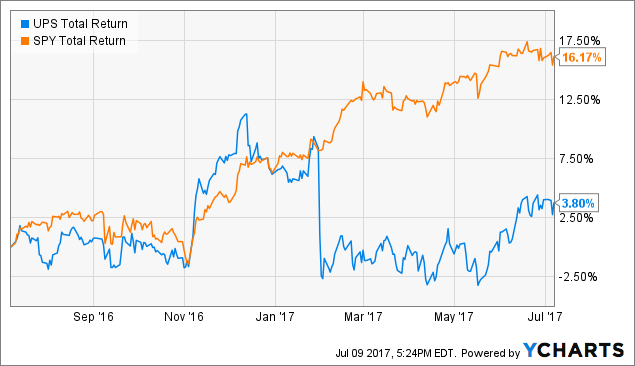 UPS Total Return Price data by YCharts
United Parcel Service (UPS)
UPS is up only 4.2% over the past year versus nearly 16% for the S&P 500. The company now has multiple growth catalysts with Amazon's rapid growth in shipping and its plans to shift 70,000 employees out of its defined benefit pension plan. While I'm always sad to hear about companies elminating pensions, the action should provide huge cost savings for UPS in the long term, and I don't feel that this has been fully priced into the stock yet. Now trading at $110.36, the stock has finally broken out of its holding pattern in the $103-108 range, and I wouldn't be surprised to see it testing its previous resistance at $116-117 in the coming months. UPS a also an excellent DGI stock currently sporting a 3% yield and a 5-year dividend growth CAGR of 8.1%.
Sources: Morningstar, GuruFocus.com, Yahoo Finance.
Author's Note: If you enjoyed this article and found it useful, please consider clicking the "Follow" button above to help me reach a wider audience and receive my weekly picks as well as deeper analysis of each position in my Best Balance Sheets portfolio, many of which are featured here. I look forward to hearing some of your own weekly pick ideas below.
Disclosure: I am/we are long MSFT, AVGO, OLED, COR, DLR, RHT, NNN, SKT, BUD, UPS, NKE, LMT, CMCSA, SNI, RTN, WEC, SO, D, AWK, NEP.
I wrote this article myself, and it expresses my own opinions. I am not receiving compensation for it (other than from Seeking Alpha). I have no business relationship with any company whose stock is mentioned in this article.