Dividend plays come from unexpected quarters, as this quick list of industry front-runners will show.
Toyota Motor Corporation
Toyota Motor Corporation (TM) is one of the world's largest auto manufacturers, narrowly missing the number one car maker crown to Volkswagen group (OTCPK:VLKAY) in 2016. The fight at the top has become extremely close as Volkswagen delivered 10.31 million units, followed by Toyota with 10.18 million, and then it was GM (GM) in third place with 9.97 million units in 2016. But when it comes to operations, there is Toyota Motor Corporation and then there is the rest of the pack.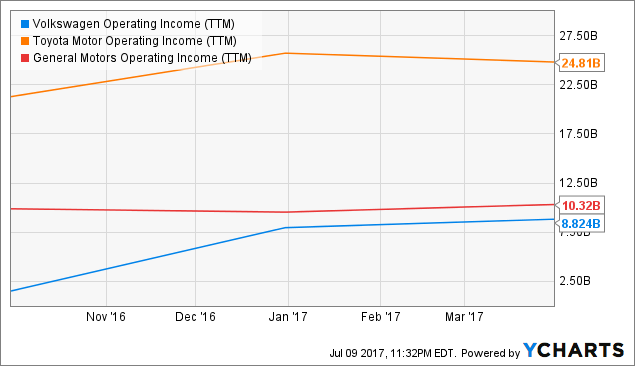 VLKAY Operating Income (NYSE:
TTM
) data by
YCharts
Toyota's operating margin steadily increased since the great recession, and stands as a testimony to the Japanese company's operational discipline in a highly capital-intensive and highly competitive industry.
Toyota's operating income for Fiscal 2017 was 1,994,372 million yen, while its interest expense was 29,353 million yen, or 1.4% of operating income. For Fiscal 2017, Toyota paid 702,108 million yen as dividends, which was 20.56% of their operating income of 3,414,237 million yen and 36.44% of their net income of 1,926,985 million yen. With payout ratio staying well below 40%, Toyota Motor Corporation has enormous amount of room to keep its dividends flowing and keep increasing them over the next several years.
Toyota Motor Corporation Dividends Per Share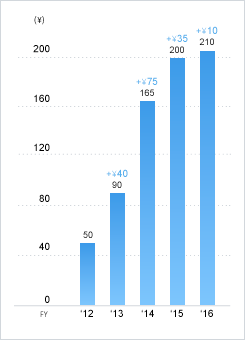 Source:Toyota-Global.Com
Unlike other auto companies, Toyota's sales are spread out all over the world and not overly dependent on a single market. Toyota's current dividend yield of 3.45% makes the company the best bet in the automotive industry for dividend investors who are looking for a long term play.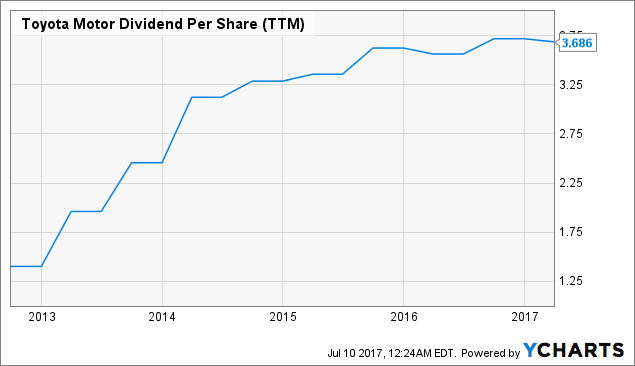 TM Dividend Per Share (
TTM
) data by
YCharts
United Parcel Service
The current dividend yield of 2.92% makes UPS (UPS) - the leading transport and logistics companies in the United States - a steal. Though there are several players in the logistics market, UPS and FedEx (FDX) are the two largest players controlling the crucial United States market. Both these companies spend billions of dollars every year to maintain their networks. UPS has more than 26,000 access points, 2000 operating facilities around the world and more than 100,000 vehicles, which helped them reach 10.3 million customers in 2016. It is just not easy for any company to reach that size and scale to compete with them; and, as such, their moat is as deep as it is wide.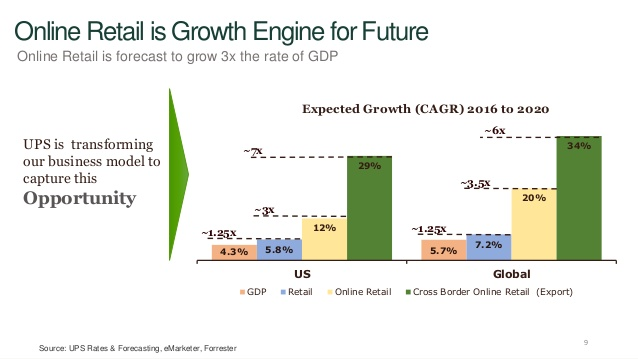 Source: UPS Investor Relations
Despite being a centuries-old industry, logistics is still expanding at a steady pace and will continue to increase over the next decade as more and more companies start shipping directly to their customers. E-commerce is exploding, which is bound to keep the demand for the service of UPS increasing steadily over the years.
From UPS' 2016 Annual Report:
Holiday retail sales grew 4% in 2016 as compared to last year, mainly driven by online sales, while the holiday season saw many categories of traditional brick and mortar stores struggle. Continued growth in e-commerce and omni-channel retail sales has driven package volume demand for residential products. Given these trends, our products most aligned with business-to-consumer shipments have experienced the strongest growth.
According to Business Insider, the National Retail Foundation "expects that online retail will grow 8-12%, up to three times higher than the growth rate of the wider industry. This suggests e-commerce sales are poised to fall between $427 billion and $443 billion, based on Census Bureau data."
UPS Revenue (TTM) data by YCharts
At the end of first quarter 2017 UPS had long term debt of $12.93 billion and booked $102 million in interest expense, accounting for 5.7% of their operating profit of $1.784 billion for the quarter. UPS paid $695 million as dividends during the quarter, or 60.17% of their Net Income. There is plenty of room for UPS to continue increasing its dividends over the next several years, and revenue growth is only going to help that case even further.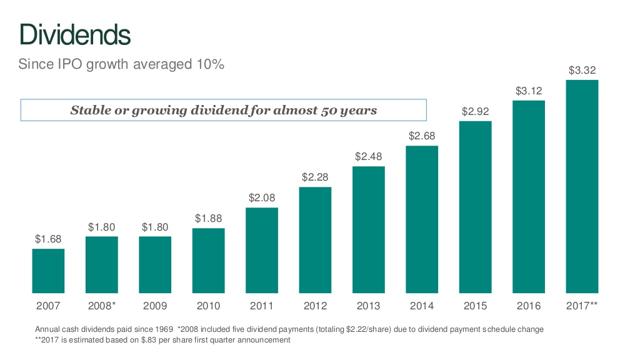 Source: UPS Investor Presentation
UPS is one of the best long term dividend plays, and with a near 3% yield it's a must-have, in my opinion.
Intel
Intel Corporation (INTC) is on a transformative path. After watching its revenue slow down due to weak PC demand during the 2012-2015 period, the chip maker decided to diversify its revenue streams and started pushing hard into its IoT and Data Center segments.
Intel's net revenue expanded 7% in 2016 and 8% during the first quarter of 2017. Client Computing Group, the largest unit that brings in more than half of their revenue, grew 6% during the first quarter, while Data Center Group was up by 6% and IoT reported 11% growth. Data Center Group and IoT Group had $4.2 billion and $721 million in revenues during the first quarter, respectively, while Client Computing Group stood at $8 billion. Both these segments are slowly gaining ground, reducing Intel's dependence on Client Computing Group. With all three segments growing for the last several quarters, Intel's short to medium term seems to be on solid ground.
Intel had long term debt of $20.678 billion at the end of first quarter 2017, while there was $7.99 billion in cash and short term investments. Intel's $36 million interest expense for the quarter looks small when weighed against their operating income of $3.599 billion. Intel paid $1.229 billion as dividends, 41.4% of their net income of $2.964 billion. There is enough strength in the balance sheet that will allow Intel to keep its dividends flowing even if it were to face any short term difficulty.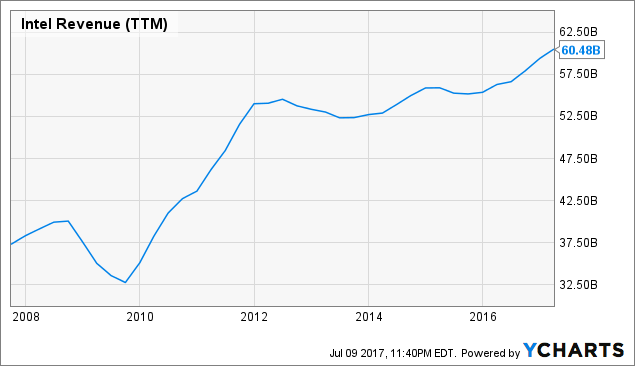 INTC Revenue (
TTM
) data by
YCharts
With revenue growth back on track, Intel's current above-3% yield makes the company an extremely attractive dividend play for the long term.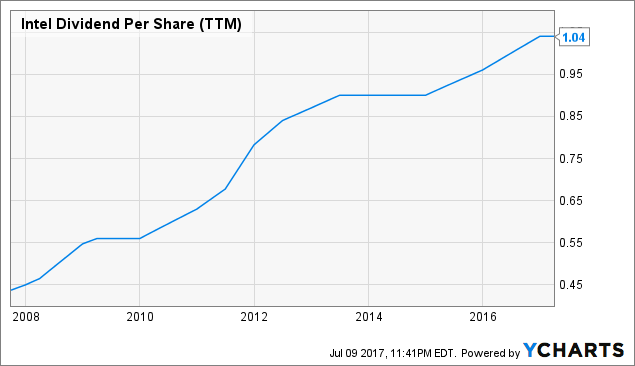 INTC Dividend Per Share (
TTM
) data by
YCharts
All three companies have yields around the 3% range. Intel has a strong balance sheet with growing revenues, UPS has a huge moat and has a clear path to revenue growth, while Toyota's operational performance is better than any other auto company in the world. All three companies are well worth the risk, and investors would do well to consider all three companies for their dividend portfolios for the long term.
Disclosure: I/we have no positions in any stocks mentioned, and no plans to initiate any positions within the next 72 hours.
I wrote this article myself, and it expresses my own opinions. I am not receiving compensation for it (other than from Seeking Alpha). I have no business relationship with any company whose stock is mentioned in this article.