Make No Mistake: Wal-Mart Executives Are Losing Sleep
Summary
The challenge of the Amazon/Whole Foods deal will be in preserving the Whole Foods culture, while integrating bold new practices for online and delivery.
Amazon gains valuable real estate, information, and grocery team.
Amazon will cut grocery prices, integrate its online platform, and take the market from Wal-Mart.
The Whole Foods Market (WFM) and Amazon (NASDAQ:AMZN) deal has the potential to fulfill the aspirations and promises of both John Mackey and Jeff Bezos. For John, it's about making healthy, natural and organic foods accessible to more people around the world. For Jeff, it's about a relentless determination to create the ultimate shopping experience for everything, and for everyone – and, in the nearer term, to beat Wal-Mart (WMT).
Accomplishing those two goals is also essential to their success as a combined entity. Jeff Bezos must preserve the culture, which creates the Whole Foods shopping experience. He must figure out a way (assuming he hasn't already) to effectively streamline the two businesses, thereby leveraging his core business, and dominating the grocery market.
In the early 1980s, few people, John Mackey among them, would have anticipated the impact Whole Foods Market (formerly SaferWay) would have on the grocery industry, as well as on public health. They have been the driving force, bar none, of a subsector of the grocery industry, consisting of natural and organic foods. Natural and organic foods have significantly outpaced the growth of the overall grocery industry, according to the Department of Agriculture Economic Research Service.
And the Organic Trade Association claims organic food sales grew by over 8% last year, compared to less than 1% for the overall industry. There are few signs this trend won't continue, as our society becomes more health conscious, and rising healthcare costs remain a pressing concern for businesses and individuals alike. As the sector becomes more competitive, supply costs will naturally come down for natural and organic foods as well.
Whole Foods began simply because Mackey, as an employee at a small Austin natural foods store, believed he could run his own store and wanted to give it a try. Later, with a couple of stores that began to achieve profitability, his ambitions grew, and he aimed to continue expanding. In 2011, Whole Foods announced they would aim to hit 1,000 locations in the United States alone.
In 2013, the two Co-CEOs, John Mackey and Walter Robb, told Jim Cramer of CNBC their goal was to actually hit 1,200 U.S. stores. Not long after that interview, they sailed into an unrelenting hurricane – a storm, which included numerous earnings and comparable same-store sales disappointments, as well as a food-weighing scandal. Earlier this year, in February, they announced they would be closing certain stores, and scaling back their goals for square footage.
Suddenly, with Amazon behind it, the concept of 1,200 Whole Foods stores seems more plausible than ever before, and Mackey is surely pleased, however careful to express it. With Amazon as its wealthy parent, it can reach a far wider audience, and make healthy, natural and organic products more accessible for everyone – John Mackey's legacy. In his book, "Conscious Capitalism," Mackey mentions that it wasn't until they went public that they, as a company, really felt they had any money.
Following their IPO in 1992, they expanded rapidly, largely through acquisitions of other natural food stores, and initiated a variety of other strategies that brought them to where they are today. Now, 25 years later, they're at another crossroads, where greater capitalization can really set them up for their next stage of growth. Success has brought new entrants galore into natural and organic foods - mainly traditional grocery chains.
Whole Foods is faced with ever-steeper price competition. They have a "cannibalization" problem, in which new stores eat into the sales of existing stores, resulting in disappointing performance releases to the investment community. Whole Foods' highly-paid team has been the root of the culture, which draws in its loyal shoppers, but their employment costs have been too high, leading them to reluctantly engage in cuts to their workforce, which have significantly damaged morale within the company. They've tried several solutions to their growth problems with less than favorable results. Merging online with brick and mortar is considered the next big wave for grocery. Where were they to turn next? Whole Foods needed this deal, and it's a big opportunity.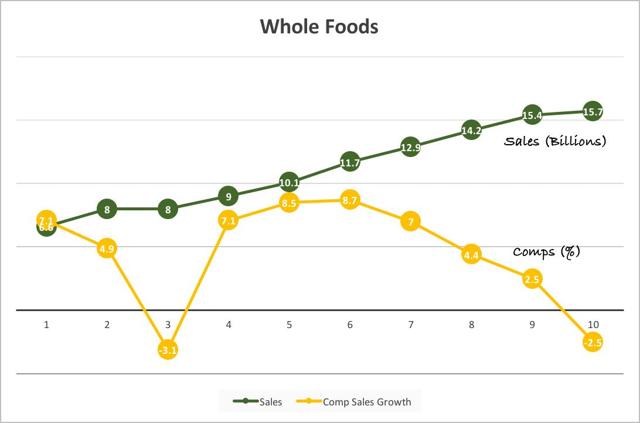 Source: Whole Foods Investor Relations
Amazon, on the other hand, has been experimenting with grocery since 2008 or earlier. According to a Bloomberg report earlier this year, Amazon's goal is to become a "Top 5 grocery retailer by 2025," which would require about $30 billion in sales for the category. Currently, it sells close to $9 billion in online food and beverage products, and Whole Foods sales for 2016 were $15.7 billion. Although Amazon has not been a master of this category, it is becoming the unrivaled master of retail.
Quarterly sales growth at Amazon for the last five quarters has averaged 26.6%, and operating cash flow grew by an average of 45.2% each quarter for the same period. The slow takeoff of online grocery and grocery delivery has a lot to do with trust. People like picking out their grocery items, particularly fresh produce items. Such is the reason why grocers and Amazon alike have come to understand they need to have some combination of online and brick and mortar.
Whole Foods is a master of grocery, particularly in natural and organic foods, the fastest growing category in the industry. They handle fresh food better than any other company alive today. Although, in 2016, its food and beverage market-share was still only 1.7% compared to Wal-Mart's 17.3%, Kroger's (KR) 8.9%, and Costco's (COST) 5.1%, it's one of the fastest growing major players in the grocery industry, and it has significant experience in food delivery as well.
With Instacart, its delivery partner, they collectively deliver more groceries to U.S. households than any other company, according to their 2016 annual report (albeit, this still makes up a small share of their total business). With its purchase of Whole Foods for $13.7 billion, Amazon instantly gains over 450 totally outfitted grocery stores as an alternative to spending billions developing pick-up locations on their own. Jeff Bezos and his team also gain invaluable information for moving into this space effectively – this is one of the most critical factors. Lastly, they get a team of experienced grocers, a culture – arguably the best in the industry.
Wal-Mart has 4692 U.S. stores in total, and 600 offer online grocery according to their latest annual report. They begin their report with, "Innovating to serve customers better is how Wal-Mart became the company it is today." No, "Low Prices," as a brand, is how Wal-Mart became the company it is today. A company, which indeed has very competitively priced items, but often resorts to lesser quality items to preserve its price identity.
With that also comes an outrageously poor shopping experience. As our economy grows, people demand better quality products and services. With this, Whole Foods and Amazon are the future, and Wal-Mart and other low-quality grocers and retailers are the past. Sure, Marc Lore, founder of Jet.com and new head of Wal-Mart ecommerce, has done okay at improving the Wal-Mart online experience. But that's the equivalent of developing a higher quality burger at McDonald's (MCD) – anything is better than rock bottom.
Would anyone in their right mind claim the Jet and Wal-Mart experience exceeds that of Amazon.com or Whole Foods? As Greg Penner, Chairman of Wal-Mart, and a Walton family member told us at the Wal-Mart Shareholders' meeting this year, even his own mother was using "the other site" up until recently.
The new Walmart.com, according to the Chairman's mother, has really "improved so much!" It's no secret, with online, Wal-Mart is chasing Amazon's coattail. And overnight, it just got a whole lot more competitive. Not because of the size of Whole Foods, but rather, because of the number of stores/pickup locations and shopping data Amazon will now have to work with.
I'm not predicting the end of Wal-Mart at all. Wal-Mart's financial stats look much less "pie in the sky" than Amazon's…
| | | |
| --- | --- | --- |
| | WMT | AMZN |
| Market Cap | 229.75B | 461.55B |
| Sales | 485.87B | 135.99B |
| P/E | 16.47 | 84.63 |
| P/EBITDA | 6.97 | 37.77 |
| PEG Ratio (5yr expected) | 2.94 | 5.22 |
| P/sales | 0.47 | 3.24 |
| P/book | 3.11 | 21.3 |
| ROA | 7.13% | 3.62% |
| ROE | 18.49% | 14.18% |
Source: Yahoo Finance
However, if Amazon maintains, or possibly increases its growth rate, those numbers could change quickly. With this deal, it's very likely Amazon will steal some of Wal-Mart's market share, across a variety of categories. People have been known to doubt Amazon in the past and been left in the dust. Many times its growth was believed to have reached its peak, and many wondered if it would ever turn a profit on its snowballing sales. We have been taught up to this point to be careful when underestimating Jeff Bezos.
Online grocery is expected to make up 20% of U.S. food and beverage sales by 2025. If merging online with brick and mortar is its next big opportunity, they may have found their solution. With Whole Foods, they have the leader in natural and organic foods, the fastest growing area of the broader grocery sector. With Amazon's core business, they are the fastest growing big player in retail. They began as an online retailer, and Wal-Mart's trying to become one. While Amazon's sales have been growing like the universe, Wal-Mart's are basically flat. Zero.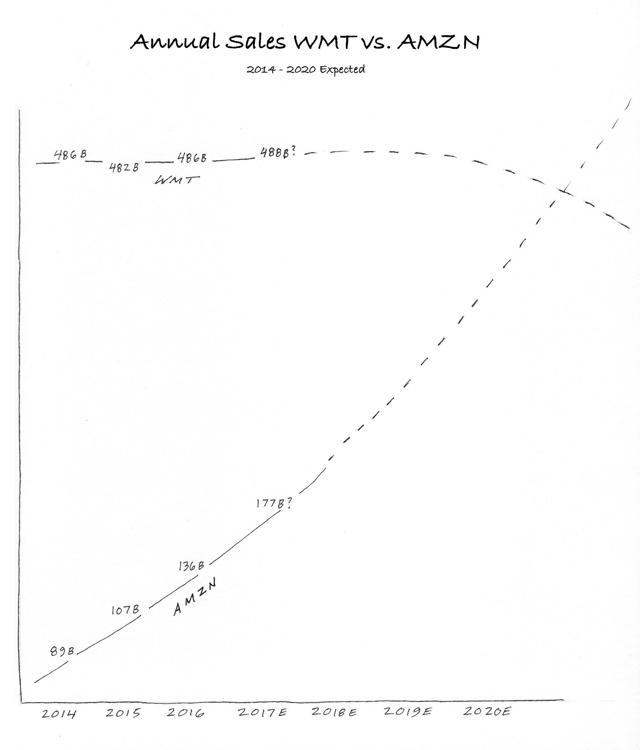 Source: Yahoo Finance
Amazon expects to close the deal with Whole Foods in the coming months, after which they will begin their integration. The big challenge will be in maintaining the culture that makes Whole Foods what it is, while simultaneously trying to inject big ideas and big changes into the grocer's business model. Whole Foods is known for being compassionate and having low employee turnover, whereas Amazon has a cutthroat reputation and has one of the worst turnover rates of all Fortune 500 companies.
Amazon will find opportunity in taking many of Whole Foods' "grocery" items, which include most packaged goods, as well as their "whole body" items like soaps and supplements online. They'll also likely bring down prices to make natural and organic foods more popular among a larger audience. Jeff Bezos has a history of undercutting competitors, often running losses on certain items to win the market share. If he plays this game with Whole Foods, he's betting the natural and organic foods industry continues to scale, driving supply costs down accordingly.
With a larger Whole Foods footprint, Bezos will have more opportunities to gain Prime users – his ultimate goal, creating a slew of other opportunities. According to Wal-Mart's annual report, they plan to have online grocery available in an additional 500 stores by 2018. The question is, who will do a better job of merging online shopping with brick and mortar? Clearly, Amazon. Amazon has a long way to catch up with Wal-Mart's total sales, but Walmart.com and Jet.com have a long way to catch up with Amazon's online business.
If Jeff Bezos can continue to hover on "Day 1," as he likes to call it, and maintain these spectacular growth rates by effectively integrating his business with Whole Foods, it's believable the market will take Amazon stock to $1 trillion. Whether or not it ever justifies that figure with profitability is another story.
This article was written by
Evaluating risk, and valuing risk is what it's all about. - Eddie LampertEntrepreneur and investor for over 11 years.Bachelor's Degree in Economics.
Analyst's Disclosure: I am/we are long WFM.

Business relationship disclosure: I am part of a company that does business with WFM.

I/we might initiate a Long position in AMZN over the next 72 hours.
Seeking Alpha's Disclosure: Past performance is no guarantee of future results. No recommendation or advice is being given as to whether any investment is suitable for a particular investor. Any views or opinions expressed above may not reflect those of Seeking Alpha as a whole. Seeking Alpha is not a licensed securities dealer, broker or US investment adviser or investment bank. Our analysts are third party authors that include both professional investors and individual investors who may not be licensed or certified by any institute or regulatory body.