For anyone who is new to mining stocks, one of the first important lessons you learn is to not back up the truck and go all in with any single position in one fell swoop. Why not? Because regardless of what company it is that you are buying (and how amazing the fundamental story is), this breed of asset class if so off the charts crazy volatile that there really is nothing else out there that can compare to it. It's easier said than done, but the only way to really succeed in the Game of Rocks is to not get too emotional when the inevitable rollercoaster rides take place; do your best to stay disciplined as much as possible (roll with the punches) so that you can indeed "buy low and sell high.
Retailers At a Disadvantage
In a normal market when overall sentiment towards the mining sector is neutral, it is extremely challenging for your typical retail investor to be able to compete with the Big Money investors who seemingly have all the connections in the right places and thus get invited to the best private placement deals. When junior (and even major) companies need to raise equity financing, the "insiders," if you will, usually are able to pull off quite a heist for themselves by A) buying a large quantity of stock at a significant discount to the current market price B) and/or obtaining warrants with favorable (realistic) exercise prices that are good for a few years (in the rare instances, 5 years).
In a hot market, such as in early 2016 when the clear-cut consensus from everyone was that these precious metals mining stocks had bottomed out and were now breaking out of their brutal bear market and erupting into the start of the next bull market, contrary to price action and sentiment, the risks actually magnify with an advancing share price, especially for the retail investor.
To clarify these thoughts, here's an example of an equity financing that was raised in early 2016 by Sandspring Resources (OTCQX:SSPXF) right around the onset of a fast-recovering precious metals market.
From Sandspring Resources.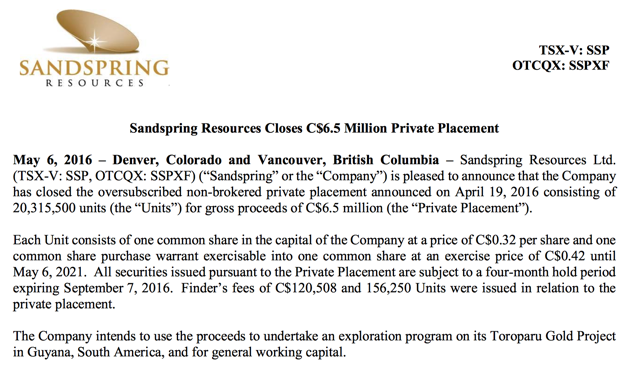 Source: Sandspring Resources May Press Release
As you can see from above, the private placement was announced on April 19 at C$0.32/share, when shares of SSP.V (the native listing of SSPXF) were trading at C$0.395/share.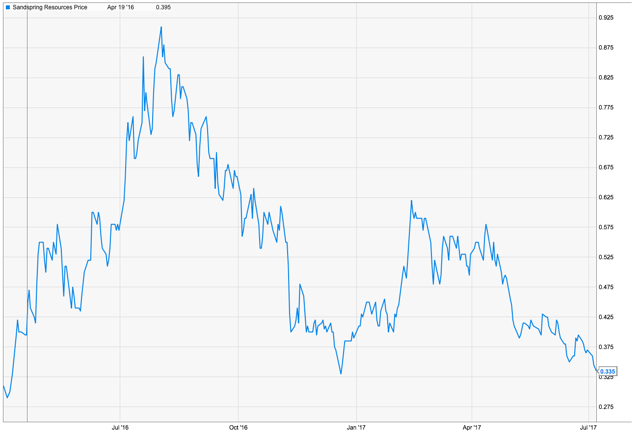 Any investors fortunate enough to be invited to take part in the private placement were already well ahead of everyone else. Further, in this particular deal, the private placement investor was also able to walk away with FULL warrants (each unit consisted of 1 common share warrant) exercisable at "only" C$0.42/share for FIVE YEARS!
There is a common saying that "a rising tide lifts all boats." Yes, it's true that in a raging bull market anyone and their dog can make good money speculating on these mining stocks but the caveat is that you've got to sell high at some point. Again, due to the innate volatility inherent in the sector, risks don't decrease with an advancing share price; it's actually quite the opposite. Also, take a minute and put yourself in the position of the private placement investor who was already up big time on their position before the ink had dried to seal the deal. On May 6, the day the private placement closed, shares of SSP.V closed the day at C$0.54/share, up a whopping 69% in less than one full month! Even more impressive, those 5 year FULL WARRANTS were all in-the-money, up 29%.
Anytime you have the common shares and warrants of a latest financing deal being well in the green, it should be a cause for concern for the retail investor.
As a retail investor, it's far and away too easy to get lost in all the hoopla and chase rising price action with reckless abandon. But the retail investor must realize that this game is "rigged" and in an upmarket, the odds are heavily stacked against them. While they are chasing these stocks up to the moon, the shrewd and savvy "insider" is counting down the days until the lock-up period on their shares expires so that they can quietly dump their now highly profitable common shares at a significant profit in an effort to take all their skin out of the game and ride the free warrants (i.e. house's money).
"Sell high," this is when you do it!
Again, everyone knows that mining stocks and metals prices are insanely volatile, so the decision to go free-carried ASAP is the smart thing to do (obvious play) for most anyone. Shares of SSP.V stayed elevated well above the private placement price of C$0.32/share, so "insiders" had plenty of opportunities to de-risk themselves in the intervening months.
But what about the retail investor who is trying to profit from trading the same stock? Regardless of bull market or not, I would suspect that the overhang that FULL WARRANTS that are in-the-money should cause is rather significant, so it should be looked at as a huge headwind moving forward; surging metals prices or otherwise. Of course, with the benefit of 20/20 hindsight, we can now look back and see that any retail investor who loaded up big on shares of SSP.V at C$0.70/share, C$0.80/share, and even C$0.90/share are now down a great deal of percentage points on their position.
Entry points matter, a lot!
Although it's impossible to time these price swings exactly, if we go back to the expectation of always experiencing a rollercoaster ride, then the safer strategy for the retail investor to employ would be to wait for the share price to swing back down to a level where the warrants are no longer in-the-money. An even better entry point would be able to get in BELOW the common share private placement price, which I will discuss in more detail in the next section using examples.
So, now we know that in a normal market, the retail investor is operating at a disadvantage to the "insiders." In a scorching hot market, the retail investor can make good money, no doubt, but only up until the music stops... When they smart money is out, the plunge back down can be catastrophic. Thus, it's always important to be aware of the exercise price points for any options/warrants that are on a company's share registry.
Retailers At an Advantage
How is the retail investor ever able to buy shares of a quality company below that of a private placement entry point?
Simple.
It cannot be overstated just how volatile the mining sector is. Unlike most other sectors, even the highest quality names in the sector can see their share prices shredded by 50% plus over a period of months over no negative changes impacting the fundamental story at all.
A declining metals price that a down market offers is the easiest and most logical explanation as to why these sharp declines in share price occur; after all mining stocks are a leveraged play on the underlying metal so in theory they should fluctuate more in either direction. But sometimes the explanation is that in this sector, these sell off events can just happen for no real rhyme or reason at all.
Really.
The following example looks at Almaden Minerals (AAU), a junior developer that is working on bringing the Ixtaca gold-silver deposit in Mexico into commercial production.
Here is the press release for Almaden's most recent private placement financing that raised C$17.2 million in early June.
From Almaden Minerals.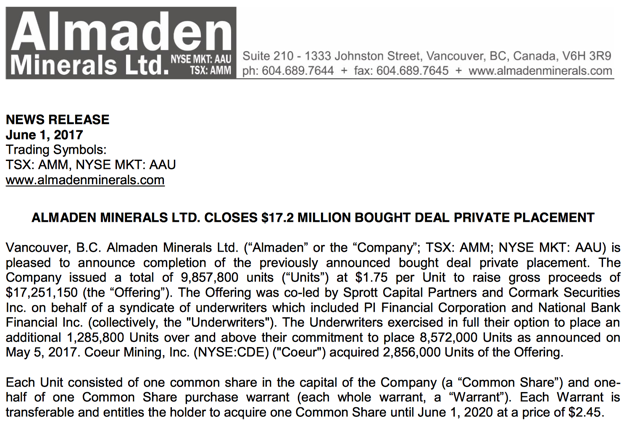 Source: Almaden Minerals June Press Release
As we can see from above, units were issued at C$1.75/share, and there were 3 year, 1/2 warrants attached that have an exercise price set at C$2.45/share.
Shares of AMM.TO (native listing to AAU) are currently trading at C$1.48/share, below both the unit price and the warrant exercise price.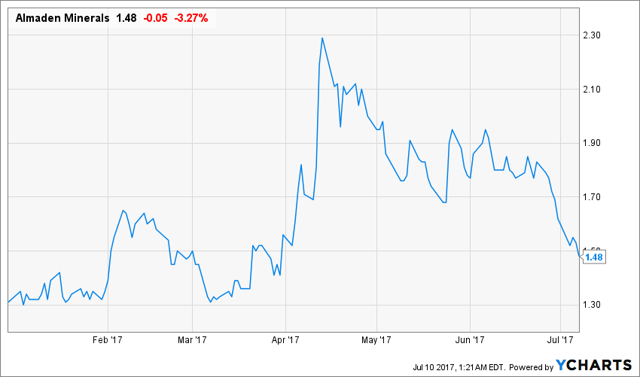 So, there you have it, a situation where the retail investor is able to buy shares of a high quality mining stock at a 15% discount to the latest private placement financing terms. Further, the warrants would have to rise a staggering 65% from today's prices just to be at break even.
It should be quite evident to retail investors why these are the type of entry points that should have them salivating.
"Buy low."
When it comes to warrants, there are many investors/speculators out there who look at any kind of warrant that exists as a negative overhang on the underlying stock.
I would disagree.
Warrants are only dilutive and "harmful" to an investor if their entry point into a stock is at or significantly above the exercise price because as long as the warrants stay in-the-money there's always the risk that the "insiders" will start offloading shares at any minute to book profits. On the other hand, if as in the case of Almaden Minerals where the warrants are so far out-of-the-money that they have to rebound 65% to even have a chance of being exercised, any retail investor who is looking to buy shares now faces absolutely no concern over more shares flooding the market until they themselves are well into profits.
But I guess "well into profits" is relative, and I suppose that a 65% gain on a mining stock is inadequate for some investors who are aiming for the stars and the moon (e.g. ten-baggers). Even so, raising more equity at a much higher share price than what one paid for should not be seen as a dilutive event; it's not.
More Deals
The Almaden example above is just one of many that commonly occur in the mining sector. In fact, another one of my favorite entry points that is currently being offered by the market is shown below, for Fortuna Silver (FSM).
Fortuna Silver raised $74.8 million in a bought deal back in February.
From Fortuna Silver.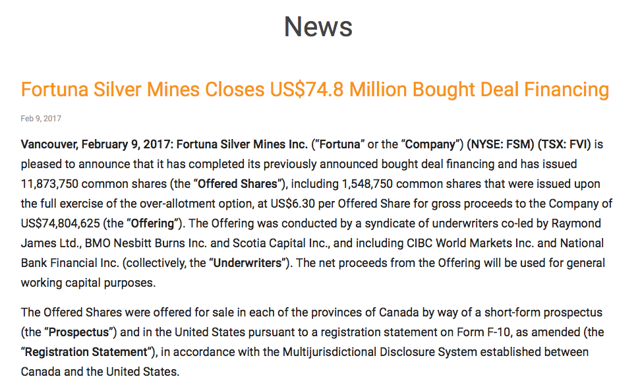 Source: Fortuna Silver February Press Release
Whereas Almaden raised C$17.2 million to presumably have enough cash to take Ixtaca through to a Definitive Feasibility Study (DFS), Fortuna Silver raised an even more impressive $74.8 million at $6.30 with no attached warrants. Fortuna Silver is nearing a construction decision in Q3 for their Lindero gold project in Argentina, so it is a reasonable assumption to make that a good bulk of the funds raised will be used to advance that project.
What makes the Fortuna deal so attractive to retail investors?
The share price of FSM is currently trading at $4.47/share, 29% below the bought deal financing price.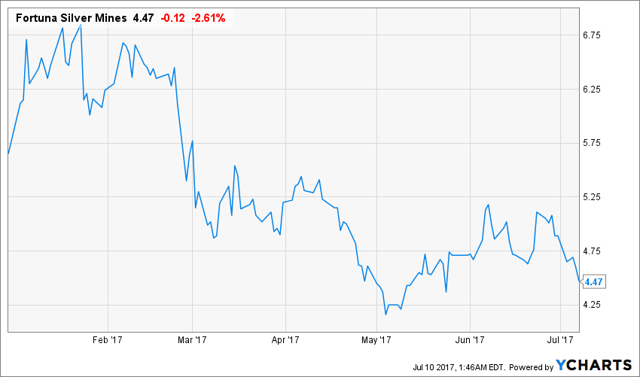 Anytime the retail investor can get into a deal at a 29% discount to "smart money", it's a wonderful thing. "Buy low," yet again. In the case of Fortuna, because the company raised such a significant amount of capital, the "even better news" for any shareholder jumping into the story today is that any fears of much more future dilution via more equity financing at a weak (or weaker) share price are minimal; the company is not desperate for more cash.
Finite Window and Conclusion
Let's take a step back and recall that in a normal market, the "insiders" have the edge. In an upmarket, everyone is making money and feels brilliant, but shrewd capital is always looking for an exit point to de-risk, making it somewhat dangerous for a retail investor to chase up especially because when the sector is rocking any (and all) financing deals for these companies will be in deep profits. In a down market, there is a "finite window" such as the Almaden and Fortuna examples illustrate where the retail investor has a chance to get into high quality stories at even more attractive prices than the Big Money investors.
But now let us address a depressed market. If sentiment were to go from bad to despair in the sector, it's likely that any mining company desperate for cash would have to bend over backwards to secure any kind of meaningful financing, and because they're essentially begging for help, it is at this moment where the "insiders" come out ahead yet again. It is precisely at the Depths of Despair where these 5 year FULL WARRANTS at exceptionally low exercise prices are negotiated and agreed upon; being invested in such a stock PRIOR to an announced (desperate for cash and will do anything) financing deal is never the type of situation the retail investor wants to find themselves in. Financing when a sector/share price is in liquidation is the epitome of massive dilution (i.e. shareholder destruction).
In summary, it is precisely this "finite window" that is most appealing for the retail investor to operate in when selecting their entry points; to be able to get into a high quality name at a hefty discount to the "insiders" AFTER a major financing has occurred is sort of the dream scenario. There are no guarantees when it comes to mining stocks, of course, but in regards to "market timing", the Almaden and Fortuna opportunities presently available are about as good as it gets in terms of a risk vs. reward proposition for retail investors.
Additional Note: Chasing share prices to record highs and to the moon is never advised when investing/speculating in a volatile space such as mining stocks. However, the one time where this "aggressive upward momentum" type of strategy can work is when a mining company (e.g. early-stage explorer) makes a massive new discovery and the market needs time to re-rate the stock price/market cap accordingly. In this not-too-common occurrence, the latest private placement financing terms and/or in-the-money warrants become less of a concern because they occurred prior to the "game-changing news" being announced to the market. However, it's also worth noting that even the companies who unearth the absolutely most prospective world class discoveries of the day can (and do) still find their share prices plummeting like a rock from time-to-time, just like every other stock in the sector.
Disclosure: I am/we are long FSM, AAU, SSPXF.
I wrote this article myself, and it expresses my own opinions. I am not receiving compensation for it (other than from Seeking Alpha). I have no business relationship with any company whose stock is mentioned in this article.
Editor's Note: This article covers one or more microcap stocks. Please be aware of the risks associated with these stocks.