Introduction:
Have you ever heard the expression: "Past performance is no guarantee of future results?"
That "qualifier" became necessary after mutual fund companies fell into the habit of making past performance the hallmark of their advertising programs. That led investors to think, "Well, if XYZ mutual fund has had a track record like that one, then I need to get on board before the train leaves the station."
The problem with thinking that way is that mutual fund managers would come and go. The funds would merge with other funds and change their investment metrics and a litany of other issues that prevented the funds from repeating year over year, the same wonderful record of success.
Past performance should not be a focal point for any investor. If someone says that XYZ stock has outperformed the S&P 500 Index over the last 30 years, so what? You and I don't have a time machine, and we cannot go back 30 years and undue the mistakes that we made in the past. It's gone. Nothing you can do about it.
But there is a value in looking at the past, especially when that past is part of your own personal experience.
In a recent article that I wrote, I used the example of three companies, Johnson & Johnson (JNJ), Kimberly-Clark (KMB), and Colgate Palmolive (CL) as illustrations of the strategy of Dividend Growth Investing or what has become known as "DGI" here on Seeking Alpha.
In the illustration, the intent was to demonstrate how a 100-share purchase of each of these companies made in 1984 would have fared through the current day.
As part of my past, these companies and others like them were the kind of companies that my contemporaries were buying as investment vehicles. Not that we were particularly smart or sophisticated, but because we worked for these companies, we knew the kind of product that the companies were bringing to market, and we knew about the companies in a way that outsiders would not have known about them.
For example, when I worked for Coca-Cola (NYSE:KO), the distribution system was made up of hundreds of independent franchise owners. Most had gotten their franchise territories back in the 1920s, and by the 1980s, the ownership of these franchises had been passed on generationally.
Coca-Cola had decided that the franchise distribution system was outdated and inefficient. So, Coca-Cola set out to consolidate the distribution network in a more contiguous manner, so that each new distributor had a larger and more effective marketing area.
Well, there weren't a lot of people that realized the implications of this change in direction. But for some of the more astute thinkers (guys who were my bosses), the new dynamic presented a situation for Coca-Cola like never before.
So, a lot of us, but not all of us, began buying stock in the company that we knew was on a path to reinventing itself from a distribution and marketing system.
So, following that line of thought, I decided to present three companies that I began investing in, back in the 1980s that many investors in those days viewed as growth stocks. They were growth stocks as evidenced by their performance. One thing that set them apart was the fact that they paid dividends to their investors, and the second thing was that they increased those dividends annually. Kind of like icing on the cake vs. no icing on the cake. Not a deal maker or a deal breaker, but it just was what it was.
A Quick Review
The first company that I used in the article was Johnson & Johnson and the purchase of 100 shares of stock in 1984, with dividends reinvested, and the stock being held until today would look like this: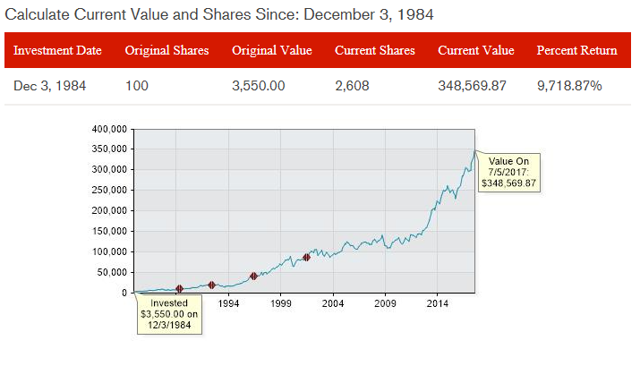 The initial 100 shares would have grown to 2,608 shares today, and the current value would be $348,570 on an investment of $3,550.
The next company that I used as an illustration was Kimberly-Clark and the purchase of 100 shares in 1984, with dividends reinvested, and held through today, would look like this: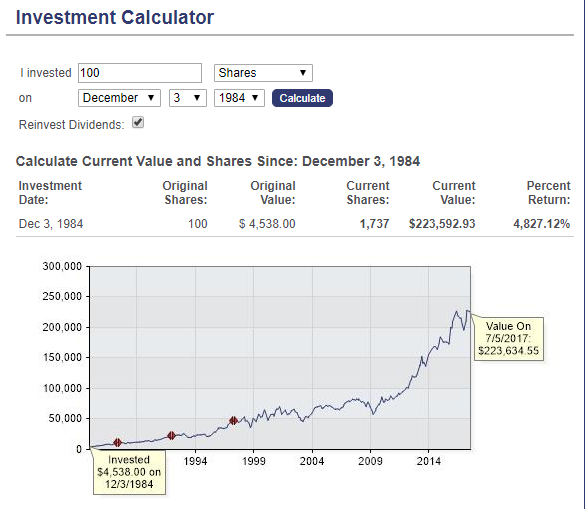 The original $4,538 investment would be worth $223,693, and the investor would own 1,737 shares of KMB.
The last company that we used as an illustration was Colgate Palmolive, and again, 100 shares purchased in 1984, with dividends reinvested and held through today would look like this: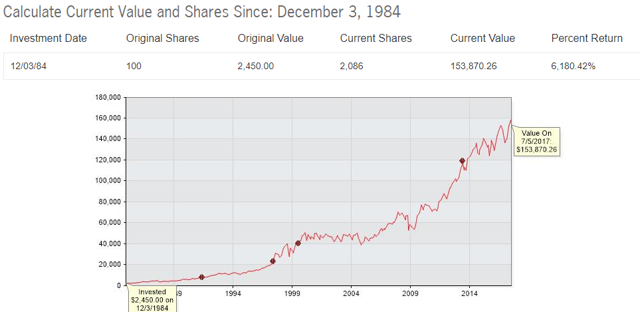 The 100-share investment would have grown to 2,086 shares, and it would have a current value of $153,870 on an investment of $2,450.
What You Should Know
The use of these particular companies is not intended to be anything other than an illustration of three companies that performed well over the last 30 years, for investors that bought, reinvested dividends back into additional shares of the same company and held their positions. For those who decided to make additional purchases along the way, the results are even better than those shown above.
The Perfect Portfolio
In my taxable portfolio, The Perfect Portfolio, which I have written a series of articles, about, we own all three companies. In this portfolio, we made purchases of shares in each of these companies in 2009, 2010, and 2011.
I have not made any additional purchases of shares in any of these three companies since June of 2011 (which is 6 years without adding a single share). How come?
Two reasons, actually.
First, because I already have a full position in this taxable portfolio for each of these companies and in my tax deferred portfolio, the same is true of these three companies.
Second, because I try to buy stocks when they are a value to intrinsic worth as I define intrinsic worth. For me, these three companies, with the exception of Johnson & Johnson, which I added to my wife's Roth did not present a compelling reason to deploy more capital into them from my own investment perspective. Again, let's be clear. How YOU define intrinsic worth is really up to you, and how you go about deploying additional capital is really your own business as far as I'm concerned.
2016 Additions to My Portfolio:
In 2016, I began making purchases once more in The Perfect Portfolio. The source of the capital for investing was from the proceeds of selling a house that I owned in California.
I identified 11 companies that seemed like a value to my screening metrics. Those companies were Cisco Systems (CSCO), JPMorgan Chase (JPM), Emerson Electric (EMR), International Business Machines (IBM), Qualcomm (QCOM), Archer Daniels Midland (ADM), Harley-Davidson (HOG), Monsanto (MON), Marathon Petroleum (MPC), Schweitzer-Mauduit (SWM), and Western Digital (WDC).
2017 Additions to My Portfolio:
In 2017, I created a watch list of companies that were of interest to me. Those companies can be found here.
In June, I added V.F. Corp. (VFC), Hormel (HRL), CVS Corp. (CVS), General Mills (GIS), and Occidental Petroleum (OXY) to the portfolio.
Is There A Common Thread Here?
Each of these companies have one common thread. They are dividend growth stocks. That means that as a rule, these companies increase their dividends annually. Now, that's a statement that would probably have the small print warning, "Past performance is no guarantee of future results."
Will each of these companies and the original 15 companies in the portfolio continue to increase dividends every year, like they have in the past? I have absolutely no idea. But logic and probability tell me that there is a "good chance" that they will.
But wonder if one or more of these stocks DON'T increase the dividend? What if one or more of these stocks freeze the dividend? Even worse, what if one or more of these companies completely suspend the dividend?
It could happen, because, "Past performance is no guarantee of future results."
But How Does That Disclaimer Affect Other Forms of Investing?
From 1995 through 2005, the SPY returned 9.53% annualized to investors who made a purchase in 1995 and held that position.
From 2005 through 2015, the SPY returned 7.20% annualized to investors who made a purchase in 1995 and held that position.
What happened? The SPY did not perform the same way that it did in the first 10-year period, because "Past performance is no guarantee of future results."
It's really that simple. No mystery here, because that disclaimer says it all.
What's Important To Investing Success?
When I consider the things that I count as important, they are things like purchasing stocks when they are priced at what appears to be a value to their intrinsic worth.
Now, that's an opinion as to the price, relative to the value. So, let's not split hairs here. When you buy stock in a company, do you buy it without doing any analysis of the company or do you make a list of companies, put that list on a wall and throw darts to determine which ones you're going to purchase?
Of course, you don't. You make a value judgment about the reason to buy the stock and right or wrong, you are looking, not at the past, but at the future.
If you are looking at the past, then "Past performance is no guarantee of future results." But if you're looking at the future, then that saying doesn't apply, now does it?
Buying New Positions:
In two years, I have added 16 companies to the portfolio. All of these companies are "new" in the sense that they have never been part of the portfolio prior to our having invested in them.
Each of the companies were purchased because I felt that they represented a value, and that over the course of one year, three years, or five years in the future, they would be priced higher than they were when we bought them, and while I waited for that price appreciation, the companies were sending me quarterly dividend checks that I used for extra spending cash.
When an investor looks at buying stock in a given company, that investor should follow the same discipline that he would follow when buying a house, buying a new car or buying anything else, for that matter.
Once you've made your purchases, you stand alone. Those purchases were your decision, and it's your money at risk. To worry about what someone else thinks about your definition of value, the investment strategy that you choose to use, or some notion that what you are doing is a flawed approach you need to understand that you are not in competition with anyone, especially people on a social media financial site.
Conclusions:
Past performance is no guarantee of future results. So, my advice to you is to look first to the future and make your investment decisions on where you want to be in 3, 5, 10, and 15 years from now. Don't get too excited about market price swings that happen in the short run. Buy quality companies with quality goods and services. Invest in them regularly, and if they pay dividends, reinvest those along the way.
As the future becomes the present, don't forget that adjusting to events in the here and now is something that we do every day. It's not a detriment to investing, but it's part of a balanced approach to building your future.
Disclosure: I am/we are long ADM, CL, EMR, GIS, HOG, IBM, JNJ, CVS, GIS, KMB, KO, MON, MPC, PG, QCOM, SWM, WDC, VFC, OXY, HRL.
I wrote this article myself, and it expresses my own opinions. I am not receiving compensation for it (other than from Seeking Alpha). I have no business relationship with any company whose stock is mentioned in this article.