Background
It has been one year since I graduated college, and nearly two years since I began actively investing. My dad, a CFA charterholder, instilled in me the importance of saving and investing, and he encouraged me to use income from a summer internship to contribute the maximum to a Roth IRA. While in my senior year, my focus was not on my new retirement portfolio; however, post-graduation, my interest in investing began to grow.
I'm idealistic by nature, which makes innovative companies with big goals attractive to me. Friends, colleagues, classmates, and family members have had run-ins with cancer; I have seen and continue to see the effects of Alzheimer's/dementia; and I have experienced the effects of opioid addiction in my community. I know these experiences to cause life savings to evaporate and sometimes death - tragic happenings for people fighting for life and holding on to loved ones. I have experience with those surviving such conditions, and I credit that to innovation and research, along with the support of friends, family, and communities. It is these experiences that ingrain my idealism in my investing, as I want to focus some money where it might help relieve some suffering in the world. Quick disclaimer regarding the title: none of my holdings have anything to do with brunch or craft beer, but those are other interests of mine.
Strategy
The ultimate goal of the portfolio is to provide a handsome cushion in retirement. In accomplishing that goal, I will focus my investments on companies involved in research and innovation - particularly in the healthcare and tech fields. That said, I'm aware of the risks associated in particular with developmental healthcare stocks - drugs not getting approved or otherwise - and seek to balance out my innovation-focused holdings with stable, strong companies in other industries. These other holdings I generally pick based on market trends.
Portfolio Review
Initially, I selected two stocks with strong dividends: Johnson & Johnson (JNJ) and AT&T (T). You see, my dad is a dividend growth investor. As I began paying attention more-regularly to financial news and reading Seeking Alpha, my portfolio has developed a high-growth focus. Since its evolution soon after graduation, I have added some stocks meant to create a well-rounded portfolio that balanced yield and growth, but maintains high risk/reward for growth prospects. Now, I have a single holding that I would consider "core". I have a few large-cap stocks, a couple mid- and small-cap stocks, a couple high-yielders, and a few speculative plays.
To appease any concern with regard to a 401k, I do take full advantage of my company 401k that has a small portion of company stock and equal parts S&P Index, a Large Cap fund, a Mid Cap fund, and a Small Cap fund. My 401k is currently 50/50 pre-/post-tax contributions and doesn't get manipulated much. The IRA is what I play with and will be reviewing.
As of June 30, 2017, I have achieved a 20.2% return YTD and 18.8% over one year - since I began actively monitoring it. My return since inception has been 10%. Below is a chart with my holdings as of July 10, along with respective concentrations. Stocks are in alphabetical order by ticker. Following the chart is my rationale for each pick.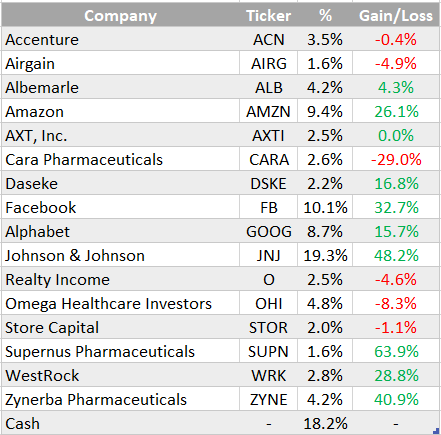 Accenture (ACN) has a solid leverage position, an adequate cash position, and was purchased off of all-time-highs. I was looking for a company poised to prosper from economic volatility and the increasing speed of tech innovation. Accenture is consulting-oriented, has a large market-cap, and has the cash (or income) to cover all of its debt. I have a long-term outlook on ACN.
Airgain (AIRG) was picked during the mid-June tech sell-off. Airgain has a favorable leverage position and is my IoT play. Airgain provides embedded antenna products and associated services. It's products are found in residential wireless products such as your router or TV. Its acquisitions have expanded its product line to mobile, automotive, and industrial applications. It has a nice cash position, too, which makes me think future growth could come from acquisitions.
Albemarle (ALB) saw some weakness during this recent sell-off, so I thought I'd dip a toe in lithium mining. Given its size, I felt it a safe play for my entry into this sector, and materials as a whole. Until I stumbled upon this industry, I had never considered materials exposure. Projections for demand in lithium pose phenomenal growth prospects. Lithium is a component in rechargeable batteries in everything from your cell phone to electric vehicles. I wanted to gain something from the tougher emission standards wordwide and production of EVs. Given the slow uptake and still-too-expensive view of renewables for the everyday consumer, lithium seemed to be the best resource for an energy play.
Amazon (AMZN) was an exciting pick for me. I look at it as a mutual fund with no fee - Bezos is constantly creating new opportunities and putting money in different ventures, while it grows in both cloud and retail segments. Luckily, I was able to snag some under $800 on a dip. While I understand many have a concern about its overvaluation, I find it difficult to fairly-value due to the future prospects of which we are all unaware. Would I have put tons of money in an online bookstore? Definitely not...but it has become something unimaginable to anyone who only saw it for what it was. I'll be adding on dips.
AXT Inc. (AXTI) was part of a strategy I've been slowly incorporating. That strategy is buying companies that develop essential components to industries that are trending or have future potential. AXT designs, manufactures, and distributes semiconductor substrates. If that doesn't make much sense to you, it didn't to me, either. These substrates go into high-brightness LEDs in wireless handsets and LCD TVs, including automotive applications. Additional uses include data-center connectivity products, solar cells, motion-control and thermal-imaging products. That's a bunch of jargon that sounds like it has huge potential.
Cara Therapeutics (CARA) is an idealistic play. Cara is only in R&D at the moment, but its major catalyst has shown promising results. CR845 targets kappa-opiod receptors to relieve pain and does not affect the central nervous system like common opiods. This means nausea and other negative side effects such as sedation and euphoria will be less likely to occur. The latter means there is less likelihood of addiction. Its other applications are for Uremic Pruritus, a condition resulting form kidney failure that causes itching. In both situations, the candidate has proved to be as effective as current treatments, making it an ideal drug to stem the opiod addiction epidemic. The company funds additional phases of testing by releasing additional shares at a lower price than market. The price has always fallen to a couple bucks below the offering price which has allowed me to add shares along the way at a perceived discount. The most recent offering was at $18.
Daseke (DSKE) was purchased when the major political rhetoric was border taxes and infrastructure spending. Daseke was taken public by Hennessy Capital Acquisition Corporation (HCAC) as a Special Purpose Acquisition Company (SPAC). You may know Hennessey Capital from the Blue Bird Corporation (BLBD) It is an open-deck trucking firm that carries product for companies such as Boeing (BA) and John Deere (NYSE:DE). The PE firm has repeatedly stated its goal as "growth by acquisition", as it has demonstrated with 3 acquisitions in only the few months that it has been listed. The open-deck trucking industry is highly-fragmented, where Daseke only accounts for ~1% of the market share and is the second-largest company. This provides ample opportunity for growth. HCAC's experience with Blue Bird provides additional confidence.
Facebook (FB) is another one of those companies I believe in because of its leadership. When Facebook first went public, I recall my dad mulling over an investment in it. I was in high school at the time, and I remember thinking...dad, everyone's using Twitter (NYSE:TWTR) and Instagram now...no one will use Facebook next year, just like MySpace. Since then, it has evolved from being only social media and has success monetizing its user base and data. The company has a huge cash position with no debt, providing me comfort in the rising rate environment and belief in its future growth opportunities. Believe it or not, it was an impulsive purchase after it had fallen to $115 earlier this year. A huge drop that I couldn't help but use to initiate a position. It will remain a long-term holding of mine to which I'll add on dips.
Alphabet (GOOG) (GOOGL) was originally a play for stability - nothing is going to happen to Google no matter the economy. If anything, there will be more internet users (for ad revenue) in a downturn because people need to find jobs or are bored without one. However, one article dictating how an investment in Google was purchasing its ad business, and everything else Google offers comes with it for free, sold me. I love Waymo and its apparent lead against all other Autonomous Driving plays; I also like Google's TPU catalyst. I love its commitment to new innovation and the development of AI...as well as its acknowledgement of failed or unreasonable ventures by shutting them down. Like Accenture, its cash or income can cover its debt, and that cash position is huge. As with Amazon, I view Alphabet to be a mutual fund with no fee, and look forward to adding on dips.
Johnson & Johnson is my only true core holding, and is currently the lowest concentration that it has even been in my portfolio. I recently sold some at all-time-highs to enhance my liquidity position during the recent tech sell-off. Due to its diverse operations and size, I like to think it provides me a way of leveling out my volatility. It's a multinational conglomerate that does everything from pharma to consumer products. It has superb management, a strong dividend, and everyone believes in its resilience. It was an initial pick for my portfolio and will remain in my portfolio for a long time.
Realty Income (O) is the first of three REITs on the list, all are coincidentally one after the other in alphabetical order. I had been watching O for quite some time and had never felt comfortable with its higher valuation until Spirit Realty (SRC) had a tenant go bankrupt and brought the whole Net-Lease sector down. This was not the first REIT I purchased, and you may now see I have not built my portfolio around a single strategy. Although I believe Amazon will hurt quite a bit of retail, a majority of O seems to be Amazon-resistant. The exception being Walgreens (NASDAQ:WBA). Yield influenced me to look at REITs, of course, and I use them as a method to balance my other stocks that are primarily growth-oriented.
Omega Healthcare Investors (OHI) was my first REIT and is a play on the aging population. I think the political volatility creates buying opportunities. Oh, and it's got quite a nice dividend and dividend coverage, too. I drip OHI and will likely add below $30. It is quite levered compared to competitors in the long-term care/skilled nursing space, but it has a solid AFFO Payout Ratio (70%), and that's what I like. With its dividend and room to grow its dividend, I never expected much growth.
Store Capital (STOR) is my third and final REIT, picked up simultaneously with O during the SRC sell off. With similar justification to O, except STOR doesn't pay monthly dividends. Instead, STOR has a lower AFFO Payout Ratio (67.6%) than O (82.7%), so that's comforting in volatile times. Don't get me wrong, both are solid AFFO Payout Ratios on a forward looking basis.
Supernus Pharmaceuticals (SUPN) I find to be an exciting growth prospect. SUPN has a solid position with its drugs on the market, and I believe a solid pipeline. One of its prospects is a drug that targets Impulsive Aggression Disorder and the other targets ADHD, prospects earlier on in testing include a drug for depression and another for bipolar disorder. I bought the stock after its homerun Q4 earnings report when it barely moved after a YoY 160% increase in operating income, and 2016 diluted EPS of $1.76 compared to $0.28 in 2015. The following day...the stock jumped as I expected it should have and it has been climbing since. For me, this stock carries the excitement of the spec stocks, with a little stability of having already developed drugs on the market. It will definitely be a long-term holding to which I'll add on dips.
Westrock (WRK) was a pick for its vitality to the online shopping trend. After all, everything I have purchased online is always delivered in a cardboard box or an envelope. Westrock has made some acquisitions recently to take out smaller competitors, and should see production synergies lead to improved earnings. I recently sold half of my position to increase my liquidity. I accomplished a 20% gain, so I felt justified in taking a little off the top.
Zynerba Pharmaceuticals (ZYNE) is last on the list and is another all-pipeline play on synthetic cannibinoid therapeutics; however, its prospects are transdermal and focus on Fragile X Syndrome, Epilepsy, and Osteoarthritis. I took advantage of the recent sell off to increase my exposure to ZYNE.
My cash position is ~18% after a couple trades outlined below. Usually, I try to maintain a 5-10% cash position. At this point in my life, the only concern I have about a downturn is whether or not I'll have enough liquidity to take advantage of it. My short-term outlook is generally positive, but I'm remaining cautious to see how the market reacts to central banks. My other concern lies in political volatility and whether or not the market's faith in tax reform remains, given the lack of productivity and humility thus far.
Recent Changes & Watchlist
I recently sold Danaher (DHR), which was 7% of my portfolio. I took it on for its historical resilience when the market was especially volatile. Since I bought it, the price has only fluctuated 1% either way, and it offers a small dividend. It is for this same stability that I decided to sell it. I felt I needed to have the available liquidity for any significant downturn, and that its recent low growth and low dividend weren't justifiable for having the funds locked up.
I also recently altered my position in Cara. With ~5%, I reduced my Cara exposure following the run-up of about 50% so that my exposure only consisted of house money. After Cara's 30%+ fall at the end of the month, I decided that I would dip my toe back in. If the stock continues to fall, I will likely increase my exposure further. While it initially fell from disappointing results of its lead candidate's testing, only low dosages of the drug performed poorly. In my view, the statistical significance of pain reduction in higher doses is a positive sign and establishes a basis to move forward in Phase 3. Cara will be a company I hope to ride through approval. I'm expecting another share offering to fund additional testing and will likely buy in on the associated drop.
I reduced my exposure in Supernus to 1.6% from ~4%. Supernus ran ~10% above analysts' consensus. I am now playing with only house money and intend to remain that way through the current round of drug testing. I like the catalysts Supernus has, and its market dominance in its current product, so I'll be adding on pull-backs. I'll look to make a house money play on Zynerba if it nears previous highs.
Since June 30, I averaged down on AXTI, doubling my exposure after a ~10% fall. It remains a smaller position in my portfolio, so I can look to average down more if the stock becomes cheaper or the sector performs poorly.
While I have an extensive watchlist, some picks I'm looking at for the near future include American Tower (AMT), Corning (GLW), Lam Research (LRCX), MKS Instruments (MKSI), and Bristol-Myers Squibb (BMY). I'd also like to gain exposure to data-centers and autonomous vehicles. Further diversification of my portfolio may be delayed to take advantage of any drop in price of my current holdings. I look forward to putting my cash to use in any significant sell-off.
I look forward to writing additional articles and providing updates on my portfolio going forward.
Disclosure: I am/we are long ACN, AIRG, ALB, AMZN, AXTI, CARA, DSKE, FB, GOOG, JNJ, O, OHI, STOR, SUPN, WRK, ZYNE.
I wrote this article myself, and it expresses my own opinions. I am not receiving compensation for it. I have no business relationship with any company whose stock is mentioned in this article.
Additional disclosure: I may initiate a long position in MKSI, LRCX, BMY, AMT, and/or GLW over the next 72 hours.