8% Preferred Dividend Capture Is Real
Summary
Apollo Commercial Real Estate has seen some very interesting recent developments in their high dividend yield preferred shares.
ARI-A had a great risk/reward profile before their last ex-dividend date.
ARI issued a substantial amount of common stock within the last few months which gave them additional liquidity to call ARI-A.
Investors who used a dividend capture strategy on ARI-A were able to lock in solid returns before the call was announced.
This article went out to subscribers of The Mortgage REIT Forum on 6/29/2017 along with a real-time text message alert.
Recent developments – ARI-A – part 1
Shares of ARI-A from Apollo Commercial Real Estate (NYSE:ARI) were a great option for quite a while. I highlighted them week after week saying investors should look to enter despite the premium to call value. This was going to be a great play leading into the ex-dividend date. Take a look at the chart: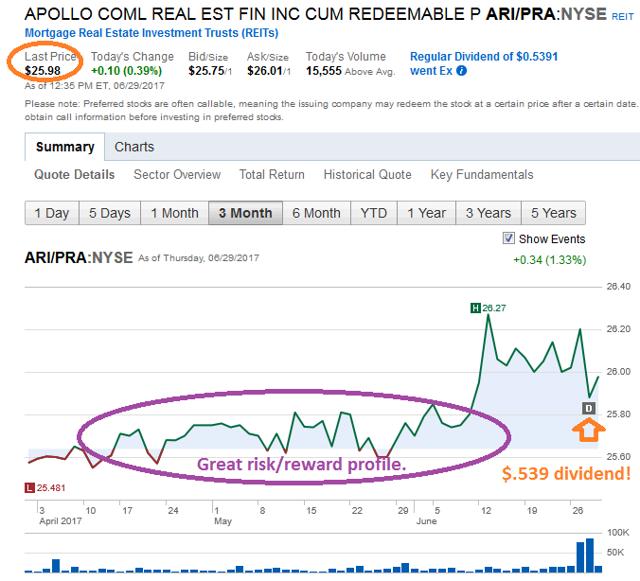 After I bought shares in the purple circle, share values spiked higher. At $26.00, they were still a great deal for dividend capture and they were touching $26.00 or $26.01 quite a few times leading up to the ex-dividend date.
Now shares are ex-dividend for $.539. By my math, the value of the shares has decreased by roughly… $.539. This isn't too complex. Where are shares trading? They've been running $25.90s to $26.00 today (6/29/2017).
Volume was decent today as well, so I was able to clear out my position and catch a very nice gain.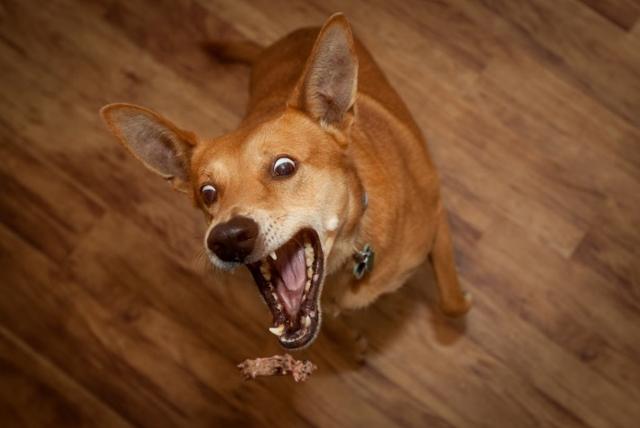 Again, ARI-A shares are still fine for an investor seeking to buy and hold for income. Since I'm lower on cash than I'd like to be and I still see some investments that are within my buy zone, I'm ready to harvest ARI-A. The buy-and-hold investor needed to enter around the April to May period when I was calling out the great entry options. The latest price would expose them to losing around 3% of their principle if shares were called immediately. When the loss is 1%, I don't mind the risk. At 3%, I'm significantly more wary.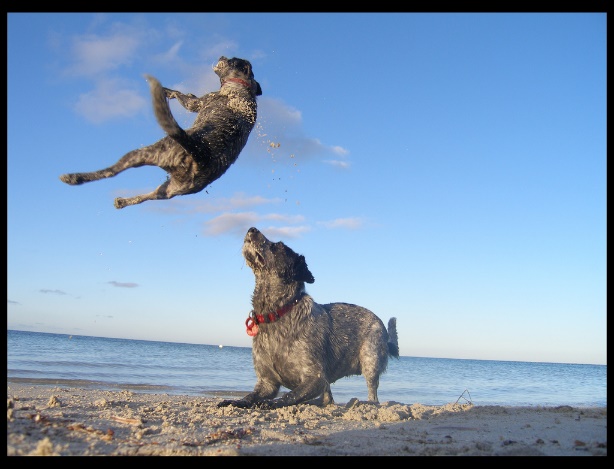 Update – This article was sent to subscribers with a real-time SMS alert on 6/29/2017. The call risk came to fruition on 07/03/2017 when ARI announced a call.
Recent developments – ARI-A - part 2
Alert: ARI-A called
This alert was sent to subscribers on 07/03/2017.
Apollo Commercial Finance (ARI) announced a call on their series A of preferred stock. I've already updated the price targets to reflect the change. We've gone from risk of a call to a very near certainty. I mentioned the problem with the call risk in an article on Thursday 06/29/2017.
Note: That is the article you just read at the top of this piece.
In the piece, I demonstrated the dividend capture techniques and explained that the risk profile for ARI-A was much higher because it was trading over $25.95 after going ex-dividend. Prior to the ex-dividend dates, the $.539 dividend created a solid cushion. After the ex-dividend dates, price targets were automatically lowered.
Amount on Call
Apollo Commercial Finance is paying the regular dividend amount on 07/15/2017. The call is effective for 08/02/2017. Investors who hold through that date will receive $25.00 for call value plus $.1087 for dividend accrual.
Expectations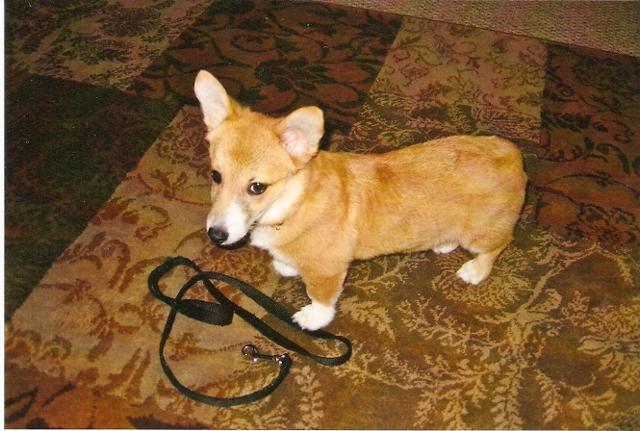 In Preferred Shares Week 54 (subscription required), I suggested the preferred share space was suddenly looking much more expensive and that investors sit on cash. It was a very rare week where I could find 0 buy ratings among any of the preferred shares from the primary group. The only good options I saw at current prices were… not included in my public coverage.
I was expecting a panic to come to preferred shares trading over call value without call protection, but I thought a huge call from Annaly Capital Management (NLY) might be the bigger catalyst.
This is also a good time to remind investors that worst-cash-to-call is still an estimate because it will depend on which dates the mortgage REITs are using in their calculations for the dividend period. I tend to use the ex-dividend date, but there are other options such as ARI-A using the dividend payment date.
Opportunities May Arise
This could hit some of the preferred shares pretty hard. It could lead to some nice buying opportunities for the higher yield preferred shares. Don't be too surprised if a few suddenly drop into the buy zone.
Investors will want to search for any calls announced before placing a trade. I try to get the spreadsheet updated quickly, but investors should still pull up the company's "press releases" page first for anything showing the salmon color:

Searching the company name and "press releases" in Google will usually get you there.
Where to Look
Look for anything that turns green, but especially look at ARI-C if it falls under $25. Around $24.66 is where I start to really like it. I will be surprised if we see it that low, but I would love it.
Anything that usually trades over par value is susceptible, especially those exposed to a call in the near future. Investors should allow the poor liquidity to bring opportunities. We could see some investments falling into the dark green.
ARI had a fairly recent large stock offering, so they were going to have more cash on hand than most mortgage REITs. Still, investors should be aware of the call risks we are taking.
Broker and preferred share tickers
Almost every major broker in the United States has their own method for referring to preferred shares. I put together a spreadsheet that cross-references each of the major brokers along with the symbol they use for each preferred share. Here are the different tickers for the preferred shares by broker.
If you want to know more about finding the best opportunities in preferred shares, consider joining my service for the best research on preferred shares. In addition to constantly updating models with clear buy and sell target prices, I also offer free text message and e-mail alerts when I find a great deal. Anyone who signs up before August 1st, 2017 will be able to lock in annual rates at only $340 per year.
This article was written by
Colorado Wealth Management is a REIT specialist who began his decades-long investment career in a family-owned realtor office before launching his own company and embracing his drive for deep-dive REIT analysis. He holds an MBA and has passed all 3 CFA exams. He focuses on Equity REITs, Mortgage REITs, and preferred shares.
He leads the investing group
The REIT Forum
. Features of the group include: Exclusive REIT focus analysis, proprietary charts and data models, real-time trade alerts posted multiple times a month, multiple subscriber-only portfolios, and access to the service's team of analysts and support staff for dialogue and questions on the REIT space.
Learn more
.
Analyst's Disclosure: I am/we are long MO, WMT, TGT, PM, FSIVX, FSITX, BMNM, WPG, GPMT, SFM. I wrote this article myself, and it expresses my own opinions. I am not receiving compensation for it (other than from Seeking Alpha). I have no business relationship with any company whose stock is mentioned in this article.

No financial advice. Investors are expected to do their own due diligence and consult with a professional who knows their objectives and constraints. CWMF actively trades in preferred shares and may buy or sell anything in the sector without prior notice. Tipranks: No ratings in this article. I am also long DX-A, CBL-D, and GBLIL.
Seeking Alpha's Disclosure: Past performance is no guarantee of future results. No recommendation or advice is being given as to whether any investment is suitable for a particular investor. Any views or opinions expressed above may not reflect those of Seeking Alpha as a whole. Seeking Alpha is not a licensed securities dealer, broker or US investment adviser or investment bank. Our analysts are third party authors that include both professional investors and individual investors who may not be licensed or certified by any institute or regulatory body.