AstraZeneca Can Prove To Be A Top Notch Investment Opportunity In 2017
Summary
AstraZeneca expects to dominate the women's cancer segment with PARP inhibitor, Lynparza.
Increasing demand for SGLT2 diabetes drug, Farxiga, will be major growth driver for AstraZeneca.
Once-a-week injectable diabetes therapy, Bydureon, will benefit from approval of auto-injector delivery mechanism.
Brilinta is inching closer to become a leader in the anti-clotting segment.
Delayed results from ARCTIC trial maybe an indication of negative results.
In my previous article, I discussed the scope of growth for AstraZeneca (NASDAQ:AZN) in non small lung cancer or NSCLC segment. But unlike many companies which overtly depend on a single opportunity, AstraZeneca has a broad portfolio with multiple innovative drugs, all set to make their mark in the market. The low business concentration risk has made the stock an attractive investment opportunity for retail investors with below average risk appetite.
In this article, I will explain promising aspects of AstraZeneca's product portfolio that go beyond NSCLC.
AstraZeneca plans to position PARP inhibitor, Lynparza, as a leading women's cancer therapy in 2017
Though Lynparza witnessed muted performance in USA in Q1 2017 due to intense competition in women's cancer segment, the drug is one of the major growth drivers for AstraZeneca, thanks to solid response in international markets. Already launched in around 31 countries, this late-stage BRCA-mutant ovarian cancer drug has been enjoying the fruits of improving penetration and awareness for diagnostic tests across the world. In Q1 2017, the drug also secured orphan drug designation in Japan, an important milestone considering that there are no drugs approved for BRCA-mutated ovarian cancer in the country. I have explained how PARP inhibitors work in another article on AbbVie (ABBV) in greater detail.
While the current approved indication of Lynparza is little too restrictive, AstraZeneca's extensive research program will unravel the real potential of this drug.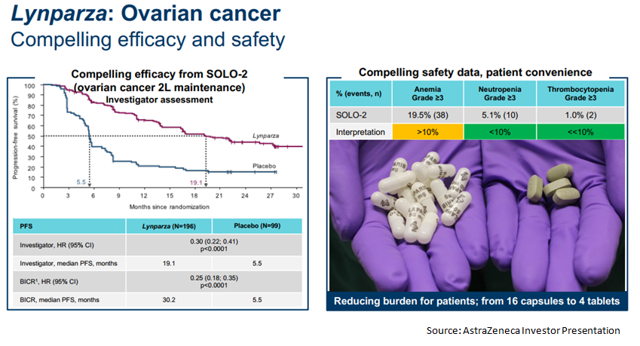 Positive results from SOLO-2 study and Study 19 have paved way for Lynparza's approval as second line maintenance therapy for BRCA-mutated ovarian cancer by Q3 2017. Further, data from the ongoing SOLO-1 trial which is expected in second half of 2017 can push Lynparza's use in first line maintenance indication for BRCA-mutated ovarian cancer, ahead of other PARP inhibitors such as AbbVie's veliparib and Pfizer's (PFE) talazoparib.
After becoming the first PARP inhibitor to enter market, Lynparza has also managed to become the first-in-class drug to demonstrate positive results in the second indication of BRCA-mutated breast cancer in Phase 3 trial, OlympiAD. The company is also exploring Lynparza in adjuvant breast cancer setting in OlympiAD trial.
AstraZeneca is also keen to broaden the reach of PARP inhibitor, Lynparza, beyond women's cancers caused due to BRCA mutations. Lynparza with cediranib is being explored in Phase 3 trials for ovarian cancer, irrespective of the status of BRCA mutation. Lynparza is also being investigated with Avastin in first line metastatic ovarian cancer, while Lynparza-Imfinzi combination is being studied for multiple tumor types. Lynparza is also being explored in second line metastatic, castrate-resistant prostate cancer indication.
Physicians have started preferring SGLT2 class of diabetes drugs over DPP-4 drugs in 2017
SGLT2 inhibitor drug, Farxiga, is an important asset for AstraZeneca recovering from the hit due to loss of patent exclusivity of blockbusters such as Crestor, Nexium, and Seroquel. All SGLT2 drugs are being increasingly prescribed by physicians in earlier stage of type-2 diabetes, after metformin and before DPP-4 inhibitors. This has also helped improve the access constraints for this class of drugs, with Farxiga maintaining its formulary coverage and Eli Lilly (LLY) and Boehringer Ingelheim's Jardiance even witnessing improvement in payer coverage. Johnson & Johnson's (JNJ) Invokana, however, witnessed slight drop in coverage in Q1 2017.
Farxiga is expected to be a major beneficiary of positive results from CVD-REAL study, the first trial based on real world evidence comparing efficacy of SGLT2-inhibitors with other classes of type-2 diabetes drugs. The study, which has showed 51% drop in overall mortality and 39% decline in hospitalizations when treated with SGLT2 inhibitors, will definitely improve the confidence of the entire physician, patient, and payer community.
Farxiga is also being tested in other outcomes trial, DECLARE, comprising of around 17,000 people, with real world evidence expected to be released in 2019. In Q1 2017, AstraZeneca has also initiated another outcomes trial, DAPA-HF, to study impact of Farxiga in controlling worsening heart failure or avoiding or delaying cardiovascular death in chronic heart failure patients. Additionally, Farxiga is being studied in DAPA-CKD trial to evaluate impact on renal outcomes and cardiovascular mortality in patients suffering with chronic kidney disease. The test patients involve both, those suffering with diabetes and those that are not.
AstraZeneca has submitted application to get FDA approval for Bydureon auto-injector
Despite having the same active ingredient, AstraZeneca's Bydureon is already preferred over the company's Byetta in USA due to the former's lower dosage frequency. While Bydureon is administered once a week, Byetta has to be injected twice daily by type-2 diabetes patients. AstraZeneca aims to further boost adoption of Bydureon by launching the drug in auto-injector form.
AstraZeneca expects Brilinta to report sales over $1.0 billion in 2017
Brilinta is also fast becoming a preferred oral antiplatelet or OAP therapy, not only in USA but even across emerging markets such as China. The drug currently accounts for 13.67% volume share of the total OAP market and is expected to become a blockbuster therapy in 2017.
Investors, however, should consider this major risk before investing in AstraZeneca
So, while AstraZeneca seems to be gradually recovering from its patent expiries, there is one major risk that may haunt the company in future months. It is the risk of failure for ARCTIC trial, where Imfinzi is being tested either as monotherapy or in combination with tremelimumab as third line treatment for PD-L1 low or negative NSCLC patients. While results from this trial were previously expected in first half of 2017, in its Q1 2017 conference call, the announcement has been delayed to second half of 2017. This has stirred suspicion amongst the investor and analyst community about the possibility of negative data from this trial, an event AstraZeneca may have tried to defer in the future months.
The possibility of failure of ARCTIC trial has cast its shadow on the overall success of AstraZeneca's immuno-oncology program in NSCLC segment. With the memory of Bristol-Myers Squibb's (BMY) downfall after failure of Opdivo's first line NSCLC trial post August 2016 still fresh in minds, investors are wary of this risk.
However, on risk-adjusted basis, I believe that AstraZeneca's current drug portfolio is strong enough to warrant sufficient confidence. Hence, retail investors should consider picking this stock in 2017.
This article was written by
I am an MBA in finance and an engineering graduate. I have also completed the CFA certification.I am involved in international trade and have been passionately tracking global equity markets for more than 7 years. I mainly focus on spotting long-term value investments in biotechnology, pharmaceutical, hospital, and medical device sectors. In the last two years, I have also been studying cannabis and hemp sectors.
Analyst's Disclosure: I/we have no positions in any stocks mentioned, and no plans to initiate any positions within the next 72 hours. I wrote this article myself, and it expresses my own opinions. I am not receiving compensation for it (other than from Seeking Alpha). I have no business relationship with any company whose stock is mentioned in this article.
Seeking Alpha's Disclosure: Past performance is no guarantee of future results. No recommendation or advice is being given as to whether any investment is suitable for a particular investor. Any views or opinions expressed above may not reflect those of Seeking Alpha as a whole. Seeking Alpha is not a licensed securities dealer, broker or US investment adviser or investment bank. Our analysts are third party authors that include both professional investors and individual investors who may not be licensed or certified by any institute or regulatory body.