The final end for shareholders of SunEdison, Inc. (OTCPK:SUNEQ) will most likely be in early August after the confirmation hearing on July 20. Shareholders gave up hope for any meaningful recovery a long time ago as SunEdison imploded to become worth a tiny fraction of its valuation from just two years ago. Even the law firm for the Ad Hoc Shareholder Committee, Nastasi Partners, seems to have thrown in the towel, since they were a "no show" at a June 12 hearing.
SunEdison shareholders, who are getting no recovery under the reorganization plan, are still trying to determine what happened to all the assets. The issue is not really how much money was put into a project, but what it is actually worth based on the present value of earnings. This is an Econ 101 concept. An interesting example of a plunge in valuation is a project in India that is currently being litigated (doc 3031). A project that was in the process of being built in India was sold by SunEdison in 2015 for $231 million cash to TerraForm Global. Inc (NASDAQ:GLBL), but GLBL could only get about $10 million for the project in late 2016. That's only about 4 cents on the dollar.
Since some institutional investors, CNH Partners and AQR Capital Management, are appealing (doc 3511) the current rights offer/backstop in attempt to get approval for their own proposed backstop deal, some investors are wondering if there may be a few "diamonds in the rough" assets that these institutions have discovered from extensive research.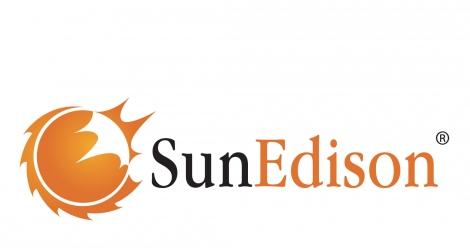 Timeline
July 6 - Supplement to plan of reorganization filed (doc 3522)
July 7 - CEO John Dubel's declaration in support of plan filed (doc 3531)
July 8 - Parkhill's (Rothschild) declaration in support of plan filed (doc 3533)
July 13 - Voting deadline (SUNEQ shareholders are NOT able to vote)
July 13 - Objections to plan deadline
July 18 - SunEdison's replies to objections deadline
July 20 - Confirmation hearing
August - Effective date for plan - all "old" SUNEQ shares cancelled
Dubel's Declaration in Support of the Plan
One of the most insightful statements made by Dubel in his declaration supporting the plan was: "After entering Chapter 11, in addition to these liquidity constraints, the Debtors (SunEdison) faced operational obstacles, as third parties necessary to the development business would not continue to work with the Debtors". The company had only one non-binding bid for its entire business, but eventually, that bidder "walked away". Therefore, it really had little choice but to discontinue its business model. While staying within Chapter 11, SunEdison is actually liquidating most of its assets, with future proceeds going to holders of the new stock.
Most of Dubel's declaration includes assertions that the reorganization plan meets the very long list of requirements under Sections 1122, 1123, and 1129 of Ch.11 of the Bankruptcy Code. Remember the burden of proof is on SunEdison to prove the plan meets the requirements. Those objecting to the plan will try show that the plan has failed that burden on one or more requirements.
Parkhill's Declaration in Support of the Plan
Homer Parkhill of Rothschild, Inc. included some financial information in his/Rothschild's support of the plan (see table below). The most interesting figure is the $64 million discounted post-emergence cash flow. $70 million of net ($87 million cash flow less $17 million costs) post-emergence cash flow is discounted at an assumed rate of 15% to get the present value of $64 million. The $87 million includes a number of sources of cash, including projected value in SunEdison entities (non-Debtors) that were NOT included in the Chapter 11 filing.

Investors have never been given full disclosure of the financials and operations of these non-Debtors during the bankruptcy process. At this point in time, however, the value of these non-Debtors does not impact SUNEQ shareholders. There's a total of $6.223 billion of priority claims (See table below), so for shareholders to get any recovery via liquidation of the non-Debtors, the "hidden" values would have to be in the multi-billions. That is highly unlikely.

Voting
Only holders of 2lien claims and general unsecured claims are entitled vote. SUNEQ shareholders are not entitled to vote, and are assumed to have rejected the plan. Only one class - which will most likely be 2liens - needs to vote to accept the plan for it to be confirmed. (Need ⅔ dollar amount of the total claim and a majority of the holders of claim class for approval.).
Objections to the Reorganization Plan
Besides letters objecting to the plan sent by shareholders, I am not sure whether a formal objection will be filed by the Ad Hoc Shareholder Committee. Lawyers for the committee, Nastasi Partners, were a "no show" at a hearing on June 12 for the order to approve the adequacy of the disclosure statement, which resulted in the withdrawal of their filed objection. Nastasi did attend the June 6 hearing regarding the approval of the disclosure statement, but that hearing was continued until June 12 because Judge Bernstein wanted changes made to the wording of the actual order before he would sign it.
Shareholders have been trying to raise money to pay for legal representation via a website because the judge denied their motion last summer to have an official equity committee appointed, which would have their legal bills paid for by the Debtors (SunEdison). Since they have are short of their $200k goal, I am assuming that Nastasi Partners did not attend because there was insufficient money to pay them. That could also mean an objection by the committee will not be filed before the June 13 deadline. I have not, however, seen a motion filed by Nastasi to withdraw as counsel filed with with the court yet. This is not the first time that Nastasi has left shareholders "high and dry". They did the same thing last year to shareholders of Horsehead Holding Corp. (OTCPK:ZINCQ).
Confirmation Hearing
While the prior objections (doc 2914 and doc 3252) to the disclosure statement by the Ad Hoc Shareholder Committee were considered withdrawn by the court, Judge Bernstein will not "withdraw" the content from his consideration process. Nevertheless, he will mostly confirm the plan because it does meet the long list of requirements. It takes a few weeks after the judge signs the confirmation order for the plan to be declared effective.
Monthly Operating Report
The May monthly operating report (doc 3497) was filed with the court on June 30. These reports do not follow GAAP, and they are not audited.
Below is the income statement for the entire period SunEdison has been in Chapter 11, and not just for May (income statement for just May is available by reading the MOR):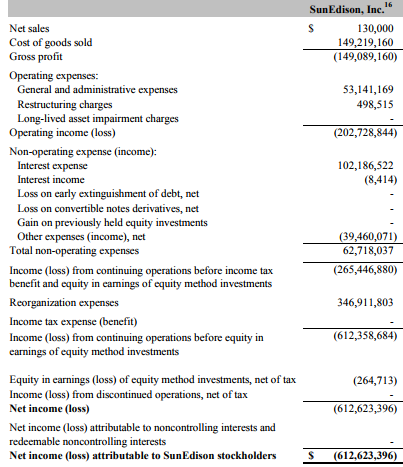 Below is the current balance sheet: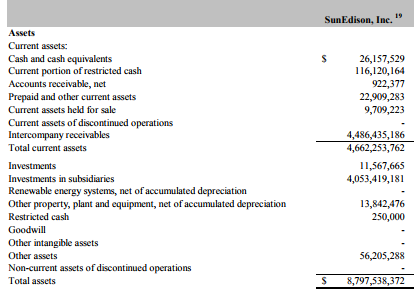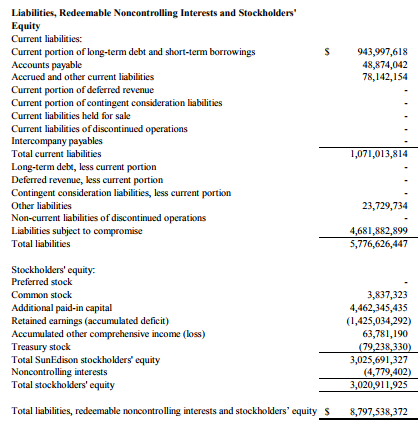 The net sales are for SunEdison only. Various other entities that are also in Chapter 11 are contained in the MOR. It is important to remember that the large shareholder equity figure of over $3 billion is just a bookkeeping item and does not reflect actual value. The two largest bookkeeping assets are investments in subsidiaries and intercompany receivables, but as I stated in a prior SUNEQ article, the expected recovery on those items is extremely small. The 2lien holders who will get the new shares are not likely to publicly disclose how much is actually recovered from the liquidation of investments in subsidiaries and intercompany receivables.
Conclusion
The long soap opera of incompetent, inept, and unethical prior management has forced SunEdison into liquidation. How much the eventual recovery is from various SunEdison entities will most likely be never publicly disclosed by holders of the new stock.
The reorganization plan will most likely be confirmed by the court. SUNEQ shares and unsecured notes will be cancelled on the plan's effective date some time in August, with holders getting no recovery. SUNEQ is rated a Sell.
Disclosure: I/we have no positions in any stocks mentioned, and no plans to initiate any positions within the next 72 hours. I wrote this article myself, and it expresses my own opinions. I am not receiving compensation for it (other than from Seeking Alpha). I have no business relationship with any company whose stock is mentioned in this article.
Editor's Note: This article covers one or more microcap stocks. Please be aware of the risks associated with these stocks.