My go to place for initial research into a stock is the Dividend Champion spreadsheet maintained by David Fish. It is incredibly helpful for beginner and seasoned investors alike. I find much of the data very useful when comparing companies. I wanted to use information from this database to compare Archer Daniels Midland (ADM), Bunge Limited (BG), and Ingredion (INGR) because all three of these companies fall into the agriculture sector.
Each of these stocks has its strengths and weaknesses but by assigning points across a variety of categories, I aim to arrive at a winner of sorts. For each metric, the best company will get 3 points, followed by 2 for second, and a single point for the worst number. Any metrics within 2% of each other will be treated as a tie. Each category will be equally weighted, but could be manipulated based on your goals. For example, if dividend history is of utmost importance, each score in that category could be multiplied by 1.5 to award 4.5 points for first, 3 for second, and 1.5 for third. By the same token, if you find the Graham number less critical, each value could by multiplied by 0.7 to reduce its effect on the final total.
The first grouping of scores is based on the dividend because income is a crucial component of my portfolio. ADM gets the win for dividend history being a Dividend Champion having raised its dividend for 42 consecutive years. BG is next with a 17 year streak. INGR has the shortest current streak at only 6 years.
Instead of using either the current yield or the projected DGR, I combine the two to arrive at a 5 year payback for each stock. ADM again takes first with a 16.0% 5 year payback, followed by BG at 13.7%, and finally INGR at 9.3%.
The final metric in this category will be the 5/10 year DGR ratio. When this number is greater than 1, it signifies that the dividend has grown faster in the last 5 years than its 10 year average and the reverse is true when the number is less than 1. INGR scores 3 points with a ratio of 1.29. ADM and BG essentially tie at 1.11 and 1.10, respectively. It's hard to call any of them losers as they're all showing DGR acceleration. ADM gets out to an early lead leaving BG and INGR tied after the first round.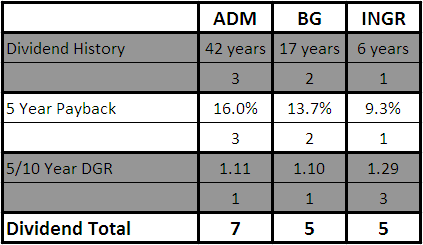 The next set of scores will be based on fundamental data. The Graham number is a valuation that assigns a fair value to a stock. Because all 3 stocks are overvalued based on this number, ADM gets the 3 points for being the least overvalued at 3.9% over Graham. BG comes in second at 16.1% over Graham. Lastly, there's INGR at 65.4% over its Graham number.
The debt to equity ratio can signal a company may be headed for trouble before it's too late to act. ADM has the lowest D/E at 0.42. BG and INGR are essentially tied at 0.77 and 0.78, respectively. All 3 companies sport strong balance sheets as none of them have debt levels above their equity.
The estimated 5 year growth of a company is truly only a projection; however, it isn't a number that's pulled out of thin air so I believe it can be useful for guidance. BG has the most robust anticipated growth at 10.1%. INGR comes in a distant second with a growth estimate of only 1.9%. ADM is actually expected to see contraction instead of expansion as it has a negative 2.5% "growth" rate.
The price to earnings ratio certainly has its faults, but within the same industry I think it can be used as a reasonable comparison. ADM has the best P/E at 17.46, followed by INGR at 18.48, and lastly BG at 19.58.
The last piece of fundamental data I'll use combines the previous two values by dividing the P/E by the estimated growth to produce the PEG ratio where a lower number is more desirable. BG has the best PEG by far at 1.94 carried by the massive estimated growth rate. INGR jumps to 9.72 for second place. Due to the fact that ADM is projected to have negative growth, the PEG is not really of use, so I will place ADM in third. Despite the poor anticipated growth, ADM finishes on top of the category with BG just a point away.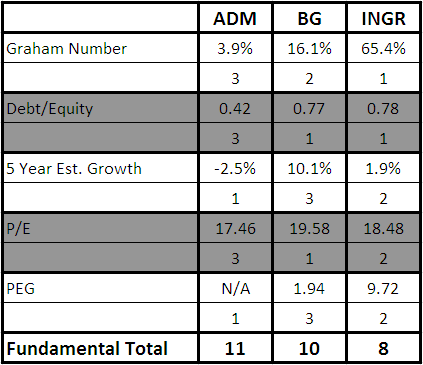 The last several scores will be based on miscellaneous data that I include in my own research. The beta of a stock is a measure of its volatility where the S&P 500 has a beta set to 1.00. INGR gets the 3 points with the most stable stock with a beta of 0.63. Second place goes to BG with a beta of exactly 1.00. ADM falls to third as the most volatile of the three with a beta of 1.10.
The 52 week range of a stock is something I'll consider before making an investment as I'd like to try to avoid buying near a top. In order to buy low, I'll score the stocks based on how close they are to their 2 week low. ADM takes the win at only 2.4% off its yearly low. INGR is not far off at 5.4% higher. BG slips to last as its trading 30.6% higher than its 52 week low.
The final metric I'll use is the Chowder number coined by Seeking Alpha contributor Chowder that combines the current yield and the 5 year dividend growth rate. Therefore, the higher the number is, the better opportunity it represents. INGR has a Chowder number of 26.9 for the win. ADM takes second with a 16.0 and BG winds up in last with a 13.2. INGR takes its first category as ADM slides to second and BG brings up the rear.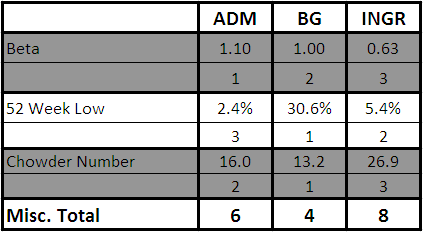 ADM is the overall winner propelled by a strong dividend history and a compelling valuation. INGR had a strong showing that was good enough for second, as it tied for the least last place finishes with ADM. BG took last as it's only wins came from its impressive growth estimate. Because ADM did finish on top, I'll take a closer look at its dividend growth prospects going forward.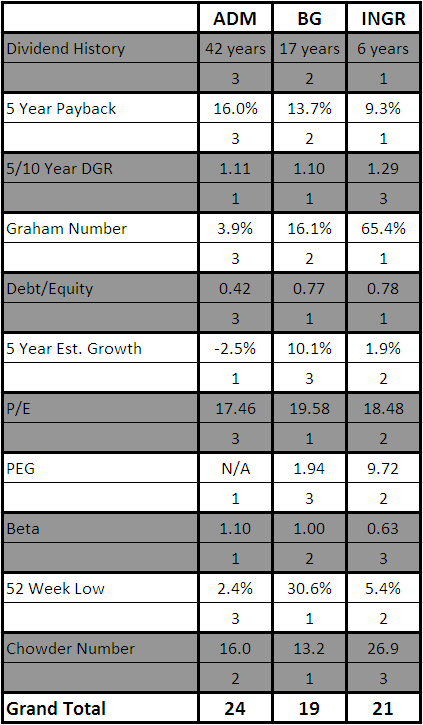 ADM is classified as a Dividend Champion having extended its streak of increasing dividends to 42 years with the raise in February. It currently has an EPS payout ratio of 54%, so despite what is expected to be an earnings contraction, there is still plenty of room for future dividend raises. This is evidenced by an earnings growth of 3.3% over the past 5 years while at the same time the dividend grew at 12.9%. A dividend that's growing faster than earnings isn't exactly a recipe for investment success, but with such an impressive streak, ADM has earned a bit of faith. Despite the fact that I do believe the dividend will continue to grow, I think it's in for a significant slowdown, especially if earning projections prove accurate. I would expect dividend growth to hover around 6% over the next 5 years for a payback of $7.40 or 18% by July 2022.
As an owner of ADM, I had written about it further in Archer Daniels Midland In The Garden Portfolio. I was pleased it emerged victorious from this analysis, but a little concerned by its earnings estimates. Since my initial investment a few years ago, it's moved both up and down but is sitting very near my entry price. Because of this, I had planned on adding some fresh capital as its allocation in my portfolio has been decreasing while I made other purchases. After this review, I don't believe I'll be doing that anymore and will be content to let the dividends DRIP for the foreseeable future. Thanks for reading.
(Sources: DRiP Investing Resource Center)
Disclosure: I am/we are long ADM.
I wrote this article myself, and it expresses my own opinions. I am not receiving compensation for it (other than from Seeking Alpha). I have no business relationship with any company whose stock is mentioned in this article.