Value Vs. Growth Across The Market Caps
Jul. 11, 2017 7:32 AM ET
SPY, QQQ, DIA, IWM, SH, VOO, TZA, SDS, TNA, SSO, IVV, SPXU, TQQQ, UPRO, SPXL, RSP, SPXS, SQQQ, PSQ, CRF, QID, VFINX, UWM, QLD, DOG, DXD, UDOW, SDOW, SCHX, USA, TWM, URTY, DDM, VV, RWM, EPS, SRTY, ZTR, VTWO, QQQE, QQEW, FEX, ILCB, SPLX, EQL, SPSM, EEH, SPUU, QQXT, SFLA-OLD, IWL, SPXE, SPDN, SPXT, FWDD, SYE, UDPIX, OTPIX, JHML, PPLC, RYARX, SMLL, SPXV, HUSV, PPSC, SPXN, DUSA, USSD, ESGL, SCAP, USWD, RYRSX, IJS
8 Comments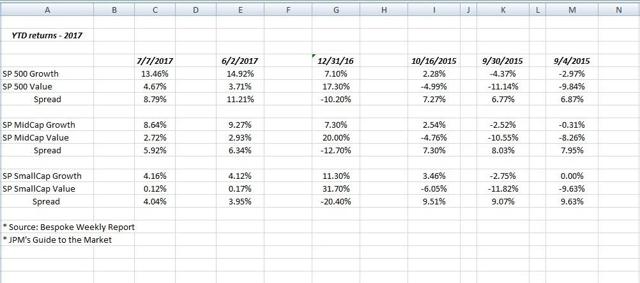 The financial media of late is talking about the "growth versus value" debate and the outperformance of growth since the 2009 market bottom.
Growth has certainly performed better versus value investing, particularly in the first six months of 2017. However, note the performance of value last year, particularly small-cap value versus large-cap growth.
This year, large-cap growth and Tech has shot the lights out for the 6 months of '17, YTD.
My own experience with this "style-box" analysis is that the trends can typically last the calendar year. (Apologies for the somewhat scattered periods on the spreadsheet. That will be corrected.)
There are ETFs today that capture the style box divisions across market caps and across the "value versus growth" investing spectrum.
While "large-cap growth" should continue to outperform in the second half of '17, start preparing for trend reversals.
The iShares S&P Small-Cap 600 Value ETF (IJS) is the small-cap value ETF that captures an out-of-favor investing style. (Long small position in IJS, but expecting to add more.)
Remember, in investing, every trend changes.
Thanks for reading.
This article was written by
Brian Gilmartin, is a portfolio manager at Trinity Asset Management, a firm he founded in May, 1995, catering to individual investors and institutions that werent getting the attention and service deserved, from larger firms. Brian started in the business as a fixed-income / credit analyst, with a Chicago broker-dealer, and then worked at Stein Roe & Farnham in Chicago, from 1992 - 1995, before striking out on his own and managing equity and balanced accounts for clients. Brian has a BSBA (Finance) from Xavier University, Cincinnati, Ohio, (1982) and an MBA (Finance) from Loyola University, Chicago, January, 1985. The CFA was awarded in 1994. Brian has been fortunate enough to write for the TheStreet.com from 2000 to 2012, and then the WallStreet AllStars from August 2011, to Spring, 2012. Brian also wrote for Minyanville.com, and has been quoted in numerous publications including the Wall Street Journal.