Why CK Hutchison Is An Undervalued Gem
Summary
CK Hutchison is a large conglomerate managed by Li Ka Shing also known as Superman.
The valuation is cheap while the underlying assets are valued highly in today's market.
Investing in Europe through Hong Kong might seems overly complicated but valuation should be more important.
Operational performance has been masked by currency headwinds but a weaker dollar will create an additional tailwind.
Strong balance sheet with low debt increases the attractiveness of CK Hutchison even further.
CK Hutchison (OTCPK:CKHUY) is a Hong Kong conglomerate with a market value of $48B with most of its assets located in the UK and continental Europe. Those assets are deemed unattractive by Asian investors because of Brexit while other investors think it is unnecessarily complicated to invest in Europe through Hong Kong.
The good and steady operational performance of CK Hutchison has been masked by currency headwinds but since these winds are changing, CK Hutchison will benefit and its excellent operating record will be revealed once more.
CK Hutchison has its primary listing in Hong Kong but also two OTC listings as well but I would recommend to buy in Hong Kong since that listing is a lot more liquid. CK Hutchison was created when Li Ka Shing split his business empire in 2015. Li Ka Shing is a legendary self made businessman who amassed a fortune of currently $32B. With the split Li Ka Shing created two companies, Cheung Kong Holdings (OTC:CNGKY) which primarily invests in real estate and CK Hutchison which holds the other assets which are:
Infrastructure assets in the form of gas and electricity networks in developed countries like the UK, Australia and continental Europe responsible for 36% of EBIT.
Telecom assets: CK Hutchison is a provider of Telecom services in many European countries, Hong Kong and is growing rapidly in Vietnam and Indonesia. 26% of EBIT.
Retail assets are primarily beauty and health stores operating among others under the Watson, Rossmann and Kruidvat brand. 19% of EBIT.
Port operations, CK Hutchison is the largest operator of ports in the world with operations in 48 ports and 25 countries. 12% of EBIT.
Husky Energy, a Canadian oil company which is also drilling in the Chinese Sea. 5% of EBIT.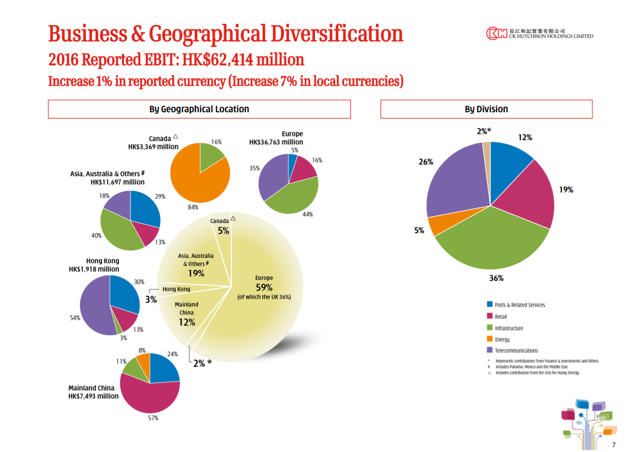 Source: IR Presentation CK Hutchison
Looking at the geographic location, it can be seen that CK Hutchison gets 59% of its EBIT from Europe and 36% of total EBIT from the UK. The Brexit and general dollar strength caused some severe losses because of currency translation putting a 6% drag on operating performance. Still CK Hutchison managed to increase EBIT with 1% while increasing underlying performance with 7%.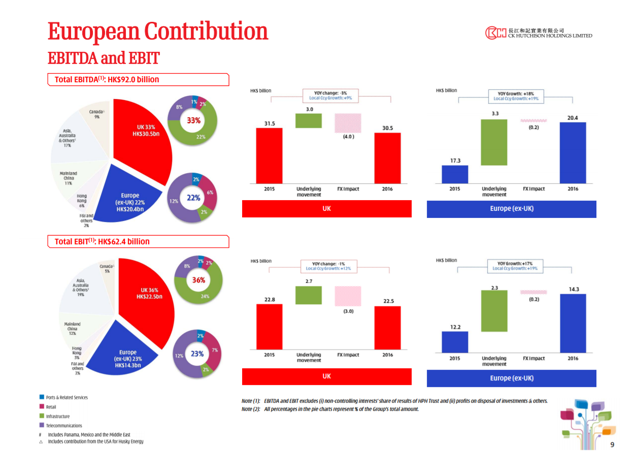 Source: IR Presentation CK Hutchison
While currency was a drag, operational performance in the UK held up pretty well while Europe saw strong improvements. CK Hutchison is not very sensitive to a recession in the UK because 66% of its UK operations are in regulated networks. In continental Europe, however, it is more focused on retail and Telecom which might be more sensitive to economic conditions but those have improved over the last months and this should help CK Hutchison's results significantly.
Currency tailwind
While the currency was a headwind since the creation of CK Hutchison in 2015, because of a strengthening dollar, this trend is broken so far in 2017, which sees a stronger euro and even the British pound is recovering some lost ground.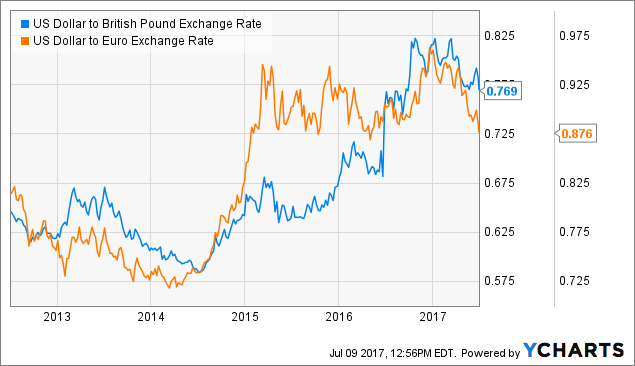 US Dollar to British Pound Exchange Rate
data by
YCharts
This is beneficial for CK Hutchison since this tailwind will make its operations in the UK and Europe more profitable in USD.
Infrastructure
Infrastructure assets especially networks without much price risk are seen today as valuable assets but most of the independently-traded companies like National Grid (NG) in the UK are very expensive. Investing in CK Hutchison allows you to invest in similar assets at a significant discount.
Telecom
Telecom is seen today sometimes as a troubled industry especially in Europe. Because the networks require lots of investments to keep up with increasing demand for data while regulators and governments demand lower prices and charge high prices for Telecom licenses. Still Telecom has been a strong growth engine for CK Hutchison in recent years.
While CK Hutchison is a challenger in most markets, it became the market leader in Italy through a joint venture with Wind. Performance has been great in 2016. The largest operations are in Europe and those saw EBIT increase by 17% in local currency. Its Hong Kong operation however saw its EBIT decline by 26% but its operations in Indonesia and other emerging Asia saw EBIT increase by a whopping 82%.
World trade
Through its port operations, CK Hutchison is dependent on world trade. 2016 saw some minor declines in throughput but 2017 is off to a much stronger start. Important ports for CK Hutchison like Hong Kong and Rotterdam are seeing strong volume growth and this is good news for CK Hutchison since ports have significant operating leverage.
Retail
While retail is dying is regular news these days, I think this trade is a little crowded and a bit overdone. Furthermore, I think this is primarily a US problem since it has so much more retail square footage per capita than other countries.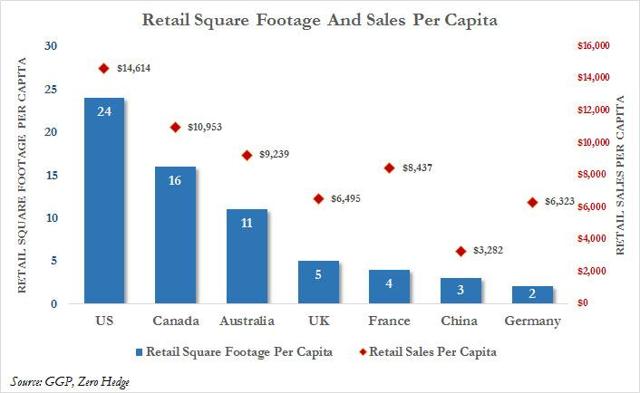 Source: Zerohedge
CK Hutchison has no operations in the US and its retail stores are primarily in the health and Beauty segments. They are highly profitable, have strong market positions and are primarily located in countries which are economically strong and improving.
Debt
Many conglomerates grow at the expense of their balance sheet. They use funding to grow more rapidly which comes back to bite them when times are getting tough. Especially infrastructure companies, Telecom and utilities tend to get over-leveraged to increase returns but take too much risk. That is why I was very happy to see that CK Hutchison has a very solid balance sheet with an A3 rating from Moody's, an A- from S&P and a net debt to capital ratio of 20.5%.
Valuation
There are multiple ways how to value conglomerates; in this case, I will make a sum of the parts calculation including a 10% conglomerate discount. While I do not necessarily agree with such a discount, it is the way companies like these are currently valued.
Infrastructure assets are safe regulated assets. National Grid seems like a reasonable comparison since most of CK Hutchison's infrastructure assets are located there. National grid is valued at a P/E of 17 while its free cash flow is significantly lower. Using a multiple of 15 on its EBITDA-Capex results in a value of $45.5B.
Telecom assets are valued by combining all telecom operations and including licenses expenses. At a reasonable multiple of 12, these assets are worth $15.9B.
Port assets are valued in a similar fashion with a multiple of 12 because of their exposure to world trade. Ports however are superior assets than ships because of their lower depreciation rate and more limited competitive pressures. That is why buying assets like these in a trade downturn can yield very positive results. To be cautious however a multiple of 12 of EBITDA-Capex is reasonable. This leads to a value of $13.4B.
Retail might be dying but Beauty and Health stores are still a profitable business. CK Hutchison is still opening stores at a fairly quick rate, therefore a EBITDA-Capex of 14 seems reasonable leading to a valuation of $21.8B.
Energy consists of CK Hutchison's interests in Husky Energy of 40.18%. Husky has a market cap of $10.6B which leads to a valuation of $4.3B.
Other investments consists of a bunch of smaller investments like CK Life science, Hutchison China Medi-Tech and Hutchison Water. Using a multiple of 12, a value of $1.8B is reached.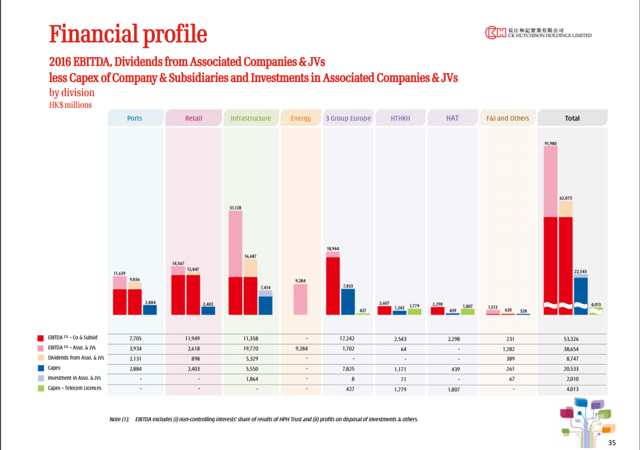 Source: IR presentation CK Hutchison
Adding all separate businesses up leads to a valuation of $102.7110.1B. Subtracting net debt of $18.2B, a valuation of $84.5B is reached which is 76% above the market value the stock market is giving CK Hutchison. I think the valuations used above are conservative. A more simple way is to look at the P/E ratio of CK Hutchison and see that it is trading at only 11.5 while having low debt and highly desirable assets. Those assets trade in Europe and the US markets trade at significantly higher valuations with P/Es of 17 while those comparable companies hold far more debt.
This is further confirmation that CK Hutchison is significantly undervalued and an upside of 75% is reasonable. The P/B ratio of 0.88 is showing a discount to the sum of its parts. This discount however is normal for conglomerates, nothing out of the ordinary and only explaining a small part of the undervaluation.
Conclusion
A discount because of its conglomerate status is understandable and while this is sometimes unwarranted and discounts in general are attractive, it is not the reason CK Hutchison should be bought in my opinion. I can also understand that Asian investors are not that interested in a company with such a European focus and significant holdings in the UK.
Furthermore Li Ka Shing is 88 years old and his son Victor will take over officially in the coming years. Still, in my opinion, the undervaluation of its underlying assets is large while the investment is relatively low risk because CK Hutchison is so conservatively financed that it should deserve a lower risk premium.
This article was written by
Dutch investor. Interested in international investing opportunities. Experience writing for Dutch investment magazine BeleggersBelangen.nl and Dutch IB broker lynx.nlCurrently working for the worlds most sustainable bank.
Analyst's Disclosure: I am/we are long CKHUF. I wrote this article myself, and it expresses my own opinions. I am not receiving compensation for it (other than from Seeking Alpha). I have no business relationship with any company whose stock is mentioned in this article.
Seeking Alpha's Disclosure: Past performance is no guarantee of future results. No recommendation or advice is being given as to whether any investment is suitable for a particular investor. Any views or opinions expressed above may not reflect those of Seeking Alpha as a whole. Seeking Alpha is not a licensed securities dealer, broker or US investment adviser or investment bank. Our analysts are third party authors that include both professional investors and individual investors who may not be licensed or certified by any institute or regulatory body.